Kindle Fire Accessories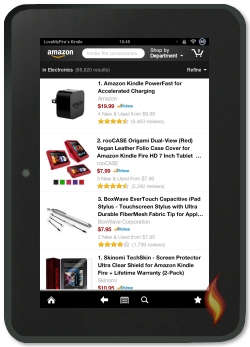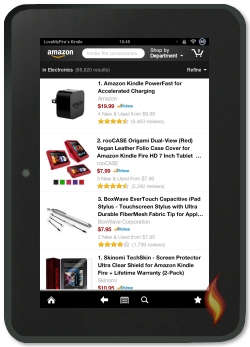 Shopping around for Kindle Fire accessories is a ton of fun, at least I love it!
But there are so many choices out there, that it can sometimes be a bit overwhelming.
That's where Love My Fire comes into play! Together we'll share all the great accessories for the Kindle Fire that we come across, including covers, cases, styluses, Wi-Fi devices, and much more.
FTC Disclosure: If you make a purchase via a link on this site, I may receive a small commission. There will be no added cost to you. Thank you!

A Variety of Accessories
At first there may not appear to be all that many Kindle Fire accessories but when you list them they really add up, especially with all the cool new gadgets being designed for the Kindle Fire and other tablets.
Amazon is not the only one that sells great accessories, either. Below is my list of cool accessories you can find (which I'm continually adding to).

Kindle Fire Accessories: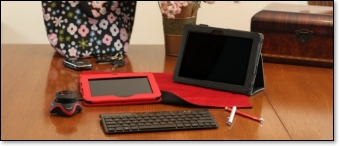 I've updated this page to also include electronic Kindle Fire accessories, like gift cards, Amazon Prime, and Amazon coins, so don't miss them!

Cases & Covers
Earphones & Headphones
Keyboards
Portable Hard Drives
Power Chargers & Cables
Screen Protectors
Screen Cleaner & Cloths
SD cards
Speakers
Styluses/Styli
TV Connectors & Cables

Warranties

WiFi (MiFi) Mobile Hotspots
Electronic Accessories

Let's go over some of these in more detail, shall we?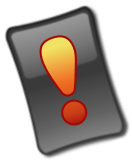 Important Note!

The first thing to be aware of when buying accessories from Amazon is that their Kindle Fire accessories categories are limited! This applies to Kindle Fire HD/HDX accessories too!
Often, the items listed in Amazon's Kindle Accessories Store are more expensive than other items you can find if you search in the Electronics category.

Here's a screen shot of the page I'm talking about:

These pages DO NOT show all of the available Kindle Fire accessories on Amazon's website, but give a limited selection of options! (Why? I have no idea! Doesn't seem very clever to me, but whatever.)

For example, when you click on "Covers and Cases" you will not see all the Kindle Fire covers that Amazon has for sale. There are TONS more types and styles to choose from that aren't being shown! Personally, some of the items that I think are the best aren't even listed.
That's why it's extra important to know what you are looking for so you can do a detailed search for the specific item, color, or feature that you want with your accessory.
Thankfully, I'm here to help you discover what you want- isn't that sweet of me? ;)
Kindle Fire Cases and Covers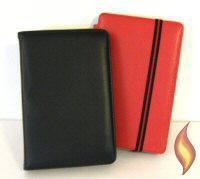 Lets talk about the difference between cases and covers for your Kindle Fire. Why? Aren't they the same thing? Sadly, no, that would make life too simple. Fortunately, I clarify things in my article, Kindle Fire Covers vs Kindle Fire Cases.
Understanding the differences between these two types of accessories will make things much easier when deciding which kind you want and then finding the right one.
Next see my help with:
After deciding what features you want, be sure to see these great articles:
Then you'll be ready to go shopping!
If you want to start looking right now, you can browse through Amazon's Kindle Fire Covers or Kindle Fire Cases. Of course, I highly suggest reading my articles as they are full of helpful details, especially knowing the biggest cover mistake.

Micro SD Cards

Newer Fire models offer you the option of expanding their memory with an SD card.
Whilst this can be a cheaper option than buying a Fire with a large memory, it's not an entirely problem-free solution!
This article will help you:
Decide whether an SD card is the right choice for you
Install an SD card to your device
Choose whether to use your card for 'portable' or 'internal' storage

...and lots more.
Visit now: How to Use an SD Card with your Fire
Earphones and Headphones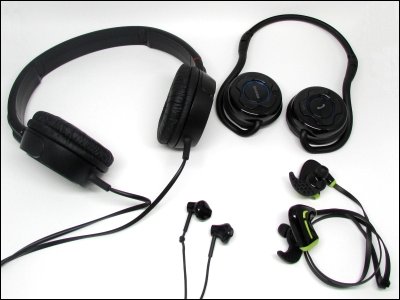 With an almost endless variety of headphones, earphones, and earbuds it can be overwhelming to know what to look for when shopping for a new set.
Although I'm not an expert in this area, I've created a few resources to help you out:
Earphone, Headphone, and Earbud Reviews (coming very soon!)

In the earphone tips & tricks page several site visitors have also shared their ideas and recommendations so be sure to check it out, or share your own tips in the comments at the bottom of the page!

Kindle Fire Keyboards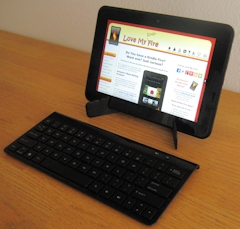 This is one of my newest accessories, a bluetooth keyboard! This fun device is an excellent addition, especially for those of us who are really long winded (er, typists).
I can easily type up page long emails, forum posts, and on occasion, Facebook updates. However, there's no way I can create long posts with the Kindle Fire's onscreen keyboard.
Using an external keyboard is 100 times faster and easier for that kind of writing.

Power Chargers & Cables

The original Kindle Fire (1st generation) only came with the basic power cable for charging your device, while the Kindle Fire HD (2nd gen) tablets came with a USB cable, but not the wall plug.


My Kindle Fire HD 7" (1st generation) page has more about an extra Kindle Fire accessory you can buy to connect a USB cable to an adapter that plugs into the wall to charge your tablet.

(It's much faster than using your computer!)

If you have the original Kindle Fire and want to be able to physically connect your tablet to your computer you will need a certain cable.
This cable has a micro-USB on one end (connects to your tablet) and a regular USB plug on the other end (the part that plugs into your computer).
Many electronic devices (phones, cameras, etc) come with this type of cable, so you might already have one. If not, you can purchase a micro-USB cable at any electronic store or online.


See my tutorial on how to transfer content to and from your Kindle Fire for more information on this as other methods you can use wirelessly.

Screen Protectors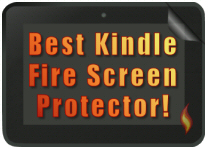 After quite a bit of research and personal experience, I've learned some useful things about the Kindle Fire screen, like how strong it is against scratches, drops, and other accidents.

I used to think that you didn't really need a screen protector but now I've learned (the hard way) that it's an important Kindle Fire accessory to have!



Don't miss my screen page linked to above to see pictures of what happened to my first Kindle Fire, and to learn from my mistake... so you don't make it too.

After some additional testing I've discovered the Best Kindle Fire Screen Protector! Or, if you'd like to do your own research, you can start by checking out these Kindle Fire screen protectors.

Screen Cleaner and Cloths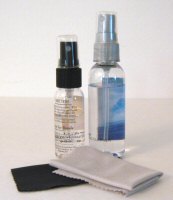 One of the not so charming things about the Kindle Fire is its ability to show all kinds of smudges and finger prints. Thus, having a little bottle of cleaner and a soft cloth nearby is a good extra accessory to have.
There are all kinds of cleaners out there that you can use, but it definitely doesn't have to be exclusively made for tablets. I personally use a lens cleaner and microfiber cloth designed for cleaning glasses, and it works great.
After some additional research I'll add more screen cleaning articles and resources in the near future (including how to make your own inexpensive cleaner), so stay tuned!
Until then, if you're looking for a screen cleaner for your Kindle Fire you can browse through the ones on Amazon, they have a huge selection, of course.

Speakers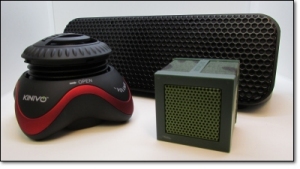 There are TONS and TONS of portable speakers out there!
There are TONS and TONS of opinions and reviews too. However, this is my experience with three different Kindle Fire accessories: including speakers that connect with a wire and others that are wireless.
I even made a video to let you hear the difference a speaker can make to the volume of your Kindle Fire for yourself... so don't miss it!

Styluses/Styli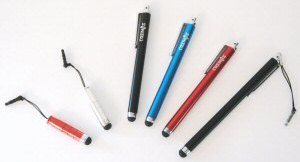 Using a stylus is a great way to keep the screen of your Kindle Fire clean, and is sometimes easier to use instead of your fingers.

Instead of touching your tablet with your oily fingers you use the tip of a specially designed pen called a stylus.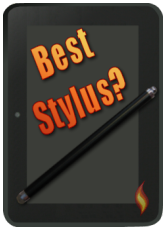 Unfortunately, there are some really cheap styli out there (I know, I've bought and used a few of them myself) but there are also some good quality ones at affordable prices as well.
Of course there are super expensive ones too, so if that's what you're looking for you'll find them.
After a year of buying and testing out several different styli (including Amazon's stylus) I've finally found the Best Kindle Fire Stylus!
I'm so excited to share this fabulous stylus with you so be sure to check it out.


I love using a stylus, but I still use my fingers to touch the screen, especially if I'm too impatient to grab my stylus first (which is usually the case).

TV Connectors & Cables

One super fun feature of the newer Kindle Fires is to view your screen on an HDTV.
For those of you with the Kindle Fire HD (2012 2nd generation) you only need an inexpensive HDMI to Micro-HDMI cable for hooking up your tablet to your HDTV. However, Kindle Fire HDX users will need a Miracast accessory AND a regular HDMI to HDMI cable.
My family and I use these accessories all the time for watching movies, TV shows, playing games, browsing the Internet with others, and other fun adventures! :)
Hooking up your Kindle Fire to your TV is really easy to do, BUT you need the right accessories for it to work, so please see my tutorials for all the details: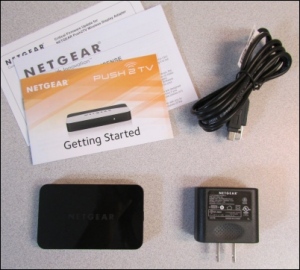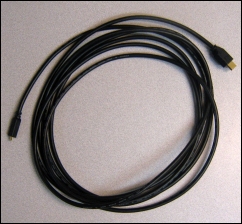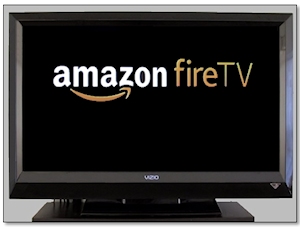 Amazon recently released a sweet new "box" called Fire TV which is similar to Roku and Google ChromeCast which are devices that let you stream and play content (movies, TV, music, photos, games) on your TV.
I purchased a Fire TV and two controllers that I've tested out so be sure to check out my article for all the details of what you can do with this new device and how to set it up!

Electronic Kindle Fire Accessories

There are quite a few electronic accessories for the Kindle Fire, so let's briefly go over some of them and be sure to read my full articles and reviews of those with links below!

Amazon Gift Cards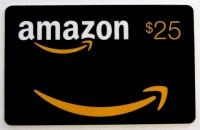 Purchasing an Amazon gift card is the perfect accessory to go with your Kindle Fire. This way you (or your loved one if this is for them) can buy ebooks, apps, games, videos, or even a magazine subscription.
What's the point of having such an amazing digital tablet if you don't put anything on it? Of course, you can find bucket loads of free stuff, which is great (I love free stuff, who doesn't?) but there are some really fabulous digital goodies out there that you're going to want to buy.

See my article on Amazon Gift Cards to learn why using a gift card with your Kindle Fire FOR YOURSELF is such an excellent idea and totally worth doing. I also show you how to redeem a gift card and check your balance right on your tablet!
Using gift cards for purchasing future Kindle Fire accessories is great too, so if you're not sure yet what you want, a gift card is the way to go!


Amazon Coins & Amazon Prime

Although these items are not physical accessories, I consider them electronic accessories.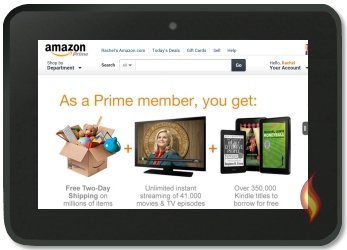 The first one is Amazon Coins and the other is Amazon Prime. There are probably others out there, which I'll add to this section, but this is what I've written about thus far.
See my reviews of each of these electronic accessories including what comes with them, my thoughts and experiences, and if they are worth the cost.


Kindle Fire Warranties

How about a special Kindle Fire warranty that comes with a protection plan? If your tablet is dropped, gets liquid spilled on it, cracks, or breaks the warranty will replace it!
This is especially valuable if you have children who love to play with your electronics (as most do) since they may not be as careful as an adult... although some of us can be quite accident prone as well.


More Kindle Fire Accessories

I'm continually researching and adding more information about other great Kindle Fire accessories so be sure to check back often, or better yet, subscribe to my Alerts to be notified of the latest Kindle Fire resources to this site.
I ♥ My Fire!
-Rachel

Subscribe to
Love My Fire's

Kindle Fire Newsletter

!


To be notified of new Kindle Fire news, deals, articles, exclusive content, and more subscribe to my Kindle Fire Email Alerts!
I hate spam too and promise to only send you Kindle Fire Alerts.
(See Privacy Policy for details.)