Hi, I'm Christine and I (obviously) love my Kindle Fire. I'm passionate about all that this cool device can do!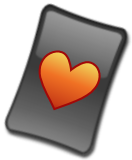 Testimonials From Love My Fire Fans!

If you've found my website useful please submit your testimonial (or read those of others)! I'd love to hear what you think about this site and how it has helped you.
Also, if you're new to using the Kindle Fire and are feeling a little overwhelmed don't worry about it. You'll easily learn all you need to know at your own pace, and I'll help you along the way. :) To get you started I have an article on the basics of how to use your Kindle Fire.

Now go enjoy your Kindle Fire. I am!

Looking for something specific? Search this site, visit my list of FAQs, or browse the site map for an index of all the pages on this site- there's a ton of them- which are nice and organized.