Kindle Fire Fan Testimonials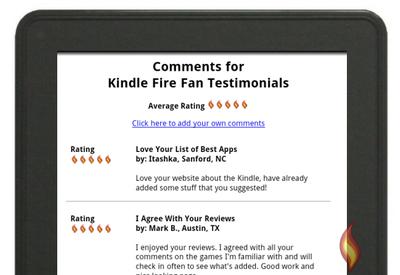 Kindle Fire Testimonials From Site Fans
This is the place where you can rave about this Kindle Fire website and read the ravings from others (LOL)! I'd love to hear from you so please share with us any (or all) of the following:

What you like about this site

Those resources, articles, and tips that helped you

What Kindle Fire things you'd like to see here (or more of something)

How you found out about this site

Where in the world you are visiting from

Anything else you want to share, even what you didn't like (good feedback is always welcome!)

Just post your thoughts in a comment and after I review it (to keep out trolls, spam, and errors) it will show up down below! Be sure to rate this site with how many flames (aka stars) you think it deserves.
If you'd like to share with us your
Kindle Fire Story
be sure to submit that on our story page, or read the
stories of other Kindle Fire fans
!
Of course, you can always
contact me
if you have anything specific you'd like to share with me.
I truly appreciate all the kind words each of you have shared with me. Thanks for sharing the love!
- Christine