About Rachel Bruner
FTC Disclosure: If you make a purchase via a link on this site, I may receive a small commission. There will be no added cost to you. Thank you!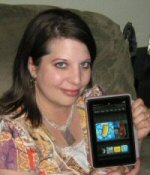 Yep, that's me! (Don't I look cute with my Kindle Fire?) :P

So, you'd like to know a little bit about me? First, take a moment to read My Kindle Fire Story where I share (and show with a few pictures) my misadventures as a secret detective which ended up with me getting a Kindle Fire in my hot little hands- it's quite the story!
Also, be sure to read My SBI! Journey: How I Turned My Passion into a Successful Website Business.


Almost From the Beginning

Back for more about me? Thankfully, I won't start with my birth, but not too many years after that my dad got involved in the computer business just as it was being brought into the work place.
While growing up my brothers and I played on (and fought over) a Commodore 64- does anyone else remember those? We had several games and other misc activities we could do on our fancy PC.
Once in awhile (if we were being really good) our dad would let us play on his fancier Apple Macintosh computer which had better games and graphics, even back then.

Eventually our experience with computers led three of the four of us kids into computer related careers. I have a degree in Computer Information Technology (with an emphasis in Technical Support) and have worked various technical jobs, including internal tech support for both a large law firm and Micron PC.

I have a natural flair for troubleshooting (which can often turn into an obsession to work on something until I figure it out) but which can also come in handy in other areas of life, like organizing, packing, and rearranging furniture. :)


Writing and Websites

I love to write, but only about things that interest me. Ever since I was a young lil' thing I've had an interest and "talent" for long-winded, hand written letters and journal entries.
As technology began to grow so did my writing as it morphed from paper and pen to monitor and keyboard. I wrote huge posts in a few BBSs (pre-forum days) and later typed up a storm in chat rooms, emails, and other online media.
I've noticed that when I first start to write something (letters, emails, blogs, and even Facebook posts) I usually only plan on saying a few things, but before I know it I've written a mini novel. I just can't seem to keep it short.
Several years ago I taught myself HTML, JavaScript, and some basic website design. Since then I've created several websites and blogs (both personal and professional) for myself and others.

For 10 years I worked as an independent contractor for a HUGE website (top 100 world-wide websites, listed on Alexa.com) where I created 1000's of articles, images, links, blog posts, resources, and other downloadable content.
So I've done a LOT of writing, both on and off the web, which has given me plenty of practice for improving and honing my skills. I'm not sure if writing came to me naturally (grammar and spelling did not) but the desire to put my words to paper started from early on.


My Other Passions

As for non-techie stuff, I'm passionate about several topics and love to talk about them with a captive (aka can't-get-away-from-me) audience.
Some of my favorite topics include, but are never limited to:

Playing games with family and friends. I love playing all kinds of games! You'll find some quirky facts and stories in my "Love Notes" on the game pages throughout this site.

Reading. My favorite genre is YA fantasy, see my bookshelf on Goodreads, but I also like self-improvement and personality books.
Dating and courtship. I personally learned through *major* trial and error that there's a proper process that leads to the next item below.
Building and maintaining a happy, healthy marriage. When done right it's wonderful and so much fun!
Kickboxing. I love punching and kicking the life out of my kickboxing bag! (It's a great stress reliever.)

Making jewelry. Mostly I just tinker.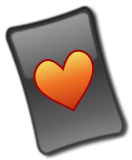 Love Note!

If you're wondering how I could possibly have done so much is such a short amount of time... well I'm not that young. I look a lot younger than I am, at least people are always shocked when they find out I'm in my late 30's 40's. :)  2019 Update: It's been several years since I first wrote this and I'm starting to feel my age. I think younger people think I look more my age but most others still show surprise when they learn how old I am. LOL

I inherited "young genes" from both my parents who also look way younger than they are. My mom is always getting the "shock" factor when people find out she has children and grandchildren that are as old as we are.
When I was younger I hated looking so young. When I was 22 I had someone think I was 14. UGH. Of course, mom always said I would like it when I was older, and she was right.
If you don't think I look that young I don't need to know, I'm happy being in my little oblivious bubble for as long as it lasts. ;)


This Site Is So Much Fun!

Creating, designing, and writing everything for this Kindle Fire website is a ton of fun for me! I'm excited to share with you all that I know (and continue to learn) and hope you will share your Kindle Fire tricks and tips with me too.
If you haven't yet, you might want to read more about Love My Fire and how it came into existence along with My Solo Build It! Journey which shows how I learned what I needed to turn my passion for the Kindle Fire into a successful website business.
Thanks for visiting! :)
-Rachel
Subscribe to
Love My Fire's

Kindle Fire Newsletter

!


To be notified of new Kindle Fire news, deals, articles, exclusive content, and more subscribe to my Kindle Fire Email Alerts!
I hate spam too and promise to only send you Kindle Fire Alerts.
(See Privacy Policy for details.)