Kindle Fire Problems

FTC Disclosure: If you make a purchase via a link on this site, I may receive a small commission. There will be no added cost to you. Thank you!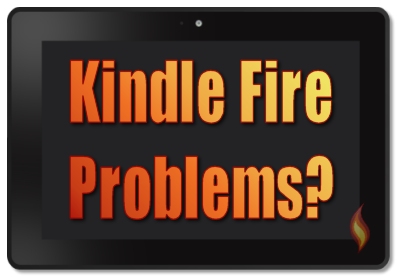 Unfortunately, we sometimes experience Kindle Fire problems with our beloved tablets.
Fortunately, I'm typing up solutions (as fast as I can)!
If you don't see the answer to your issue here, please check my FAQ page where you'll find more answers to other common Kindle Fire problems.



Be sure to subscribe to my Kindle Fire Alerts so you don't miss out on new fixes to common problems! Also, see my FAQ full of questions and answers as well as the comments (at the bottom of each page of this site) where I answer additional questions!

Common Kindle Fire Problems

Here is where I list all the Kindle Fire problems I've typed up solutions to (thus far). More will continually be added!

Kindle Fire Got Wet & Won't Work? Try This Water Fix!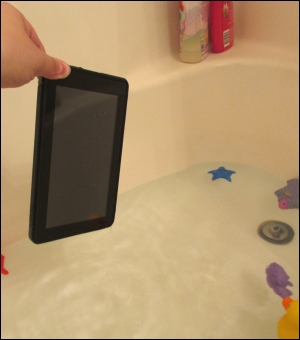 Getting your Kindle Fire wet can be a problem because if the water soaks inside it can short circuits the internal electronics, causing it to stop working.
However, there's a very simple solution that I've personally used to help take care of Kindle Fire water damage issues. Even if your Kindle Fire is no longer responding (after a dunk in a pool, tub, or toilet) this trick may work.
It's definitely worth trying out and it will only cost you the amount of one bag of rice!

Are you Having Problems With Muffled, Dirty or Water Damaged Speakers?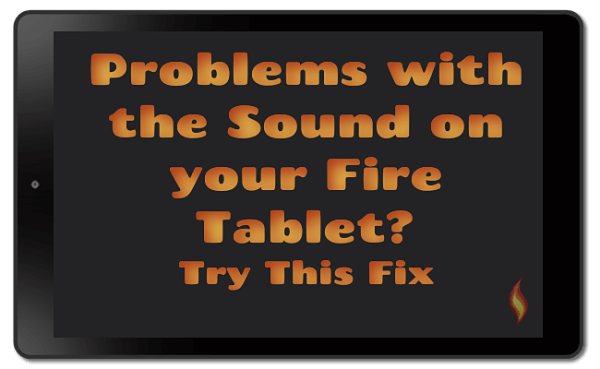 It can be very frustrating when the sound on your Fire tablet is distorted in any way. The most common culprit is water, and it doesn't take a lot to cause issues with your speakers.
They can also be affected by dirt - and sometimes it just seems impossible to get them clean.
But the good news is that there is a very simple solution that just might help!
Visit my Kindle Fire Speaker Problems page to find out more!
Is Your Fire Using Too Much Data?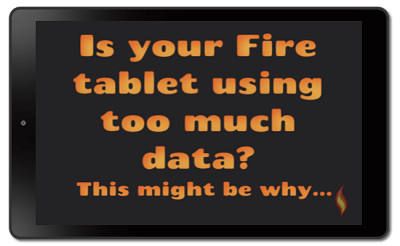 If you are on a limited data plan, then the amount of data your tablet uses is important.
I sometimes hear from users who find that their Fire tablets seem to be using up data at an extraordinary rate.
Find out what 'hidden' feature might be causing the issue - and how to turn it off - in this article:

Is Your Amazon Fire Using too much Data?
Can't Turn Off Kindle Fire Accessibility?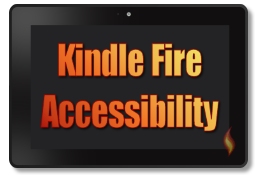 If you've turned on one of the Kindle Fire accessibility features you may be having trouble turning them back off, especially if it's the voice screen reader or explore by touch options. That's because the gestures are changed and regular swiping and touching of your screen no longer works the same.

In this article I explain all the accessibility features that come with the HD or HDX tablets, how to use them and, more importantly, how to turn them off.
This is extremely helpful since you (or someone else who gets a hold of your tablet) can accidentally turn on accessibility without knowing it because there's a "short cut" for turning it on that you're probably not aware of.
Even if you don't need this right now you might need to know how to do this in the future, so check it out now so you're prepared with the tools to deal with it if it does happen.
Also check out this article about the mysterious Orange Box on the Fire Screen, which is connected to the accessibility features of the tablet.
Kindle Fire Video Tip!

Depending on which Kindle Fire you have, it can be quite difficult (and super frustrating) to access your settings to turn off accessibility if the explore by touch option is on.
To help SHOW you how to do this I put together my first Kindle Fire video tip! It's not perfect but it gets the job done, so I hope you appreciate the exorbitant amount of hours I spent creating both this article and video- it was fun but took a lot of time to do. ;)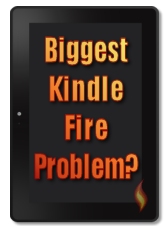 Why Can't I See ______ on the Internet?

To start, let's tackle the issue I get asked the most, or the one that I consider to be the Biggest Kindle Fire Problem! And it has to do with the web browser.

This big issue is actually quite small- a stupid little setting that Amazon decided to set as the default on all their Kindle Fire tablets. So it's easy to fix.

Even if you're not experiencing this issue, it's good to check out this solution to see if you'd like to change this default setting on your tablet.

Why Can't I Connect to Public Wi-Fi?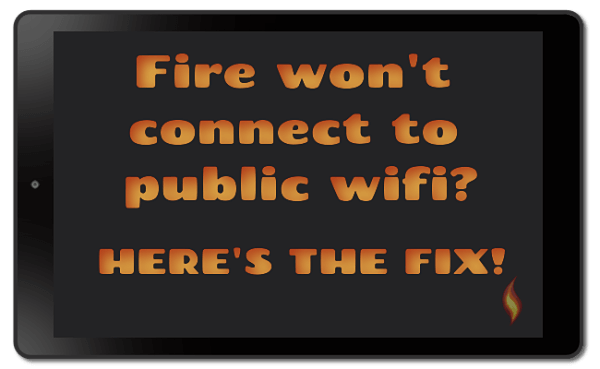 It can be very frustrating to settle down in your hotel room or at an airport with your Fire - only to find that it won't connect to the public wi-fi.
In many cases, it will SAY it's connected, but when you come to use it you discover that it won't access the internet.
Fortunately, there are a few things you can try.
Learn how to connect to public wi-fi 
Fire Won't Connect to Wi-Fi in Certain Rooms?
Do you find that your Wi-Fi signal is great in some rooms - but not so good in others?
Then this article looks at what a Wi-Fi extender is and how it can help your signal work better throughout your house.
There are also some tips for positioning your router to avoid interference.
Learn how a Wi-Fi extender can boost your signal
Kindle Fire Won't Turn On, Charge, or is Stuck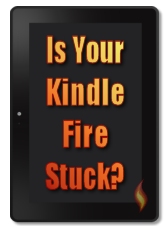 An unfortunate side effect of Amazon's tablets not coming with an instruction manual is that there's no way to know how to do a Kindle Fire reset unless you figure it out on your own or learn how from someone else.
So I'm here to tell you how so you can reset your Kindle Fire if it's stuck, won't boot, or won't charge.
It's easy to do, so if you don't know how please don't skip the fix to these common Kindle Fire problems, 'cause even if you don't need it now you'll definitely need it later.
UPDATE 2021: I've added a new article with even more tips to help. Please see Kindle Fire Not Turning On - Fixes to Try
UPDATE 2022: Are you getting the 'Moisture Detected' warning that prevents the Fire from charging (even if you know your device is dry)? Please see my 'Water in Charging Port' article for help.
UPDATE 2023: I've added a new article about what to do if your Fire won't charge
How to Reset Kindle Fire to Factory Defaults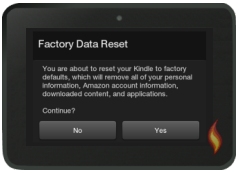 If you're experiencing serious Kindle Fire problems, you might just want to reset your tablet to its original factory defaults.
I personally had to do this myself, and although it was a pain to re-download and configure my device, it was worth it since it fixed the problem I was having.
Learn more in this step-by-step tutorial on how to do a Kindle Fire reset to factory defaults.

Why Can't I Play Flash Videos or Games?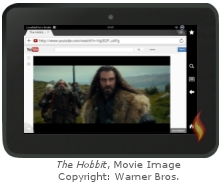 This next one is actually from my Kindle Fire tips and tricks page, but since it solves a common problem I'm posting it here as well.
If you have a newer Kindle Fire, you're bound to discover (if you haven't already) that your lovely tablet doesn't come with the Flash player.
WHAT!? Why not?! (Uh... do I need it?)

Well, you'll find answers and the solution here:


Screen Turning Off Too Quickly?
It's annoying when your screen turns itself off too quickly, especially if you're trying to follow a recipe and it disappears when your hands are covered in ingredients (speaking from experience here!!). 
Fortunately, it's easy to change your screen's timeout - and there's even a way to keep the screen awake on newer models that no longer offer the 'Never Sleep' option.
How to Contact Amazon Support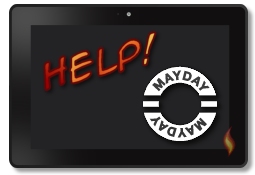 If you have a Kindle Fire problem, and you've already browsed my site map and FAQ, read through the comments at the bottom of related pages of my site, or even searched my site, perhaps what you're looking for isn't here.
However, Amazon has a 24/7 support division that you can reach directly from your Kindle Fire (or online if your Kindle isn't working right). You can talk with a support person on the phone, email them, or even chat directly with a technician!
Learn how in this article on how to contact Amazon support.



However, if you really want to contact me, please post your question in the comments at the bottom of this page, or on a related page of my site: for example, issues with connecting your Kindle Fire to your TV should go in the comments on that page.

You can also post on my Facebook page or contact me directly and I'll do my best to help you out!