Kindle Fire Will Not Charge?
Try these Fixes.
FTC Disclosure: If you make a purchase via a link on this site, I may receive a small commission. There will be no added cost to you. Thank you!

So your Fire tablet is completely dead, you've plugged in the charger, and... nothing's happening!
Finding out that your Kindle Fire will not charge is frustrating and it's a problem I hear about from readers quite often.
The good news is that there are a  few things you can try to fix the problem and - hopefully - get your tablet up and running again.

Despite the fact that Amazon dropped the word 'Kindle' from its Fire tablets some time ago, many die-hard Fire fans still call it a Kindle Fire and use that term when looking for help.
So I've used the name 'Kindle Fire' on this page to hopefully reach everyone searching for some tips :)
(Click here to discover the differences between Kindles and Fire tablets)

The tips given on this page may work for any Fire tablet of any generation.
That means it is worth giving them a go no matter how old your tablet!
Fix Number One - Make Sure Your Outlet is Working 

Yes, it seems obvious and you're probably rolling your eyes. But humor me and just try a different appliance in your outlet to be sure it's working OK.
I once called someone to repair my refrigerator. He took one look, then switched on the isolator switch behind it and hey presto - it was working again! 😳
Since then I've always checked the most obvious things first! 
Fix Number Two - Reboot Your Fire
Obviously, this will only work if you still have a bit of power left in the battery. It can help if some sort of software issue is stopping your Fire from charging properly.
To reboot your Fire, hold down the power button until your Fire turns off completely. Then restart it and try again.
Fix Number Three - Allow Your Fire to Drain to 0%
If your Fire tablet is not completely dead, allow it to drain all the way to 0%.
Connect the charger and wait for a while - sometimes this will prompt it to start charging again!
Fix Number Four - Try a Different Cable
If your house is like mine, you probably have a drawer full of USB cables!
So try a different one to see if it will get your Fire to start charging.
If so, yay! USB cables are easy to replace. You can either use the spare one you tested, or buy a new one just for your tablet.

If you have any Kindle Fire from the 9th generation (2019) onward, then I recommend this 3ft USB to USB-C Cable (link takes you to Amazon).
It is an official Amazon.com product designed for Fire tablets and allows you to transfer data between your Fire and PC if required.
Many 3rd party cables are for charging only and can't be used for data transfer.
Fix Number Five - Make Sure the Charging Adapter is Working

If your charging cable is OK the problem may lie with the adapter - the part of the charger that actually plugs into the wall. 
The way to tell is to connect the USB to another charging source, such as a PC. If it starts to charge, then you know that the adapter is to blame.
A good adapter to replace it with (for 9th generation/2019 tablets onwards) is the Amazon Basics 18W One-Port USB-C Wall Charger.
It comes with built-in device detection so that the fastest possible charging for your specific device is provided.
Just be aware that it doesn't come with a USB lead, so if you need one of those too, you'll have to buy it separately. 
Fix Number Six - Examine the Charging Port
If your Fire still won't charge, the charging port (the point at which you attach the cable) may be dirty or damaged.
First, try cleaning it.
Some people recommend using a needle for this, although I prefer to use a can of compressed air (Amazon) to blow out any debris. This is a safer option, as there is no risk of scratching anything important!
If this hasn't helped, then it's likely that the port is damaged or loose.
The charging port is often the weak spot on any device - continually disconnecting and reconnecting a charging cable causes quite a bit of wear and tear. And if we're truthful, many of us don't do this particularly carefully!
Try lying your Fire down flat and pushing in the charger. If it starts charging, then you have a loose connection somewhere. 
Unless you can find someone to repair the port (which often doesn't work out to be very cost-effective), then you will likely have to charge your tablet flat going forward.
You could also try this trick from Fire friend Stefan in the UK who sent me in a photo showing how he holds his charging lead in position!
It may not look pretty and won't last forever, but it's a handy short-term fix if you're not yet ready to invest in a new Fire tablet.
How can you protect your charging port in future?
For future reference, there are a few good ways to protect the charging port on your Fire (or any other device).
Don't use your Fire whilst it's charging. I can't stress this enough! It's the most common cause of damage, particularly if you use the charging wire to 'prop up' your device. This puts so much stress on the port!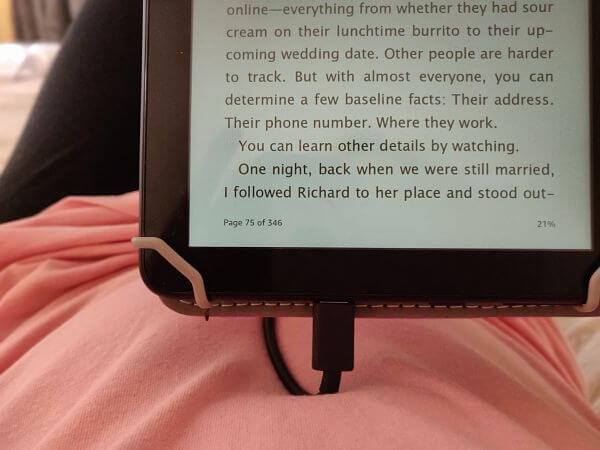 Always keep the port clean, as described above.


Avoid cheap, poor quality cables. Whilst it's not necessary to splash out on pricey cables, the really cheap ones can be harmful to your charging port, potentially damaging the contacts. 


If your Fire is equipped for wireless charging, then take advantage of that by investing in a wireless charger or an Amazon Show Mode Charging Dock.


Consider using a magnetic charger. These can significantly extend the life of your Fire tablet. Start by reading my article all about them.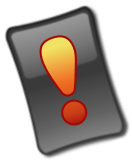 Some newer versions of the Fire are giving a 'Moisture Detected' warning and disabling the charging port - even when the port itself is totally dry.
Please see this article for more information and ways to fix the problem.
Fix Number Seven - Perform a Factory Reset
If all else has failed - but your Fire still has a little power left - try performing a factory reset.
This is strictly a last resort as it wipes EVERYTHING - your personal information, any content you've downloaded, details about your Amazon account etc - from your Fire.
Don't forget, though, that all of your Amazon content should be safely stored in the cloud. You can redownloaded it from there later on if you get your Fire working.
To perform a factory reset, open your settings.
Go to Device Options -> Reset to Factory Default Settings
You'll be reminded just what this does before you go ahead and tap to perform the rest.
If None of These Fixes Worked...
Then - unfortunately - it seems that the battery is causing the problem.
As with replacing the charging port, replacing the battery on a Fire tablet is not usually very cost-effective. So it might be time to think about treating yourself to a new tablet.
Want to Trade-in Your Older Kindle Fire?
If you have an older Kindle Fire and want to upgrade to the latest version, you may have the option of trading it in.
See my article about the Amazon Trade-In Program for Fire Tablets to learn more.

Want to Save Money When You Upgrade?
Then consider buying a refurbished Fire tablet through the Amazon Renewed program. It comes with the same limited warranties as a brand new device!

If this tip (or anything else on my site) helps solve your Kindle Fire problem please let me know by posting a comment on my Facebook page.
I love knowing that the articles and resources I share on this website are helpful to others.
I ♥ My Fire!
- Christine