Charging Port on Fire Tablet

How to Protect the Charging Port on your Fire Tablet
As with many devices, the charging port on your Fire tablet is delicate and very easily damaged.
But there's a simple way to protect it from the wear and tear of daily use - and that's to invest in a magnetic charger.
On this page I'll explain why it helps, and recommend a few chargers you can try.
Related page: What to do if your Kindle Fire won't charge
FTC Disclosure: If you make a purchase via a link on this site, I may receive a small commission. There will be no added cost to you. Thank you!

How does the charging port on your Fire get damaged?
If, like me, you use your Fire tablet on a regular basis, then you are frequently connecting and disconnecting its charging cable.
This alone causes a fair amount of wear and tear - but the problem is compounded by the fact that most of us are none too gentle with our devices!
Yanking the cable out - or ramming it in too hard - can very easily cause irreparable damage to the charging port, which is much more delicate than you might think.
Even more risky is the habit of using the tablet whilst it's charging and propping it up on the wire - whilst reading, for example. This puts a LOT of stress on both the port and the wire itself, meaning you'll soon run into problems with both.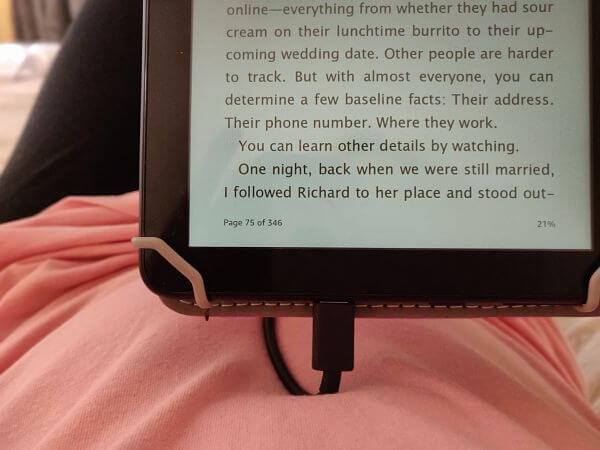 What NOT to do when you're charging your Fire tablet!
Another classic example of accidental damage to the charging port on the Fire tablet happens when you trip over the cable when your device is connected.
Either your Fire tablet will hit the floor, or the charging wire will be ripped from the port.
Although the latter might sound preferable to a potentially smashed screen, a damaged port can often be the death of a Fire tablet. They are difficult and expensive to fix, with the cost of repairs often exceeding the cost of a replacement tablet!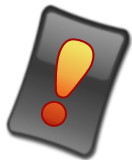 The Dreaded 'Moisture Detected' Warning!

Are you getting a warning that moisture has been detected in your charging port?
If so, please see this article that talks about this problem and ways to fix it.
Switch to using a magnetic charger
Using a magnetic charger is a very simple way to protect your charging port from these hazards.
The way it works is simple. A magnetic charger is composed of two parts - the cable itself and a separate connector. All you need to do is push the connector into your charging port, where it will stay. The cable itself will then click on magnetically to the connector as soon as you put it close to your device.
Because the connector stays permanently in your Fire tablet, you prevent the wear and tear caused by constantly disconnecting and reconnecting it. 
Another bonus is that the port is then protected from any dust or debris getting in. 
If you happen to trip over a magnetic cord that you're using to charge your Fire, it will break away at the point of connection without pulling out the connector itself. This will also prevent your tablet from crashing to the floor!
NOTE: There are 2 different kinds of magnetic charging cables - those that support data transfer, and those that are solely designed for charging your devices. Check the specifications when choosing one to ensure that it does what you want it to!

Magnetic chargers are cheap and - if they extend the life of your device - will effectively pay for themselves! What's more, many come with different connectors, compatible with either micro-USB or USB-C ports, so you can use them for several different devices. 


Three magnetic chargers that are compatible with most Fire tablets
Both sides support charging and one side supports data transfer
LED light when power is on
Compatible with micro-USB or USB-C ports
Comes in a pack of 3
NOTE: This charger is not compatible with the 7th generation Fire 7
Pack of 2 
Micro-USB only
Strong 6 ft 6 in braided cable
Supports charging and data transfer
Comes in a pack of 6
Various lengths
For charging your Fire only (no data transfer)
L-shaped design - easier to charge and use simultaneously
If you've found this article about protecting the charging port on your Fire Tablet useful, please let me know by posting a comment below!
Be sure to check out all the other accessories I've tested and written about to find those that you want to try yourself.
I ♥ My Fire!
-Christine