Make a USB-C Device Compatible With a USB Drive

How to Make a USB-C Device Compatible with a USB Drive

If you have certain 9th, 10th, 11th, and 12th generation Fire tablets  - then you'll know that they come with USB-C charging.
This is an improvement on the previous micro-USB charging and is likely to be a feature on all new Fire tablets in upcoming generations.
But it can cause problems if you had previously been using a USB drive with your older Fire, only to find that it won't fit your new tablet.
This was what happened with Fire Friend Alan, who wrote...
"I recently purchased the Fire HD 10 9th Generation.
Since the tablet came with a USB C connector, how do I use currently owned thumb drives on my fire 10? Is there an easy solution?"
Fortunately, there is! 

FTC Disclosure: If you make a purchase via a link on this site, I may receive a small commission. There will be no added cost to you. Thank you!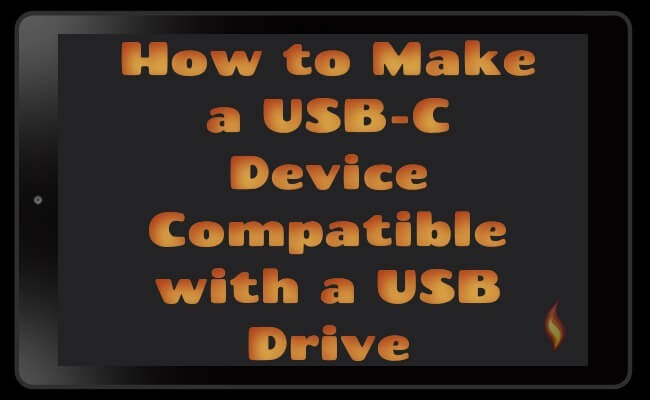 All you need to do is buy a USB C to USB adapter in order to use your thumb drives. 
They are inexpensive and readily available at Amazon:
USB C to USB Adapter [2 Pack - at Amazon]
There are lots of different ones to try and I haven't personally tested the model I've linked to above, but it is one of the most popular at Amazon and has heaps of great reviews!
Of course, it can be used for all sorts of things besides thumb drives - you could use it to connect the dongle for a wireless mouse or keyboard, for example.
And it can double up for use with your other devices, making it easy to transfer all the photos on your phone onto your USB drive.

Problem solved :)
I hope you've found this tip helpful.
I ♥ My Fire!

- Christine