The Fire HD 10 Tablet 2021 (11th Generation)
FTC Disclosure: If you make a purchase via a link on this site, I may receive a small commission. There will be no added cost to you. Thank you!

UPDATE OCT 14, 2023: Amazon has now released a 13th generation Fire HD 10. Check out the details here.
---
May 2021 saw the release of one of Amazon's new additions to the Fire family - The All-New Fire HD 10 Tablet (at Amazon).

The last 10 inch Fire tablet was the 9th generation, released in 2019.
The cosmetic changes are fairly minor, but there have been a few hidden changes in its inner workings that make this year's HD 10 an absolute pleasure to use.
Extra RAM, a brighter screen and a new split screen feature make this one of Amazon's best Fire tablets to date - and this year you can even add a few accessories designed to turn it into a mini-laptop for working on-the-go!
So here's the rundown of the cool new features of the Fire HD 10  tablet 2021 (plus those I'm not so keen on!).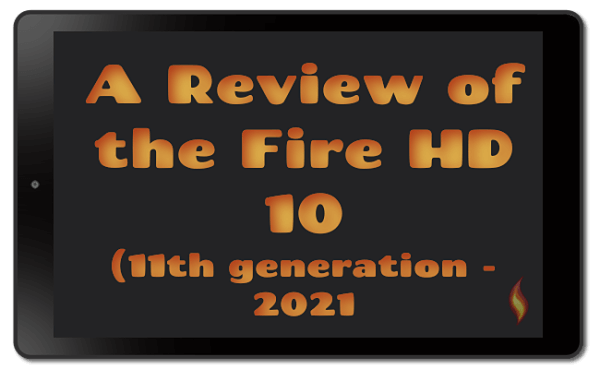 What's In the Box
Amazon is keeping it nice and simple this year, with the box containing only what you need to get up and running. As usual, there are no detailed instructions, with most help available online (and here on this site ;) ).
Inside the box you should find...
Your shiny new tablet
The USB-C (2.0) cable
9W power adapter
Quick start guide
Note - I'm currently in the UK - your adapter may look different!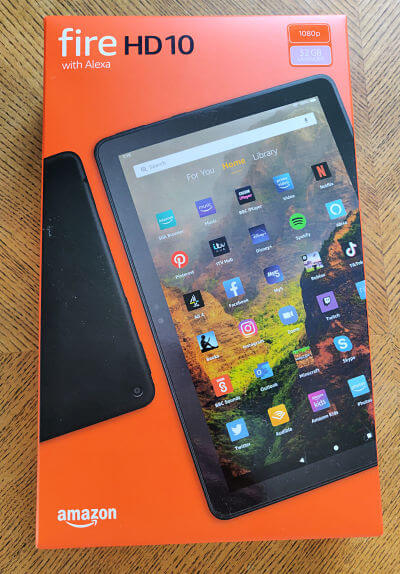 Storage
Like its predecessor, the 11th generation Fire HD 10 comes with two storage options - 32 GB for the basic version, or - for an extra $40 (at the time of writing) - 64 GB .
Unless you need a lot of extra space for downloads - perhaps if you have limited access to wi-fi and are not always able to stream content - then 32 GB should be more than enough for your needs.
Another way of increasing your storage capacity without paying too much extra is to use a microSD card, which will allow you to add up to 1 TB of storage.
Click here to learn more about using a microSD card with your Fire - but do be aware that SD cards have their limitations. If you are certain from the outset that 32 GB isn't enough storage for you, I'd recommend going for the 64 GB model instead.
RAM and Processor
This is where things get interesting! With 3 GB RAM the 2021 Fire HD 10 comes with 50% more RAM than its 2019 predecessor!
This makes switching from one app to another so much faster and smoother - a very noticeable improvement that makes this tablet a joy to use (and I was already pretty happy with last year's Fire HD 8!).
But if maximum speed is a priority for you, check out the Fire HD 10 Plus at Amazon (also new for 2021), which comes with 4 GB RAM - the most you'll find in any Fire tablet, ever!
The additional RAM in this year's Fire HD 10 makes a brand new feature possible - the ability to split your screen and use two apps side by side (here's how to access this feature).
If you've ever tried taking notes whilst browsing the web, you'll know what a valuable addition this is!
This feature makes the 11 generation Fire HD 10 far more useful for work applications than it has ever been before.
This year's tablet - like the 2019 model - is powered by the Mediatek Helio P60T processor.
Dimensions
The same design features we saw introduced with the 2020 Fire HD 8 are also being used with the 2021 Fire HD 10 and Fire HD 10 Plus, with the front facing camera centered when the tablet is in the horizontal position and the edges and corners of the tablet now rounded. 
This year's model is a little lighter in weight than its predecessor (1.03 lb compared to 1.11 lb) and slightly smaller and thinner (9.72 x 6.54 x 0.36 in compared to 10.31 x 6.26 x 0.39 in). The dimensions and weight for the new Fire HD 10 Plus (Amazon) are the same.

BUT - a new shape and size means - of course - that any covers or cases you are using with your current HD 10 won't fit this one.
You can opt for the newly designed Fire HD 10 (11th generation) Cover (Amazon) - which is available in the same 4 colors as the tablet itself.
Alternatively, you can buy the All New, Made for Amazon Bluetooth Keyboard (with detachable case).
Battery Life and Charging
As with its predecessor, this year's Fire HD 10 promises up to 12 hours of battery life, and Amazon claims it can be charged from flat to 100% power in 4 hours (I haven't personally tested this out but I would imagine it is correct - it charges very quickly).
I would argue that the battery life is even BETTER than claimed - between my kids and I we have used my new tablet for more than 12 hours, with a mixture of streaming and reading and at a standard brightness and volume. That's pretty impressive!
This tablet comes with USB-C charging (as do all Fire tablets, with the Fire 7 included for the first time following the 2022 upgrade).

No Wireless Charging - Unless You Buy The HD 10 Plus
I had hoped that this year's release of the HD 10 would come with wireless charging as standard. As with the latest release of the HD 8 in 2020, however, you need to upgrade to the Plus version in order to charge your tablet wirelessly.
The Fire HD 10 Plus (Amazon) will charge with any Qi-compatible charger, or you can buy the Made for Amazon Wireless Charging Dock, which doubles up as a stand.
The dock - which is ONLY compatible with the Fire HD 10 Plus (11th generation) is especially useful if you use 'Show Mode' often, and like to use your tablet like an Echo Show.
'Show Mode' drains the battery pretty quickly, so aside from the convenience of having your tablet propped up on a stand for easy viewing, it's also handy to have it charging whilst in use! 
Colors
The Fire HD 10 (11th generation) is available in 4 different colors -
I chose lavender, which is an incredibly pretty shade and my favorite of all the Fire colors so far!
The Fire HD 10 Plus is only available in Slate grey.
The body of the Fire HD 10 (11th generation) is made of a matt plastic which feels strong, with only a little flex. 
The Fire HD 10 Plus, however, has a more premium, soft-touch feel.


Camera
This year's Fire HD 10  has a 2 MP selfie camera, just like its predecessor, which is good enough for things like Zoom calls (something we've all had to take part in a lot more often just recently!).
But in an upgrade from the previous version, this year's tablet now has a 5 MP rear camera (previously 2 MP). I'll be honest, I rarely use the main camera on my Fire tablet - like most people, I use my phone for that - but my kids to tend to use theirs. Either way, a little upgrade is always welcome!
As mentioned earlier, the selfie camera is now in a new position - centered in the landscape orientation - which provides the wide viewing angle you need for video conferencing. 
When held in landscape orientation - with the camera at the top - the dual speakers are also at the top and all the buttons/ports shown below are on the right hand side. The slot for the microSD card is at the bottom, towards the right hand corner.
Buttons/Ports
Here's how the Fire HD 10 (11th generation)  looks from the side, if the tablet is held in landscape mode with the camera at the top. 
The on/off button is located right beside the volume buttons, a change that I first noticed with last year's redesign of the Fire HD 8. It's not my favorite position and sometimes causes me to turn my tablet off when I'm just trying to change the volume!
Thankfully, I do it less often with this tablet than with the Fire HD 8, however, because its extra size means the buttons are just slightly further apart!
Obviously, the new locations of the ports and buttons is another reason why you won't be able to use your case or cover for a previous version of the Fire HD 10 with this year's model.
Audio
As with the previous model, the dual speakers of the 11th generation Fire HD 10 produce pretty decent, balanced sound, with reasonable bass.
At maximum volume it is OK for listening to audiobooks in a quiet room, but if you want to listen to music, watch a movie, or drown out any background noise, I still recommend using earphones or a good bluetooth speaker. 
Another option is a volume boosting app, although I don't personally using one. If you boost the volume too far, you could damage your speaker... and void your warranty!
Screen Resolution and Display
The display resolution of 1920 x 1200 is the same as the 2019 Fire HD 10 - indeed, the Fire HD 10 is the only one of the Fire family with a a full HD (1920 x 1200) pixel screen.
But a welcome upgrade here is that the display is 10% brighter than before.
Although I didn't notice a huge amount of difference when using it indoors, what I did notice was that I could see the screen clearly when outside!
This is the FIRST Fire tablet that I have been able to use outside in bright sunshine, which makes a very welcome change!
Being able to see the screen outdoors is important if you read a lot of books on your tablet, so - for me - this has been one of the best improvements with this year's Fire.
As before, the screen uses adaptive brightness to automatically optimize the level based on the amount of light available.
It also has the Blue Shade option to reduce the amount of blue light on the screen, making it more comfortable for bedtime reading.
As with all new versions of the Fire, there is no option to keep the screen awake indefinitely, which is a bit of a pain when you are listening to audiobooks or music.
However, I have described a limited workaround you can try in this article - How to Change Your Screen Timeout .
Operating System
The 2021 Fire HD 10 uses the standard Fire operating system (based on Android's Pie).
If you already own a Fire then you will know that the interface has been simplified lately - a change that not everyone has appreciated!
Whereas before there were tabs for videos, books, apps etc at the top of the screen, there are now just 3 main tabs, with few options for customization.
The tabs are:
Home - this is a grid of all the apps downloaded to your device
For You - this is made up of recommendations of things like movies, books and apps that Amazon thinks you may like, based on things you have bought before. You'll also find recently used apps here, plus the option to continue reading magazines or books that you've already started.
Library - this contains carousels of different types of content that you have downloaded from Amazon, including Kindle books, audiobooks and Prime video. This is the only screen that you can customize to show just the things you are interested in seeing.
You will see ads on the screen every time you wake your tablet from sleep mode, unless you paid extra for the ad-free version when you bought it.
If you'd prefer not to see ads, here's how to pay to remove them.

Alexa and Show Mode
Alexa is, of course, an important part of Amazon's Fire tablets and allows you to activate Show Mode hands-free (you can also activate it by swiping down from the top of screen and turning it on in the quick settings).
If you haven't used it before, Show Mode is a smart display that you can use just like an Echo show. When you use voice commands to search for something, it will give you both audio and visual results - really handy if you need a quick conversion when you're in the middle of a recipe, for example.
To make the most of Show Mode you need to either prop your Fire up on a stand, or buy the Fire HD 10 Plus (Amazon) instead, along with the Charging Dock for the HD 10 Plus. This is built to hold your Fire at just the right angle for easy viewing.
Game Mode
Just like the 10th generation tablets released in 2020,  the new HD 10 and HD 10 Plus come with 'Game Mode'.
Amazon describes this as 'a distraction-free, optimized gaming experience that lets you focus on your game without interference from notifications'. 
This is a real plus for gamers, as it hides and mutes those pesky notifications that always tend to appear at a crucial moment!
This mode is on by default and automatically activates as soon as you launch a game.

Fire HD 10 2021 Vs Fire HD 10 Plus
The Fire HD 10 Plus  (at Amazon) was released at the same time as the 2021 version of the Fire HD 10.
Here's a summary of the differences so you can decide if the price difference ($30 at the time of writing) would be justified for you.
The differences between the 2 versions are:
More RAM - the Plus has 4 GB of RAM compared to 3 GB
Colors and finish - the Plus has a more premium finish, but is only available in one color. The standard version is available in 4 colors.
Fast wireless charging - this is ONLY available with the Plus version. You will need to separately purchase a Qi compatible charger or the latest version of the Wireless Charging Dock - it is not compatible previous versions of the Charging Dock.
Is the HD 10 Plus worth the extra money?
The differences between the two are minimal and I think it really comes down to whether or not you want wireless charging, in which case you have no option but to go for the Plus. If you're not that bothered about the ability to charge your Fire wirelessly, then I think you will be perfectly happy with this year's standard Fire HD 10 (Amazon).
Other Specifications
As with all new Fire tablets, the 11th generation Fire HD 10 has built-in bluetooth, and comes with a 90 day limited warranty. A 2-year extended warranty (Amazon) is sold separately.
Can I Use Google Play Store with the 11th Generation Fire HD 10?
As with all Fire tablets, Google Play Store is not available with the 2021 Fire HD 10.
However, there is a workaround for this which will allow you to add Play Store quite easily. But please note that Fire tablets are not designed for Google Play Store and I can't guarantee this will work with every device.
That being said, it was the first thing I did when I got my new Fire HD 10 this year and it worked perfectly!
Here are the instructions on how to install Google Play Store directly to your device if you'd like to give it a try.
Introducing the Made for Amazon Keyboard with Bluetooth Detachable Case
This keyboard connects to the Fire via Bluetooth and charges separately to the tablet via USB-C. It takes a little getting used to at first - there is no touchpad, so you still use the screen to a certain extent, but then have the convenience of a full keyboard for when you want to type a large amount of text. 
I find the compact keyboard very easy to use, although the keys are on the small side. Whilst they are perfect for me, people with very large hands might find them a little TOO small. There are shortcut keys for things like the home page, or to put the tablet in split screen mode.
The Fire wakes and sleeps when the keyboard cover is opened and closed, as does the keyboard itself, although it has a separate on/off switch if you'd prefer to use that.
The cover has a matte finish, which feels almost rubber-like and is very easy to grip.
And the keyboard case does double duty as a protective case - you can easily detach the Fire from the keyboard itself, leaving the back of the case installed. This does mean, however, that the screen is exposed, so you may still want to buy a screen protector or separate 11th Generation Fire HD 10 cover (both from Amazon) if you plan to carry your tablet around separately to the keyboard.
The only downside with the keyboard is that it adds a lot of weight to your device.
I personally don't mind this if I plan to do some work on My Fire tablet when I'm out and about - it's still a lot lighter than my laptop!
But if you like to take your tablet out with you just for reading, I feel you'd definitely want to detach it from the keyboard - in which case you would need to be prepared to spend a little extra on screen protection.
Click here to read my full review of the Made for Amazon Bluetooth Keyboard
To Summarize...
I'm more than happy with my shiny new Fire HD 10. 
The large size makes it great for reading magazines (something I always found a little more challenging on my HD 8), it feels snappy and responsive and it's a little thinner/lighter than it used to be.
Best of all (at the time of writing) there has been no increase in price, making it great value for money!
The keyboard is a really nice accessory that I'm glad I bought. Whilst it may never replace a full blown laptop for every application, it makes it so much easier to type lengthy documents and emails, whilst also functioning as a cover and stand.
I also love the fact that I can use my Fire outdoors and still see the screen clearly - the first Fire tablet I've ever been able to do this with!
Do YOU have any comments, opinions or questions about the 2021 Fire HD 10 and/or any of its accessories? If so, I'd love to hear from you.
Comments from our visitors...
My old Fire 8 died and I got some credit to upgrade to a HD 10, and wanted to let you know about a feature that's a big deal to me, but was not available on older Fires.
In the Kindle app, the new Fire now supports Open Dyslexic font. This is SO huge for me and has been on my Paperwhite forever, but not compatible with the Fire.
The reason this is big and needed when I have a Paperwhite is that I have manuals for work like SQL and network security. These are well illustrated but the pics/color don't work on my Paperwhite. This also applies to the woodwork and metal crafting stuff I do as a hobby.
Being able to now use a device to read, see the pics well and not have the text playing "3 card monte" with the syllables is amazingly helpful.
- Dave
Thank you, Dave, for sharing this feedback. I'm so pleased for you that you are now able to use your Fire in this way and I know this information will be helpful to visitors to this site who are considering the Fire HD 10.
- Christine
Want to Trade-in Your Older Kindle Fire?
If you have an older Kindle Fire and want to upgrade to the latest version, you may have the option of trading it in.
See my article about the Amazon Trade-In Program for Fire Tablets to learn more.

Want to Save Money When You Upgrade?
Then consider buying a refurbished Fire tablet through the Amazon Renewed program. It comes with the same limited warranties as a brand new device!
Learn How to Transfer Content from Your Old Fire Tablet
Amazon makes it pretty easy to transfer to transfer content from your old Fire tablet when you upgrade. But it's important to realize that not EVERYTHING can be moved to your new device.
Learn more about how to transfer files from one Fire to another
I ♥ My Fire!
-Christine