The Fire HD 8 Tablet 2020 (10th Generation)
FTC Disclosure: If you make a purchase via a link on this site, I may receive a small commission. There will be no added cost to you. Thank you!

UPDATE: All-new, improved Fire HD 8 tablets were released in 2022.
2020 saw the release of Amazon's new addition to the Fire family - The All-New Fire HD 8 Tablet (at Amazon).
The last 8 inch Fire tablet was the 8th generation, released in 2018.
And whilst there are only a few visible differences from that version, the main improvements this time are hidden away in its inner workings.
Extra RAM, a more powerful chipset and - at last! - USB-C charging make this one of Amazon's best Fire tablets yet. 
So let's have a closer look at what's great about 2020's version of the Fire HD 8 - plus which of the features I'm not so keen on!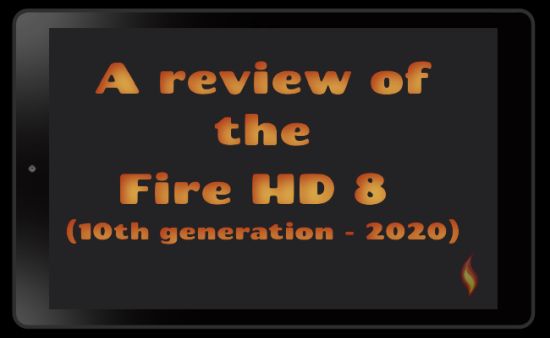 What's In the Box
As always, the contents of the box are nice and simple, and you'll find...
Your shiny new tablet
The USB-C (2.0) cable
5W power adapter
Quick start guide (not pictured)
Note - I'm currently in the UK - your adapter may look different!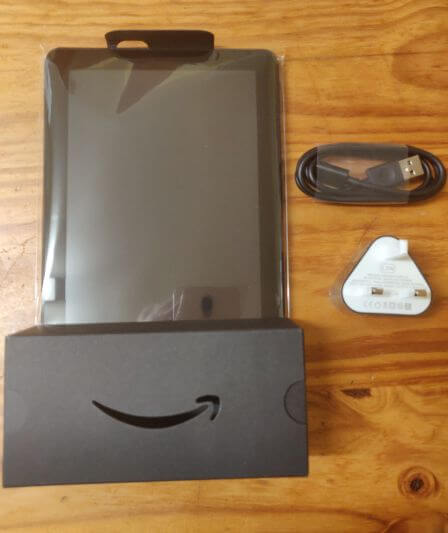 Storage
Here's where we see the first of the big improvements over its predecessor.
The base storage on the new Fire HD 8 has doubled from 16 GB to 32 GB. And - for the first time - there is a 64 GB option. At the time of writing, this is available for an extra $30. 
Personally, I find 32 GB to be more than enough for my needs, especially since I stream more content than I download. But that larger capacity is certainly a handy option if you need more space for downloads (for example, if you have limited access to wi-fi and streaming isn't an option).
As with previous versions, you still have the option to increase your Fire's storage with a microSD card. With the latest tablets, you add up to 1TB of storage this way.
Click here to learn more about using a microSD card with your Fire - but do remember that there are certain limitations with SD cards and I always recommend buying the Fire tablet with the largest possible amount of built in storage you can afford.
RAM and Processor
The 2020 version of the Fire HD 8 comes with 2 GB of RAM, compared with the 1.5 GB of RAM we saw with the previous model.
This - along with the further upgrade to a 2.0-GHz quad-core CPU - makes it feel a lot faster (the specs state 30% faster) and without a doubt the smoothest of all the Fire tablets I've used so far. 
While there may still be a little lag when switching between apps, it is noticeably less than before and everything feels just so much more efficient! 
Dimensions
As you can see from the image below, there's quite a difference between the All-New Fire HD (on the left) and the previous (8th generation) Fire HD 8 (on the right).
The 10th generation Fire HD 8 measures  7.95 x 5.39 x 0.38 inches and weighs 12.52 oz, whereas the 8th generation Fire measures 8.43 x 5.04 x 0.38 inches and weighs 13.02 oz.
Personally, I quite like the new, squatter version with its more rounded corners - but, of course, the change in shape means that the 10th generation Fire HD 8 will probably not fit any covers you may already have.
As I mention later in this article, various buttons and the camera are in different places too, so unfortunately a new cover is a must.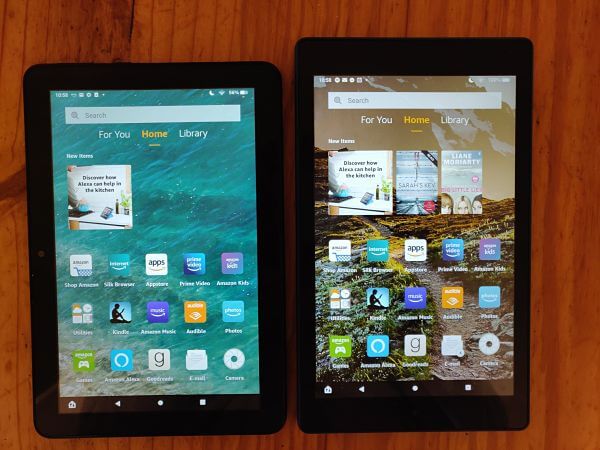 Battery Life and Charging
The 2020 Fire HD 8 offers up to 12 hours of battery life - that's 20% more than before. This is based on mixed usage - so if you do more reading than anything else, you may even get more than 12 hours. If you prefer to play a lot of games, however, you're likely to get less. 
The specs state that it is fully charged within 5 hours and whilst I haven't yet put this to the test, I've definitely noticed that it charges very quickly. 
Best of all is the fact that this model comes with a with a 5W USB-C adapter instead of the previous micro-USB - yay!
USB-C chargers are a nice, symmetrical oval shape, which means you can put them into the charging port either way up - a small detail, but convenient!

If the rate of charging is especially important to you, you can speed things up by investing in a different adapter, which is now possible thanks to the USB-C port.
The Amazon 9W Official OEM USB Charger and Power Adapter (Amazon) will charge the 10th generation Fire HD 8 in around 4 to 5 hours, and this 15W Type-C Wall Charger with USB-C Cable (Amazon) is reported to charge it in 3 hours.
Please note that I haven't used these myself, but it might be worth giving worth giving them a try if faster charging is a priority.

BUT - No Wireless Charging
If - like me - you bought the 8th generation Fire HD 8, then you will know that it was equipped for wireless charging.
Although it would work with compatible wireless chargers, I bought the Show Mode Charging Dock  (at Amazon) for mine, which effectively allowed the tablet to work like an Echo Show. 
However, the 10th generation Fire HD 8 CANNOT be charged wirelessly - for that you'd have to upgrade to the Fire HD 8 Plus (Amazon).
And that's what I considered doing - until I found out that the HD 8 Plus uses a NEW charging dock (you can find out more about this here) and will not work with the old one.
This is disappointing, as my original charging dock is only now compatible with the previous version of the Fire HD 8. 
Colors
The Fire HD 8 (10th generation) is available in 4 different colors -
Black
Plum
Twilight blue
White
The body is made of hard plastic and whilst it definitely doesn't have a premium feel to it, it does feel strong, with no bending.
Camera
The Fire HD 8 Plus has one 2 MP camera at the front and another at the rear, just like its predecessor.
One important difference, though, is that the front camera has a brand new position and is at the top when held in landscape mode, but on the side in portrait.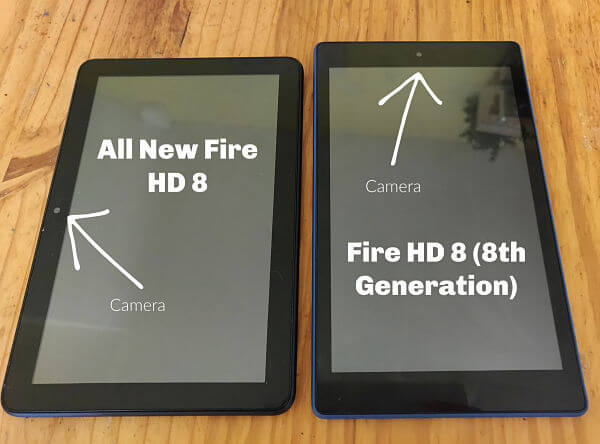 This is clearly a big advantage for video calling - something we are all doing a lot more of these days - and gives the wide viewing angle needed for video conferencing!
When held in landscape orientation - with the camera at the top - the dual speakers are also at the top and all the buttons/ports shown below are on the right hand side. The slot for the microSD card is at the bottom, towards the right hand corner.
Buttons/Ports
Here's how the Fire HD 8 looks from the side, if the tablet is held in landscape more with the camera at the top. 
Frustratingly, the on/off button has been moved from its original spot to a new location right beside the volume buttons!
As you can imagine, this leads to quite a few incidents of turning the Fire off when you are merely trying to adjust the volume - and accidentally turning your device all the way up instead of turning it off!

Aside from that, things are not too much different than they were with the previous version (pictured below).
However, the differences in the locations of the ports (not to mention the difference in the dimensions of the device) mean that you can't use the cover for your 8th generation Fire HD 8 with the 2020 version.

Previous Fire HD 8 (8th generation)

Audio
Compared to the early versions of the Fire tablet - when the volume was set virtually at whisper level! - the volume on the Fire HD 8 is pretty decent, with a well balanced sound quality.
But even at maximum volume the tablet is still too quiet for most people when it comes to things like listening to music and audiobooks, or watching movies.
This is an easy enough problem to solve, though, and I discuss several solutions here on this site - from using earphones to investing in a good bluetooth speaker. 
You could also try a volume boosting app, but I don't really recommend them as boosting the volume too much could damage your speaker... and void your warranty!
Screen Resolution and Display
At 1280 x 800 IPS, this remains the same as it was with the previous version - which, to be fair, is still pretty decent at this price point! The HD video playback uses IPS (in-plane switching) technology, which provides good color and viewing angles. 
The screen has adaptive brightness, which automatically optimizes the level of brightness based on the light available.
But whether I have a habit of covering the light sensor with my hand - or it simply doesn't work very well - I find this feature to be unreliable, with the brightness going up and down constantly. I've actually turned mine off - all you need to do is go into Settings → Display and toggle off  'Adaptive brightness'.
Even with the brightness turned all the way up, this version of the Fire still seems a little too dim when used outdoors.
On the plus side, it has a Blue Shade option, which reduces the amount of blue light on the screen and makes it a lot more comfortable for bedtime reading.
As with other recent versions of the Fire, there is - annoyingly - no option to keep the screen awake indefinitely, which can be a nuisance if you're listening to music or audiobooks.
There is, however, a limited workaround which I've described in this article - How to Change Your Screen Timeout.
Operating System
This tablet uses the standard Fire operating system (based on Android's Pie) which has been recently updated (and simplified), into 3 main sections -
For You - a combination of recommendations for Amazon  books, apps, movies etc based on previous purchases, plus a list of apps you've used recently and the option to continue any books or magazines that you may already be reading
Home - the place to access all your apps
Library - a collection of all the content in your library, where you can switch between everything in your cloud and the content actually downloaded to your device. This is the only screen that you can customize to show the content you are most interested in seeing.
Unless you paid extra at the time of purchase for the ad-free version, you will be greeted with Amazon ads when your tablet wakes from sleep mode. If you decide you'd really rather not see them, then here's how to pay to have them removed.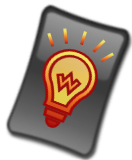 If you feel that your new tablet is using too much data or slowing down your internet, it might be due to a hidden feature called On Deck, that automatically downloads TV shows and other content to your device.


Alexa
Alexa works brilliantly with the Fire HD 8 and I find that my voice commands are picked up really well. 
Just tell it to turn on 'show mode' and you have a smart display that you can use just like an Echo show. I find it useful in the kitchen - ask for a recipe for banana bread, for example, and you will receive both audio and visual results. Alexa will even take you through the recipe itself!
You will probably find you need to prop your tablet up on a stand to take full advantage of show mode, or opt for the Fire HD 8 Plus  (Amazon) instead and buy the Charging Dock, which is designed to hold your tablet at the perfect angle for this type of use. 
Introducing Game Mode
All 10th generation tablets released in 2020 come with 'Game Mode', described by Amazon as 'a distraction-free, optimized gaming experience that lets you focus on your game without interference from notifications'. 
If you're a gamer, this is a welcome addition, as your notifications are muted and hidden as you hunt zombies, match jewels... or whatever your particular gaming addiction might be ;)
It automatically activates when you launch a game, optimizing performance and disabling Alexa.
Fire HD 8 2020 Vs the Latest Fire 7
At the time of writing, there is a $40 difference between the current - 9th generation -  Fire 7 tablet  (at Amazon) and the 10th generation Fire HD 8.
So is the Fire HD 8 worth the difference?
My answer is a very big YES!
If the 10th generation Fire HD 8 is within your budget, then it is definitely worth choosing over the Fire 7. This is mainly because of the huge advantage of USB-C charging, along with the many other benefits, such as superior display resolution, twice the RAM, better base storage and improved battery life.

Fire HD 8 2020 Vs Fire HD 8 Plus
The Fire HD 8 Plus  (at Amazon) was released at the same time as the 2020 version of the Fire HD 8.
So what are the differences - and do they justify the higher price tag ($20 more expensive at the time of writing)?
The differences between the 2 versions are:
More RAM - the Plus has 3GB of Ram compared to 2 GB
Faster charging time - 4 hours instead of 5
Fast wireless charging - no longer available with the basic version, you HAVE to purchase the Plus version if you want to charge your device wirelessly. You will also need to buy the latest version of the Wireless Charging Dock - it is not compatible with the previous version.
So is it worth it?
I think this really depends on how important wireless charging is to you and if you're happy to buy the Charging Dock separately. Aside from that, I really don't think there's much difference between the two, and I am very happy with the 'basic' 10th generation HD 8.
Other Specifications
Like all new models, the 10th generation Fire HD 8 has built-in bluetooth, and comes with a 90 day limited warranty. A 2-year extended warranty is sold separately.
A Reader's Review
As I was preparing my review, I received the following message from Fire fan Colette in Massachusetts. Whilst we both agreed that this new Fire HD 8 is faster than its predecessor, we agreed about a couple of its shortcomings too!
Colette said:
"I can't say that I'm truly unhappy with this new version, but a couple things do bother me. I already had an HD8 - 6th edition; I like that very much. I bought the newer version because my old one was getting cranky and it's the only way I can access the DUO app I need for work-from-home (we are still at that point in my company and there is talk of going permanent with it).
Not surprisingly, the size is different so as to require purchase of new accessories, but that isn't a big issue.
My biggest complaint is the location of the side buttons - the "power" and up/down buttons are now right next to each other, instead of on opposite ends of the same side. Their new proximity makes them frustrating to use - no longer easy to do so without having to pay attention; very easy to hit the wrong one.
After that, I dislike the change in function of the wi-fi icon in the message center (swipe down from top). it merely turns on & off the wifi, instead of having the ability to easily switch between networks like previously. On my older tablet, it would be an on button if already off, but when on, would give me a drop down of available networks - then I could simply touch the one i wanted. With the new button, to switch networks requires going into settings & even then it is not a simple click to switch. I find this to be rather annoying.
My last point is merely aesthetic: the icons at the bottom (arrow, circle, square) are now filled in & not just outlines. i don't like them this way.
None of these are enough to make me wish I had made a different purchase, just things I wanted to point out to others."
Thanks, Colette, for your review - and if YOU have any comments, opinions or questions about the Fire HD 8, I'd love to hear from you.
Want to Trade-in Your Older Kindle Fire?
If you have an older Kindle Fire and want to upgrade to the latest version, you may have the option of trading it in.
See my article about the Amazon Trade-In Program for Fire Tablets to learn more.

Want to Save Money When You Upgrade?
Then consider buying a refurbished Fire tablet through the Amazon Renewed program. It comes with the same limited warranties as a brand new device!
Learn How to Transfer Content from Your Old Fire Tablet
Amazon makes it pretty easy to transfer to transfer content from your old Fire tablet when you upgrade. But it's important to realize that not EVERYTHING can be moved to your new device.
Learn more about how to transfer files from one Fire to another
I ♥ My Fire!
-Christine