Should I Buy a Refurbished Fire Tablet

Should I Buy a Refurbished Fire Tablet?
There are a couple of ways to save money when buying a Fire tablet.
One is to wait for a sale. Amazon holds these fairly often and if you subscribe to my newsletter you'll be among the first to know!
Another is to trade in your old tablet, if it's eligible. That will get you get you a gift voucher and a discount on a new device from the current generation of tablets.
But there's another option - and that's to buy a refurbished Fire tablet from Amazon.
If the thought of buying a pre-owned tablet seems risky and isn't something you've considered before, let me tell you about Amazon Renewed and why I recommend it as a great way to bag a bargain!
FTC Disclosure: If you make a purchase via a link on this site, I may receive a small commission. There will be no added cost to you. Thank you!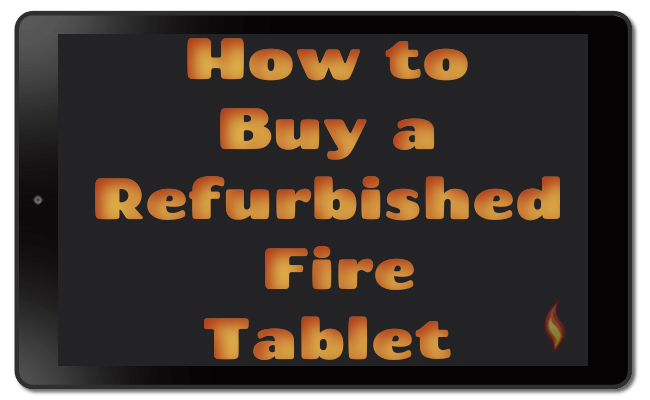 What is Amazon Renewed?
Amazon Renewed is the program used by the company to sell refurbished, pre-owned, and open-box products.
It doesn't just include Fire tablets - you can find heaps of products at low prices, including smartphones, cameras, and even kitchen equipment!
All product sold through Amazon Renewed are listed as 'renewed' or 'certified refurbished'.
When it comes to Fire tablets, this means they will have been professionally cleaned, inspected, tested, and repaired (if necessary).
By the end of the process, they should look and work like new, with no visible cosmetic imperfections when held 12 inches away.
Unless otherwise specified on the product detal page, they should also arrive with all the accessories you'd expect with a new Fire tablet.
What's more, they come backed with the SAME limited warranties as brand new Fire tablets. 
Isn't it Risky to Buy a Refurbished Fire Tablet?
Most of us are naturally wary when it comes to buying used items - especially electronics. Outside of Amazon, 'refurbished' can mean many things. You want to be sure you are buying a high-quality Fire tablet, not simply one that's been cleaned and put in a new box!
An important distinction with Amazon Renewed Fire tablets is that they have been inspected and returned to an as-new condition.
This involves:
A full diagnostic test
Thorough cleaning and inspection
Secure data wipe
Replacement of any defective parts identified in testing
Updating of software
But you don't just have to take Amazon's word for it and cross your fingers.  Instead, you'll get the same warranties and guarantees that you would if you bought a brand new Fire tablet.
This means that - rather than being risky - buying a refurbished Amazon Fire tablet is a good way to get a great device at a bargain price.
What is the Warranty for a Refurbished Fire Tablet?
You can buy a refurbished Fire tablet with the same level as confidence as a brand new one, because you'll get an identical warranty.
This is usually a 90 day limited warranty for the Fire 7, Fire HD 8, and Fire HD 8 Plus.
For the Fire HD 10 and HD 10 Plus, you get a one-year limited warranty.
In both cases, Amazon will repair or replace the device in case of any faults. The cost of returning the device to Amazon is included.
What is the Difference Between Used and Renewed/Certified Refurbished Fire Tablets?
Some private sellers may sell 'used' Fire tablets on Amazon. These are not covered by a limited warranty in the same way as new and Renewed/Certified Refurbished Fire tablets.
When looking for a refurbished Fire tablet, ensure that the product detail page specifies that the item is Renewed or Certified Refurbished. You should also see a guarantee at the top of the listing that confirms 'This device was tested by Amazon'.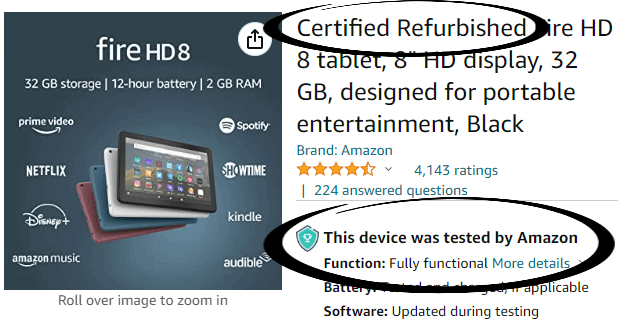 What are the Benefits of Using Amazon Renewed?
Buying from Amazon Renewed is one of the best ways to get your hands on a fully working Fire tablet (or any other product in the Renewed storefront) for a bargain price. 
It's also helpful to the environment. 
Amazon has made a committment to sustainability and the Renewed program is part of that initiative. Recycling and remanufacturing items like the Fire tablets procured via the Trade-In Program and other means helps cut down on electronic waste.
So Should I Buy a Refurbished Fire Tablet? 

I definitely recommend this program as one worth considering if you're on the market for a replacement Fire but looking for a way to cut back on costs.
Buying used products can feel like a gamble, but the Amazon Renewed program - with its thorough inspection and refurbishment process - takes away the uncertainty.
This means you can get a Fire tablet in pretty much new condition, backed with a limited warranty, and at a discounted price. 
Have You Bought a Fire Tablet with the Amazon Renewed Program?
Then I'd love to hear about your experiences, good or bad.
Please leave a comment below or contact me here.
Decided to Give The Program a Try?
Click here to visit Amazon and see Refurbished Fire tablets available now.
Alternatively, you can visit the Renewed Electronics Storefront to see all the different categories included in the Amazon Renewed Program.
I ♥ My Fire!

-Christine