Amazon Trade-in Program for Fire Tablets

The Amazon Trade-In Program - Should You Use It?
Updated: July 11, 2023
If you want to upgrade your Fire tablet to the latest model but are hesitant about the cost, then the Amazon Trade-In Program may be just the answer!
In this article I'll take a look at just how the program works and who it might be suitable for.
FTC Disclosure: If you make a purchase via a link on this site, I may receive a small commission. There will be no added cost to you. Thank you!

What is the Amazon Trade-In Program?
This program allows you to 'sell'  your unwanted Fire tablets back to Amazon, in return for a gift voucher and a discount on a new device from the current generation of tablets.
Amazon will then recycle or resell your device.
You can trade-in your tablet online, or take it to certain Amazon Locker and participating uBreakiFix locations.
The trade-in program doesn't just cover Fire tablets - lots of other categories are covered, too, including phones, streaming media players, wireless routers, and more. The exact details of how the program works varies from device to device.  
I personally used the program back in 2021 to upgrade a pretty old (3rd generation) Fire 7.
This was so that I could purchase the 11th generation Fire HD 10, which was released that year.
The procedure is the same as it was then, so let me walk you through the steps!
How to Use the Amazon Trade-In Program
First, you need to visit the Trade-In Page and select the device category (alternatively, you can visit the page dedicated to tablets only, and find your device there).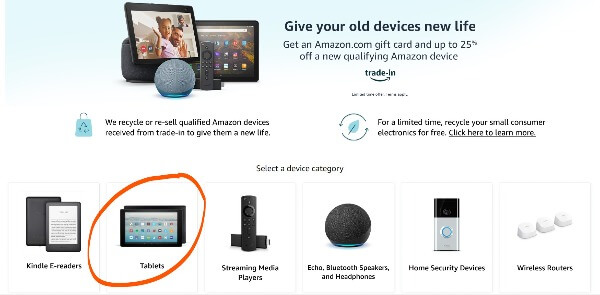 If you're signed into your own Amazon account, a pop-up appears showing similar devices already registered to you.
If you want to trade-in something else, use the search box (near the top of the pop-up window) to find it.
The screenshot below is from my US Amazon account and - as you can see - I have a few older Fire tablets on there!
Suppose I want to trade-in the last Fire on the list. As you can see, Amazon will give me a gift card worth up to $10 for it. They will also give me 20% off a new Fire tablet.
If I'm happy with that, I need to check the box next to the device and press 'Continue'.
On the next screen I'm asked if the device works and holds a charge. I've answered yes to this.
I'm also asked if there are any cracks or defects, to which I've answered no.
As a result, the trade-in value remains at $10. But - as you can see - that's dependent on my device actually matching my selections, which is determined once the device is received.
You can still send in Fire tablets that are cracked or won't turn on but - as you'd expect - the value is reduced.
Note that you are also asked whether you are happy to accept the adjusted value should your Fire be found to be in worse shape than you described.
Be careful answering this question, especially if you are trading-in a more valuable Fire. Make sure you really will be happy with the lower price.
I changed the answers to the above questions to see how it would affect the value if the Fire were not in great condition. In this instance, it was reduced by half.
It might be worth selecting the option to have a higher value tablet shipped back to you for free. This will cancel your trade-in automatically and you can then try to sell your Fire elsewhere.
But if you're happy to go ahead, tap continue and submit your item for trade-in.
What Happens Next?
Amazon will issue you with a shipping label that you can print out and use to ship your Fire to them free of charge. They will also provide a packing slip, that you place inside the box.
 You can drop off your trade-in item(s) at any UPS store or eligible UPS drop-off point. 

You MUST ship your Fire to Amazon within the time specified (usually 45 days) or the trade-in will automatically be canceled. You can, however, re-submit it in the future.
It's up to you to package your Fire securely for transit (keeping the original boxes for your Fire tablets is always a good idea, as they come in handy for situations like this, or if you want to resell your device).
You will hear back from Amazon within 10 days. They will confirm whether or not your Fire has been accepted, along with the trade-in value.
Your gift card and promotional code will then be applied to your account, so that when you go to check out your brand new Fire tablet, you will receive your discount automatically.
Things to be Aware Of
You need to de-register your device before shipping
This is quick and easy to do!
Just log into your Amazon account and go to 'Your Content and Devices'.
Tap 'Manage Your Content and Devices', then locate the Fire your are trading-in and click 'Deregister'.
Done!
It's also your responsibility to back up and remove your personal data (which - for your own privacy - I'm sure you'll want to do anyway!)
Make sure you remove the SD card from your device if you use one. 
If you leave it in, Amazon will destroy it on receipt. You'll have no opportunity to ask for it back!
You need to be honest about the condition of your device
To get the best price for your Fire, it needs to be in great shape, with everything working as it should.
This means that it powers on, holds its charge, and stays on without unexpectedly powering off. 
Whilst the minor marks from normal wear won't affect the valuation, other defects will.
These include
dents
breaks
cracks
missing buttons
damage to ports
corrosion
water damage
significant wear and tear.
You can find out more about the valuation criteria here.
Be sure to answer the questions about your Fire's condition accurately, especially if you will be receiving an 'Instant Payment' (more on this below).
You may be offered Instant Payment
Sometimes you are offered an Instant Payment for items that you trade in.
This means that your gift certificate is applied to your account straight away, and that you will receive the discount on your new Fire tablet immediately if you choose to buy it there and then.
This sounds great, but you need to be careful to avoid any problems!
If you haven't described your item's condition accurately - or you think you have, but Amazon decides to downgrade it - then you won't receive the Trade-In value you were expecting.
This means that Amazon will take the gift card back if you haven't used it - or charge your payment method for the equivalent amount if you have.
The same will apply to any amount you saved by using the promotional discount - so if you saved $20 on your new Fire, Amazon will want it back!
Instant payments will also need to be returned if you cancel the trade-in request, or don't send your Fire back in time.
If you are given the choice of whether or not to accept an Instant Payment, I'd recommend erring on the side of caution and saying no!
You won't have long to wait for your gift certificate anyway, and it will avoid any hassle if there are problems with your Fire.
You must package your Fire carefully
It's really important to package your device properly. Amazon won't take any responsibility for damage your Fire incurs en route.
No packaging is provided, so it's down to you to find a suitable box. Ideally, find one box into which your Fire sits snugly, then place it inside another, larger, box. Cushion the smaller box well with bubble wrap or packing peanuts.
Make sure you seal the outer box well with packing tape.
FAQ
Do the products you want to trade-in have to be originally bought from Amazon?
No, items purchased from anywhere are eligible.
But they MUST match the exact version shown in the Trade-In search results, or on Amazon's product page. The only exception is if the device comes in different colors.
If your device isn't listed, then Amazon won't make you an offer for it.
Is it possible to receive a cash payment for your devices instead of a gift certificate?
No - and the gift certificate is automatically applied to your account. This means that you can't give it away - or sell it for cash. So think hard if this is the right option for you.
How can I track the progress of my trade-in?
This is easy - just visit your Trade-In Account to find just where you Fire is in the process.
It can be up to 10 days before your Fire is processed. Once the value has been determined, you'll receive an email within 2 business days letting you know the result.
Can you cancel a trade-in once you've started the process?
Yes you can - but you'll have to pay back any Instant Payment you may have received (see above).
You can cancel the process from within your Trade-In Account.
Amazon will send back your Fire tablet  - and you won't have to pay for the return shipping.
Is Amazon's Trade-In Program Worth Using?
I think this really depends  on what you're trading in, and why.
In my case, I wanted the 11th generation Fire HD 10, which had just come out at the time (and which was - at that time - the priciest model!).
I traded in an old Fire 7, which was relatively low in value. The $10 I got for it was nice, but the real bonus was the 20% discount on the more expensive Fire HD 10.
In a situation like this, I'd definitely recommend the Trade-In Program - after all, I would probably have struggled to sell that Fire elsewhere. And even if I did, I wouldn't have benefited from that discount.
But if you are trading in a high-value item, I recommend checking with other marketplaces first to see how much you could get. It may exceed how much Amazon is offering, even taking into account the 20% discount.
Nevertheless, I personally think Amazon's Trade-In program for Fire tablets is pretty impressive. It's easy to use, you get your quote instantly, and shipping is free - even if you change your mind!
Taking all those things into consideration - plus the fact that you can even trade-in a broken fire - it's something well worth thinking about if you are on the market for the latest addition to the Fire family!
Have You Traded in a Fire Tablet with Amazon's Trade-In Program?
Then I'd love to hear about your experiences, good or bad.
Please leave a comment below or contact me here.
Comments From Visitors
From Judy in Dallas:
Just wanted to tell you of my experience trading in a Kindle.
The Amazon part went as you described but instead I took it to a U-fix-it store near to me. I did not ask them for a receipt which was a mistake I think, although I did have a QR code that Amazon sent.
The device continued to show as not received for months. Then eventually changed to being evaluated.
After at least 3 months I talked with various customer service agents at Amazon who told me to just wait. But eventually I did get one who just went ahead and issued the credit anyway.
My lesson in this is not to use Ufixit as a drop off point. Or a least get a printed receipt from them.

Decided to Give The Program a Try?
If you've decided to trade-in your own Fire, here's the link you'll need to submit it.
The current generation Fire tablets for which you can then receive a discount are:
Fire HD 8 or Fire HD 8 Plus (10th generation)
Fire HD 10 or Fire HD 10 Plus (11th generation)
Ever Considered Buying a Refurbished Fire Tablet?
Then check out my article about the Amazon Renewed program, which gives you the same limited warranties you'd get with a brand new device! (Please note that trade-in dicounts cannot be used with this program).
I ♥ My Fire!

-Christine