The Fire Max 11 - My Review
FTC Disclosure: If you make a purchase via a link on this site, I may receive a small commission. There will be no added cost to you. Thank you!

Published: July 11, 2023
Every May, Amazon announces its latest addition to the family of Fire tablets. 
These are usually upgrades to previous versions, perhaps with a little more RAM or a brighter screen.
But this year, the company launched a BRAND NEW Fire tablet - the Fire Max 11 (link takes you to Amazon).
It also revealed a couple of new accessories available for it, designed to turn it into a mini-laptop for working on-the-go!
Obviously I couldn't wait to get my little hands on it - and I've been busy testing it since it was shipped in mid-June.
There's no doubt about it - this is the best Fire tablet that Amazon has ever made. 
It is also the most expensive, to the extent that - in my opinion - it doesn't quite qualify as a 'budget' tablet any more.
So is it worth the higher price tag? And is it worth considering an upgrade if you already have the super-duper 2021 Fire HD 10 (at Amazon)?
Read on to discover all the features of the Fire Max 11 and what I liked (and didn't like) about this fab new tablet.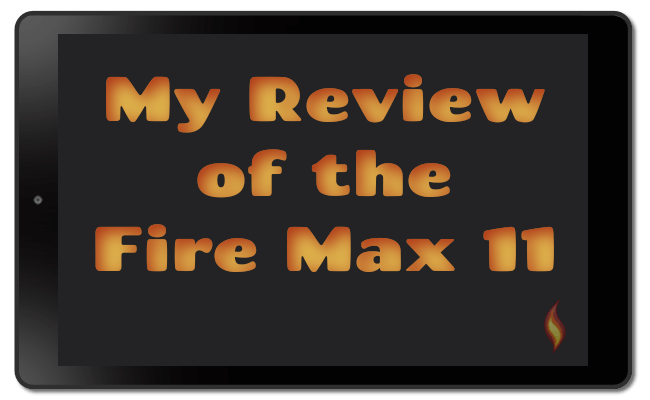 What's In the Box
As usual, Amazon has kept everything simple and the box contains the very few items you need to get your new Fire Max 11 up and running.
The written instructions are as limited as ever as the majority of the help is available online (and here at Love My Fire!).
Inside the box you should find...
Your carefully wrapped Fire Max 11 tablet
The USB-C (2.0) cable
9W power adapter
Pin to open the SD card slot
Quick start guide
Note - I'm currently in the UK - your adapter may look different!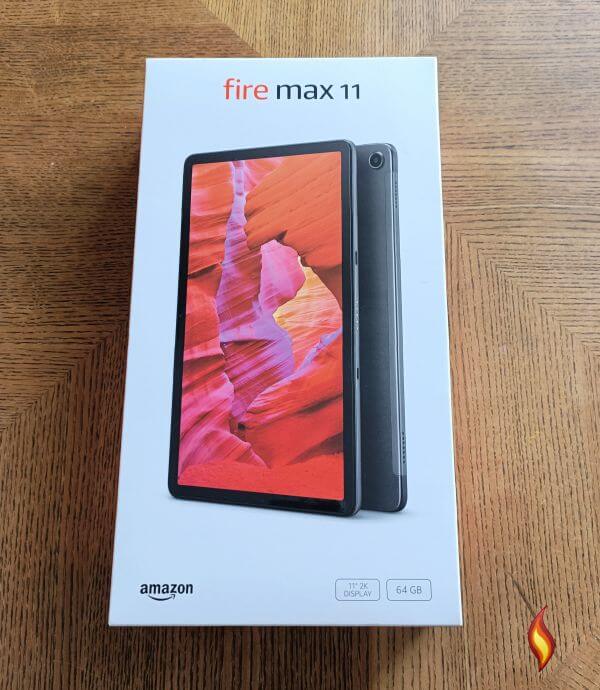 Storage
With this tablet, the option of 32 GB of storage has gone - the basic version now offers 64 GB of storage. Alternatively, you can pay extra for the 128 GB version.
This is great if you need a lot of space for things like downloading movies, especially if you often have limited wifi access and it's not always easy to stream content.
On the other hand, 64 GB is overkill for some people, who are now forced to pay a higher price for a storage capacity they'll never use.
Personally, I'd have preferred the option to buy a 32 GB Fire Max at a lower price.
As with the Fire HD 10, you can increase the storage capacity of the Fire Max 11 with a microSD card, which will allow you to add up to 1 TB.
Click here to learn more about using a microSD card with your Fire - but do be aware that SD cards have their limitations.
If you know for sure that you'll need more than 64 GB of storage, I'd recommend going for the 128 GB model from the outset.
RAM and Processor
The Fire Max 11 comes with 4 GB RAM - that's a third more than the latest edition of the Fire HD 10 (although it's the same as the Fire HD 10 Plus).
But it is powered by the MediaTek Helio G80 octa-core processor, making it more powerful than any other Fire tablet before.
This translates to a smoother performance when switching between apps or playing certain games.
You'll notice it a lot when comparing the Fire Max 11 to the Fire HD 8, but there's not a huge difference between the Fire Max 11 and the current HD 10.
In other words, I wouldn't recommend upgrading based on the speed alone.
Design and Dimensions
The Fire Max 11 definitely looks sleeker and more expensive than any of its predecessors, with a slim design and rounded corners.
It has a brushed aluminum chassis that's really nice to hold, although I found that it was quickly covered in my fingerprints!
Of course, once you add a cover you won't notice those.
It weighs just over a pound and measures 10.2 x 6.4 x 0.29 inches. It's only available in one color - gray.
HD 10 (left) Vs Fire Max 11 (right)
The build quality is great and Amazon claims that it's three times more durable than the 10th-gen 10.9in iPad (although that's not something I'm planning to put to the test!). 
In fact, I'm so used to holding my chunkier Fires with their plastic cases that this one felt quite delicate in comparison!
Obviously, with its brand new shape and size, it won't be compatible with any of your existing Fire covers or cases - instead you'll need the Fire Max 11 Tablet Magnetic Slim Cover (Amazon).
It comes in 3 colors (black, lilac, and ocean) and it's magnetic, so it's easy to fit.
It wakes your tablet or puts it to sleep when you open or close it and has a built-in stand for hands-free viewing and reading.
You can buy the cover separately or in a bundle with the Fire Max 11 and Screen Protector (the screen protector is also available separately).
Instead of the cover, I bought the Amazon Fire Max 11 Keyboard Case, which I'll discuss in more detail later in this review.
Battery Life and Charging
Brand new for this tablet is an increased battery life of up to 14 hours.
Just how much you actually get, of course, depends on how you're using your tablet. 
It may well last the 14 hours if you're just doing simple tasks like reading. But I tested it by watching movies at 80% volume and with the brightness at around 85%.
It lasted for a little over 12 hours, which is pretty awesome and makes it great for keeping the kids occupied with movies on a  long drive!
This tablet comes with USB-C charging and takes just over 4 hours to fully recharge using the 9W charger it comes with.

No Wireless Charging
Surprisingly, there's no option for wireless charging with this device.
If that's something that's important to you, I recommend plumping for the Fire HD 10 Plus (Amazon) instead.
It will charge with any Qi-compatible charger, or you can buy the Made for Amazon Wireless Charging Dock, which doubles up as a stand.
The dock - which is ONLY compatible with the Fire HD 10 Plus (11th generation) - is especially useful if you use 'Show Mode' often, and like to use your tablet like an Echo Show.
Unfortunately, there's no dock for the Fire Max 11 (nor one in the pipeline, as far as I can tell).
This means you'll need a case or cover to stand your device upright in order to take full advantage of Show Mode.
Camera
There's a big improvement with the cameras on the Fire Max 11, which features 8-megapixel front- and rear-facing cameras with 1080p HD video recording.
In contrast, the Fire HD 10 only had 2-megapixel front-facing and 5-megapixel rear-facing cameras with 720p HD video recording.
This makes the Fire Max 11 much better for things like Zoom calls and selfies than its predecessor.
It won't be replacing your phone anytime soon for your day to day photos, though, although the inprovements to the main camera are a bonus for kids who tend to use theirs more often.
The selfie camera is centered in the landscape orientation, which provides the wide viewing angle you need for video conferencing. 
When held in landscape orientation - with the camera at the top - the dual speakers are also at the top and all the buttons/ports shown below are on the right hand side.
Buttons/Ports
Here's how the Fire Max 11  looks from the side, if the tablet is held in landscape mode with the camera at the top. 
The on/off button now incorporates a fingerprint reader - a brand new and very useful feature that works really well.
Right beside it is the volume rocker, which - honestly - I found a pain to use! The buttons are almost flush with the device so it's hard to operate them by feel alone - I had to turn the tablet around to see what I was doing!
I also think they're a bit too close to the on/off button - it's easy to hit the wrong one by mistake.
The charging port has a new position right in the middle of this short edge. I preferred it towards the end, so I was less likely to encounter the wire when operating the buttons.
But that's a minor detail, really, and probably one that will only bother me!
The biggest difference you'll notice is that there is no audio jack. Anywhere!
Instead, there's Bluetooth 5.3 connectivity for wireless earphones.
That, of course, is because fewer and fewer people are using wired earphones these days.
But if you happen to have a wired set you particularly love, you'll still be able to use them - it just means you'll need to buy a USB Type-C to 3.5mm adapter (Amazon) in order to do so.
Audio
The speakers actually get pretty loud on the Fire Max 11, especially when I think back to the old days when the volume on Fire tablets was almost whisper quiet!
The sound is fairly well balanced but definitely lacking in bass.
At maximum volume it is OK for listening to audiobooks and movies, but if you want to enjoy music on your Fire Max 11, I recommend investing in a good bluetooth speaker.
Screen Resolution and Display
When it comes to the screen, there's a definite improvement on previous Fire tablets!
Boasting a resolution of 2000 x 1200 pixels,  the 11-inch fully laminated, well-built LCD screen offers wide viewing angles and rich colors. 
It's nice and bright - even to the point where you can use your device outdoors - although this is something I noticed with the Fire HD 10, too.
It features adaptive brightness to automatically optimize the level based on the amount of light available, and also has the Blue Shade option.
This reduces the amount of blue light on the screen to make it more comfortable for bedtime reading.
As with all new versions of the Fire, there is no option to keep the screen awake indefinitely, which is a bit of a pain when you are listening to audiobooks or music.
However, I have described a limited workaround you can try in this article - How to Change Your Screen Timeout .
A handy feature with the Fire Max 11 is the split screen option - something we first saw with the 11th generation Fire HD 10.
This allows you to split your screen and use two apps side by side (here's how to access this feature).
It can come in handy if you like to take notes while browsing the web and helps makes the Fire Max 11 useful for work applications.
Operating System
The Fire Max 11 uses the standard Fire operating system - Fire OS -  which is based on Android's Pie.
Aside from adding support for the optional keyboard and stylus accessories, it is the same software used across the entire Fire lineup.
As always, there are ads on the lockscreen unless you buy the ad-free version or pay to remove them.
The homescreen features 3 tabs:
Home - this is a grid of all the apps downloaded to your device
For You - this is made up of recommendations of things like movies, books and apps that Amazon thinks you may like, based on things you have bought before. You'll also find recently used apps here, plus the option to continue reading magazines or books that you've already started.
Library - this contains carousels of different types of content that you have downloaded from Amazon, including Kindle books, audiobooks and Prime video. This is the only screen that you can customize to show just the things you are interested in seeing.
Alexa and Show Mode
Alexa is Amazon's digital assistant and - of course - fully supported on the Fire Max 11.
You can activate her hands-free using your voice or by pressing the home button, then use her to carry out various tasks from setting reminders to compiling a shopping list.
The Fire Max 11 also supports Show Mode, which makes the device act like an Echo Show and display information that you can easily see from across the room.
To activate it, you simply swipe down and toggle it on from the notification shade.
Other Specifications
The Fire Max 11 supports Wi-Fi 6 for faster browsing, although - of course - you'll need a compatible router to benefit from it.
It also has built-in bluetooth, and comes with a 1 year limited warranty.
2-year and 3-year extended warranties (Amazon) are sold separately.
Can I Use Google Play Store with the Fire Max 11?
As with all Fire tablets, Google Play Store is not available with the Fire Max 11.
There is a workaround that is effective for earlier versions of the Fire. I've tried it with this iteration, but - whilst the Play Store downloads to the device - some of the apps are unstable or won't work at all.
I'm still testing this and will add an update if I have any luck.
Introducing the Fire Max 11 Keyboard Case and Stylus
If you ever bought the Made for Amazon Bluetooth Keyboard for the Fire HD 10 (11 generation), then you might be expecting a similar keyboard for the Fire Max 11.
But the  Amazon Fire Max 11 Keyboard Case is a completely new keyboard to go with a completely new tablet - and it's definitely an improvement.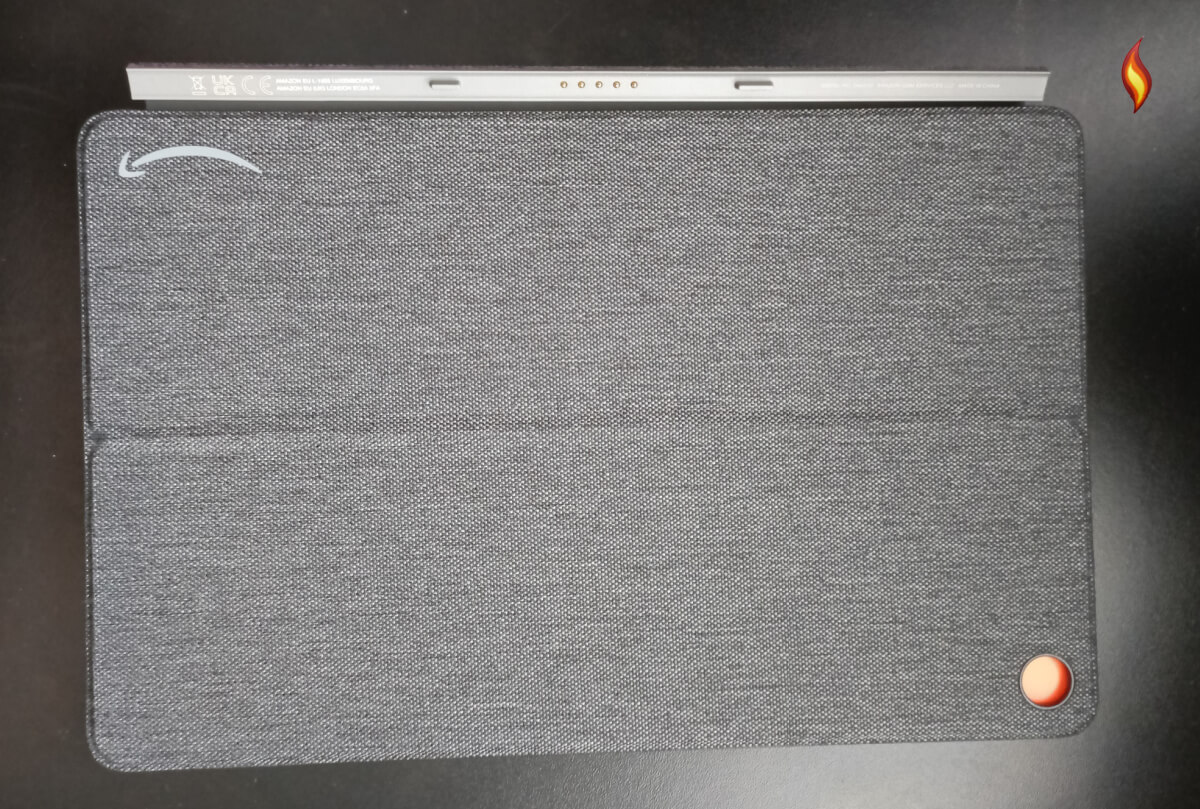 There are 2 parts to it - a back cover that has a fabric-like feel, and a detachable keyboard.
You can use each part separately, and the back cover has a kickstand that you can easily adjust in order to view your tablet at various angles.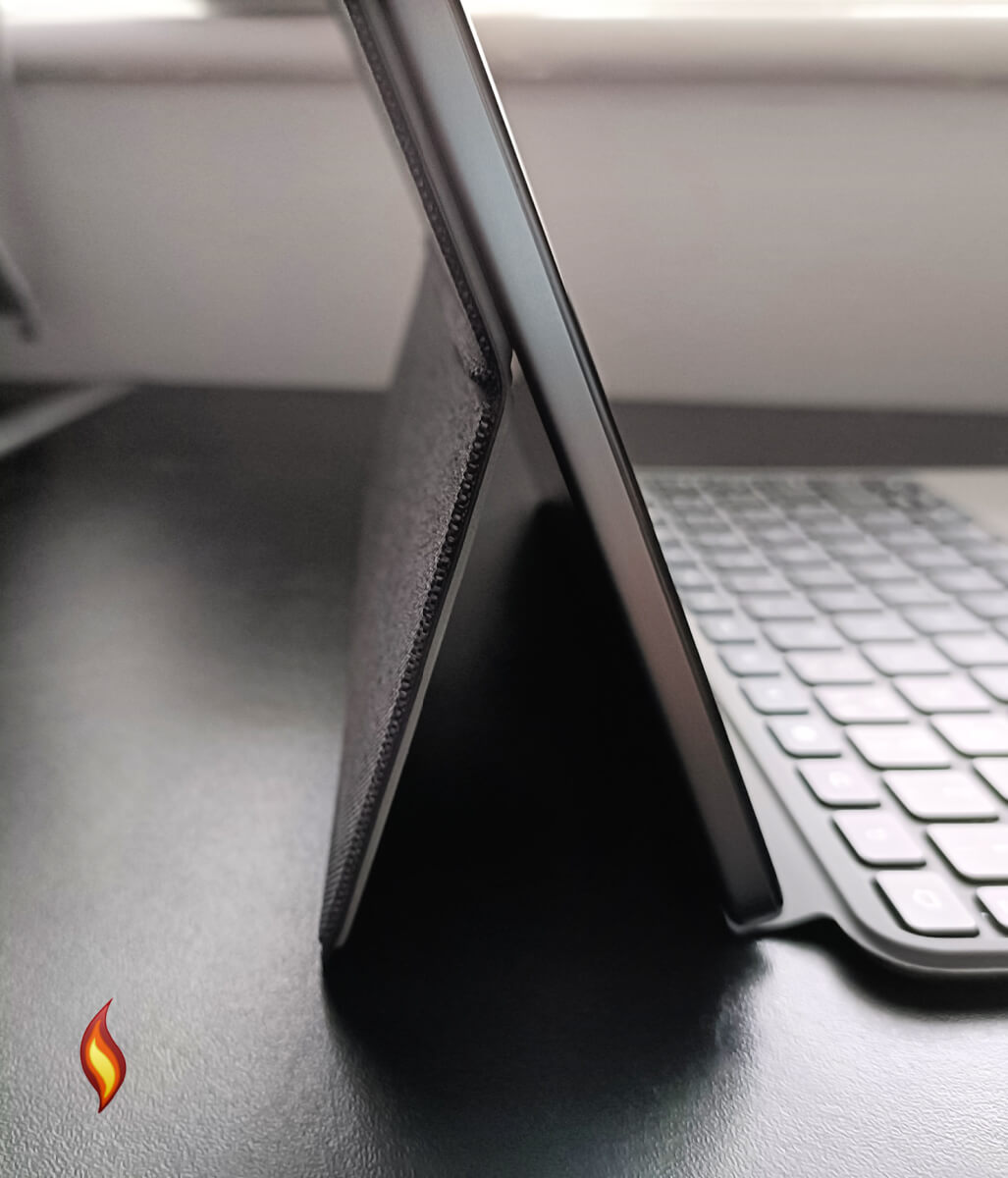 The keyboard snaps onto the device easily using pogo pins, through which it charges and communicates with the Fire.
It's ready to use right out of the box, with no setup required.
It does not need to be connected via Bluetooth (unlike the old version made for the HD 10) and it does not need to be charged separately.
The two pieces are connected with a sort of soft 'hinge'. Whilst it's easy to use, it gives the entire setup a 'floppy' feel if you try to use it on your lap.
It's absolutely fine on a stable surface like a desk, but if you are looking for a tablet/keyboard that you can use to work on your lap, then this is NOT the right setup for you.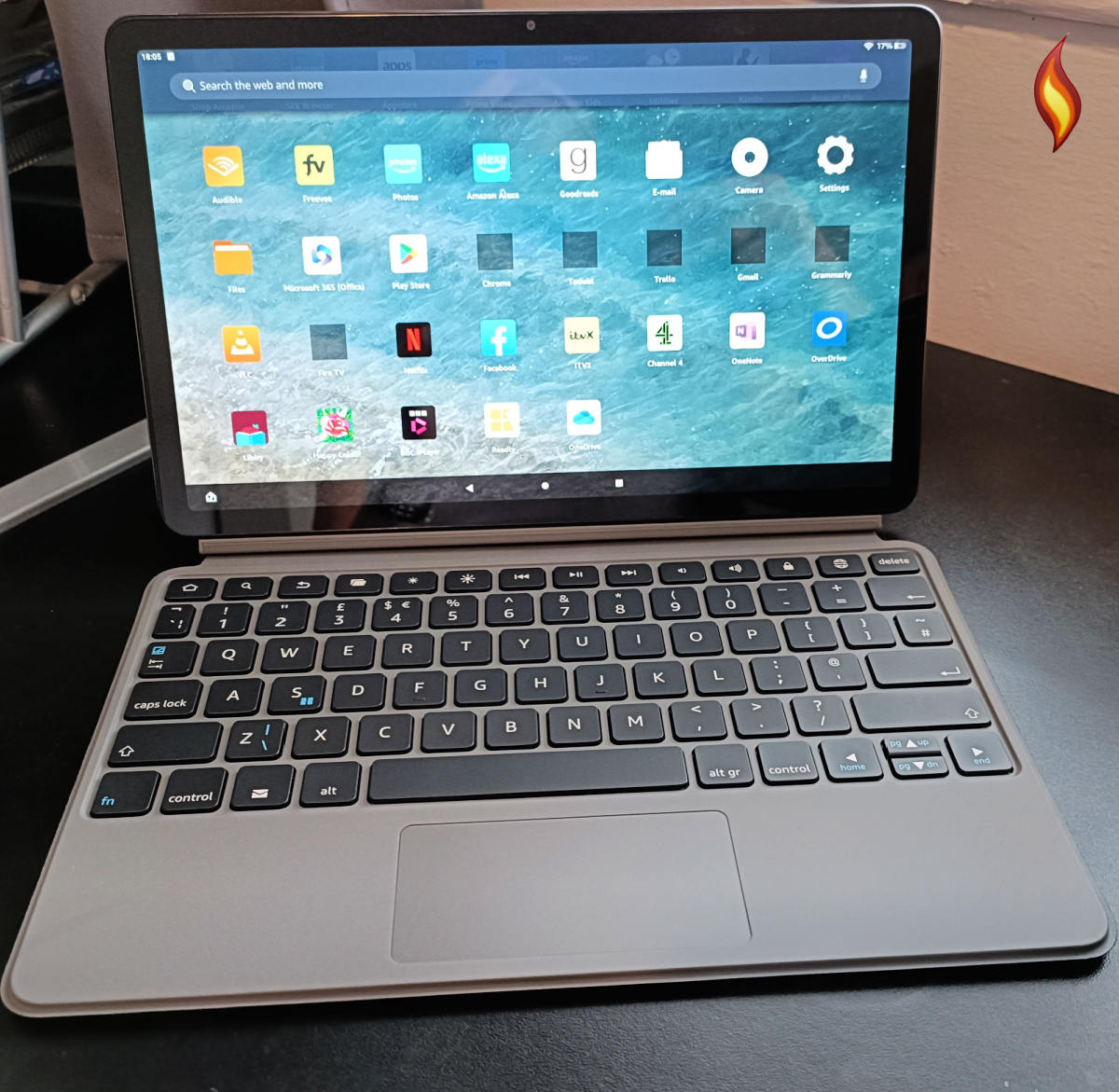 The keyboard itself is nice to use - the keys are a good size and far enough apart to be easy to use.
You also get a row of function keys to do things like change the brightness, control media, or go straight to your files folder or home page.
There is also a trackpad, which - although on the small side - works very well.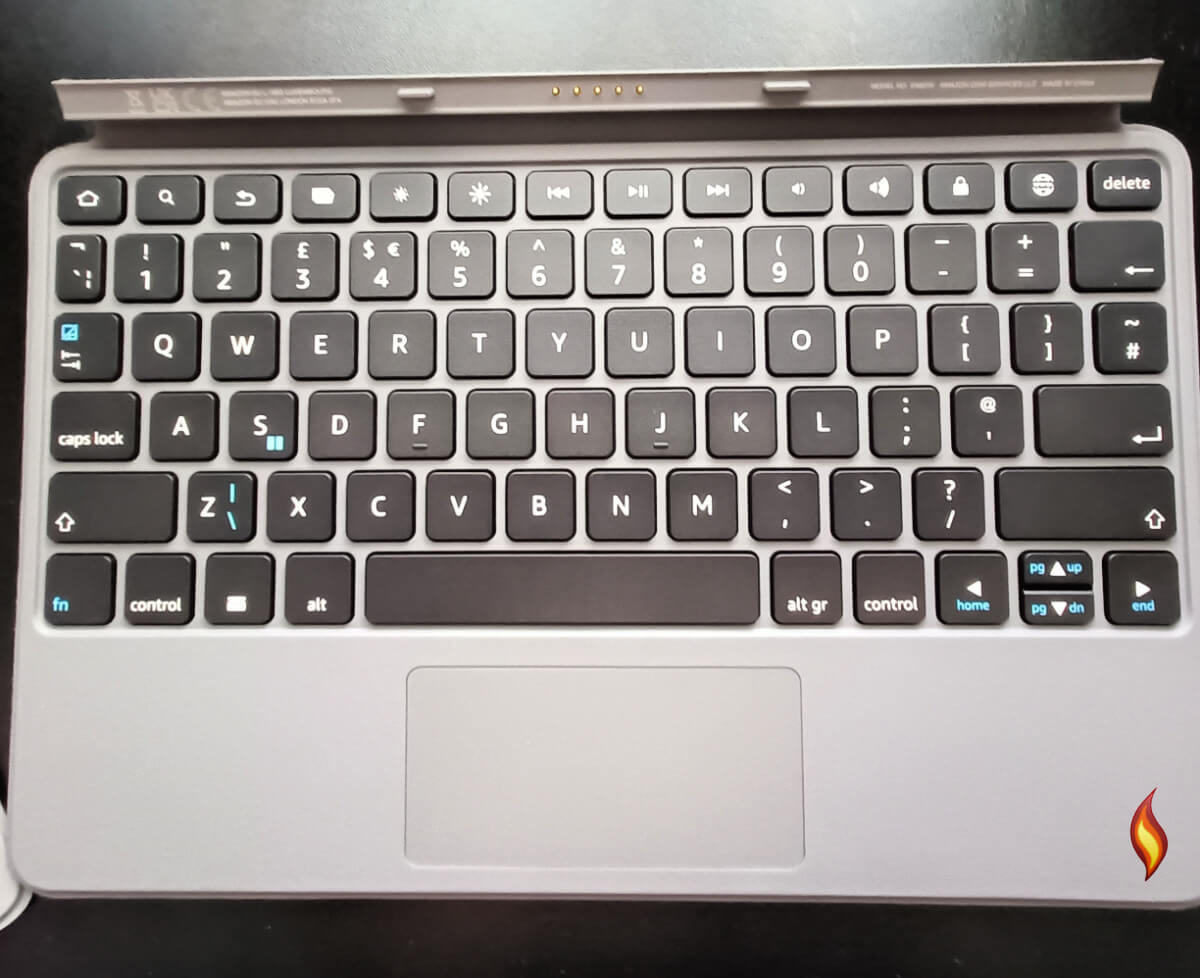 But there were two things that I found hard to work with.
One was that you need a two finger tap to select text - you can't just click the cursor on it then drag it. 
The other was that it uses 'natural scrolling' - this is where the content on the screen moves in synchrony with the movement of your fingers on the trackpad.
I am more used to reverse scrolling (the kind used by Windows) and found the difference hard to adjust to.
But this is a matter of personal preference - Mac users, for example, will be happy with natural scrolling, since this is what Apple uses on its devices.
It would be nice if the keys were illuminated so you could use them in dim lighting - hopefully this is something we will see in future iterations.

Something else new with the Fire Max 11 is on-device handwriting recognition.
To take advantage of it, you'll need a stylus - with the Made for Amazon Stylus Pen designed specifically for the job!
Also compatible with other devices like the Google Pixel tablet, this stylus attaches magnetically to the side of the Fire Max 11 when you're not using it.
This is a nice feature, although I only found it useful when I left my device on a flat surface. Every time I put it into my bag, the stylus fell off!
It uses an AAAA battery to work (which makes it ever so slightly heavy), but it writes smoothly with barely any lag.
I found it converted my handwriting to text extremely accurately.
You can use it in any field in which you'd usually type, and also for scrolling, navigating, and selecting text.
To Summarize...
The Fire Max 11 is an excellent new tablet and I've enjoyed putting it through its paces.
The bright and colorful screen makes it fantastic for watching movies and reading magazines, whilst the selfie camera is ideal for video calls.
The new productivity features, meanwhile, make it great for work purposes, especially when paired with the keyboard.
It has a premium look and feel - far nicer than any of its predecessors - and is definitely worth buying if you want the very best version of the Fire tablet out there.
Do YOU have any comments, opinions or questions about the Fire Max 11 and/or any of its accessories? If so, I'd love to hear from you.
Is it Worth Upgrading from the 11th Gen Fire HD 10 to the Fire Max 11?
If you mainly use your Fire tablet for watching movies, reading, browsing the web, and video calling, then I'd say the upgrades you get with the Fire Max 11 are welcome, but maybe not worth the significantly higher price tag.
But if you also use it for productivity tasks, then upgrading to the Fire Max 11 is definitely worth considering, especially if you plan to buy the keyboard, too.
It is a HUGE improvement to the one made for the HD 10 and - aside from the minor difficulties I mentioned earlier - very well designed and comfortable to use. 
Comments from visitors...
I just received my Fire Max 11 this week.
It's heavier than I expected and some of the apps will only work in one orientation.
The quality of sound and photos is certainly the best yet. (This is my 9th fire).
I have installed the Google Play Store but suspect that future updates will take care of most of the glitches.
My new Bluetooth earbuds work really well with it.
Looking forward to getting more familiar with it.
- Susan
Thank you, Susan, for sharing your feedback. I'm so happy you're enjoying using your new tablet :)
- Christine
Want to Trade-in Your Older Kindle Fire?
If you have an older Kindle Fire and want to upgrade to the latest version, you may have the option of trading it in.
See my article about the Amazon Trade-In Program for Fire Tablets to learn more.

Want to Save Money When You Upgrade?
Then consider buying a refurbished Fire tablet through the Amazon Renewed program. It comes with the same limited warranties as a brand new device!
Learn How to Transfer Content from Your Old Fire Tablet
Amazon makes it pretty easy to transfer to transfer content from your old Fire tablet when you upgrade. But it's important to realize that not EVERYTHING can be moved to your new device.
Learn more about how to transfer files from one Fire to another
I ♥ My Fire!
-Christine