Amazon Black Friday Deals Start Today
Thanksgiving may be just under a week away... but Amazon has decided to give us all an early treat by offering some fantastic deals, starting TODAY!
Their Black Friday Deals Week starts today and runs for one full week, up to the end of Black Friday (November 29th).
This is good news for us Fire fans, as it means their Fire tablets are on Sale!
Amazon's huge Holiday Sales Event was already underway, with plenty of great bargains to be had... but today's reductions are even better!
Here's the breakdown: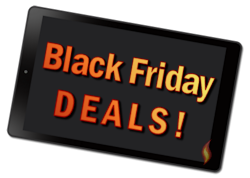 (Prices on Amazon are subject to change at any time and without notice. Please confirm all prices before purchasing products. LoveMyFire.com is not responsible for any price changes or purchases you make. Please see Terms of Use.)
These prices are FANTASTIC - something tells me it's the perfect time to do a little Christmas shopping!
Other Fabulous Black Friday Deals starting today:
HURRY! These deals are available NOW and may only run while supplies last.
If you've been thinking of upgrading or want to gift a fabulous Fire to someone else, then don't miss out- check 'em out now!
Fire TV Stick Deals Start Sunday
Further deals will be added throughout the week, but if you've been thinking of treating yourself to a Fire TV Stick, then the deals for those start on Sunday (PLEASE NOTE: These links will not show the sale prices until SUNDAY)
I ♥ My Fire!
~ Christine