New 8" Fire Tablet ON SALE NOW!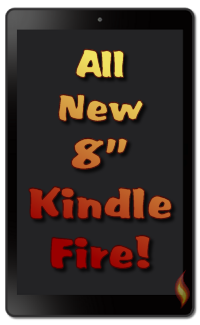 Once again Amazon has released a NEW 8" Kindle Fire tablet!
And it's on sale for ONLY $59.99! It's regularly priced at $79.99, so this makes it $20 OFF! The regular price is a great price but this sale is a steal of a deal! :D And Amazon's other Kindle Fire tablets are also on sale (details below).
This 8" tablet comes with 16GB of space but you can choose the 32GB upgraded version, which is double the storage, for an extra $30. If you're not sure which to get, but can spare the extra change I'd highly recommend getting the one with more space.
Like last year's 10" model, this new tablet comes with Alexa built in, which is a pretty cool feature. It also comes in four colors: black, yellow, blue, and red.
If you're not sure which tablet size to get, the 8" or 10", think about which is more important to you: a larger display screen (the 10" really is brilliant) or a lighter tablet. The 10" weighs more at 17.7oz while the 8" is more manageable at 12.8oz. If weight is an issue for you, you'll probably want to go with the 8", if not then go for the larger screen if price isn't an issue either.
I really enjoy my 8" while my husband prefers the 10" Kindle Fire, so both have a great use, depending on your needs.
For more details on each tablet see Amazon's product pages here:
If you need even more info, see all of my Kindle Fire articles on this site, such as my Kindle Fire comparison chart which I just updated with the latest info!
It is almost gift-giving season, so if you've got a loved one who would love one, now is the perfect time to buy one! :D
I ♥ My Fire!
-Rachel