UK Fire Friends: Fire HD 8 Tablets at Black Friday Prices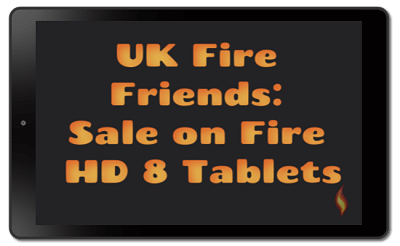 Good news for those of you in the UK who want to get your hands on a brand new Amazon Fire HD 8 tablet. - Amazon has dropped the price down to Black Friday levels!
The same limited-time offer was available for those in the US last week and I received messages from a few of you in the UK who were disappointed to miss out.
So I'm happy to be able to let you know it's your turn now! As I mentioned on my blog last week, with most of us restricted to our homes, the online world has become more important than ever, and the Fire is a great way to access movies, magazines, books and so much more!
HERE'S THE DEAL - AVAILABLE RIGHT NOW
(Prices on Amazon are subject to change at any time and without notice. Please confirm all prices before purchasing products. LoveMyFire.com is not responsible for any price changes or purchases you make. Please see Terms of Use.)
-Fire HD 8": £35 OFF = ONLY £44.99
Colours: Black, yellow, blue, red
Act quickly if you want to take advantage of this great deal - it's not clear how long it will be available as Amazon has only confirmed that this is a 'limited time offer'.