Prime Day is Here! Great Deals on Fire Tablets Including 2021 Models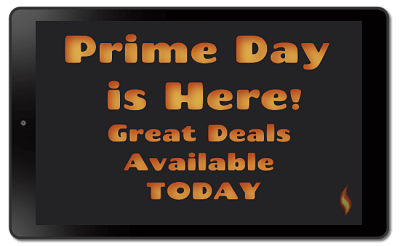 Hello Fire Fans and Friends!
The day we've all been waiting for is finally here - and there are some great deals on Fire tablets to be had.
For those who subscribe to Amazon Prime, today (and tomorrow so that's June 21st and 22nd) is Amazon Prime Day. This means Amazon's Fire tablets, plus hundreds of other items, are on sale!
If you're not an Amazon Prime subscriber you can join today! There are LOTS of benefits, most of which are explained in my article all about Amazon Prime.
Some of the Prime offers are excellent, but the best of all has to be the reduction on the Fire HD 10". At just $79.99 it's at one of the lowest prices I've ever seen - an absolute bargain for such a great tablet!
Here's what's on offer:
SALE PRICES FOR PRIME MEMBERS
Should I Buy a Fire Tablet now, or wait until later in the year for Black Friday?
This is a good question - should you splurge now or wait for an even better deal?
Well, I can't make any promises and Amazon always plays its cards close to its chest. But Amazon tends to use Prime Day to promote its own-brand, tech-related items more than any other sale throughout the year. So it's possible you may not see such great reductions on Fire tablets in November.
If you love shopping for a good deal (and who doesn't?) Amazon Prime Day is the perfect time to buy that item you've been waiting for. Be sure to check out all the great deals going on right now!
I ♥ My Fire!
-Christine