Bluetooth Mouse for Kindle Fire

Bluetooth Mouse for Kindle Fire
FTC Disclosure: If you make a purchase via a link on this site, I may receive a small commission. There will be no added cost to you. Thank you!

If you're already using a bluetooth keyboard, then you may be thinking about using a bluetooth mouse with your Fire tablet too. 
You don't NEED one, of course. You can use the touch screen on your Fire just as always, but I find that when I'm using a keyboard it just feels more natural to use a mouse too.
On this page I look at the different options available to you and how to connect your mouse to your Fire.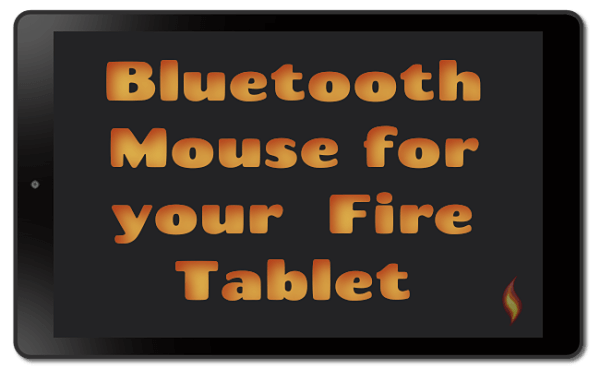 Using a Bluetooth Mouse with your Fire
It's very quick and easy to set a simple bluetooth mouse up with your Fire tablet. You don't need any special brand - any bluetooth mouse will do!
A good example is the Perixx PERIMICE-802B Wireless Bluetooth Mouse (at Amazon). 
It's cheap, cheerful and easy to use! 
It takes 2 x AAA batteries, which last for around 8 months
It's under 4 inches long and its small size makes it easy to carry around
It's responsive
If you can't be bothered with the hassle of batteries and you're willing to spend a few dollars more, then look for a rechargeable bluetooth mouse for your Fire.
I especially like this one as it has dual mode connection, which means you can use it with 2 different devices at the same time - really handy if you are using your Fire tablet and a monitor simultaneously (note: the second device is connected through a USB receiver).
Works with 2 devices at the same time
USB cable included
Silent click (very strange if you're not used to it!)
How to Connect your Bluetooth Mouse to your Fire Tablet
Connecting your bluetooth mouse to your Fire tablet is very straightforward.
Yours may not be quite like mine, but the procedure is usually the same. 
This is my mouse (isn't it pretty? You can get it here at Amazon - it comes in lots of lovely colors!).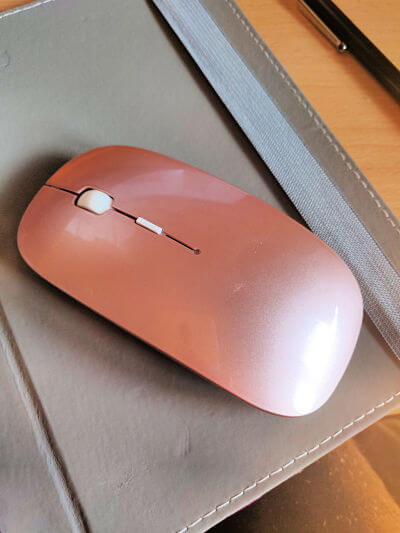 This is the back of the mouse - as you can see it has a simple on/off switch and a button to connect it to your Fire.
So first, switch the mouse on then open the 'Settings' on your Fire tablet.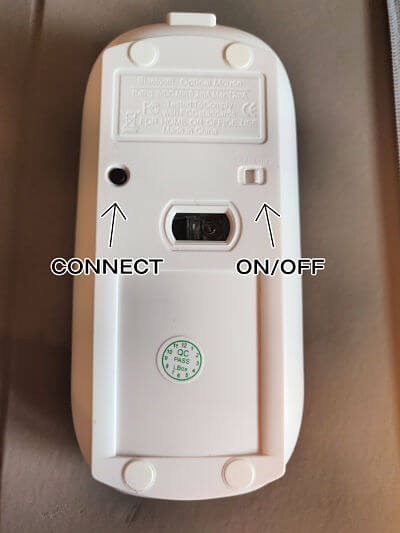 Select 'Connected Devices'. 
Next, tap 'Pair New Device'.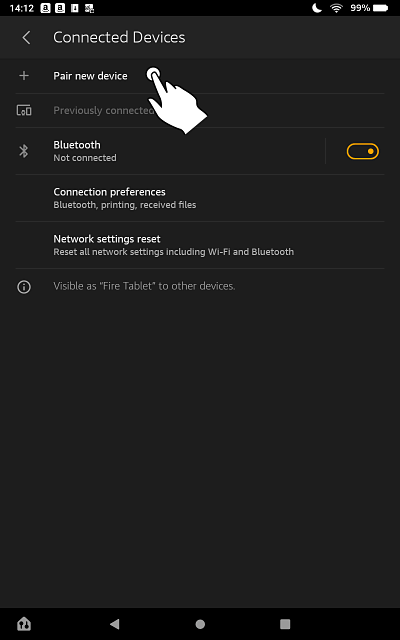 Press and hold the 'Connect' button on the mouse for a few seconds and it should appear under 'available devices'. 
Once you see your mouse listed, tap it to connect to it.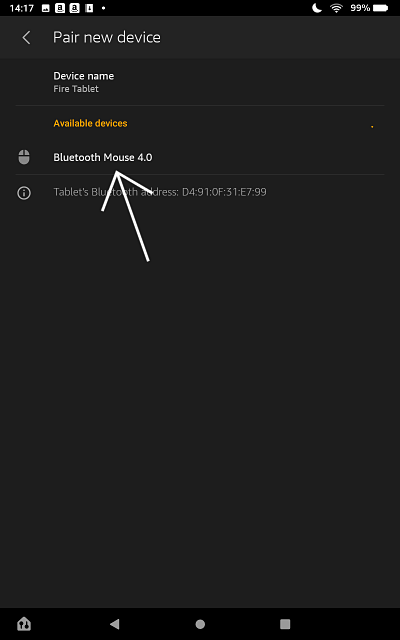 Other Options
Bluetooth Keyboard with a Touchpad
If you don't already have a bluetooth keyboard, then a convenient alternative to a keyboard and mouse is to use a bluetooth keyboard with an integrated touchpad.
This is my preferred option, because it keeps things simple and means you need one less device - especially useful if you tend to travel with your Fire.
This Foldable Bluetooth Keyboard (Amazon) is an ideal example. Not only does it give you the convenience of a keyboard and touchpad all rolled into one, but it folds up to just 6 inches in length, so it's easy to pop into your bag.
Free stand with six adjustable angles
6 inches long when folded, 12 inches when unfolded (so big enough to work with comfortably)
Rechargeable
Fire Case/Keyboard/Touchpad Combo
For the ultimate in convenience, you can actually get a case for your Fire that comes with a detachable magnetic keyboard.
The built-in stand holds your screen up while the keyboard is still in the case, turning your Fire tablet into a super-portable mini-laptop!
The Cooper Touchpad Executive (Amazon) is a good example. This version is for 7-8" tablets but there is a version for 10" tablets too (Amazon). 
Rechargeable up to 100 hours
Open access to buttons when the case is closed
Touchpad has right and left click
The only downside to this case is that there is no camera window. 
Do you HAVE to Use Bluetooth?
There's no doubt that using a bluetooth mouse for the Kindle Fire is the most convenient option - but did you know that you can actually use a wired mouse instead? Or a mouse with a USB receiver dongle?
In order to do this, you need to use something called an 'OTG cable'. 
'OTG' stands for 'on the go' and you will sometimes see this cable described as an OTG adapter or OTG connecter instead. 
Your Fire tablet doesn't have a port for a USB cable. Using a OTG adapter allows you to connect a USB cable to your tablet using either your  micro-USB or USB-C port (depending on which version of the Fire you have).
Fortunately, OTG cables are inexpensive and widely available.
The 2 in 1 OTG Converter from Amazon is ideal, because it can adapt a USB cable to fit EITHER a micro-USB or USB-C port.
Older Fire tablets have micro-USB ports but 10th generation Fire tablets come with USB-C. So if you have an older tablet - but plan to upgrade in future - it's nice to have an OTG cable that would work with both types.
If you already have a 10th generation Fire tablet then you will really only need a USB-C to USB adapter, as it is likely that all future generations of the Fire will use USB-C instead of micro USB.
If your Fire has a micro USB port and you don't think you'll have any use for a USB-C adapter, then all you'll need is a Micro USB to USB adapter. 
What if you want to plug a corded mouse AND a corded keyboard into your Fire tablet?
You can do that too!
All you need is a USB splitter (Amazon).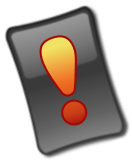 Important Notes!

Although I have described how to use a cable to adapt your tablet for use with a wired mouse and/or keyboard, it's not an ideal long term solution.
This is because plugging accessories into an OTG cable will use up your battery pretty quickly. You won't be able to charge it while they're in use, because the adapter will be occupying the charging port!
Using a bluetooth mouse with your Kindle Fire is definitely the best option -  but even this will drain the battery. So always make sure your charger is close to hand.
UPDATE: Since publishing this article I received the following message from Fire Friend Steve...
"If using a plug-in adaptor to hang a USB stick or SD Card reader onto the Kindle, then be EXTREMELY careful not to damage the actual Kindle's USB 'C' socket connector, as used for connecting to PC and recharging the Kindle's battery. These connectors are very fragile (as are the Micro USB connectors on earlier models.)
It would be far safer to use an adaptor with a short extension cable, giving THAT the chance to flex instead of the Kindle's connector itself getting bent and distorted by having a heavier adaptor attached.
This comment is from previous personal experience when I had a DAB radio with a Micro USB charge socket, and this got bent to uselessness through careless use. This wrote off the whole radio!
Hope this may be of some help you your readers with their experimentation."
This is great advice and definitely something to take into account if you decide to use an adapter with your Fire. Thank you, Steve, for sharing your experience. 
I ♥ My Fire!

- Christine