Is Amazon Prime Worth It?
FTC Disclosure: If you make a purchase via a link on this site, I may receive a small commission. There will be no added cost to you. Thank you!

Is paying for Amazon's Prime membership worth the cost? What all do you get for your money?

Find out my experience, including my thoughts before and after trying this paid service for a year!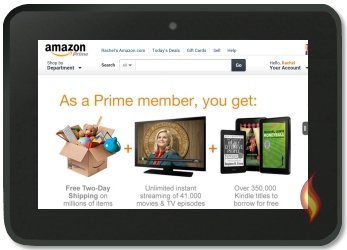 Also see reviews of other Kindle Fire accessories and features like gift cards and Amazon Coins!



Prices are subject to change at any time and without notice. Products listed as free may no longer be free. Please confirm all prices before purchasing products. LoveMyFire.com is not responsible for any price changes or purchases you make. Please see the Terms of Use.
Cost and Benefits of Amazon Prime*

Becoming an Amazon Prime member costs $14.99 a month (cancel any time) or $139 a year, and comes with these benefits:
FREE Two Day Delivery (on all items marked as Prime)
FREE One Day Delivery (on all items marked as Prime FREE One-Day)
FREE Same Day Delivery (on items marked as Prime FREE Same-Day and ordered before noon, select cities only, minimum order applies)
FREE 2 Hour Delivery (on items marked as Prime Now, select cities only, minimum order applies)
FREE In-Garage Delivery (find out more at Amazon)
Prime Instant Video (FREE unlimited streaming of over 41,000 movies and TV episodes)
Download Prime Instant Videos (on most Kindle Fire tablets)

Prime Reading (choose from over a thousand top Kindle books, magazines, books with Audible narration and more, plus 1 free pre-release ebook every month from editors' picks )
Prime Music (ad-free access to the full catalog of *100 million songs, hundreds of playlists, and top podcasts!) *music available in shuffle mode only
Prime Gaming ( instant access to exclusive content for the games you love, a rotating collection of free PC games, and a free Twitch channel subscription)
Unlimited Free Photo Storage in Amazon Cloud Drive (learn more!)

Early Access to Select Lightning Deals

2-hour grocery deliveries

Savings on prescriptions
Prime Try Before You Buy (choose up to 6 items and you have up to 7 days to try them on. You're only charged for those you keep).

Before I go into more detail about some of these benefits, let me share my thoughts before subscribing to Prime.
*Unfortunately, some of these benefits are only available for customers who live within the U.S.


My Original Perception of Amazon Prime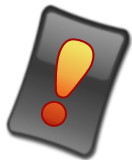 The following review of Prime was originally written by Rachel, the first owner of the Love My Fire website.
I don't personally use Prime so I have left her review as I feel it is useful for you to see how Prime worked for her.
I have made a couple of minor edits just to bring a few details up to date.

When I first learned about Amazon Prime I thought it was a rip off. Why would anyone pay a yearly fee for free shipping and to watch a few lame movies?
Obviously, it was clear that if someone purchased a lot of physical products from Amazon then eventually the free shipping would pay for itself. However, for me, I couldn't see that ever happening. I only made a rare purchase now and then, definitely not enough to justify the cost of membership.


Amazon Prime Free Trial


It used to be that when you purchased a Kindle Fire you were automatically signed up for a free month trial of Amazon Prime, so when I received my first Kindle Fire I tried out this service. I purchased some accessories for my tablet as well as a few other items during the month. Although I really liked the two day free shipping I couldn't see myself buying enough items to justify the cost.

Several months later when my husband received his Kindle Fire we got another free month of Amazon Prime. Amazon quickly caught on to this loophole and changed things so you now only get one free trial per account, plus I don't think it is an automatic thing anymore. I believe you now have to sign up for the trial yourself.

My husband enjoyed watching Instant Videos with both trial memberships, but this didn't sell me on paying for a full membership.

Pros and Cons of Amazon Prime

A couple of months after our second trial membership ended I was browsing through Amazon's electronics department in search of computer parts to build myself a new computer.
As I compared prices and the cost of shipping each individual item I wistfully wished I still had that free two day shipping.
I eventually noticed that all of the items I wanted were available for Prime so I started to consider the pros and cons for my family if we subscribed to Amazon Prime:
Pros:


We'd recently moved to a more remote location where the majority of major stores were about 30 minutes away. Having free two-day shipping would save us time and gas.
Prices on Amazon are almost always cheaper than those of local stores. This would save us money.

We didn't pay for cable (a big monthly expense) so my husband would LOVE having access to more movies and TV.

I could review and share my Amazon Prime experience with all of my interested site visitors. ;)


Cons:
Yep, it was time to subscribe to Amazon Prime for a full year to really try it out!
Of course, your pros and cons might be different than mine so feel free to make your own list. :)


My Year Subscription of Amazon Prime

Here are my thoughts and experience of the membership benefits of Amazon Prime after subscribing to it for a whole year.


FREE Shipping!

This is my favorite feature of Amazon Prime! I LOVE purchasing items and receiving them quickly. It's definitely worth the cost if you buy enough products from Amazon!
Once we signed up for Prime we started buying more on Amazon, kind of a cause and effect thing, I think.
In addition to purchasing all the parts for my new computer, we ended up doing the same for my husband a few months later- his laptop was left in the dust from the super fast speed of my new desktop! *wicked grin*

Besides buying a lot more Kindle Fire accessories (I just couldn't resist!) here are some quirky facts from the many purchases we've made since signing up for Amazon Prime:

Wow, that's quite the variety of items but it's only a small portion of what we've bought. During our year subscription of Amazon Prime we've definitely purchased enough items to more than pay for the cost of our membership with what we would have spent on shipping. Yippie skippie for saving money!

The Amazon Prime Check Mark!


With millions of items that qualify for Prime free shipping you'd be surprised at what you'll find on Amazon! Just watch for the orange check mark and word "Prime" next to an item's price to know if it qualifies.
You can also filter your searches by those items that qualify for this free shipping. (I personally use this feature a lot.)


Prime Instant Video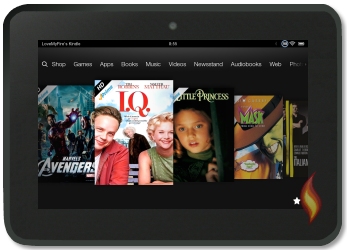 With over 41,000 movies and TV episodes to choose from, there's a LOT of free streaming that comes with Prime Instant Video.
At first I wasn't overly impressed with the movie selection (I'm super picky) but over time as we've used this service and more (excellent) videos have been added, I've really come to enjoy it.
However, what finally won me over was all the TV shows available on Amazon Prime! Between my husband, daughter, and I we have watched hours and hours of instant TV.
Update! The addition of Amazon Originals has vastly improved Prime Instant Video's original offerings! It includes some truly excellent shows that you can't watch elsewhere.


I'm not a TV person, it's rarely on during the day, and we even lived without watching TV for the first few years of our marriage. We had a TV, but only used it for movies as it wasn't connected to an antenna. However, I eventually compromised so my sweet husband could watch more sports and TV shows. Thus I've ended up watching more TV as a result.

The BEST part about watching TV shows on Amazon (besides finding great gems and watching shows I've missed) is the lack of commercials! My favorite button on the remote is the "Mute" button which I religiously use, and make my husband use, the moment a commercial airs.
With Amazon's Prime TV there are no commercials!! ♥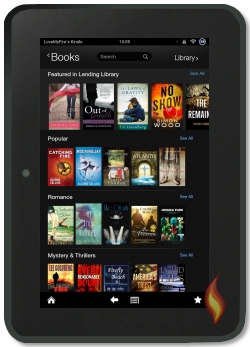 Amazon First Reads

Another exciting feature for Prime members is: Amazon First Reads.
This awesome Prime goodie (previously known as Kindle First) gives you the choice of a FREE download from a list of the editors' picks for that month. This means  that you get to read these titles before they are released to the general public!
There's no time-limit, it's yours forever. And if you want to go on and purchase the hardcover version of the book, your First Reads membership means you'll get a discount!
As Amazon says, "Read next month's new releases today."*

Here are some of the genres of books that have been offered thus far:
General Fiction
Horror

Inspiration
Mystery & Thriller

Romance
Science Fiction & Fantasy

Teen & Young Adult

Thriller

Women's Fiction

If you're interested, be sure to sign up for their monthly email to be reminded when the new monthly batch of free books is available to choose and download! (Just see the Kindle First Reads page, linked to above/below, and click the link to subscribe.)
This is a really sweet new feature. Way to go, Amazon, for giving us more bang for our buck!

*Posted on their Amazon First Reads page.

Books I picked up for free

The Line
by J.D. Horn

Timebound
by Rysa Walker

Silent Echo
by J.R. Rain

Prime Music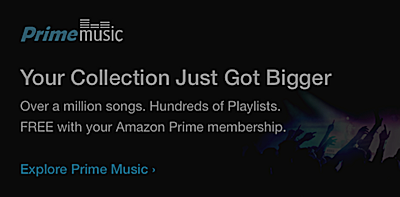 Amazon has an AWESOME feature for Prime members: Prime Music!
Listen to ad-free music (yeah!), and choose from 100 million songs, hundreds of playlists, and top podcasts.
The only downside is that you'll have to listen to music playlists, artists, or albums on shuffle mode - there's no option to skip or play music on demand.
But access to this much free music is pretty awesome - the equivalent of the free version of Spotfy, but without the endless ads!
If you haven't yet tried Amazon Prime this feature might just tip the scale for you. :)


Do you like audiobooks and podcasts?
Prime members get an extra bonus when taking out a free trial of Audible.com and are entitled to 2 credits, which can be redeemed for 2 best-selling audiobook titles. Ordinary mortals only get 1 credit ;)


Amazon Prime for Other Members of Your Household

If another adult member of your household has their own Amazon account you can add them to your Prime membership and share certain benefits. To do this, you need to add them to your Amazon Household.
Once he or she is all signed up, they can access benefits including:
Prime Shipping
Prime Now
AmazonFresh (if the member is signed up for the AmazonFresh add-on)
Prime Video Streaming
Prime Reading
Amazon Photos
Amazon First Reads
... and more!
You can also create logins for your teens, which allow up to 4 teenagers in your household to have an independent login to your account and to share certain Prime benefits (including Prime Video).

Find out more about teen logins and the Prime benefits your teen can share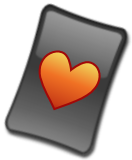 Kindle Fire Love!

The ability to share many of the Prime benefits is one of the features that makes it so cost effective and convenient!
I've shared Amazon Prime with my husband's account so he can purchase items and receive the two-day free shipping. This is especially beneficial when my loving husband purchases gifts for me and doesn't want me to know what it through Amazon's notifications which are sent to the email on the account. ;)

Although the initial free trial didn't convince me, signing up for a full year membership did. For my family the answer to the question, "Is Amazon Prime Worth It?" is a resounding "Yes!" I'm so happy I took the plunge and tried it out. We'll be keeping this fabulous subscription!
Are you sold, yet? If not, don't forget to try Amazon Prime for free for a whole month!
Ready to learn more about your Kindle Fire? How about more fabulous accessories?