How To Use Amazon Gift Card

FTC Disclosure: If you make a purchase via a link on this site, I may receive a small commission. There will be no added cost to you. Thank you!

An Amazon gift card is a wonderful Kindle Fire accessory for yourself or as a gift for the Kindle Fire lovers in your life.
Find out why using an Amazon gift card is so great, where to find 'em, how to redeem 'em, and how to check your balance on your Kindle Fire or from any browser.


Amazon Gift Cards as Gifts

Who doesn't love receiving gift cards? There may be a few grinches out there, but I bet most of you are mentally saying, "I do!" (I thought so.)
Amazon gift cards are perfect gifts for holidays and other special occasions, like birthdays, Valentine's Day, Mother's Day, anniversaries, Christmas, etc.
You can give one, or even ask for a gift card yourself. I've personally asked for a few (once for Valentine's Day and once for my birthday) and my husband lovingly obliged. Yeah for wonderful husbands!


When I received my first Kindle Fire for Christmas I was also given an Amazon gift card. This was a perfect additional gift as it gave me extra money to buy some fun apps, books, games, music, and other digital content to start enjoying my new toy.


Use an Amazon Gift Card for Yourself!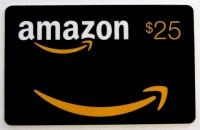 Besides giving these sweet little cards as gifts, there's another fabulous reason why you might want to buy one for yourself.
Since Amazon doesn't have a direct option to let you prepay for electronic content (at least not to my knowledge) adding a gift card balance to your account is a great work-around solution.
Having a prepaid amount on your Amazon account makes it easy to buy apps, ebooks, videos, and of course any other fun stuff on their website, without having a ton of individual charges to your debit or credit card.
Using an Amazon gift card also helps keeps a lid on your purchases to keep from overspending if you (like most of us) have a tendency to do so. Just budget how much you're willing to spend and then get yourself a gift card for that amount!

How To Use Amazon Gift Card: Where to Find Amazon Gift Cards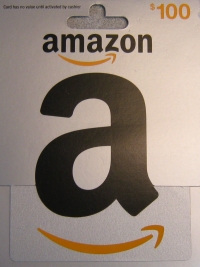 The easiest place to find and buy an Amazon gift card is right on Amazon.com. They have both electronic and physical cards you can email, print, or mail to your loved ones, friends, or yourself.
You can even post your gift right on the recipient's Facebook page (if they have one and you want all their friends to see it).
If you mail an actual gift card from Amazon you'll get free one-day shipping.
And there are some awesome gift card boxes to choose from, with everything from pop up balloons for birthdays, to a little washing line with baby clothes to welcome a newborn!
How neat is that?
Amazon Gift Cards in Local Stores

If you're out shopping there are lots of places where you can find and buy Amazon gift cards. Most department stores, electronic stores, and even drug stores have them readily available.
Of course your options for the design and amount will be limited, but some stores will let you set your own amount within a certain range.


Physical vs Digital

There's something special about an actual Amazon gift card that can't quite be replaced by a digital one.
However, in my family we've used both and they've always been lovingly given and received- because a gift card is still a gift card, no matter how it's delivered!

When I buy a gift card for my own use on Amazon.com I just email it to myself, check my email, and then redeem the card. All from my Kindle Fire!


Choose Your Own Design & Amount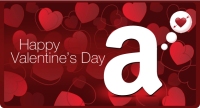 When you buy an Amazon gift card from their website, there are 100's of pictures to choose from, and lots of categories for all the holidays, seasons, or other occasions to find the perfect design for your gift.
Here's the design my husband chose for the Valentine's Day gift card he once gave me. Appropriate, don't you think?
You can even upload your own picture for a customized design.
As for the value of the gift card, you can select from a variety of amounts, starting as low as $10 for physical cards. For digital ones you can put any amount you want (minimum of .15 cents).


How to Redeem an Amazon Gift Card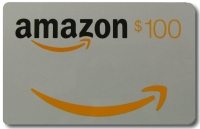 When you receive a gift card for Amazon there are several ways you can redeem it. I'll show you a few, including how to redeem a gift card directly from your Kindle Fire.

First, you'll want to figure out which Amazon account (if you have more than one) you want to add the balance to.
If you want to use the money for purchases on your Kindle Fire you'll need to redeem the card to the account your Kindle Fire is registered to.
When you're ready, turn the card over and scratch off the silver coating to reveal the access code. A coin works great for this.


Redeem an Amazon Gift Card from Your Browser

To redeem your gift card on the web, go to Amazon.com, select "Gift Cards" at the top, and then select, "Redeem Amazon Gift Cards" which is also at the top. You'll be required to login and then you'll see this page:


Enter the code on the back of the card. Select, "Apply to Your Account."

Your Amazon gift card will be applied to your gift card balance which is displayed to the right of this screen.
You can also redeem and see your balance under the "Payment" section when viewing the details of your Amazon account.
And that's all there is to it!


Redeem an Amazon Gift Card on Your Kindle Fire

For this option, turn on your Kindle Fire and tap "Apps":



Tap "Store" to visit the Amazon App Store:



Tap the "Menu" icon at the bottom (or to the right when in landscape):



In the menu that opens up tap "Gift Card & Promos":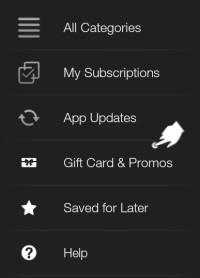 If you're using an original (first generation) Kindle Fire you will need to tap "Settings" and then "Gift Cards" to see an image similar to the one below.


Enter the code on the back of your Amazon gift card and tap "Redeem":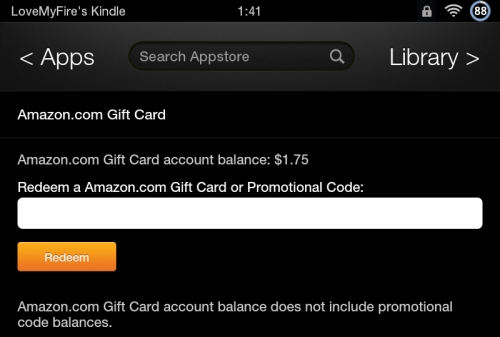 And that's all there is to it!


How to Check your Amazon Gift Card Balance


Once you've entered the code your gift card balance will be updated, which you can see directly on your Kindle Fire.

If you look at the last image above, you can see my current balance is $1.75. (Not that long ago it was $25, but my husband and I love buying digital content on our tablets, so gift card money doesn't last long around here!)


You can also redeem an Amazon gift card from the "Games" and "Music" sections on the Kindle Fire. However, you can only check your gift card balance from the Apps or Games sections.


Now that you know some of the benefits of using an Amazon gift card, how to redeem it, and check the balance, go ahead and try it out. Have fun browsing through all the great designs on Amazon.com.
Or, head over to my Kindle Fire Accessories page for other fun goodies!




Hand Illustrations provided by GestureWorks® (www.gestureworks.com). Aren't they perfect?