Fire 7 Tablet - 12th Generation

The Fire 7 Tablet 2022 (12th Generation)
FTC Disclosure: If you make a purchase via a link on this site, I may receive a small commission. There will be no added cost to you. Thank you!

May 2022 saw the release of a new addition to the Fire family - The 12th Generation Fire 7 (at Amazon).
The last 7 inch Fire tablet was the 9th generation, released in 2019.
The changes are not huge, but extra RAM, a faster processor, and USB-C charging all help improve performance and bring the Fire 7 more in line with its siblings, the Fire HD 8 and Fire HD 10.
So here's my rundown of what's new with the Fire 7 tablet for 2022, along with the pros and cons I've found whilst using it.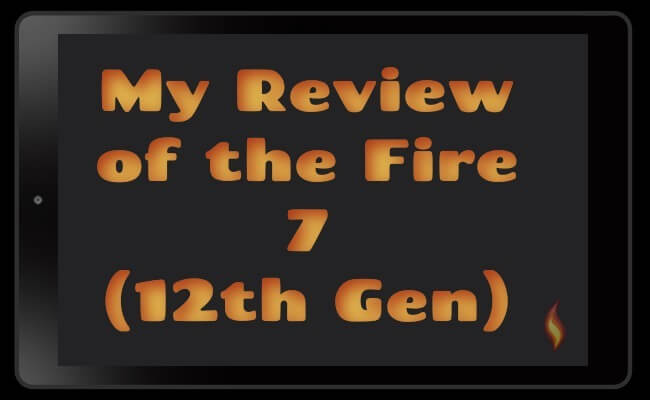 What's In the Box
As usual, the box contains the few things you need to get your new Fire up and running. These include:

Your brand new tablet (I chose the 'denim' option)
A USB-C (2.0) cable
5W power adapter
Quick start guide
Note - I'm currently in the UK - your adapter may look different!
There are no detailed instructions, but as soon as your switch your Fire on you are walked through the set up process. Amazon's tablets usually come charged and ready to go - the battery on mine was at 75% when I received it.
If you get stuck at any point, there is lots of online help (especially here at Love My Fire!).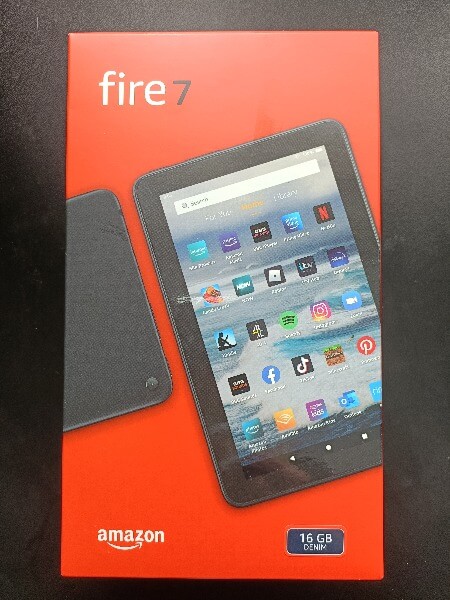 Storage
Like its predecessor, the 12th generation Fire 7 comes with two storage options - 16 GB for the basic version, or - for an extra $20 (at the time of writing) - 32 GB .
There is a slot for an SD card on the Fire's bottom edge, which you can use to increase the storage to 1 TB.
Here are my instructions for using a microSD card with your Fire - but as I explain on that page, SD cards do have their limitations.
16GB is not very much storage. If you know it wont be enough for you, I'd either recommend buying the 32 GB model from the outset, or perhaps plumping for the Fire HD 8 instead.
RAM and Processor
With 2 GB RAM, the 2022 Fire 7 comes with twice as much RAM as its 2019 predecessor.
It also has a faster MediaTek MT8168V/B processor. This is the same quad-core processor as the one used in the current version of the Fire HD 8.
The result of these enhancements is a tablet capable of moving more quickly and smoothly from one app to another. Whilst there is still a little lag compared to my lightning fast HD 10, I definitely noticed a improvement here when comparing it to my Fire tablet from 2019.
Dimensions
This year's Fire 7 is a little lighter in weight than its predecessor (9.9 ounces compared to 10.1 ounces) and slightly larger but thinner (7.11 x 4.63 x 0.38 in compared to 7.6 x 4.5 x 0.4 in). 
As usual, this means that any covers or cases you are using with your current Fire 7 probably won't fit this one.
You can opt instead for the newly designed Fire7 (12th generation) Cover (Amazon) - which is available in the same 3 colors as the tablet itself - black, denim, and rose.
If this is your first Fire, you'll be pleased with just how small it is - indeed, it's one of the most compact tablets you can buy. It will fit easily into a purse and in many pockets too, so it's super-convenient to take out and about with you and is ideal for traveling.
Look and Feel
Not much has changed here.
The plastic casing may not look premium, bit it does feel durable. As with its predecessor, the bezels around the display are pretty thick, although I've never found this a problem as it allows you to hold the tablet comfortably without accidentally touching things on the screen!
Battery Life and Charging
The battery life on the 2022 Fire 7 has been significantly improved, now lasting for up to 10 hours on a single charge (compared to 7 hours on the 9th generation model).
I always find Amazon's claims for battery life to be on the conservative side. Whilst 10 hours might be right if you're streaming videos or playing lots of games, I found the Fire 7 lasts far longer for simply reading or scrolling through social media.
This improvement makes a big difference if you're traveling and have limited access to power.
Fully charging the battery takes around 4 hours - the same as with the 2019 version. There is no wireless charging capability with the Fire 7, nor is fast-charging available. 
And now to the next improvement - the new Fire 7  comes with USB-C charging instead of micro-USB, bringing it into line with the rest of the Fire family.
This is important, as USB-C is pretty much the new charging standard. It's also good news if (like me) you have more than one type of Fire tablet. Now one charging cable fits all!
Colors
The Fire 7 (12th generation) is available in 3 different colors -
The new covers for this year's model come in the same 3 colors to match.
Camera
There are no changes in spec here, with the 12th generation Fire 7 featuring 2 MP front and rear cameras. Of course, these are pretty basic. But they are designed for things like making video calls rather than serious photography - and for that, they are perfectly adequate!
But the big difference is that the selfie camera is in a new spot, centered in the landscape orientation. This makes enjoying video calls a LOT easier!
Buttons/Ports
Here's how the Fire 70 (12th generation)  looks from the side, if the tablet is held in landscape mode with the camera at the top. 
The on/off button is now located next to the volume buttons instead of on the opposite side. This standard now across the board, but has never been my favorite position. It's just too easy to turn the tablet off altogether when trying to change the volume!
Unfortunately, the new location of the buttons and ports means that your old Fire 7 cover won't fit this model.
Audio
As with the previous generation of the Fire 7, audio isn't a strong point and this tablet only has one speaker. Nevertheless, if you're sitting in a room on your own, it's perfectly loud and clear enough for video calls or watching Netflix.
But for listening to music or of there's any background noise you need to drown out, I recommend using earphones (either wirelessly or with the 3.5mm headphone jack) or a good bluetooth speaker. 
Screen Resolution and Display
The display resolution of 1024 x 600 IPS is the same as the 2019 Fire 7, whilst the display - as its name implies -  measures 7 inches.
Unlike its siblings the Fire HD 8 and HD 10, the Fire 7 doesn't have adaptive brightness ( a features that automatically optimizes the level based on the amount of light available).

It does, however, have the Blue Shade option. This reduces the the amount of blue light on the screen, which makes it more comfortable for reading at bedtime.
As with all new versions of the Fire, there is no option to keep the screen awake indefinitely - a bit of a nuisance when listening to music or audiobooks.
However, I have described a limited workaround you can try in this article - How to Change Your Screen Timeout .
Note: If a higher screen resolution and sharper images are important to you, then I'd recommend that you consider buying the Fire HD 8 instead. This offers a screen resolution of 1,280 x 800 pixels, which may not sound like a huge difference but is definitely noticeable.
At the time of writing, the difference in price between the 2 models is just $30, making the HD 8 worth the investment for the superior display.
Operating System
The 2022 Fire 7  is the first of the Fire family to use a brand new operating system, known as Fire OS 8.
The interface still looks the same. It has a simple home screen featuring media and apps, a personalized "for you" section, a the "library" section with all your purchased digital content, and Alexa built in for controlling your devices and answering questions.
But Fire OS 8 - based on Android 10 and Android 11 - is a big improvement on OS 7, which was based on the very outdated Android Pie (aka Android 9).
Changes include:
A system-wide dark theme that will make using your Fire at night a lot more comfortable. 


The ability of apps to access your device's location when they are running in the background (as long as you have given your permission first, of course!).


Restrictions on the starting activities apps use from the background, cutting down on interruptions and reducing the amount of power your device uses.


Support for the High Efficiency Image File (HEIF) format. HEIF is a modern replacement for the JPEG format, producing higher-quality images with a smaller file size.
The most important improvement is that your Fire will be more stable and secure. This is because Google no longer releases security patches or updates for Android Pie.
Game Mode
Since 2020 Fire tablets have featured 'Game Mode', and this is included on the new Fire 7.
It is described by Amazon as 'a distraction-free, optimized gaming experience that lets you focus on your game without interference from notifications'. 
On by default, it launches automatically when you start playing a game. It then hides and mutes your notifications so that they don't interrupt you at a critical moment. This is really handy if you're a gamer and nice to now see on the Fire 7 too!
Other Specifications
As with all new Fire tablets, the 12th generation Fire 7 has built-in bluetooth, and comes with a 90 day limited warranty. A 2-year extended warranty (Amazon) is sold separately.
Can I Use Google Play Store with the 12th Generation Fire 7?
None of Amazon's Fire tablets are designed for use with Google Play Store, although there is a workaround I use with other generations of the Fire that allows you to add the Play Store easily.
Unfortunately, though,  I haven't had any success as yet in installing Google Play Store on my Fire 7.
Or to rephrase that, I've managed to install it, but apps are either not working correctly or crashing altogether.
This may be due to the new operating system of the Fire 7. I am still trying to find a solution and will update this page as soon as I've done so.
To Summarize...
The new Fire 7 definitely feels a lot more responsive across the board than its predecessor.
Yes, it lags a little here and there - especially when compared to my Fire HD 10 that I use most of the time - but I absolutely love the Fire 7 for reading on the go. 
Its light weight and compact size have always made it a great choice and the new enhancements to performance and battery life - along with USB-C charging - make it even more fun to use.
Do YOU have any comments, opinions or questions about the 2022 Fire 7 and/or any of its accessories? If so, I'd love to hear from you.
Update: September 2022 saw the release of new additions to the HD 8 line of Fire tablets. You can check them out here.
Want to Trade-in Your Older Kindle Fire?
If you have an older Kindle Fire and want to upgrade to the latest version, you may have the option of trading it in.
See my article about the Amazon Trade-In Program for Fire Tablets to learn more.

Want to Save Money When You Upgrade?
Then consider buying a refurbished Fire tablet through the Amazon Renewed program. It comes with the same limited warranties as a brand new device!
Learn How to Transfer Content from Your Old Fire Tablet
Amazon makes it pretty easy to transfer to transfer content from your old Fire tablet when you upgrade. But it's important to realize that not EVERYTHING can be moved to your new device.
Learn more about how to transfer files from one Fire to another
I ♥ My Fire!
-Christine