Earphone Tips & Earbud Tricks

FTC Disclosure: If you make a purchase via a link on this site, I may receive a small commission. There will be no added cost to you. Thank you!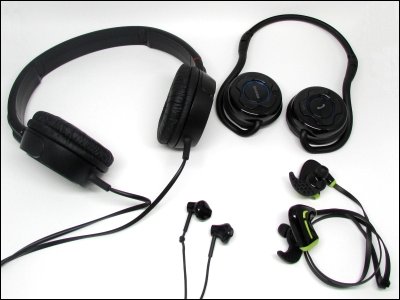 These earphone tips are not just for earphones or earbuds as many can be used for regular headphones (on ear/over ear).
Some of these tips are specific for wired or wireless earphones as well; with such variety I'm confident you'll learn something new!



Please be aware that we do our best to share safe Kindle Fire resources with you, but Love My Fire cannot be held responsible or liable for any issues you (or your device) may experience by following the tips, tricks, and tutorials on this website. Please see the Terms of Use page for full details. Thanks!


Let's skip the extra chit-chat and get straight to these awesome earphone/earbud tips & tricks!

Earphone Tip #1: Knot the Left Cord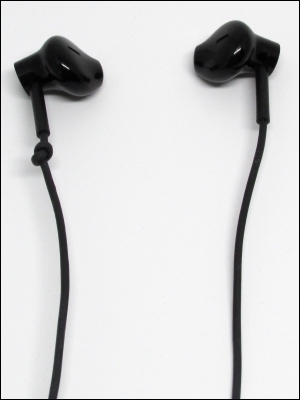 WARNING: I cannot be held liable if you try this tip; do so at your own risk. See my Terms of Use for legal details.
I'm sharing my favorite earbud tip first because I use it the most. This tip is to help you differentiate between the left and right earbud, and can only be applied to smaller earphones with a wire.
Why is this helpful? Well, it'll be helpful to those of you who are like me and can't tell the difference between the left and right earbud without looking for the teeny-tiny L or R.
When the light's low, it's dark, or the letter has been worn off, it's practically impossible to discern. Thus, tying a knot in the left one lets me know by feel which one I'm holding!

Gently tie a knot into the cord of your left earbud. Don't pull it too tight as you don't want to bend the cord. Now you too can know by feeling the knot which one you're holding.
Easy-peasy!
Earphone Tip #2: Use a Mini Hair Claw

My second favorite tip that works for all headphones, earphones, and earbuds with any type of cord or cable, is to use a mini hair claw clip to keep the cord wrapped up when not in use!
This tip easily prevents your earbuds from becoming a tangled knot.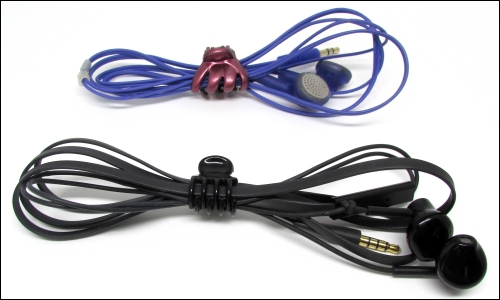 Here are my two favorite types of corded earphones:

To wrap: hold the two buds in one hand and with the other hand fold the cable in half. Fold in half two more times, pinch the mini hair claw, wrap it around all the cables and voilà! Your earphones are now secure yet easy to unwrap with just the pinch of a claw. :)
When using your buds just clip the claw to the cable, your clothing, or another safe location where you can easily retrieve it when you're done and are ready to re-wrap them.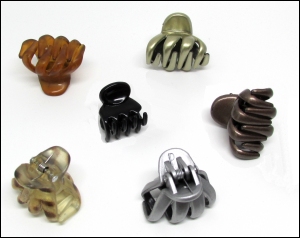 Mini hair claws are cheap, come in a variety of shapes, sizes, and colors and can be found at most stores that sell hair stuff.
I'd actually recommend shopping for these claw clips at a local store vs online as it's much harder to tell the size/quality online.
However, if you'd prefer, here are links to some I found on Amazon that you can check out:

This tip is so good I use it for other cables and cords, such as power cords, camera cords, hdmi cables, etc.
You can even use the claw to clip the cable to your clothes if you need to keep it out of your way.
For example, when jogging on the treadmill and using my earphones with my Kindle Fire, I sometimes accidentally hit a cord, popping the bud out of my ear or almost knocking my tablet off the treadmill! But with the claw I can keep the cable close to my body and out of reach of my pumping fists. :)
Earphone Tip #3: Attach a Straw

This next tip is more specific for headphones that come with extra long cables. If you wear one of these while using a wheeled chair, you have most likely experienced the frustrating problem of rolling over the cord and having it become entangled in the wheel of your chair.
Argh! This is so annoying! (And a pain to detangle.)

One simple solution is to put a straw onto the bottom of your cable, where it touches the floor. Doing so prevents the cord from being wrapped up and into the wheel of your chair.

However, most headphone ends won't fit through a straw so you'll need to slice it open along the length first. I just use a pair of scissors to do this:


I also cut off the top part when using bendy straws, but you might prefer to leave that on.
When done you can wrap the straw around the cable by opening it up at the slit: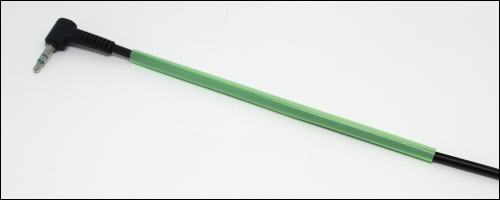 Most likely you'll want to tape the tube closed so it doesn't pop off.
Next, slide the straw down the cable all the way to the point where it touches the floor and becomes a target for wheel entanglement:



If you find the straw solution is giving you some trouble, try cutting the straw in half before sliding it on; this way it will be less stiff.
Depending on how long your cable is, you may want to try adding additional straw halves to cover more surface area.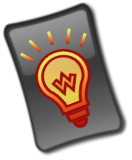 Another solution to remedy this problem is to use a mini hair claw to clip the cord out of the way. LOL! You can even clip it to itself if needed.
Unfortunately, this does create a problem if you're used to having a certain amount of cable slack to work with. If you walk away you might just yank your headphones right off! No, I've never done this myself, why do you ask? :-O
Of course, you could always go the wireless route with a bluetooth headset, which completely eliminates the need for this tip. See my recommendations for wireless headphones (coming soon)!

Earphone Tip #4: Adjust for Smaller Heads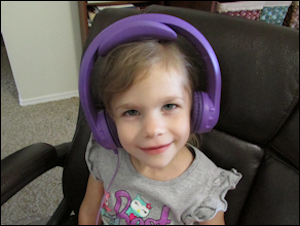 In this picture my toddler is wearing a Kid's HeadFoams Headphone set which is obviously smaller to better fit her petite head (sadly, this particular brand is no longer available).
It also has a removable wedge at the top to help keep them on her head, thus when she's big enough and no longer needs that piece it can be removed to allow for continued use of the headphones until she outgrows the set.
However, you may not need to buy a kid's headphone set if you have a set you can adjust to your child's smaller head by making your own removable wedge. If you have a small head you might want to use this tip yourself.
Let me show you what I mean.


Make Your Own Removable Headphone Pad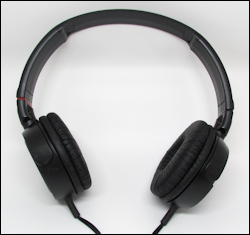 Here's a list of items you'll need for this tip, but feel free to adapt with your own ideas:
regular set of headphones adjusted to their smallest size (like the ones pictured here)

cut of soft cloth (see cut size below) or foam

second piece of cloth (cut slightly larger than previous fabric)

First, take a piece of soft cloth (I'm using a soft felt here) and cut it a bit past the width of the top curved part of the headphones and the length as long as you want to make a nice soft roll. Mine is 6.5"x15":

Optionally you can use a piece of soft foam in place of this fabric.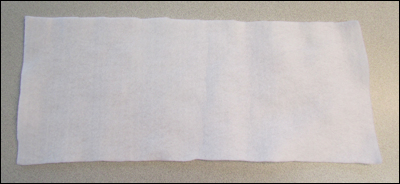 Roll the cloth into a tube: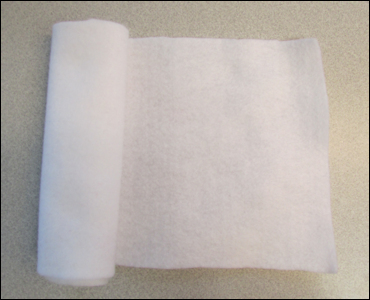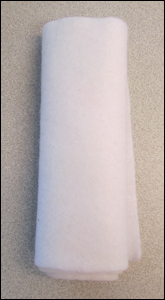 Now take your second piece of fabric and wrap it once around the first tube:


Place the partially wrapped pad under the top part of your headphones and wrap the rest of the cloth around the top of the headphones and then around the pad. Continue until you reach the end of the cloth: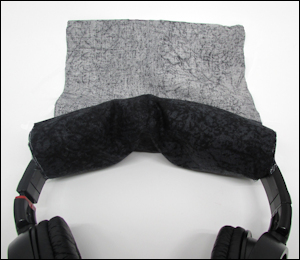 After you finish wrapping, you can hold the cloth in place by either hand stitching the ends or using safety pins (one on each end should work but you might want a third in the middle) and there you go!

It may not be the most elegant adjustment but if it works and is comfortable then what's not to like?


Earphone/Headphone Tips from Site Visitors


The following tips and tricks were submitted by my wonderful newsletter subscribers. Many thanks to each site visitor who shared their earphone and headphone tips!
If you have a tip to share, please post it in the comments section below.
Audio Extension Cord with Volume Control

"I'd suggest getting a 3.5mm Male to Female Stereo Headphone Audio Extension Cable Cord with Volume Control which makes it easier to control the volume.

"I use ear buds because I wear them when I go to sleep. The buds will pop out if I roll over and so far I haven't choked myself with the cord."
-Mitch, Travelers Rest, SC


Over-the-Ear Wireless Comfort
"I have the RIZIZI Wireless Earbuds which sit over the ears and they are absolutely fabulous. They last for 6 - 8 hours on a single charge and the LED battery display is very handy.

"Just love them for the comfort of being over the ears rather than in the ears, sound quality is amazing too. 5*****"
-Gill, Spain
Noise-Isolating In-ear Headphones

"I bought the Symphonized Wired Earbuds with Microphone from Amazon for just $30. Fantastic sound! Fit snug with 3 ear bud options. Better than $100 Bose phones.
"I am an Audiophile of sorts. Have a pair of Sennheiser HD650 I use a lot.
"Symphonized are highly recommended and a true value."
-Bill, Sausalito, CA


Check Your Local Stores

"I checked out the selection and compared prices and found them affordable as well as some decent brands at our local Radio Shack where I purchased a pair which I've had for a few months, so stop in one and see for yourself."
-Dennis, Illinois

What excellent headphone and earphone tips! If you have a tip to share, please post it in the comments section below.
Also, watch for my upcoming review of different headphones and earphones.
I ♥ My Fire!
-Christine