Great Educational Apps For Kindle Fire 
FTC Disclosure: If you make a purchase via a link on this site, I may receive a small commission. There will be no added cost to you. Thank you!

A list of the best educational apps for Kindle Fire together with direct download links to Amazon.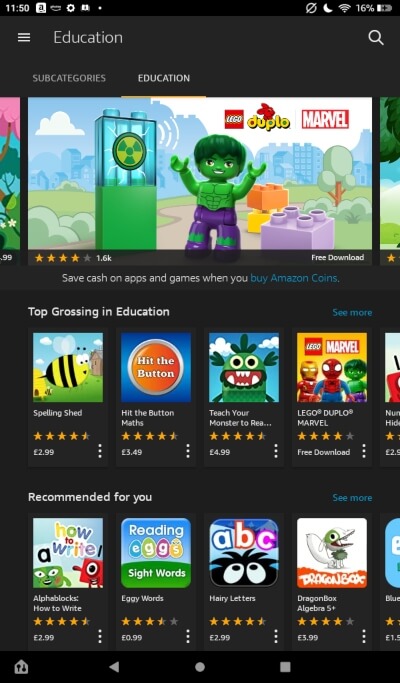 Screen time for kids doesn't have to be a negative thing - indeed, screens are commonly used now in educational settings.
This means that using educational apps on Kindle Fire tablets is a great way to give your kids a head start on literacy and numeracy skills in the early years. It is also a good way to provide them with extra support and practice as they get older.
There are tons of cool apps around designed to help kids learn and keep them entertained too. Here are some of the very best!
I've included a description for each, a link to download it from Amazon, and I've indicated whether it's free or paid. I hope you find this list useful.

Great Educational Apps for Kindle Fire Tablets

Prices are subject to change at any time and without notice. Products listed as free may no longer be free. Please confirm all prices before purchasing products. LoveMyFire.com is not responsible for any price changes or purchases you make. Please see the Terms of Use.

Prodigy Math Game
The Prodigy Math game is one othe most popular educational apps for Kindle Fire tablets, with a rating of 4.3 out of 5 stars and well over 15,000 reviews.
It brings together everything kids love about online games - creating their own characters, battling bosses, playing with friends, etc - allowing them to learn loads without even realizing they're doing so!
The main features of the Prodigy Math Game include:
Ideal from around age 7+
Content is tailored to the strengths and weaknesses of every player
1,400 available skills
All math questions fully aligned with state-level curricula, including Common Core and TEKS
Monitor your kids' progress through a custom dashboard
Set parental goals and give rewards
FREE for both parents and kids (premium version available - but you really don't need it!)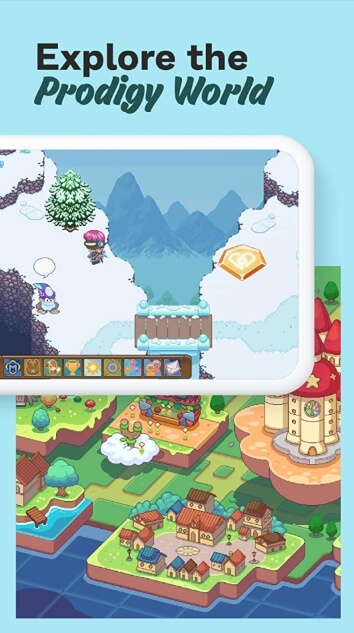 Cost: FREE
Download Prodigy Math Game from Amazon!


DragonBox Algebra 5+
Dragonbox Algebra 5+ helps kids start to grasp the concept of linear equations.
If the term 'algebra' strikes fear in your heart, it's good to know that this won't be the case for your child. Instead, they're introduced to the basic processes in a very enjoyable way, using colorful graphics and fun puzzles.
Some of the main features of the DragonBox Algebra 5+ app include:
Suitable for kids from 5+
100 puzzles and 5 chapters
100 extra equations for practice
Teaches addition, subtraction, division and multiplication
Multiple profiles
Winner of multiple awards, developed by a math teacher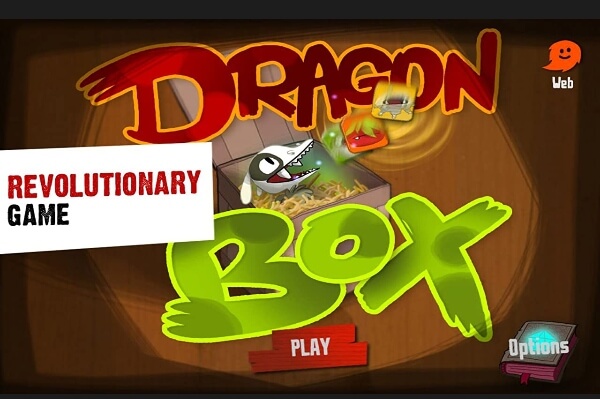 Cost: $5.99
Download DragonBox Algebra 5+ from Amazon! 


ABC Kids - Tracing & Phonics
Another massively popular educational app for Fire tablets is the superb ABC Kids - Tracing & Phonics. With more than 33,000 reviews, it has 4.4 out of 5 stars on Amazon.
Immersive and fun, the game uses colorful cartoon characters to help your toddler or preschooler get to grips with  phonics and the letters of the alphabet. 
The main features of the app include:
Ideal for toddlers, preschoolers and kindergartners
ABC tracing games, phonics pairing, letter matching, and more
Uppercase and lowercase letters to trace, listen to, and match
Collectible stickers and lots of puzzles
Totally FREE, with NO third party ads and NO in-app purchases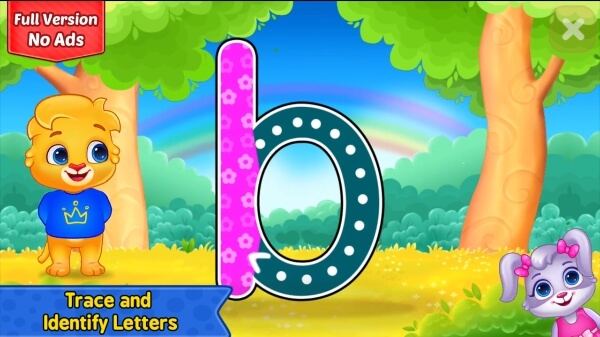 Cost: FREE
Download ABC Kids - Tracing & Phonics from Amazon!


ABCya! Games
Catering to a wide range of ages, this fun app covers lots of different topics, dividing them into appropriate age groups. Kids have the option to pick more difficult levels if they feel ready for them.
New games are added to the app on a regular basis. You can download the app for free (and ad-free) although the content is fairly limited. To really get the benefit of this app - and have access to its full menu of games and activities - you'll need a subscription. 
The main features of the ABCya! Games app include:
Suitable from kindergarten to Grade 5
6 free games a week
Access to more than 250 games and activities with a subscription
The ability to browse by both grade and skill level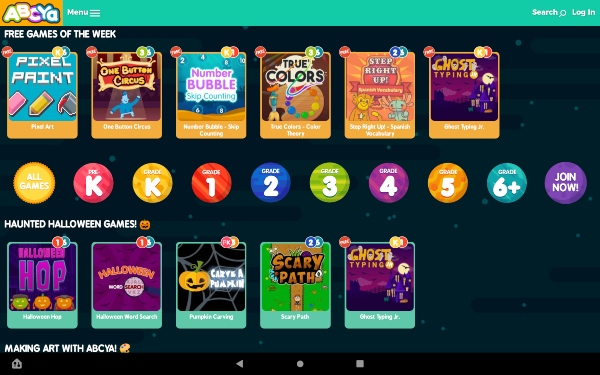 Cost: Free for limited content, or subscribe for $9.99 per month (at the time of writing) for full access

Download ABCya! from Amazon
Lightbot : Programming Puzzles
Learning to code has become an important factor in education for all kids - and this app gives your little one a head start.
It comes in 2 versions - the basic Lightbot : Programming Puzzles and the more simplified Lightbot Jr : Coding Puzzles for Ages 4+
An excellent introduction to technology, Lightbot uses programming logic to solve puzzles. 
The main features of the app include:
A robot character that kids guide to light up tiles and get through each level
Puzzles to help kids understand procedures, loops, and conditionals
Save slots and separate progress tracking for multiple players
Available in multiple languages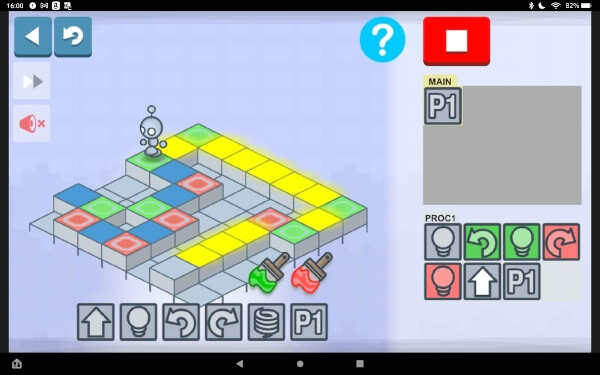 Cost: $2.99
Download Lightbot : Programming Puzzles and Lightbot Jr : Coding Puzzles for Ages 4+ from Amazon
Khan Academy Kids

With an average rating of 4.5 out of 5 stars and nearly 29,000 reviews, this award-winning app covering logic, literacy and mathematical skills is one of the most popular out there.
Content is continually updated to coincide with current events (Halloween content in October, for example), and kids can enjoy everything from books and games to songs and videos.
You get useful feedback on your child's progress and - best of all - the app is totally free forever. That means no ads and no subscriptions!
The main features of Khan Academy Kids include:

Suitable for kids aged 2 to 8
A personalized learning experience - each child can learn at their own pace
5 fun characters to engage children and encourage interaction
Cool coloring pages and stickers
Development of emotional skills and creative expression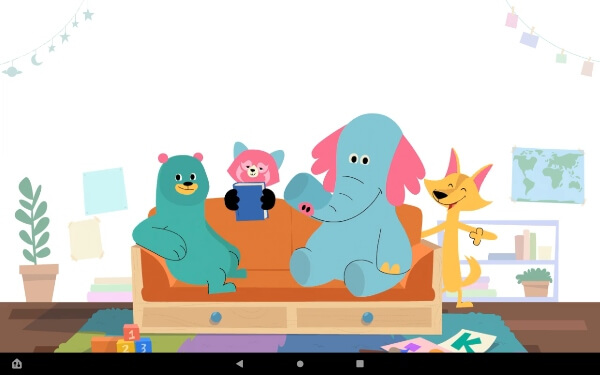 Cost: Free

Download Khan Academy Kids from Amazon
Alphablocks - Letter Fun!
Based on the hit UK kids' show, Alphablocks - Letter Fun! brings the alphabet to life in a fun and engaging way.
A combination of phonetic sounds, letter names, and songs help your children remember their letters like never before - that's why almost 500 reviewers have awarded this app 4.5 out of 5 stars!
The main features of the app include:

Four great minigames per Alphablock, providing over 100 activities in total
Kids bring each Alphablock to life and hear their sounds
Best-practice phonics as taught in UK schools
Sing along to the Alphablock song
Earn stars for completing each minigame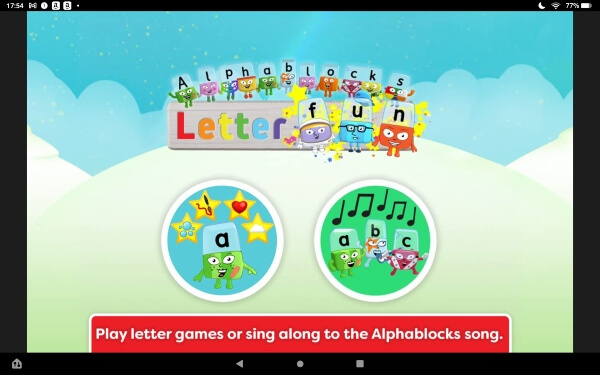 Cost: $2.99
Download Alphablocks from Amazon!


Numberblocks - Hide and Seek
From the same creator as the Alphablocks series comes this fun app which focuses on numeracy instead!
The game works on a reward basis, with something new for your child to play with and a celebratory animation every time they reach the number 10. 

The main features of Numberblocks include:
Suitable for kids up to 4 years of age
Teaches addition, number bonds, and other key numeracy skills
A fun hide and seek element where your child has to find numberblocks hiding behind the trees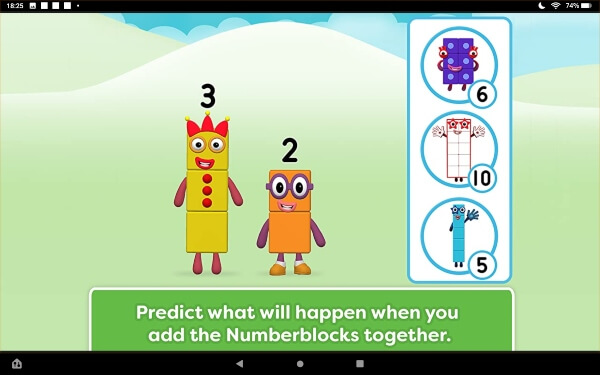 Cost: $2.99
Download Numberblocks - Hide and Seek from Amazon! 


My Very Hungry Caterpillar
The My Very Hungry Caterpillar app is based on the much-loved book by Eric Carle and provides a fun way for your child to interact with this cute character. 
It only just made it into my list of educational apps for the Fire tablet because it's not - technically - educational in nature. Nevertheless, there are aspects to it that teach children valuable lessons, particularly the nurturing of a 'living' creature and its development. There are also several opportunities for your child to count and sort.
Although the download is free, there are in-app purchases. Personally, I found the free version perfectly adequate!
The main features of the app include:
Designed for children up to 4 years of age
A 3D My Very Hungry Caterpillar interactive character that your child can feed, play with, and care for
Beautiful animation and illustrations
Delightful music and a soothing soundtrack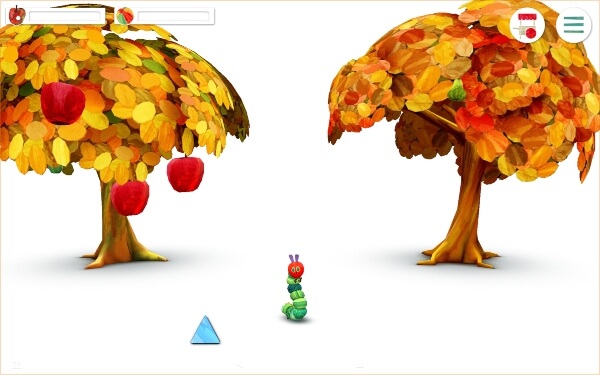 Cost: Free (with in-app purchases)
Download My Very Hungry Caterpillar from Amazon
HOMER Reading: Learn to Read
This is a very popular app with almost 15,000 reviews and a rating of 4.3 out of 5 stars.
It grows with your child, starting with basics like letter identification for very young children and progresses to reading passages for older kids. The good thing about it is that the the app creates personalized learn-to-read plans, which are based on your child's age, reading ability, and the things that interest them.
The download is free but you need a monthly subscription to use the app. You do get a free 30 day trial though so you can get a feel for how much your child will enjoy it.
The main features of the app include:
Ideal for a range of ages, from toddlers up to age 8
More than 1000 lessons  on phonics, sight words, and ABCs
More than 200 stories to enhance your child's vocabulary
Downloadable, printable worksheets
Parent dashboard to monitor your child's progress
Set up to 4 profiles with one subscription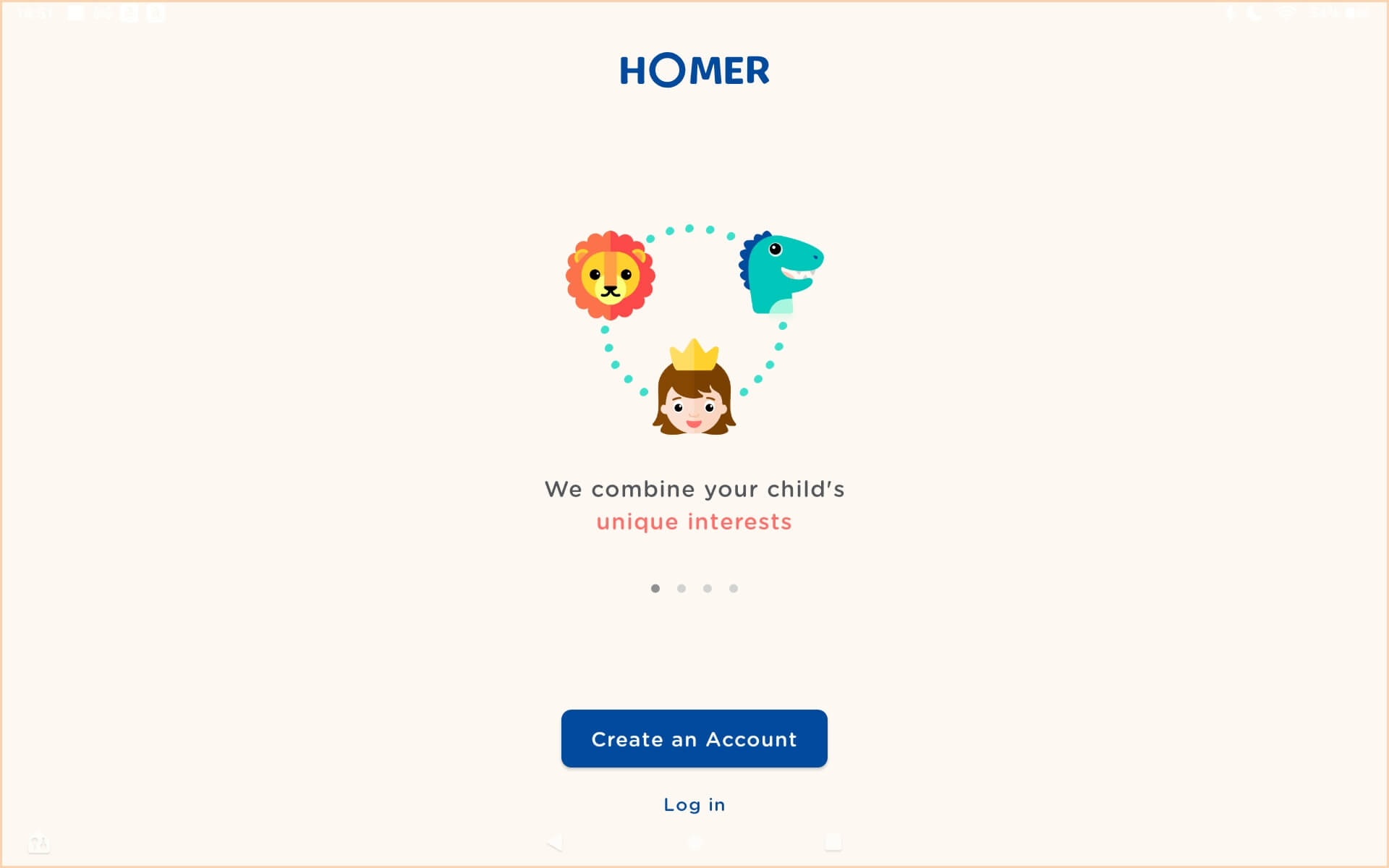 Cost: Free to download but you'll need to subscribe for $7.99 per month (at the time of writing) for access
Download HOMER Reading: Learn to Read from Amazon
Hit The Button Math
Hit The Button is one of the best math apps for primary school children and remains engaging and challenging for kids right up to the age of 11.
There is the option to play timed games - where your child can answer as many questions as possible in one minute - or regular games without the pressure of a timer. 
Features of the app include:
Designed for kids age 5 to 11
Covers times tables, division, square numbers, number bonds, doubling and halving
Randonly generated questions so the game can be played repeatedly
Bronze, silver or gold stars and trophies are awarded
Create up to 30 player profiles - ideal for large families or groups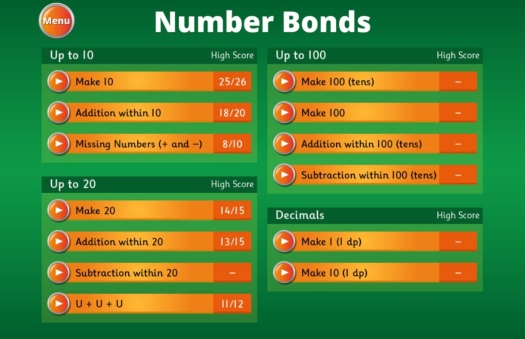 Cost: $3.99
Download Hit the Button Math from Amazon
Looking for games for kids age 3 to 12?
Then check out my article about Osmo - a unique toy that brings the digital and physical worlds together!

At Amazon
Do you like this list of educational apps for Kindle Fire? Did you find what you were looking for? Could you recommend an app I could add to this list?
You can leave a comment in the comment box below - I would love to hear from you. And don't forget to share this list with your friends.
Check out other great Kindle Fire apps too.
I ♥ My Fire!
-Christine