All New Fire 7 Tablet (2022)

NEW Fire 7 Tablets for 2022 - Available Now
It's my favorite time of year, Fire friends, when Amazon releases details of its newest addition to the Fire tablet family.
This year it's the turn of the baby of the family to receive a makeover, with the birth of the All-new Fire 7 tablet and the All-new Fire 7 Kids tablet (both links take you to Amazon).
The last time the Fire 7 tablet received an update was three years ago in 2019, so I've been looking forward to seeing what would change. 
It looks like there are several great improvements - and also a bit of a bump in the price, from $49.99 to $59.99 (and from £49.99 to £59.99 in the UK).
Nevertheless, this is still one of the cheapest tablets you can buy anywhere - and still great value for money!
UPDATE JULY 2022: I've been using the brand new Fire 7 for over a month now.
Click here to read my review.
UPDATE OCT 2022: Amazon has just released MORE new tablets for 2022 - and these time it's the HD 8 getting a makeover.
Find out more...
Here's a look at what's new with the Fire 7 for 2022...
FTC Disclosure: If you make a purchase via a link on this site, I may receive a small commission. There will be no added cost to you. Thank you!

The All-new Fire 7 Tablet


The All New Fire 7 Tablet at Amazon
The twelfth generation has arrived and the Fire 7 tablet has received a few enhancements that I can't wait to try out.
Perhaps most significantly, it now has a USB-C charging port - just like the Fire HD 8 and Fire HD 10. 
USB-C charging is faster, whilst the symmetrical shape of the connector makes it much easier to plug in. This is because it can be inserted either way. It is also far more common these days than the outdated micro-USB port of its predecessor.
According to the release details, the tablet comes packaged with a 5W power adapter.
Here's the rest of what's changed.
The memory - the RAM has doubled to 2 GB, which should give a more responsive performance, particularly when switching between apps or loading multiple web pages.
The quad-core processor  - now 30% faster, it should improve video playback and game play.


The battery life - Amazon says this is now 40% longer, which increases general browsing time from 7 to 10 hours


The colors - green seems to be unpopular as it has been dropped from the lineup! The new Fire 7 is only available in black, denim, and rose.
The cameras remain unchanged, with 2MP front and rear. Although this may be a little disappointing, it's not really surprising at this price point.
Storage, too, remains that same at  16GB for the base version, although this can be increased with a microSD card up to 1TB.
Check out The All New Fire 7 Tablet at Amazon
Available in black, denim, and rose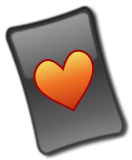 Love Note!

A couple of days after announcing the release of the All-New Fire 7 Tablet, Amazon also revealed that it will shop with a brand new operating system - OS 8.

Based on Android 10 and Android 11, this is quite an upgrade on the current (outdated!) Fire OS 7. And it will bring a couple of nice improvements.
These will include:
A system-wide dark theme to make using your Fire at night a lot more comfortable. 
The ability for Fire apps to access your device's location when they are running in the background (with your permission first, of course!).
Restrictions on the starting activities apps use from the background, resulting in fewer interruptions for you and reducing the amount of power your device uses.
Support for the High Efficiency Image File (HEIF) format - a modern replacement for the JPEG format. It produces higher-quality images with a smaller file size.
Better stability and security for your Fire tablet.
At the time of writing (May 2022) this is the ONLY Fire that will run this cool new operating system!

All-new Fire 7 Kids Edition


The All-new Fire 7 Kids Edition at Amazon
The Kids Edition - aimed at children between 3 and 7 years old - has had a refresh too, and you can now choose the storage capacity - either 16GB or 32GB.
Your purchase includes one year of Amazon Kids+, which allows your little ones to access to suitable books, videos, audio books, games and apps. 
The Kids version still comes with a  2 year guarantee, which is an excellent bonus and allows you to buy with a lot more confidence. It is available in red, blue and purple. 
Check Out The All-new Fire 7 Kids Edition at Amazon
Want to Trade-in Your Older Kindle Fire?
If you have an older Kindle Fire and want to upgrade to the latest version, you may have the option of trading it in.
See my article about the Amazon Trade-In Program for Fire Tablets to learn more.

Want to Save Money When You Upgrade?
Then consider buying a refurbished Fire tablet through the Amazon Renewed program. It comes with the same limited warranties as a brand new device!
Learn How to Transfer Content from Your Old Fire Tablet
Amazon makes it pretty easy to transfer to transfer content from your old Fire tablet when you upgrade. But it's important to realize that not EVERYTHING can be moved to your new device.
Learn more about how to transfer files from one Fire to another

Tell me about your new device!


As much as I'm looking forward to trying out the new Fire 7 and telling you what I like (and don't like! ) I'm looking forward to hearing your opinions, too.
If you order one of these new Fire tablets for 2022, please let me know what you think - good and bad - so I can share your experiences with other readers.
You can contact me here - or pop over to the Love My Fire Facebook page and message me there. 
I'm looking forward to hearing from you. 
I ♥ My Fire!
- Christine