Choosing a Kindle Fire Cover
Looking For a Cover for Your Tablet? Ask Yourself These Questions.

FTC Disclosure: If you make a purchase via a link on this site, I may receive a small commission. There will be no added cost to you. Thank you!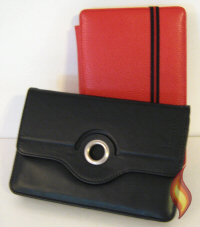 Your Kindle Fire cover is one of the first things a person notices when you show them your cool new tablet.
A cover is also one of the most important Kindle Fire accessories you will purchase to protect your fun toy, but which one should you buy? That depends on what you want in a cover and how you use your device.
It took me several days of researching, reading reviews, and debating between a few designs before I finally purchased a cover for my tablet.
Hopefully, this article will simplify the process and help you figure out what cover is right for your device!

If you don't know the difference between a cover and a case, just pop over to my article, Kindle Fire Covers vs Kindle Fire Cases.
Then come back to finish learning all about choosing the right cover for you and your tablet!

What Do You Want in a Kindle Fire Cover?
When choosing a cover there are a few things to consider and some important details to keep in mind. Here are some ideas to help you decide which Kindle Fire cover is the right fit for your needs.

Style vs Features
Light Weight vs Heavy Weight
Price vs Quality
Dark Color vs Light Color
Stand vs No Stand
Let's go over each of these in a bit more detail, shall we?


Style vs Features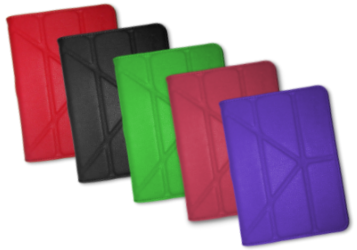 The first question to ask yourself is what is more important to you: the look and style of your cover or its features?
Do you want your Fire to showcase your wardrobe as a fashion accessory or are you just looking for the Kindle cover that gets the job done? Perhaps you would like a good balance of each.
For those who want a stylish cover but want one that also has cool features, there are a few of them out there, depending on what type of style and what exact features you're dying to have.

Light Weight vs Heavy Weight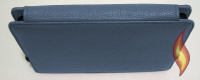 For a 7" tablet, the Kindle Fire has some weight to it at just under a pound (14.6 ounces). Some Kindle Fire covers will be heavier and bulkier than others, so if you don't want to add too much more weight or bulk to your Amazon tablet be sure to check the weight (in the technical details) for the covers you're interested in buying.
Also look at the details and pictures to see if the extra bulk of the cover and any of its additional features (stands, pockets, etc) will be more than what you're looking for.
Note: Extra bulk does add some extra padding which can help cushion your tablet in case of a fall.


Price vs Quality

Not all Kindle Fire covers are created equal- some are cheaper than others in quality, price, or both.
You don't want to buy a cover with a cheap elastic or magnetic closure that quickly loses its ability to keep your cover closed when not in use.
Sometimes the price of a cover reflects its quality but not always. It's a good idea to closely examine each product's pictures and read through the reviews from other Kindle Fire owners who've already purchased and used the cover you're thinking of buying.
Of course, one bad review doesn't mean the product is a dud so read through several reviews before making your final decision.

Dark Color vs Light Color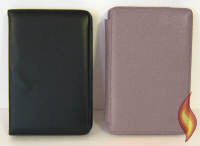 Is the color of a cover important to you or do you like the classic colors: black, brown, navy, red? Darker colors are of course better for not showing dirt and other smudges, while lighter colors will be more apt to show-off any dirt and stains.

Something to be aware of when picking a color is that some Kindle Fire covers have a different color and/or fabric on the inside of the cover, which is sometimes a lighter color than what is on the outside. Check the description, technical specifications, and pictures for details.


Stand vs No Stand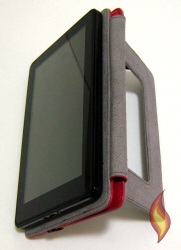 Several Kindle covers come with the feature of a built in stand to hold up your tablet in portrait or landscape orientation while a rare few of them have both.
You may wonder if you really need your accessory to have a stand, and if you do which orientation would you want? The best way to determine this is to ask yourself how you use your Kindle Fire (or how you "will" use if you're waiting to get it in your itchy lil' fingers).
Below are some questions to ask yourself to help determine how you most often use your tablet. Your answers may be a big deciding factor for which cover you decide to go with so don't skip out of class too early!


WARNING!
A few Kindle Fire covers with stands have been designed with a big flaw in them! I explain this more in detail below as well as in my article, The Biggest Mistake Kindle Fire Cover Designers Make, so be sure to read all about this before buying a cover for your tablet!

Also, most covers use the front of the cover (the part that covers your tablet when closed) as part of the stand. Be sure to check how wide the bottom of accessory's stand is, as a narrow bottom gives little support.


Questions to Ask Yourself:
Do I use my Kindle Fire to play a lot of games?
Do I watch a lot of videos (including YouTube and other sites)?
Do I read books on my Kindle?
Do I use my tablet to surf the web?
Do I like to hold my Fire or prefer to prop it up?
Do I usually use my tablet in the portrait or landscape mode, or do I equally use them both?
Do my hands get tired of holding up my device?
Your answers to the questions above are especially important when considering if you want your Kindle Fire to be able to stand on its own.

It's interesting to see how different people use their devices in different ways. I almost exclusively use my Kindle Fire in landscape view. I usually only use portrait for games/apps that force that view.
On the other side of the ring, my husband almost exclusively uses his Kindle in portrait mode, rarely turning it to the side.
To each his/her own!

Observe Your Kindle Fire Habits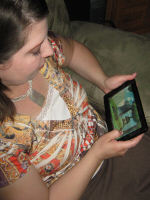 Taking a day or two to observe your habits could really give you some clues as to how you actually use your fun little toy.
If you find it convenient to be able to use your toy without holding it in your hand you'll probably want to check out Kindle Fire covers that come with a stand.
Knowing which orientation you use the most will also help determine which kind of stand you want.
With Amazon's tablet being a multi-media device, you'll most likely use it for more than just reading books- which is good since that's probably why you bought it in the first place!


Another idea to determine if you really want your Kindle cover to have a stand is to try propping it up (with a little pillow or other small object) while at different areas of your home: at the table or counter, on your lap, lying in bed, etc.
Having a stand as part of your cover accessory is a good idea for those who's hand or arm fatigue after extended use. This is especially true since the Kindle Fire has a "solid" weight to it at just under a pound.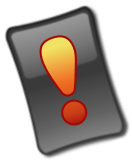 Important Note!

The Kindle Fire's auto-rotation doesn't work with entertainment features that force it to stay in landscape or portrait orientation.
Covers that come with a stand (for portrait, landscape, or both) need to be double checked to make sure they will hold your tablet in the proper orientation for features that don't auto-rotate.
For example, the game Angry Birds is always in landscape with the Fire's on/off button to the right and speakers to the left. While another game, Words With Friends, only uses portrait with the speakers on the top and the on/off button on the bottom.
If a cover's stand isn't properly designed videos, games, and apps that don't rotate may be upside down.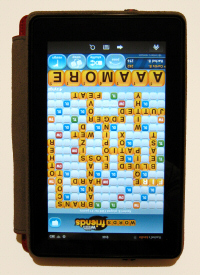 This was actually an issue with a cover I purchased that had two stands. When my Kindle Fire was attached to the cover and I used the landscape stand videos played upside down. So I turned it around which then caused games and apps that only use portrait to be upside down when I used the portrait stand.
See my article, The Biggest Mistake Kindle Fire Cover Designers Make, for additional details and pictures about this design issue.

Since I don't use the portrait feature much I was able to deal with this major design flaw, but it would have been nice to get what I paid for.
I still love my cover for other reasons though, so until I find another cover that I really want, I'll stick with this one.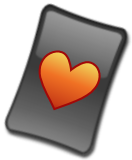 Kindle Fire Love!

You may be wondering which Kindle Fire cover I went with. If not I'm still going to tell you. *wink* Personally, I chose features over style, but I still wanted a splash of color.
My cover is bright red on the outside with a gray interior, but the main feature that determined my choice was having a cover with both a landscape and portrait stand.
After using my accessory for a few weeks I decided to try using my Fire without the cover since it does add some extra weight and I love how the back of the Kindle Fire feels.
Well, it did feel nice and it was much lighter, but after several irritating attempts to keep my tablet propped up while at the kitchen table I quickly gave up and went to find my cover.
Unfortunately, the company that sold my cover is no longer in business and I have been unsuccessful in my attempts to contact them. :(

Another alternative to a standard cover or case is Amazon's Show Mode Charging Dock. It's a stand, case and magnetic charger all in one!
Find out more...

Be sure to check out my reviews of  Kindle Fire accessories!

I ♥ My Fire!
-Christine