Amazon Show Mode Charging Dock

Amazon Show Mode Charging Dock Review
You may or may not have heard of the Amazon Show Mode Charging Dock, which some sources suggest turns your Fire tablet into an Echo Show.
Whilst it doesn't quite do that - and only works with certain versions of the Fire - it's still a great accessory in its own way!
In this article I'll explain just what the Show Mode Charging Dock can (and can't!) do, which versions of the Fire it will work with, the advantages of using it... and why I love mine!
Looking for a review of the All-New Charging Dock, 
compatible with the All New Amazon Fire HD 8 Plus?
Please click here
FTC Disclosure: If you make a purchase via a link on this site, I may receive a small commission. There will be no added cost to you. Thank you!

What is the Amazon Show Mode Charging Dock?
As its name suggests, the dock is a special stand to both charge your Fire tablet and take advantage of its 'Show Mode' capabilities. 
When you place your Fire into the Amazon Show Mode Charging Dock,  your tablet begins charging and Show Mode is automatically enabled.
Essentially, then, the charging dock is 3 items in one:
A magnetic charger 
A stand to make Show Mode easier to use
A case for your tablet
Show Mode Charging Dock (from Amazon)


What is show mode?
'Show Mode' was designed by Amazon to bring something of the feel of the Echo Show to Fire Tablets. The much more expensive Echo Show is a 'smart assistant/speaker', which uses Alexa to give video and audio responses to your questions and commands.
Show Mode gives a similar experience. With its larger, bolder letters and video information displayed in sync with Alexa's voice,  you can clearly see what is on the display from a distance.

Important Note! 


This Show Mode Charging Dock will only work with certain versions of the Fire Tablet.

These are:

Fire HD 8 (7th and 8th Generation Tablets – 2017 and 2018 Releases)
Fire HD 10 (7th Generation Tablets - 2017 Release)
It will NOT work with the newer 2019 release HD 10, the 2021 release HD 10 or the 2020 release HD 8.
This is NOT pointed out on Amazon's sales page for the Charging Dock clearly enough, which has resulted in many disappointed customers!

The charging port on the new HD 10 is in a different place to older versions, so it will not line up properly on the Charging Dock. What's more, the new HD 10 has a USBC port instead of the micro USB that the Charging Dock is designed to work with.
There has been no word yet from Amazon as to whether they plan to bring out an updated Charging Dock for the 9th generation Fire HD 10. So watch this space!
For the Fire HD 8, you must also be sure to update your Fire's software to at least version 6.3.01. 
UPDATE 2020: Amazon has now launched its 10th generation Fire tablets for 2020. The All-New HD 8 Plus (Amazon) can be charged with the All-New Wireless Charging Dock (Amazon). It is not compatible with the version shown on this page.
UPDATE 2021: Amazon has now launched its 11th generation Fire tablets for 2021. The All-New Fire HD 10 Plus (Amazon) can be charged with the All-New Wireless Charging Dock for HD 10 Plus (Amazon). It is not compatible with the version shown on this page.


Different Ways to use the Amazon Show Mode Charging Dock
One of the main advantages of using the dock is that it functions like a stand (with benefits!).
It's fully adjustable and positions  your Fire at the perfect angle to keep an eye on what's on the screen, making it ideal for anything from following a recipe video in the kitchen to watching a movie in bed.
Once you start using Alexa and Show Mode more often, you'll find that it's actually incredibly useful. It's a great way to:
access the news and videos


access your playlists and listen to music (I have mine set up to use Spotify as its source)


view calendars


set timers and reminders*
*Because it's always charging your Fire, it can be used as a reliable alarm clock, too, if stationed on your night stand. 
If you use the Ring doorbell system, then Show Mode is an easy way to see who's at the front door. You can even use it to keep an eye on your baby via a live camera feed from the nursery!
And it's useful for staying in touch with friends and family, too! You can use it to make calls or send messages, or even make hands-free video calls to anyone who has a Fire tablet, Echo device or the Alexa app.
Unlike a regular stand or a stand-type case, it needs to be connected to a power source. For that reason, it's a good idea to pick a spot where it will sit for most of the time. I keep mine in the kitchen, where I spend a major part of my day and where the whole family can take advantage of Alexa's amazing knowledge!
A friend of mine actually has 2 Charging Docks, one in the kitchen and another in her bedroom, so she can just pop her tablet into the dock in the room she's in, without disconnecting it from its power source.
My favorite thing about the Dock...
 ...is its ability to automatically - and magnetically - charge my device.
One of the Fire's biggest weak points is its charging port. It is - unfortunately - very delicate and often the first part of the tablet that's likely to malfunction. (Here's my recommendation for the best way to protect the port from damage).
I regularly hear from users who have a lot of trouble getting their devices to charge - often having to prop the charging wires at odd angles to make them work - or where the devices just won't charge at all.
And - as you'll know if you're a parent - children are not always too careful when it comes to plugging in their chargers, often ramming them in and shortening the life of the port even more quickly.
Once the Fire tablet's charging port stops working properly and you're outside the warranty period, it's either expensive - or impossible - to repair.
The Amazon Show Mode Charging Dock simply does away with the need for any charging wires at all.
This, to me, is a wonderful benefit. It also means that my device is constantly charged - because we all know that sinking feeling when we settle down to enjoy a movie on our Fires, only to discover the battery is down to 2%!
The dock makes charging easy, because built in magnets automatically align your Fire to the right position for connection. As soon as it's in position, charging begins and Show Mode turns on!

Important Note!
Although the Show Mode Charging Dock is all you'll need to charge your Fire, I still recommend keeping a spare charging wire to hand, for times when you might want to charge your device outside the house or in a  different room to where you've set up the Dock.


Setting up your Show Mode Charging Dock
Unboxing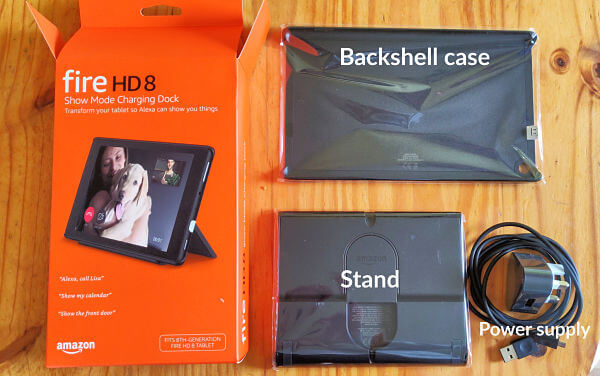 What's in the box
The first thing you may notice when you start unboxing the dock is its weight - this is a relatively heavy, sturdy piece of equipment.
This is obviously important, as you want to be sure your tablet is safe when seated on it. What's more, the base features rubberized grips, so you'll know that the stand won't slide across the piece of furniture you decide to set it on.
The dock includes a backshell case, which must be used in order for the contacts to align for charging (more on this in a moment).
Although you can use this case independently of the dock, it doesn't provide any protection for your Fire's screen. This means that you may either want to buy a screen protector or a separate case, just for when you're out and about with your tablet.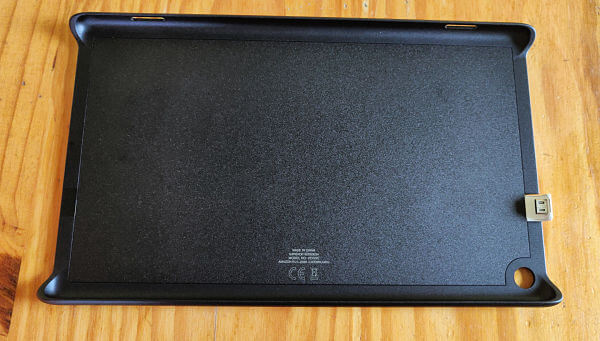 Backshell case
The case has a special cap, which you put on the charging port. This allows your Fire to charge automatically every time you place it in the dock.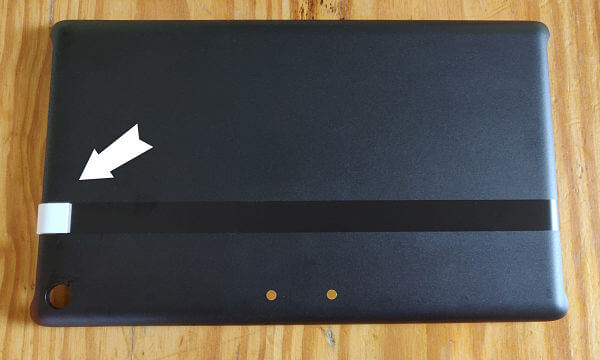 The cap for the charging port
On the stand you'll see two metal sensors. These line up with the contacts on the case - assisted by magnets which help center the case in the dock -  and allow it to charge.
So much easier than plugging in and unplugging a charging wire!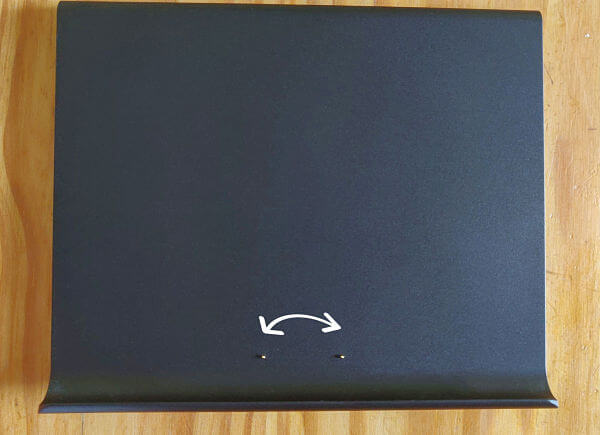 2 metal sensors on stand
Assembling your Show Mode Charging Dock
Connect the dock to the power supply, then plug it into the wall and switch on.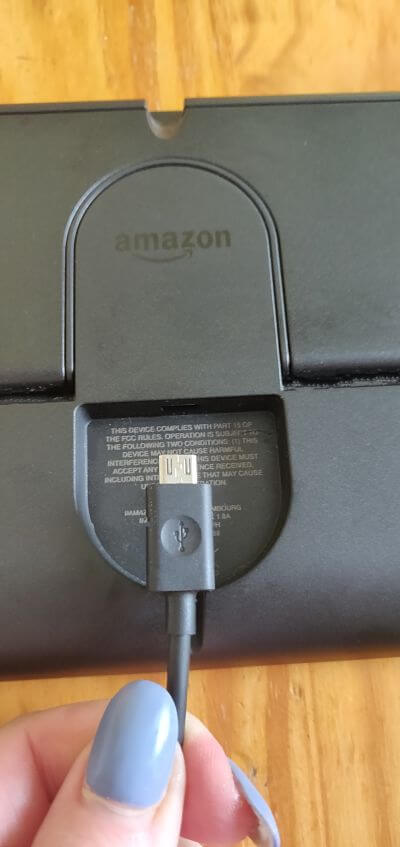 Pull out the back of the stand.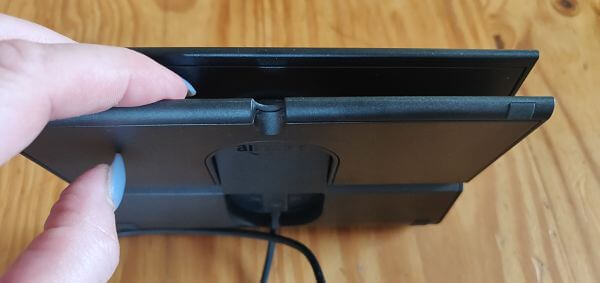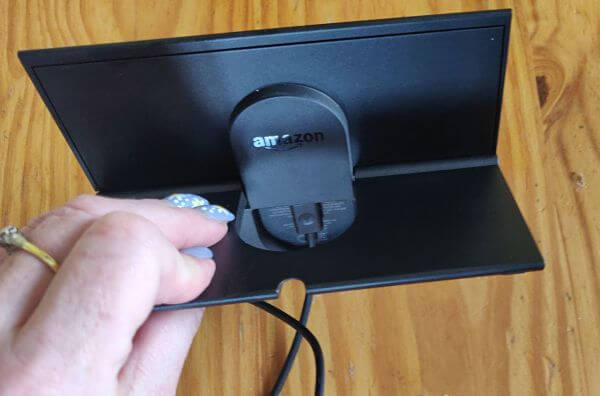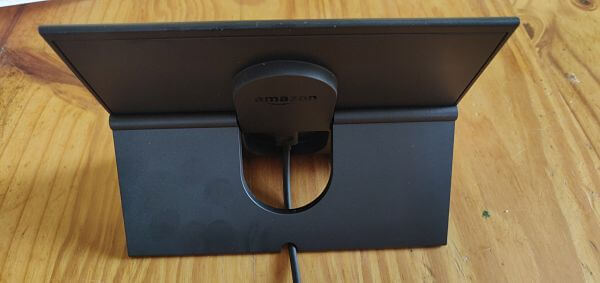 Pull out the cap for the charging port on the case.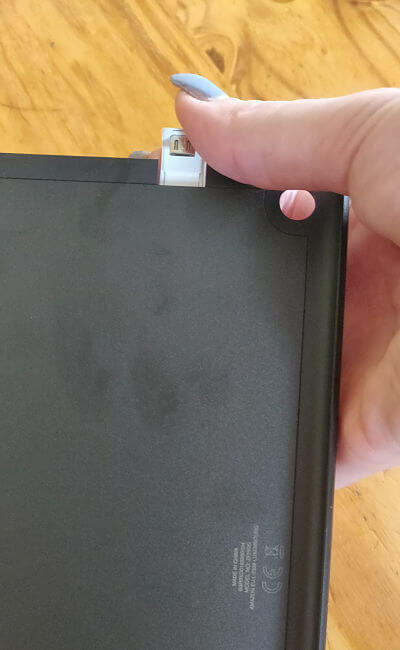 Place your tablet into the backshell case and attach the cap to the charging port. Snap the tablet securely  into the case.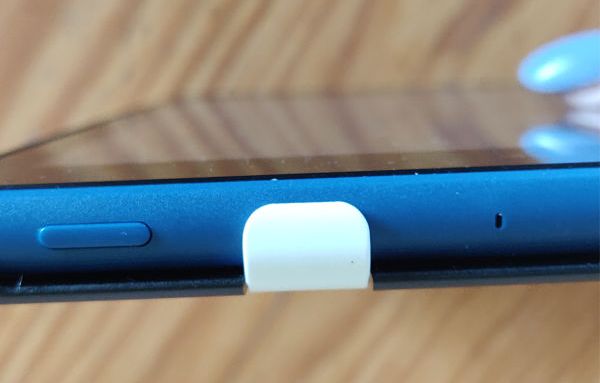 Line up the contacts on the case with the 2 prongs on the stand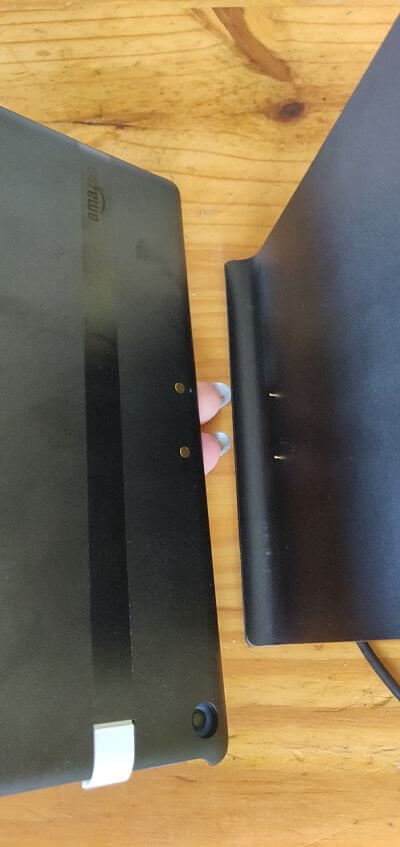 And that's it!
Your Fire will automatically start charging and Show Mode is enabled, ready for use!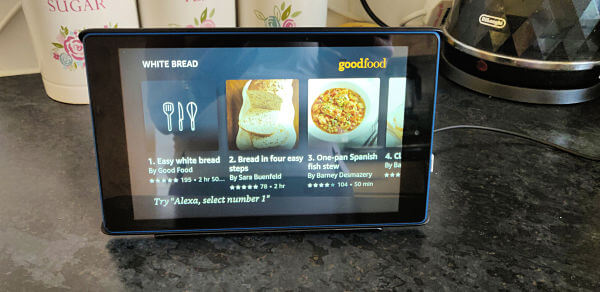 I love using mine in the kitchen!

Important Note!
When your tablet is in the Charging Dock's backshell case, you can't access the slot for the SD card. You would need to remove it from the case to do so.
This may not be an issue if you leave the card in your device most of the time, but it's something to consider if you tend to remove the card often to use with different devices

Amazon Show Mode Charging Dock vs Echo Show 
Some reviews suggest that using the Show Mode Charging Dock with your Fire tablet is the same as using the far more expensive Echo Show.
Well, as the saying goes, you get what you pay for!
While the charging dock gives you some of the features of the Echo, it certainly isn't the equivalent!
For one thing, the audio quality of the Fire tablet is significantly inferior to that of the Echo.
The volume is much quieter, although I've gotten around this by pairing my Fire with my bluetooth speaker (I use an Oontz speaker which is so good I wrote a review of it here).
So whilst it's a problem with an easy fix, it's definitely something to consider!
The microphone, too, is less powerful and I find I have to stand closer to my device for my commands to be recognized than I would with the Echo Show.
Another - more important - issue is that other Echo devices don't recognize the Show Mode Charging Dock.
This means that there is no integration at all, so you can't add the Charging Dock to an Echo Group.
Is the Amazon Show Mode Charging Dock worth the money?
As you've seen in this article, this accessory isn't for everyone.
So here's my summary to help you decide if the Amazon Show Mode Charging Dock is right for you!
 DO buy it if:
You want somewhere safe to not only store your tablet, but to keep it permanently charged.

You want the advantage of easy, magnetic charging over the hassle of charging wires.
You use Alexa often and like the convenience of having your device in Show Mode without having to manually adjust it each time.
You don't need to make the device part of an Echo group.
You're looking for a great gift idea for someone with a compatible Fire tablet.
You either plan to leave your Fire in it most of the time, or you're happy to buy a screen protector or additional case that will protect the screen when you're out and about.

DON'T buy it if:
You really just need a stand. If your main aim is, for example, to be able to use Show Mode whilst cooking dinner in the kitchen, a far cheaper stand to prop up your Fire would do just as well. The only differences would be that you would have to turn on Show Mode manually, and you may need to plug in a charger (Show Mode uses the battery up quite quickly).
You need all the features of an Echo Show.
You need the Show's superior audio features (better volume with no need for an external speaker and a more powerful microphone).
You need to integrate your tablet with an Echo group.

Important note
Do you have an old Fire tablet that you've been unable to charge, that would be compatible with the dock?
If so, why not give it a try to see if you can bring the tablet back to life?
Fire friend Alex from New York wrote to tell me that he bought a Charging Dock for his new Fire 8, but put his old, defunct tablet in it to see what would happen (it had stopped charging some time previously, but he hadn't gotten around to throwing it out).
He was thrilled to find that the Charging Dock could do what a charging wire couldn't... and his old device began charging once again! Yay!
UPDATE: 
Since publishing this article I received an email from Fire friend Ruth, who told me:
I purchased a Charging Dock and it arrived yesterday - a day ahead of the predicted delivery. I am very pleased with this product. It was simple to set up. I was able to charge my device to 100% for the first time in months. I had purchased Amazon recommenced cords and still could not get a solid connection. It is great to have my Fire back!
It was so nice to hear another success story and to find out another Fire has been given a new lease of life!
Click Here to Buy the Show Mode Charging Dock from Amazon
I ♥ My Fire!
- Christine