Kindle Fire Speaker Problems
There's an app for that!
FTC Disclosure: If you make a purchase via a link on this site, I may receive a small commission. There will be no added cost to you. Thank you!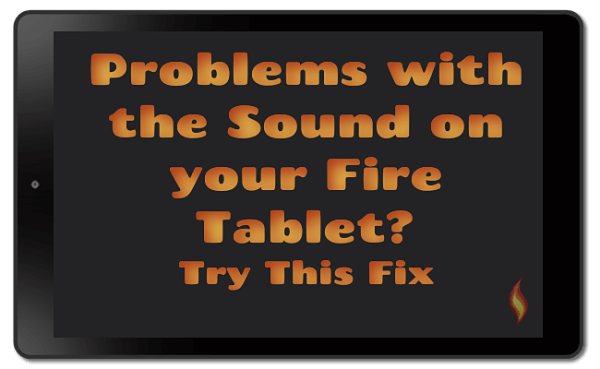 Are you having problems with the speaker on your Fire tablet? 
Is the sound muffled, perhaps because of water damage or dirt?
Then read on and find out more about a simply brilliant free app I've discovered that just might be able to fix the problem.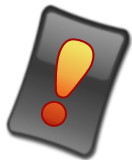 Important Note!

The app discussed in this article is NOT available from the Amazon app store.
In order to install it on your Fire tablet, you will first need to install Google Play Store on your device.
Please note that you use all third party apps at your own risk - see this website's terms of use for more information.
How Speaker Cleaner Saved My Phone
Yes, I know this article is all about the speakers on your Fire tablet - but I actually came to discover this app due to a problem with my phone.
Setting off on the school run recently I discovered a minor problem with my car. A YouTube video came to my rescue (how on earth did anyone manage before the internet??) so I decided to prop my phone up at the base of the windscreen to follow along and carry out the repair!
What I hadn't noticed was that the spot I'd picked to stand my phone on was pretty dirty and had accumulated lots of little leaves and pine needles.
When I later went to listen to a message on my phone, I quickly realized that some of this dirt must have made its way into the speaker. It was crackly, and so muffled that it was almost impossible to hear.
After freaking out for a few minutes - banging it on the palm of my hand and frantically blowing into it with my little can of compressed air - it still sounded terrible.
I'd pretty much resigned myself at this point to the fact that it was time for a new phone. 
Nevertheless, I decided to check good old Google to see if there was any way of repairing it I hadn't already thought of - and that's when I came across an app called Speaker Cleaner.
Despite the fact that this app had THOUSANDS of great reviews, I was pretty skeptical.
For one thing, it seemed unlikely that a piece of software could address a problem with hardware. Also, the app presents itself as a fix for water damage - and I knew my speaker's problem was dirt!
But as I was all out of options, I decided to give it a try.
I installed the app, ran it a couple of times (more on that later) - and hey presto, my speaker was 100% back to normal! Yay!!
You can imagine how totally delighted I was by this - and how I then hurried to check if the same app would work on my son's old Fire tablet, which had also been having a few sound issues!
After I located the app in Google Play Store, ignored the warning that it might not be optimized for his device and ran it anyway, I'm happy to report that it fixed his speaker too!
How to Use Speaker Cleaner on Your Fire Tablet

Speaker Cleaner is a very simple app to use.
Once you've installed and opened it, you'll see the following screen. Just tap 'Clean Speaker'.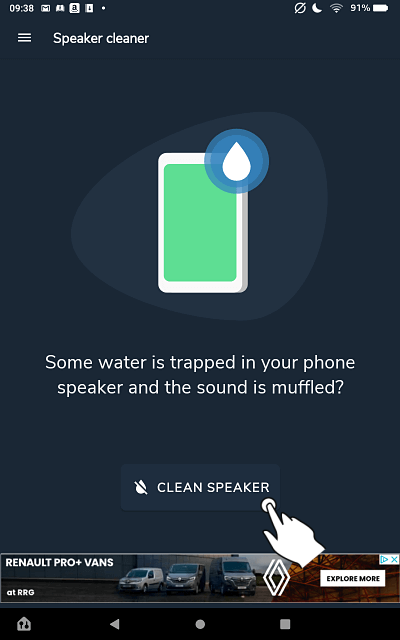 Follow the instructions on the next screen. Whether or not you should face the screen downwards will  depend on the location of your speakers - the point is that the speakers should be facing down.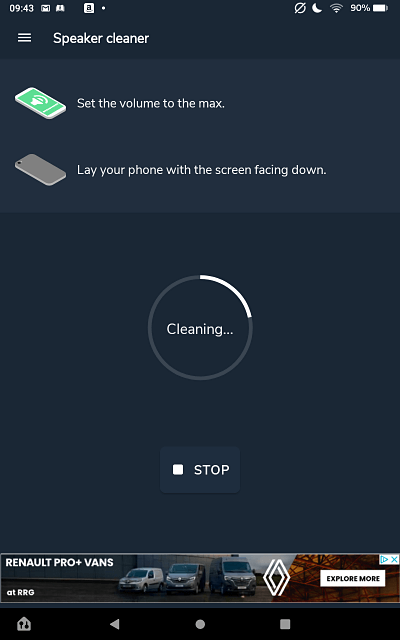 Your device will begin emitting a rhythmic sound for a couple of minutes. Wait until it has completely stopped before touching anything!
You will then be presented with the following screen.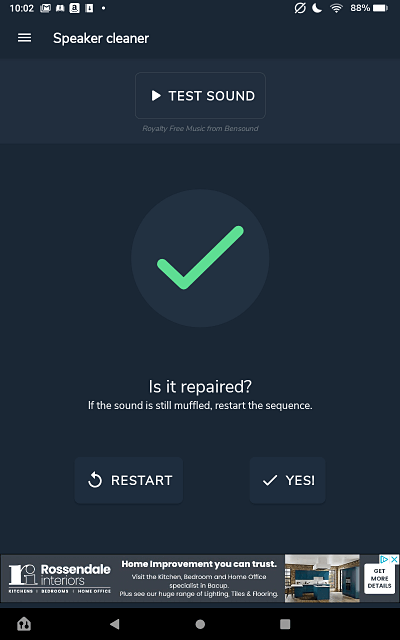 With your fingers firmly crossed, tap 'Test Sound'. You will then be treated to a little clip of 'elevator music' to see if there is any improvement.
If not, don't despair - just hit 'Restart' and run the cleaner again.

I had to run it twice - by the end of the second cycle my speakers were as good as new! 

Some reviewers of this incredible app mention running the app up to 8 times before their speakers were back to normal, so be patient.

If all is well, hit 'Yes' and you'll be taken to a screen to make an optional donation to support the developer (which I was more than happy to do!). 

And that's it - an incredibly painless solution to a huge problem!
I do hope that you found this page useful - if so, please let me know or browse through my other Kindle tricks and tips.
You can also leave a comment below, or on my Facebook page. 
You might also like to check out my recommendation for the Best Bluetooth Speaker for the Fire Tablet.
I ♥ My Fire!

- Christine