Kindle Fire Speakers

FTC Disclosure: If you make a purchase via a link on this site, I may receive a small commission. There will be no added cost to you. Thank you!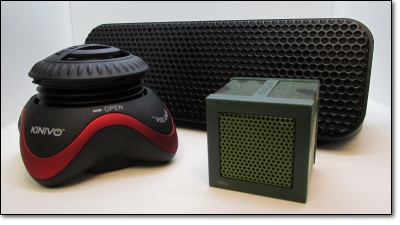 If you want to increase the volume of your tablet, using an external speaker with your Kindle Fire is one of the best ways to do so!
There are hundreds of options, but to simplify which Kindle Fire accessory may work best for you, I've narrowed it down to three external speakers.
Keep reading to learn the pros and cons of each, bluetooth vs wired speakers, and to know which one is my favorite!

If you are visiting this page because your speakers are muffled or have been damaged in some way, check out my article about Kindle Fire Speaker Problems.
Kindle Fire Speaker Volume

First, I'd like to briefly mention the actual volume that the Kindle Fire produces.
The very first generation tablet Amazon released in 2011 had fairly poor speakers, so volume is much more of an issue for the older devices.
Thankfully, with the Kindle Fire HD and HDX tablets released in 2012 and 2013 (respectively) the speaker, volume, and sound performance has greatly increased.
However, if you're like me and like to pump up the sound, having an excellent external speaker is well worth the purchase price!
Next, let's go over some of the pros and cons of external speakers.

If you'd like to try increasing the volume of your Kindle Fire with an app, there are a couple of them out there.
For my favorite volume app see the list of my Best Fire Apps (exclusive content)!

Kindle Fire Speakers: Pros and Cons

Here's a list of just a few of the pros and cons to watch for when shopping for an external speaker for your Kindle Fire:
Volume Capability: soft vs loud

Portability: small vs large
Connectivity: wired vs wireless

There are definitely other pros and cons but for now this is a great place to start! Let's quickly go over each before we get to the good stuff.

Volume Capability: Soft vs Loud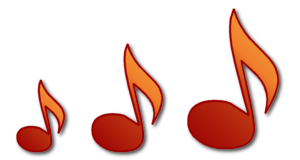 In my opinion, this is one of the most important features of an external speaker.
What's the point of using one if the volume output barely increases that of your Kindle Fire? If it's still too soft to hear, depending on how/when you're using it, then it's probably not worth the effort and cost.

Also, the quality of the sound is important. How does it sound the more you increase the volume? Does it get distorted the higher you go?
A little distortion usually isn't a problem but a lot can be quite distracting and annoying!


Portability: Small vs Large

With the huge variety of speakers out there, there's also a huge variety of sizes and styles. You'll want to determine how important portability is for your Kindle Fire speaker.
Is it extremely important to you to be able to easily pack the speaker with you? Or is sound volume and quality of greater importance?


Connectivity: Wired vs Wireless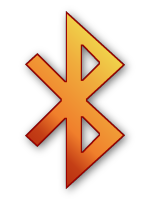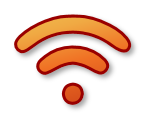 This Kindle Fire speaker feature (that rhymes!) ;) is important, in my opinion, as a matter of convenience.
There are three main ways (that I know of) to connect an external speaker to your Kindle Fire:
wire cord that plugs into the earphone/headphone jack
wirelessly with bluetooth

wirelessly with WiFi

I've found that most portable speakers that connect with a cord (to the 3.5mm audio socket) have a really short wire, which may be fine for a phone, but for connecting to a Kindle Fire it's really inconvenient! (More on that later.)
Also, the price of speakers definitely jumps up when you start looking for ones that connect with bluetooth or WiFi, so cost might be of greater importance to you than convenience.

| | |
| --- | --- |
| Here's a picture of a speaker cord plugged into the earphone port of my Kindle Fire HDX: | When on, the wireless and bluetooth symbols appear at the top right of your Kindle Fire screen: |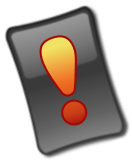 Important Note!

I have an article all about using bluetooth on your Kindle Fire which shows you how to connect a device that has this capability, and which works great for bluetooth speakers as well.
However, only tablets released since 2012 have bluetooth capability. The very first generation Kindle Fire does not have this ability. (Not sure which tablet you have?)


Sorry for all of the above, but I feel it's important to go over some basics for those who need them.
Now, on to the main event!



Prices are subject to change at any time and without notice. Products listed as free may no longer be free. Please confirm all prices before purchasing products. LoveMyFire.com is not responsible for any price changes or purchases you make. Please see the Terms of Use.

Kindle Fire Speakers!

Whew! Now we're ready to check out the speakers I've already tested out on my Kindle Fire! Shall we get to it? (Thanks for your patience.)

Update for 2020 onwards
The following reviews are now a few years old so these products are no longer available. I've left them here as they illustrate the problems you'll experience with some types of speakers, and why I now stick solely to bluetooth!
The good news is that I've tried quite a few different speakers since, and now have a brand new favorite that I strongly recommend checking out!
To find out what it is, read my review of the Best Bluetooth Speaker for Fire Tablets.
Boom Cube Speaker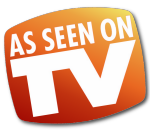 It all started while walking down an isle of my local drugstore and seeing a section of "As Seen On TV" items that were for sale.
There were these cute little Boom Cube Speakers that I thought would be perfect for my Kindle Fire, especially since the package advertised that it was a "Lil' Speaker with BIG Sound!", you could "Clip Them Everywhere!", and they would "Add BIG Sound To Any Device!"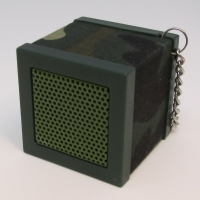 "Alright!" I thought- it would be great to have a portable speaker to increase the volume of my Kindle Fire.
So I picked out a green camouflage one since the others were too girly for my husband to use with his Kindle Fire, and headed home- after I paid for it, of course. I think it cost around $10 bucks, but don't quote me on that!

At first it seemed like the volume increase was pretty good (we were newbies to the world of portable speaks) but after taking it on a trip in the car we found that the sound still wasn't loud enough to truly enjoy music, audio books, videos, etc on the Kindle Fire.
Plus, the cable to connect it to our tablets was really short, making it difficult to use in a comfortable and easy way. (More on that later.)

Here are pictures of the back (port for charging, on/off switch, and cable) and length of the cable:


If I remember correctly, this portable speaker comes with the charging cable, which I didn't bother to dig out to take a picture of.

The original clip at the end of the chain (not shown in the pictures since I removed it to use somewhere else) was annoying as it just got in the way and would clank against my Kindle Fire screen. I would prefer not to scratch the screen, so the clip was not a perk for me, but might be for someone else.
Thus, this lil' Boom Cube, although portable and cheap, didn't meet our needs. Which is too bad....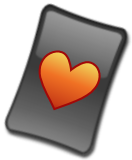 No, we don't have a way to input the sound from our tablets to our car's stereo system, our cars aren't high-tech enough for that. :'(
If your car has this kind of feature then that's great for you, but you may still want a portable speaker for other uses, so keep reading!
Also, I'm a bit crazy when it comes to the volume of any entertainment device. For some reason I need to continually increase the volume, especially when watching a video.
I don't know what my problem is, but the sound "seems" to get quieter during a movie so by the time it's over I've more than doubled the volume from when we first started... but that just might be me.
Oh, one more thing. I've purchased some cool "As Seen on TV" items before, but in my experience most of these marketed items have not fulfilled their promises.
Perhaps that's just my luck or I'm too picky, but either way I don't like wasting my money.


Kinivo Mini Portable Speaker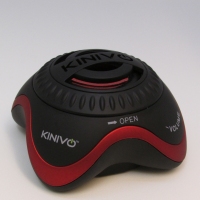 For several weeks I scoured the web in search of portable speakers for my Kindle Fire that were in my price range but still had great sound.
I read TONS and TONS of reviews on Amazon and after much internal debate I finally settled on the Kinivo ZX 100 Mini Portable Speaker!
Like most little speakers, it comes in a variety of colors so I picked the classic black and red- this time to match my site's color scheme! :)

One cool feature is the accordion part that you twist open to pop up and twist down to close for more portability!
The product page calls this the "Expansive Resonator Construction Design to give the best low frequency output" which I think basically increases the surface area to allow more sound to emit from a larger area, especially the base. But I'm not a sound expert so I could be wrong.

There's a power button as well as actual volume + and - buttons located on three of the four feet, which is much more convenient than being on the bottom of the speaker!
When you turn this puppy on there's a pretty little blue light that lights up, which is a great visual way to know if you're using up its battery power or not.

How about some pictures with some more details? Okay, here you go...

| | | |
| --- | --- | --- |
| Carrying bag and charger cable: | Bottom of speaker with cord: | Cable length (aka short): |

As for sound, there's definitely more volume and better quality that comes from this Kinivo speaker than that of the Boom Box. If you don't have a lot of extra noise to drown out then this speaker is a great little guy to pack around.
However, I personally found that it still wasn't loud enough when running on the treadmill or driving in the car. For my needs, I really needed something with greater output.

This speaker also has the same problem on the Kindle Fire, what with its short cable that plugs into the audio port. Let's take a look at what happens when you use your tablet in landscape with this speaker.

| | |
| --- | --- |
| Kinivo Kindle Fire Speaker: Cable Plug Too Short | Kindle Fire Rotated Upside Down: Cable OK |
As the pictures show, the cable isn't long enough to comfortably use the cable when right-side up in landscape, but if you flip it over the cable length is okay, but still not ideal. It's the same for portrait as well.

Since some apps, videos, and other features won't rotate upside down, this isn't a perfect solution.

However, if your main priority is portability, than this sweet little speaker is a decent price for what you're getting.
Now let's take a look at the third Kindle Fire speaker I bought.


Philips Bluetooth Portable Speaker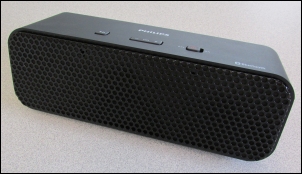 After my previous purchases and being disappointed with the low sound volume and frustrated with the short cable, I determined that my next speaker for my Kindle Fire would be bigger and wireless.
Unlike the research I did before, my next purchase was an impulsive buy. Amazon was offering the Philips Bluetooth Portable Speaker on "sale" so I jumped like a moth to the flame, but now I doubt it was really a sale since what I paid is almost the same as what it currently costs on Amazon (around $50).

Anyway, I bought this Kindle Fire speaker and decided to test it out.

Let's talk about the external specs first. This speaker is a little over 7" is length, here's a photo of it next to a ball-point pen: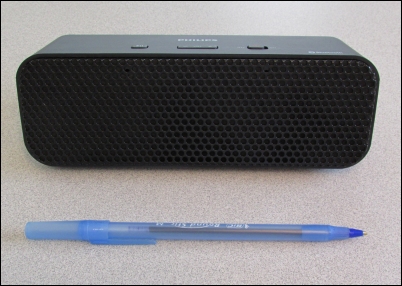 The top has a play/pause and volume - & +, as well as a power OFF or ON switch. Here, let me show you:



When plugged in to charge, there's a red light that turns on at the top left of the front part. When it's fully charged the light goes off.
I'm not going to show a picture of this, you'll just have to trust me, ;) but you get the idea.

Okay, here's the back with an MP3-Link port (which I've never used) and the port for the charging cable: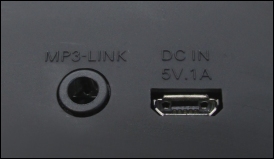 Fine, but what about connection and sound quality?
Well, it was EASY to connect to my Kindle Fire, just make sure you turn on your tablet's bluetooth and then turn the speaker on. When on, a little blue light turns on in the front at the top right of this speaker.
Once connected to your device it makes a little beep to let you know it's working, which is a nice little perk.

I LOVE, LOVE, LOVE having a wireless speaker! No more issues with cords being too short. Now I don't need to use earbuds while on my treadmill (it was the only way I could properly hear anything played on my Kindle Fire) which means no earphone cables to get in the way. Yippee!


What About the SOUND?

As for the sound quality, it is SO MUCH better than the little portable speakers, which it better be since it's bigger and more expensive. Now I can finally hear my Kindle Fire while running on my treadmill or taking a trip in the car!
Of course, the sound started to distort when you really pump up the volume, but that's to be expected since this isn't a full-out stereo system.

Although this speaker is larger and takes up more space when packing and using, it's worth it to me to have a wireless connection and a nice, loud sound.


Love My Fire Video: Speaker Volume!

How about I let you be the judge? I've recorded a video comparing the basic sound of my Kindle Fire while jogging on my treadmill vs the sound from this Philips bluetooth speaker!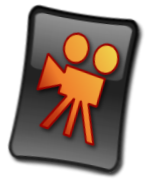 If you're viewing this page on your Kindle Fire you can watch the video by:
Tapping either the "YouTube" icon at the bottom right of the video above, or tapping this link:
http://youtu.be/qqeYUrtr1zE


Using YouTube's mobile site to view videos as explained in the linked tutorial.

If you found this Kindle Fire video helpful please give it a thumbs up (requires a Google account) and also subscribe to my YouTube channel, LoveMyFireVideos, for future videos.
This was my second video so although it's still not perfect it did take some time to make (not as much as the first since I had a template to work from) so I'd appreciate any support you're able to give for all my hard work. ;)

Thanks a ton!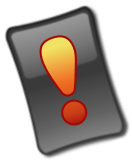 Important Note!

All of this is from my own experiences based on my personal needs/wants and am sharing this with you so it may help you in whatever way possible. :)
There are tons of portable speakers and tons of reviews out there, so feel free to do your own research (in fact I encourage it) until you find one that you feel is right for you.
If you'd like to keep looking, here are some links* to searches on Amazon for different speakers:
*Please note that the above searches aren't exclusive to portable/bluetooth/WiFi speakers, which means each search will still show other types of speakers, so be sure to check the individual product specs to make sure the speaker you buy for your Kindle Fire has the capabilities you want.

If you've found this review of Kindle Fire speakers useful please let me know by posting a comment below!
Be sure to check out all the other accessories I've tested and written about to find those that you want to try yourself.
I ♥ My Fire!
-Christine