Best Kindle Fire HD Cover

The Best Kindle Fire HD & HDX Cover
FTC Disclosure: If you make a purchase via a link on this site, I may receive a small commission. There will be no added cost to you. Thank you!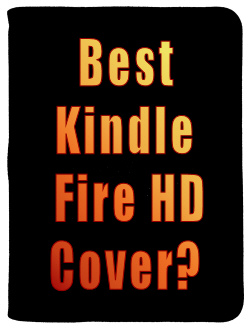 I'm super excited to share with you the Best Kindle Fire HD Cover! I absolutely LOVE this Kindle Fire accessory, which is available in several colors and is a LOT cheaper than Amazon's official HD cover!

Update: Some versions of this cover are available for the 2012, 2013, and 2014 Kindle Fires. (See details and links below.)



This original article was written specifically for Amazon's 2012 HD tablet. If you have either the NON-HD Kindle Fire I have an article for you here: The Best Kindle Fire Cover. For those with a 2013 Kindle Fire or 2014 Kindle Fire I've updated this page with links to some similar versions of this cover for your tablet (see below)!


My choice for the Best Kindle Fire HD Cover is based on being able to prop up your tablet both in landscape and portrait.
If you don't know if you want/need a stand, then head on over to my article How to Choose a Kindle Fire Cover which will help you decide what kind of accessory and features are right for your needs.
Also, if you haven't read my article, Kindle Fire Covers vs Kindle Fire Cases, be sure to read that too as there is a big difference between the two!

Better Than Amazon's Official Cover

In my opinion (which is not so humble) the cover I found to be the "Best" is 100 times better than Amazon's official "Standing" Leather Case... if you're looking for a stand that actually works.

I first bought Amazon's cover in black because the "fuchsia" was an ugly color that couldn't decide if it was actually pink or purple.
I loved how my Kindle Fire perfectly fit into it. It was also sleek, thin, and felt great.
But the stand was a joke!
I placed it on my counter and it immediately fell flat on its back. The only way I could get it to stay up was at a very steep angle, but it was not sturdy.
If you have a more textured surface, it may hold better, but on slick surfaces it doesn't work worth snot.


On the other side of things, my sister loves Amazon's cover because it does what she wants. So to be fair, Amazon's case is better if you don't care about the stand and just want something slim and light to protect your device.

For a whopping $45 I expected more than what this expensive product offered. So if you're looking for a sturdy, functional, and versatile stand, Amazon's case is not the one to go with.
I immediately returned Amazon's product and started my search for the BEST KINDLE FIRE HD COVER. And I found it!
The Best Kindle Fire HD Cover is...

Origami Dual-View Kindle Fire HD Cover by rooCASE!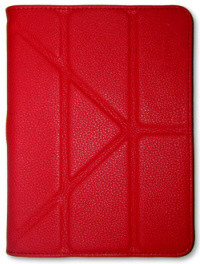 Why it's the Best:
Excellent quality
Unique design

Folds into portrait and landscape stands for both directions

Four viewing angles

Auto Kindle Fire wake/sleep when opened/closed
Can charge device while using it

Soft, beautifully colored vegan leather

1/3 price of Amazon's official cover


Excellent Quality

I am super impressed with this product; rooCASE did a fabulous job designing this cover for the Kindle Fire! The quality is top-notch and very sturdy.
The main screen of the device is completely free, meaning there are no parts of the screen that are blocked by this accessory, unlike a few poorly designed covers that are too close to the screen and partial block areas that you need to tap/touch. (I've mostly seen this problem with covers for the original Kindle Fire, which has a much narrower border than the new HD tablets.)

The designers also did a perfect job aligning the openings for each of the buttons, cord connections, front-facing camera, and speakers.


Unique Design: Folding Cover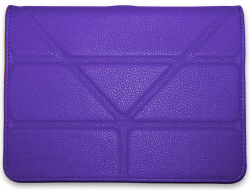 The front flap of the rooCASE origami cover is the unique feature of this Kindle Fire accessory.
As you can see in the pictures, the front flap has several indents, or notches, pressed into the material.
These notches allow the flap to fold up into two separate stands, which can be used in five different ways and four distinct viewing angles!
This allows you to use the stand for each landscape and portrait view, rotating to the left or the right for all four 90° angles.
This is super important because it prevents you from having the problem that other covers have had which I explain in my article about the Biggest Mistake Kindle Fire Cover Designers Make.

This cover also uses magnets to hold each fold in place, which provides stability for each stand. It's quite ingenious!


Auto Wake/Sleep When Opened/Closed

One of the most important features that I looked for in my ideal cover was the ability to use the automatic wake/sleep feature. This is something that's new for the Kindle Fire HD tablets.
When you open the cover it signals your device to automatically "wake up" and when you close the cover it tells it to "go to sleep" but it doesn't actually turn it on or off.
This is super cool because it means you don't have to press the power button every time you want to use (or set aside) your Kindle Fire. I love this feature! It's especially important with the HD tablets because the power button is now flush with the device and is difficult to press (which I find both a pro and a con vs the original design).
The origami cover has this feature and it works great!


Charge Your Tablet While in Use... or Not!

There are two more great features I want to mention.
First, the ability to charge your tablet while using it, specifically in landscape mode. The great design of this cover actually keeps the cord off the ground, meaning your tablet isn't resting on the cord when it's plugged in so you can use your Kindle Fire while it's charging. Sweet!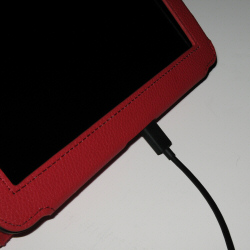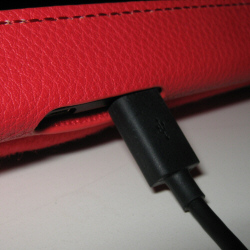 Other covers with stands block the port opening, or put the weight of both the cover and tablet on the cord when plugged in. Not this cover!
As you can see in the above picture on the right, the cover's stand is propping the device up, with the cord off the floor. Thus, no pressure is being applied to the cord itself, which is very good for your Kindle!

Charge Your Kindle Fire With the Cover Closed!

Second, you can completely close the cover and charge your device when you're not using it because the inside of the flap has an open hole.
Here are some photos showing this. The first shows the open cover with the hole in the middle. While the second shows the double opening from the cover and the cover's flap when it's closed.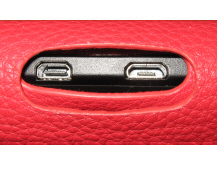 One of the other Kindle Fire covers (with both stand options) that I considered buying was unable to do this as there was no hole for the plug. The developer said this was to protect the ports from dust, but really it just hampers the user from charging their tablet when the cover's closed.

Just a few more reasons why this cover is so awesome!



In 2013 Amazon "borrowed" the origami cover idea and made a very similar version. It doesn't roll up like the Roocase but it does fold up.
However, it's a great cover and a big improvement over their 2012 model. But it's still more expensive than these Roocase covers (more sizes below).


Amazing Price!


Prices are subject to change at any time and without notice. Products listed as free may no longer be free. Please confirm all prices before purchasing products. LoveMyFire.com is not responsible for any price changes or purchases you make. Please see the Terms of Use.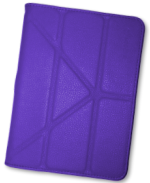 The rooCASE Origami Dual-View Kindle Fire HD Cover is currently available for both the HD 7" and 8.9" tablets for under $20.
WHAT!? Did I just say it's less than $20 bucks?!
That's right, I did! That's more than half the cost of Amazon's official case. You could buy two origami covers for the price of one of Amazon's. What a fabulous deal!

At such an affordable price it's worth trying out to see if you like it as much as I do.

SALE PRICE ALERT: These covers regularly go on sale (I can't keep up with the constant price changes) so if you find it on sale grab one while you can! If not, the regular price is still a super great deal.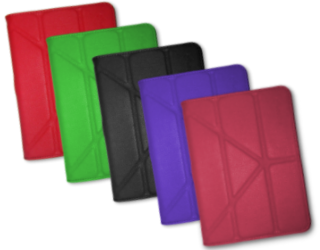 Beautiful, Rich Colors

I love the colors too, and think they are rich and beautiful (unlike Amazon's puke ones).
Update: The covers for the Kindle Fire HD and HDX 7" (3rd generation) also come with an attached slot for holding a stylus, which can be good or bad, depending on your preference.

This cover is currently available in different colors depending on which tablet you have.

Kindle Fire HD 7" 2012 (2nd Gen)

Kindle Fire HD 7" 2013 (3rd Gen)

Magenta/Pink
Navy
Purple

Red
Kindle Fire HDX 7" 2013/2014 (3rd/4th Gen)

Magenta/Pink
Navy
Purple

Red
Kindle Fire HD 8.9" 2012 (2nd Gen)
Kindle Fire HDX 8.9" (not available)


2015 Update: Unfortunately RooCase is no longer making this cover for the 2012 Kindle Fires. A few of the 2013 versions are no longer available either.
If there's no link, it's unavailable. :'(

BUT see the SlimShell version below!


NEW! Origami "SlimShell" Covers!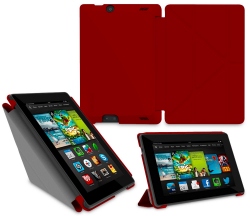 Roocase came out with a slimmer version of their origami cover which I bought for my 2013 Kindle Fire HDX 8.9"!

Here are links to these SlimShell covers for each color (all colors except black are labeled as "matte"):

Kindle Fire HD 7" 2012 (2nd Gen)


Black
Blue
Gray

Magenta/Pink

Purple
Red


Kindle Fire HDX 7" 2013/2014 (3rd/4th Gen)


Kindle Fire HD 7"  2013 (3rd Gen)

Kindle Fire HDX 8.9" - 2013/2014 (3rd/4th Gen)


Recommended?!

As you can see from all my glowing praise, I really love the original origami cover and highly recommend it as the BEST Kindle Fire HD Cover (for 2012 2nd generation tablets)!

However, after a year of using the new Slim Shell cover on my 2013 HDX 8.9", I don't love it as much as the original origami one on my 2012 tablet.
It's still a great cover and I love how thin it is, but it doesn't hold its weight as well as the original one does. Thus, I'm not sure the Slim Shell covers are worthy to be called "the best". Thus, it's time to hunt for a new favorite.

I'd love to hear what you think. Please post a comment below or on my Facebook page!

Most of the pictures of this cover are in red. If you haven't guessed why, that's because that's the color of the origami cover I bought and I love it! I like how it matches the color scheme of my site... I hope it's not too much red. :)


Ready to browse through more Kindle Fire Accessories? Check out the Best Kindle Fire Screen Protector or the Best Kindle Fire Stylus. Or see some cool Kindle Fire Tips and Tricks to use with your new tablet.
I ♥ My Fire!

- Christine