The Best Kindle Fire Cover
FTC Disclosure: If you make a purchase via a link on this site, I may receive a small commission. There will be no added cost to you. Thank you!

Who doesn't want the Best Kindle Fire cover when buying a cover for their tablet? I know I did!
Who wants to get stuck with a flawed accessory? Not me!

If you're ready to buy a cover but not too sure which one to get, my pick for the best Kindle Fire cover may be the perfect one for you! (At least it will help you know what to watch out for so you don't get a lemon.)
2022 update: This is an older article and the cover I liked so much is now no longer available.
I have left this article in place as many of the criteria it includes for choosing a good cover are still relevant.
I'm currently working on a new article about the best covers available now and will link to it here as soon as it's ready!

Please note that this article is specific to both the original Kindle Fire and its upgraded "second generation", but NOT the new Kindle Fire HD tablets. I have a separate article just for that here: The Best Kindle Fire HD Cover! (Not sure which Kindle Fire you have? Find out now!)

There's still a lot you can learn from this article, though, so take some time to read through it, and learn my big mistake (which partially applies to the new HD) so you don't make it too!

My Hunt for the Best Kindle Fire Cover


To find the best Kindle Fire cover for my tablet I spent several days researching all the covers available on Amazon as well as many covers available locally.

I read what seemed like hundreds of reviews, I looked through gobs of pictures, watched a few video reviews, and mulled it over for quite awhile before I settled on one.

After all my research, I chose a cover that I felt was perfect for my needs. Then, a few hours before placing my order I stumbled upon another cover that I decided to go with instead.


My pick for the best Kindle Fire cover is based on a cover having a built-in stand for both portrait and landscape views, but maybe you're not sure if you want a stand.

That's where my article, How to Choose a Kindle Fire Cover, will come in handy. It will help you figure out what kind of cover and features are right for you and your needs.

Also, if you haven't yet learned the difference between a cover and a case, then the best place to start is Kindle Fire Covers vs Kindle Fire Cases.

The Big Mistake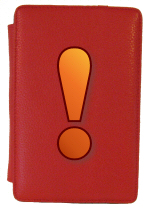 I should have gone with my first pick, because while anxiously awaiting the arrival of my order I realized there may have been a huge manufacturing error with the cover that I'd just bought.
Unfortunately, when it finally arrived I was right about the error. Dang it!!!

I go into more detail all about this huge error in my article, The Biggest Mistake Kindle Fire Cover Designers Make, so don't miss it because you don't want to buy a cover that has this problem... and there are a few of them out there!
Now it's time to reveal the winner of the best Kindle Fire cover!


And the Winner is...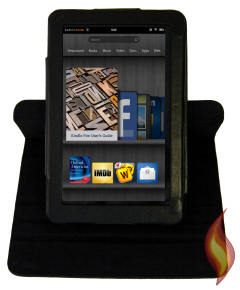 The Deft Dante 360 Rotating Kindle Fire Cover by Deft Devicewear!
Here are my pros and cons for the best Kindle Fire Cover.
Pros:
Rotates 360 degrees
Three viewing angles

Genuine leather
Excellent quality
Magnetic closure
Affordable price
Several available colors

Cons:
Additional bulk and weight
Let's go over each of these in a little more detail.


Personally, I know six people who have bought one of these covers and love it! Each owner has expressed delight with both their Kindle Fire and this cover. Isn't it great to be happy with a purchase? No one likes buyer's regret, at least I sure don't!

The Power of 360
One of the main reasons this Kindle Fire cover is the best is the ability to easily and securely rotate your tablet 360 degrees, which allows you to prop it up as a stand both in landscape and portrait views.
This specific feature is important because it lets you rotate to all four of the 90 degree angles.
The reason this is so important is that it prevents the biggest mistake that other Kindle fire cover designers have made (which I mentioned earlier and will explain in another article).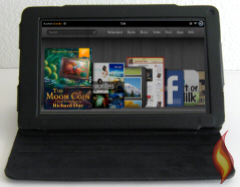 Three Viewing Angles

The Deft Dante 360 cover has a round metal bracket that connects the cover/stand to the inner part of the cover that holds the Kindle Fire. This round socket is what allows the two parts of the cover to rotate.

The cover's inside flap also has several fitted slots for the stand, so you can prop up your tablet at different viewing angles.


Genuine Leather

I love the feel of this Kindle Fire cover. The Deft Dante is made with genuine leather, and is soft to the touch.
It doesn't have any offensive odors either (I have a sensitive nose and don't like the residual chemical smell that some products emanate).
The leather is durable yet pliable, allowing the cover to easily bend and fold in all the right spots.


When seeing similar covers that are cheaper in price, please note that they are usually made from PU leather, not genuine leather. If this is an important quality for you to have in your Kindle Fire cover then be sure to check the product features before buying.

Excellent Quality

The quality of this Kindle Fire accessory truly is excellent, one of the best that I've handled. The cut of the material, the stitching of the needle work, the metal swivel for rotating, and the overall design and craftsmanship of this cover is very good!


Magnetic Closure
I love the built-in magnets that are used to keep this cover closed when not using your Kindle Fire. They are so much easier to use than an elastic strap, like those that many other covers use for keeping the device closed.

One thing to be aware of is that because this cover lets you rotate your Kindle Fire 360 degrees you have to rotate it to the correct upright location for the magnets to work, as they are only located on one side.


Very Affordable Price


Prices are subject to change at any time and without notice. Products listed as free may no longer be free. Please confirm all prices before purchasing products. LoveMyFire.com is not responsible for any price changes or purchases you make. Please see the Terms of Use.

Currently, this product only costs $14.99 and is available in several colors (linked to down below).

You can't beat the price for such a great quality item, especially not in your local stores, at least not for the junkier cases and covers that were for sale in our local stores. Not one of them was anywhere near as good as this cover and each was a lot more expensive too!


Several Available Colors

Currently the Deft Dante Kindle Fire Cover is available in seven different colors. Other than the black cover, the inside of each cover is a nice light gray.
(All but the purple cover are displayed in this image.)
Here's a list of each color along with their current prices.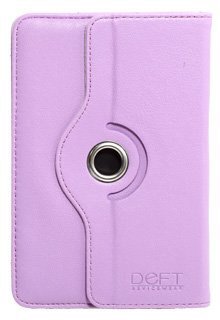 Available Colors

The Deft Dante 360 Kindle Fire Cover is currently available in the following colors:

Black

Blue
Green
Pink

Purple
Red
White

Here is a photo of the purple cover.


Additional Bulk & Weight

To be completely honest with my pick for the best Kindle Fire Cover, I do need to mention the fact that this cover does add some additional weight and bulk.
Of course, it also adds extra padding and protection for your device, which is great, but if you're concerned about extra weight this may be a deciding factor for you. (See my Light Weight vs Heavy Weight section in the article, How to Choose a Kindle Fire Cover, for more details.)
I think all the great pros for this accessory far outweigh this one con.


For those who will get a lot of use out of the stands, the extra bulk and weight will be less of an issue, and if you ever want to hold your Kindle Fire (in all its naked glory) you can easily remove it from this cover and then replace it again when you're done!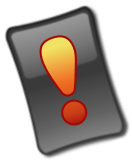 Important Note!

There are other Kindle Fire covers that rotate 360 degrees but be aware that some of these use Velcro or brass fittings to allow them to rotate and/or detach from part of the accessory.
This has the pro of being able to separate your Kindle Fire from some of the bulk of it's cover but the con of having two items to keep track of.
The other thing to be aware of when comparing similar rotating covers is that cheaper products are cheaper for a reason. Usually the biggest difference with these other covers is that they are not made from genuine leather and may be lesser quality, including elastic straps instead of the magnetic closure of the Deft Dante.
Depending on your personal preference, the silver ring on the covers by Deft Dante may be a pro or a con. My personal opinion is that they add a nice classy and stylish look to the accessory.


I've actually been quite happy with my current cover (errors and all) but after using my husband's Kindle Fire with the black Deft Dante 360 case (and typing up this detailed review), wow, I think I've even convinced myself (now that's a feat, what with how stubborn I am).
So it's probably time for me to go and get my own! Hm... I think I want a red one...

This is definitely a fabulous Kindle Fire accessory and is my pick for the Best Kindle Fire Cover around.

What do you think? Do you agree or disagree? Share your opinion too!