Best Kindle Fire Stylus

FTC Disclosure: If you make a purchase via a link on this site, I may receive a small commission. There will be no added cost to you. Thank you!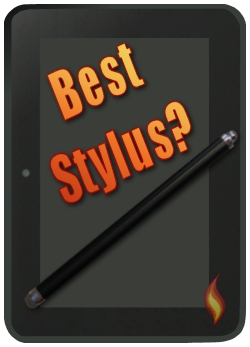 If you're looking for the best Kindle Fire Stylus then check out my favorite stylus for the Kindle Fire!
After much trial and error, I've finally found an excellent Kindle Fire accessory: a quality stylus that's almost perfect- in features, usefulness, style, and price!


Searching for the Best Kindle Fire Stylus

For an entire year I have been on a search for the perfect Kindle Fire stylus.
I have tried some good and not-so-good styli... actually, some were really quite lousy, to be honest.
For the most part, the majority of them have been quite similar, usually with the same type of tip, but just different lengths, widths, or prices.
Of course, what's "best" also depends on what features you're looking for.

Update May 2023: Amazon has just released a brand new Fire tablet - the Fire Max 11 - which comes with handwriting recognition. There has also been a stylus created for it, which can be bought separately or bundled with the tablet.
What Do You Want in a Stylus?

Depending on what you're looking for, the one I found may (or may not) be just what you need.


Are you looking for a quality stylus with a:
tip that won't easily rip or fall off

length and weight that's easy to hold
sturdy clip
few extra attachments
several color options

price that doesn't make you groan?
I was- and I finally found it!

This is my lil' disclaimer to say that I've not been able to try *every* stylus that is out there, but I've tried enough of them to know what I was (and wasn't) looking for.
Perhaps there are other great styli out there... but for now, this is the best one I've come across in a year of searching.
So, feel free to conduct your own search, but first take a gander at my pick to see what you think before you take off. :)
Also, please be sure to see the very important note at the bottom of this page before you leave!
The Best Kindle Fire Stylus is...

BoxWave EverTouch Capacitive Stylus
(More colors listed below!)


Why it's the best:
The main reason this is the BEST Kindle Fire stylus is that it has an "Ultra Durable FiberMesh Fabric Tip" which is amazing!
This tip is a thousand times better than the cheaper rubber tips that 99% of styli have. The rubber tips easily tear, rip right off, or lose their thin coating that's needed for them to glide along a touch screen.
Here's a close up of this super cool fiber-mesh tip: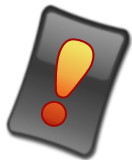 Please note that the majority of the negative reviews on Amazon about this stylus are associated with the OLDER version with the rubber tip, not the NEWER version with the FiberMesh tip.
The mesh tip stylus has gotten amazing feedback from other customers too!


Better than Amazon's Stylus

In my search for the best Kindle Fire stylus, I even purchased an AmazonBasics Executive Stylus (the silver one).
Although this "basic" stylus is a bit better than the "cheaper" styli, I still found that it's not as good as the best Kindle Fire stylus.
When compared with the newer BoxWave, I recommend spending your money on the BEST!
Here's a picture of the tips of average, better (Amazon), and best styli:



The silver Amazon stylus has a fairly sturdy tip, but it seems to take a little more pressure to use on the touch screen.

Personally, I also think it is way too light, it has almost no discernible weight to it, plus it's too short. The BoxWave Kindle Fire stylus is a little longer and has a much more substantial weight.


However, I do like that the Amazon stylus is a bit more narrow and the clip is a little less stiff than that of the BoxWave.

A Sturdy Clip and Extra Accessories

Having mentioned the clip, lets go over this feature, the packaging, and other accessories that come with the best Kindle Fire stylus.
Here are the first two BoxWave styli I bought in their original containers: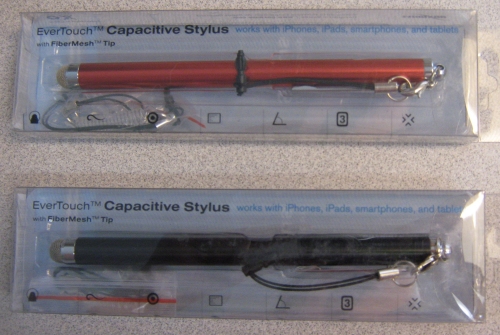 Later, I purchased the silver one and another black one for my folks who wanted the best stylus for themselves as well. :)

This BoxWave stylus comes with a few extra attachments that connect to the stylus with a claw clasp and then to your Kindle Fire by plugging into the headphone jack.
This is an especially cool accessory, if you don't have a place to put your stylus or a way to attach it with the clip to a Kindle Fire cover or case.
It also has some extenders you can add, thus allowing you to keep the stylus plugged in but still able to easily reach your screen to use it.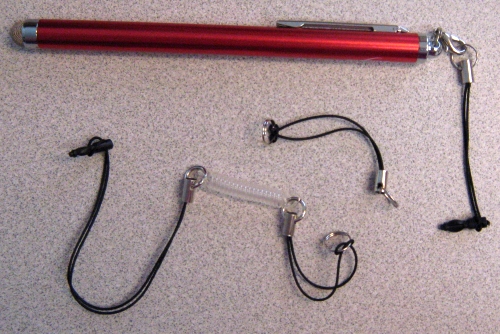 Not too crazy about this attachment? That's okay! If you'd prefer not to use this feature, you can remove the split ring that attaches the clasp to the top of the stylus. Easy-peasy!

And as for the "pocket" clip on this stylus, it's really strong... almost too strong for me to use, but at least I won't break it off like I did with the one on a cheaper stylus.

 
Alternative Colors! (Now to the good stuff!)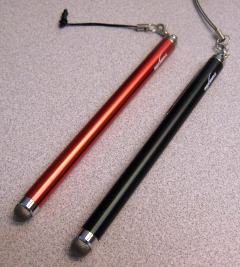 This BoxWave Kindle Fire stylus is available in the following colors:
Bold Orange
Crimson Red
Jet Black
Lunar Blue
Metallic Silver

(Color names are from the product description and are not of my own fabrication.) ;)


$ $ $ Fabulous Price! $ $ $


Prices are subject to change at any time and without notice. Products listed as free may no longer be free. Please confirm all prices before purchasing products. LoveMyFire.com is not responsible for any price changes or purchases you make. Please see the Terms of Use.
Okay, I can't mention everything else about this stylus without sharing its price! The BoxWave Kindle Fire stylus is usually listed for less than $8! However, I have seen the price range, depending on color choice, between $7.50-$10.98.
Now, that's not the cheapest price out there, but you know the over-used saying, "You get what you pay for."
With all the money I've spent on styli, I'm relieved to finally have an excellent quality product that's worth paying for.



Skinny Kindle Fire Stylus

BoxWave also has a super cool skinny version of their mesh-tipped stylus:

This updated version is slightly longer and thinner, which makes it even better! Of course, the price is a little higher, but if you'd rather have a skinnier Kindle Fire stylus than this is the one to go with.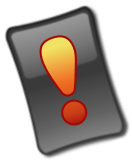 Important Note!

I have one more extremely important note to share with you so please don't skip this part!
The only real issue I've found with using a stylus, including this one, is that they don't work as well on a touch screen that has a screen protector on it.
The Best Kindle Fire Screen Protector is fabulous, but it does dampen the responsiveness of the stylus, probably due to its plasticity.
Personally, I think you only really need one or the other. Either go with the screen protector or the stylus.

If you hate finger prints on your Kindle Fire Screen, either option will work:
If you hate using your finger, go with the stylus
If you hate packing around another accessory that you're just going to misplace, go with the screen protector
Of course, if you're not sure, feel free to try both- I have! (That's the easiest way to figure out what's best for you and your needs.)


So now that you've read all my blabbing about the best Kindle Fire stylus (which I do love, even though I don't like having to keep track of where I left it) you better go check it out! ;)
Or see all the other great Kindle Fire accessories I've raved about. :)
ENJOY!
I ♥ My Fire!
-Christine