Kindle Fire HD 7" (2012)

FTC Disclosure: If you make a purchase via a link on this site, I may receive a small commission. There will be no added cost to you. Thank you!

The Kindle Fire HD 7" is here! I was super excited when the HD tablets were announced, but even more excited when I finally receive my own!
Here are some pictures of this cool new tablet including its packaging, what comes in the box, and more.

This article is for the FIRST Kindle Fire HD 7" released in 2012 (second generation). Amazon released a SECOND version of the Kindle Fire HD 7" (which Amazon's calls the third generation since it was their third year of releases in 2013) which is NOT the same as the tablet shown on this page. Then in 2014 they released another version Kindle Fire HD 7" (fourth generation).

Not sure which one you have? See my list of all Kindle Fires or my Kindle Fire infographic that shows how to know which tablet you own.
UPDATE MAY 2022: The latest Fire 7 has just been released. Click here to learn more.
Kindle Fire HD 7" Packaging

First, let's go everything that comes with the Kindle Fire HD 7", starting with its packaging.
Here are some photographs of the front and back of the box that this tablet comes in.

Kindle Fire HD 7" Box Sleeve Front:

Kindle Fire HD 7" Box Sleeve Back: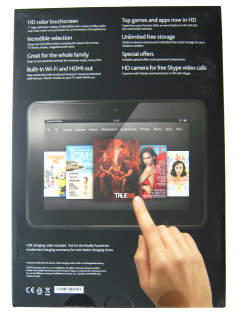 When you slide out the box from the sleeve, this is what you get. The top is one of those cardboard perforated zippers, so once you open it, there's no going back! :)


Kindle Fire HD 7" Box:

Inside the Kindle Fire HD 7" Box

When you open it up, the Kindle Fire HD 7" (enclosed in a plastic bag) is on one side and the "getting to know your kindle" guide is on the other.


When you take the tablet out you'll find a micro-USB cord underneath. Here's a photo showing everything included with the Kindle Fire HD 7":


Yep, that's it!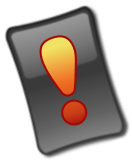 Important Note!

Unfortunately, Amazon is ripping people off because the Kindle Fire HD 7" tablet doesn't come with the wall plug for charging your device. Yes, it does come with a USB cable and you can charge your tablet with your computer, but that is ridiculous!
Hello! What if you don't have access to your PC or laptop? Of course you're going to need to charge it with a regular wall adapter!

Kindle Fire PowerFast Charger

Buying the extra "Amazon Kindle Powerfast for Accelerated Charging" is a necessity and at $19.99 a pop, it was quite underhanded of Amazon to not include one with the new Kindle Fire HD.
Thankfully, this little accessory does charge faster than the USB cable, 'cause charging from your PC takes a very long time!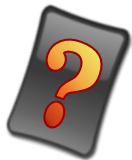 What About Chargers from the Original Kindle Fire?

Just to clarify (I had a site visitor who asked me about this) that yes, the cable from your original Kindle Fire will work (I just double checked mine) so you can use that one to charge your new Kindle Fire HD.
Basically, you only need to buy the PowerFast adapter if you don't already have a cable to charge it with or you want it to charge super fast (which it does).
If you have a cable from another device it might work, as I have one that does, but several others (including our phone chargers) that don't. (Update: My sister's phone adapter/charger works on her Kindle Fire HD.)

If you will be giving your original Kindle Fire to someone else they will probably need the original cable, so you may still want to buy the PowerFast adapter. The charger from my husband's original Kindle Fire actually stopped working so we needed another one anyway, if not we might not have bought one.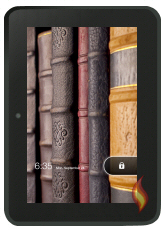 New Kindle Fire HD Backgrounds

There are all new Kindle Fire HD Backgrounds for these new Amazon tablets! I've posted pictures and details about them, including how to view them, how many there are, and which is my new fave!
Be sure to check out these cool new photographs as I think they are much better than the original Kindle Fire Backgrounds.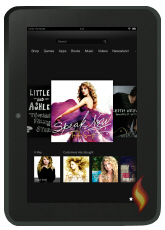 New Tablets = New Changes!

I'm having so much fun with my new Kindle Fire HD 7" tablet and can't wait to show you all the fabulous things it can do! I was surprised at how different, yet similar, the interface is. It still has the carousel, favorites, and a lot of the same features, but there a ton of little and big changes that I'm loving.
I now have the Kindle Fire HD 8.9" so be sure to check it out too!

Stay tuned (to this site of course) for my next article all about this super cool new device and all you can do with it!