Kindle Fire HD 8.9" (2012)

FTC Disclosure: If you make a purchase via a link on this site, I may receive a small commission. There will be no added cost to you. Thank you!

Amazon's Kindle Fire HD 8.9" tablet has arrived! AND IT IS GORGEOUS! I'm absolutely in love... all over again.
This Kindle Fire HD tablet is exactly like the Kindle Fire HD 7" except, of course, its size* and price.
UPDATE: This page is about the 2012 release of the HD 8.9" which is no longer available for sale on Amazon. See the 2013 or 2014 tablets for the latest Kindle Fire versions.

*Oh, and the system version is different from the 7", but more about this down below.
First, let's talk about its amazing size and brilliant colors!
Kindle Fire HD 8.9" Amazing Size!

Seeing the Kindle Fire display at such a large size is truly pleasurable.
The colors are brilliant, images are stunning, and the overall feel is silky to the touch.
I can almost fit my 7" inside the viewing area of the 8.9" as illustrated with the image to the left.
Pretty sweet, huh?


Kindle Fire HD 8.9" Brilliant Colors!

Look at how stunning the Kindle Fire HD 8.9" display is with such bright colors from this example of a "Special Offer" for Trident gum:

("As Delicious as a Guilty Pleasure, without the Teen Vampires." Hm... except you're
using the popularity of these "teen vampires" to promote your product. Interesting.)
Kindle Fire HD 8.9" System Version

After my Kindle Fire HD 8.9" downloaded the latest update, the system version was 8.1.2 while my 7" is on version 7.2.1.
This is probably due to the system needing to be slightly different, since the dimensions of the viewing screen, although larger, are slightly less wide (in landscape view) at least they are when I compare the screenshots of each.

My speculation is that the 7 in 7.2.1 is connected with the 7" while the 8 in the 8.1.2 is connected with the 8.9". Kind of makes a bit of sense, eh? I could be wrong, so don't hold me to this assumption if I am. :)
Kindle Fire HD 8.9" Getting Started Tutorial

When you first turn on your Kindle Fire HD you'll need to connect to a Wi-Fi hot spot to register your new tablet. Once you've registered it to an Amazon account you'll see a tutorial on how to "Get started with your Kindle Fire HD".
Here are images of all nine screens from the tutorial: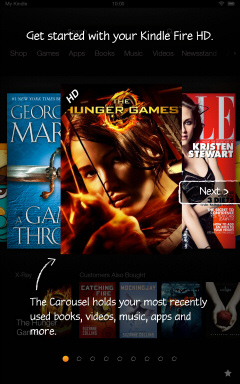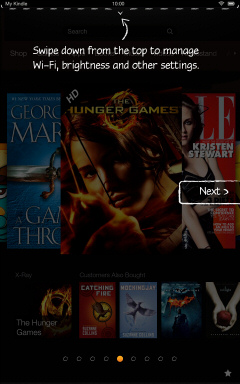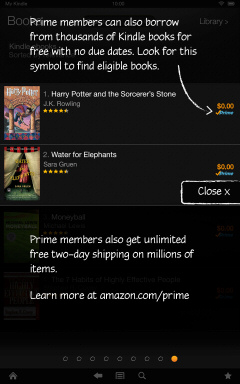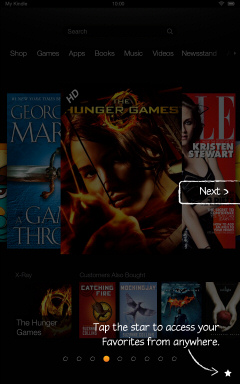 Restarting the "Getting Started" Tutorial

If you'd like to see the "Getting Started" tutorial again (the one shown above) here's my own tutorial to show you how!
First, you will need to have your Kindle Fire on and unlocked (tap and slide the lock to the left).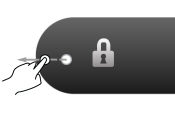 Now tap your finger near the top of your screen (anywhere along the top should work) and slide it down.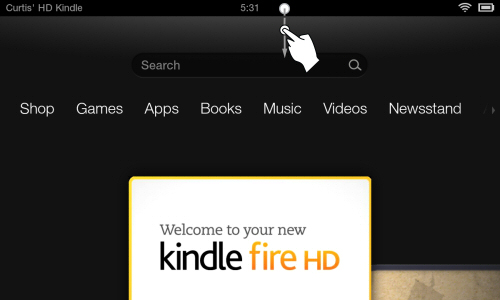 You will see the slider. Keep sliding all the way to the bottom of your screen.

This will reveal the top menu. Tap "More":


This opens the Settings screen. Tap "Help & Feedback":


Tap "Getting Started":



Tap "Tutorial" and there you go!


Curious? If you'd like to see the packaging and all that comes with the Kindle Fire HD 8.9" tablet, just see my page about the Kindle Fire HD 7" since everything is the same except the size of the tablet and thus the box it comes in.
Want to learn more about the other Kindle Fire HD tablets? Check out my page all about them!


Be sure to see my page about the Kindle Fire HD 7" to learn about the extra PowerFast Charger that you'll want/need to buy as it will charge your tablet so much faster than the wimpy cable that comes in the box.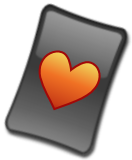 Kindle Fire Love!

For those who happen to notice, the name of my Kindle Fire HD 8.9 is "Curtis' HD Kindle". That's because I'm letting my husband (a.k.a Curtis) use the 8.9" Kindle Fire. Yes, I'm super sweet (it's also an early Christmas gift).
With this website all about the Kindle Fire it really was a necessity for me to have both the HD 7" and 8.9" tablets.
Since I've already become very attached to both my original Kindle Fire and my Kindle Fire HD 7" I figured I didn't need to use the 8.9" the majority of the time (just for checking things out, tutorials, etc).
Plus, Curtis has large hands and can hold the 8.9" a little more comfortably than I can and the 8.9" is more comfortable for him than his original Kindle Fire 7", which we now let our daughter use. :)


Now What?

Now that you've had your first peak at the Kindle Fire HD 8.9", browse through some more Kindle Fire Tips & Tricks, find some fun Kindle Fire Games to play (including free ones!), or see my exclusive list of the Best Kindle Fire Apps by subscribing to my Kindle Fire Alerts!
Or learn more about the other Kindle Fire HD devices.


Do you have the new Kindle Fire HD 8.9"? How did you get your tablet? Was it a gift? Christmas gift? A surprise? Or did you purchase it for yourself?
Read My Kindle Fire Story and then share what you love about your new Amazon tablet!



Hand Illustrations provided by GestureWorks® (www.gestureworks.com). Aren't they perfect?