How to Choose a Kindle Fire Case

FTC Disclosure: If you make a purchase via a link on this site, I may receive a small commission. There will be no added cost to you. Thank you!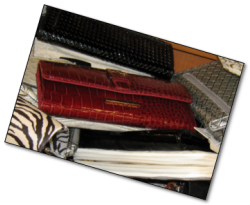 Are you thinking about getting a Kindle Fire case for your Amazon tablet but not sure which one to go with?
You're in luck because we're going to explore all our options before beginning our search!


If you haven't yet learned the difference between a case and a cover, jump on over and read about Kindle Fire Cases vs Kindle Fire Covers and then come on back when you're done! (This article will make more sense if you do.)


Kindle Fire Case Features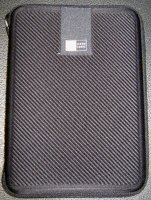 As a Kindle Fire accessory, most cases don't come with many (if any) extra features, as it just holds your Amazon tablet when not in use, but a few do. (Remember, Kindle Fire covers are the ones with all the fancy features.)
Here are just some of the possible features you might find with a Kindle Fire case:
Let's briefly go over each of these.

Pockets

There's not much to say about pockets- pockets are pockets- other than that they come in all shapes, sizes, and types of closures (zipper, snap, Velcro, button, no closure, etc).
Pockets are nice to have, though, if you need a little spot to stuff your stuff, like a stylus or a cleaning cloth.
Unfortunately, I haven't found many covers with pockets, but since cases can really be any sleeve type item, it's easier to find ones with pockets.


Cable Holes

Kindle Fire cases that are completely enclosed (usually with a zipper) may or may not have an opening for your power cable to fit through so you can plug it in and charge your tablet while it's in the case.
If you want this feature be sure to check for a cable hole or opening on each Kindle Fire case you look at.
However, I've found few cases that actually have this feature.
You could also try a case that's not completely enclosed or would allow room for the cable to run out the corner.

If you're really daring (or crafty) you could cut your own cable hole, but be sure to stitch the edges to keep it from unraveling or tearing open even more.

Wardrobe Versatility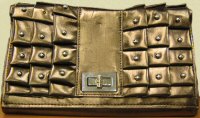 One of the main advantages of choosing a Kindle Fire case is its wardrobe versatility. Since the purpose of a Kindle Fire case is to hold your tablet when not in use, just about any kind of bag-like accessory (clutch, purse, tote, etc) can be used to carry your Kindle Fire.


Where to Buy a Kindle Fire Case?
Of course, you can browse through Amazon's list of Fire cases as they have some great cases, but you don't have to stop there!
Since there are so many places where you can find a cool accessory that would make a perfect Kindle Fire case, you can easily own several of them, and at a relatively low cost depending on where you find and buy them.
With such variety you can have a lot of fun showcasing each case as part of your rotating apparel.


Make Your Own Kindle Fire Case!
Got a creative thumb? Try your hand at making your own Kindle Fire case by either adapting and adding decorations to an already existing bag/purse, following a pattern, or make one (pattern and all) from scratch.
With a little work and creativity you can turn any regular, ho-hum wardrobe accessory into a fun and fashionable Kindle Fire case!


Pique Your Creative Juices

Here are some places to find stylish Kindle Fire cases, patterns for making your own case, or ideas to spark your imagination to completely design a new creation:

Browse Pinterest and Etsy
Find Patterns at Instructables.com and Etsy
Search for images on Google and other image directories
Flip through magazines (both paper ones and ones on your Kindle Fire)
Visit the accessory department of a clothing store
Peruse second hand stores, garage sales, and flea markets
Check Craigslist, eBay, and other online sites


Kindle Fire Carrying Cases and Case Bags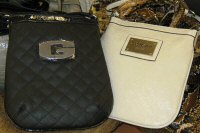 A Kindle Fire case can easily be turned into a little carrying case, all it needs is a handle, or maybe a simple pocket to hold your keys, credit cards, gum, etc.
Here are some Guess purses that would make fabulous Kindle Fire cases.
Some cases that are made specifically for the Kindle Fire come with an extra pocket, although few come with a handle, whereas most regular bags, purses, and totes come with a handle and could be used to hold your tablet.

Another alternative to a standard cover or case is Amazon's Show Mode Charging Dock. It's a stand, case and magnetic charger all in one!
Find out more...

Quality vs Price


Not all products are created equal and this includes Kindle Fire cases. Sometimes the price of a case can reflect its quality, but that's not always the case (pun totally intended). If you want the best quality for your money make sure to read through the reviews and technical details of each one, as well as examine the pictures and any video reviews.
It's important to keep in mind that one bad review doesn't mean the product is a rotten egg, so take some time to read several reviews before you say yea or nay.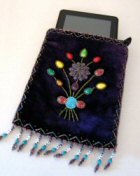 What Kindle Fire Case Do I Use?

I started out using this gorgeous purple beaded bag (that I love) as a case for my Kindle Fire. I was excited to find such a fun use for this bag, which also has a beaded shoulder strap.

Eventually, though, I decided to choose features over style and went with a cover instead, but I miss using my beaded bag 'cause it's so pretty!



Your Creative Ideas

Share your ideas on how to choose a Kindle Fire case or other ways to find inspirational ideas for making your own.
Already have a case for your Kindle Fire? Tell us about it in the comments at the bottom of the page or take a snapshot of it and share it with us on my facebook page. We'd love to see your fantastic finds and creative works of art!
For those of you who've been gifted with an overdose of creative juices, please share your ideas and amazing creations with us, we'd love to see what Kindle Fire cases you've come up with!
Now that you've got some creative ideas, it's time to start browsing for the Kindle Fire case that's calling out to you!
See my Kindle Fire Accessories page for all the other cool items you can get for your tablet!
I ♥ My Fire!
- Christine