My Kindle Fire Keyboard

FTC Disclosure: If you make a purchase via a link on this site, I may receive a small commission. There will be no added cost to you. Thank you!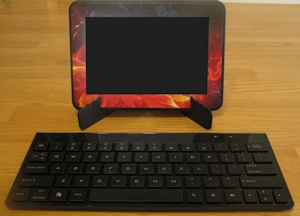 I've wanted an external Kindle Fire keyboard ever since I found out that Amazon's HD tablets had bluetooth capability.
As a heavy keyboard user, I knew this would become one of my favorite Kindle Fire accessories, and it is!

Already have one? Connect your Kindle Fire & bluetooth keyboard together!
UPDATE FOR 2021:
There is now a Made for Amazon Bluetooth Keyboard and Case available for the 11th generation Fire HD 10 and Fire HD 10 Plus. You can read my review of it here
UPDATE FOR 2023:
A Made for Amazon Bluetooth Keyboard and Case has been released for the All-New Fire Max 11.

Why's my Kindle Fire got funny colors? That's because it's wearing an awesome Flower of Fire Skin by DecalGirl! The back is even awesomer than the front, but I'll save that's for another article. Don't care for this style? there are many more to choose from! :)


Most Kindle Fire tablets have bluetooth capability, although some of the older ones do not. If you have an older one without bluetooth, you won't be able to use an external keyboard. Sorry! (Not sure which tablet you have? I'll show you!)


Amazon's Kindle Fire Keyboard!

For weeks I browsed through the available bluetooth keyboards on Amazon, reading product descriptions and hundreds of reviews.
I wasn't sold on any of the ones I'd found, and I didn't want to waste my money (they do cost a pretty penny) until I was sure which one I wanted.
Then I forgot about it for awhile.
However, my wonderful site visitors kept asking me for my recommendation on a Kindle Fire keyboard but I didn't have one to give.
So I started looking again, and found that Amazon had their very own bluetooth keyboard for the Kindle Fire HD! How did I miss this sweet thing?
Well, no matter, I just had to test it out!


Isn't she lovely?


Batteries & Mini Travel Stand Included

This keyboard only requires 2AAA batteries which are included (thankfully). It also comes with a really cool mini travel stand, which is great if you don't already have a Kindle Fire cover with a stand.
Here are some pictures of my 7" with this keyboard. One using the included stand and one using my cover which already has a fabulous stand.

The stand folds up into a very slim and compact little thing, making it worthy of its name as a "mini travel stand".


Bluetooth Keyboard Specs

This keyboard is almost 10 1/2" in length and is really perfect with the Kindle Fire HD 8.9", see how close the size is?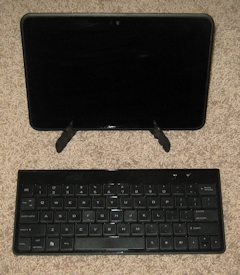 It's nice and thin too:

It's also really light, not even 10 oz in weight! Here are the exact product specs for those of you who really want to know:
10.4 x 4.6 x 0.7 inches
9.6 ounces

I love how easy it is to pack around this bluetooth keyboard with my Kindle Fire!


Special Kindle Fire Keys

This keyboard has buttons that were specifically made to use with the Kindle Fire. There are corresponding home, menu, and back arrow keys that function as if you had tapped these icons on your Kindle Fire.

There are volume + & - buttons as well, which work great!


There are also two lights at the top right, one for battery power, and the other when its sending out a bluetooth signal to connect to your tablet.



Prices are subject to change at any time and without notice. Products listed as free may no longer be free. Please confirm all prices before purchasing products. LoveMyFire.com is not responsible for any price changes or purchases you make. Please see the Terms of Use.

Amazon's Bluetooth Keyboards & Price!

Amazon's bluetooth keyboard for the Kindle Fire is an excellent price too!

Here's a photo and link to the product page on Amazon for this fabulous keyboard:
Several Kindle Fire owners have also used Amazon's bluetooth keyboard that was made for the iPad/iPhone:

This keyboard is almost exactly the same, except for a few different buttons as well as a whole extra row of keys at the very top.
I have not personally used this keyboard, but I've closely examined the pictures and read through all the reviews that mentioned the Kindle Fire.
Here are some pros and cons of using this keyboard vs the one specifically made for the Kindle Fire HD:

Pros:

Delete Key at top right
Music Function Keys: play/pause, forward, back (Why didn't Amazon include these on the one for the HD???)


Cons:

Several keys do not work on Kindle Fire (command and control)
No Home Key

No Menu Key
No Back Arrow Key

What Do I Recommend?


I personally recommend the actual Kindle Fire HD keyboard made by Amazon (not the one for the iPad). Although it doesn't have the delete and music keys it does have the home, menu, and back arrow keys which I think are essential.
To clarify it does have a backspace button, just not a delete key. Why? I don't know, but I wish it did!


Other Great Bluetooth Keyboards

I've also had several site visitors tell me about another great bluetooth keyboard that comes with a case:

This is perfect if you don't already have a Kindle Fire cover or case.
Here's what Barbara had to say:


"Christine, I caught your post a while ago regarding bluetooth keyboards for kindle fire HD tablets. I ordered a Bear Motion keyboard from Amazon 10 days ago and absolutely love it. Easy to set up, easy to use and I think a bargain for $33.00.  Barbara G."

There are a ton of other bluetooth keyboards on Amazon so feel free to browse around if you're not yet sold on the one specifically made for the Kindle Fire.
Just make sure to read through product details and reviews to confirm that a keyboard will work with your tablet!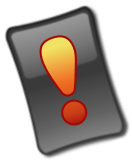 Important Note!

What do you do if your toddler dumps water on your new Kindle Fire bluetooth keyboard and it stops working? (Yes, my lil' girl really did dump water on it; she's been going through a water dumping stage that's driving me crazy!)
After turning it off and trying to clean it up as best as possible, I let it air dry for 24 hours, but it still wouldn't work. :(
Then I decided to try that rice-in-a-bag technique I've heard people use for their phones and other electronics. Heck, it was worth a shot!
So I grabbed a gallon sized storage bag, put the keyboard in it, poured 2 cups of rice on it (any kind should work, I used brown rice), and closed it up. It was a tight fit, and I actually ripped a hole at the top when I zipped it closed.
I let it sit over night, dumped out the rice the next morning, tapped it really good to get out all the rice dust and tried it out. ZING! It worked!
From what I understand, the rice helps wick away all the moisture from inside the device, which is usually what's causing it to short out.
I was quite surprised and very thrilled to have my keyboard back in action. Thank you, rice!


How to Connect & Use a Bluetooth Keyboard


Once you have your new toy in your hands how do you connect and use it? Easy! I'll show you how to connect your Kindle Fire bluetooth keyboard in my next tutorial, along with some fun tips you can try out.
I've been having a lot of fun testing out this keyboard, which is perfect for typing up long emails, forum posts, and Facebook updates. :) It's so much easier and faster with a physical keyboard than using the onscreen keyboard!


Using a Bluetooth Mouse
If you want to use a bluetooth mouse along with your keyboard, you can do that too.
Or, you can look for a keyboard that includes a touchpad, effectively turning your Fire into a mini-laptop!
Learn more in my tutorial: Bluetooth Mouse for the Kindle Fire

Update for 2021:
Amazon has just released a Productivity Bundle for its All-New Fire HD 10 and All-New Fire HD 10 Plus.
Visit this page to read more about the bundle, which includes a detachable keyboard and 1 year's access to the premium suite of Office apps from Microsoft 365.
Kindle Fire Keyboard Cover

I've got plans to make a cover for my keyboard, so watch for step-by-step instructions in a future article!
If you can't wait, you can always buy a pre-made one for under $20:

Be sure to browse through my list of other fabulous accessories too!


On-Screen Keyboard Tips & Shortcuts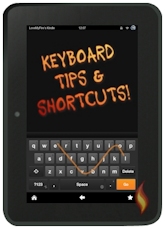 I've typed up three more pages about the Kindle Fire keyboard!
The first page goes over the basic keyboard settings, options, and how to use it. There are some fabulous simple tips that are well worth learning so be sure to check this it out.

The second is full of on-screen keyboard tips to help speed up the use of your Kindle Fire's digital keyboard. I show you how to use the Swipe feature and all the cool shortcuts that come along with this handy-dandy tool!
And if you're bored with the basic keyboard on your Fire, check out these cool Fire Tablet Keyboard Apps!

I ♥ My Fire!
-Christine



Let me know in the comments below which bluetooth keyboard you purchase and what you think of it! And if you buy or make a cover I'd love to know about that too. Isn't this fun?!