The Best Kindle Fire Keyboard Apps
This guide tells you how to change the keyboard on your Fire tablet and reviews the 5 best Fire Keyboard apps.

FTC Disclosure: If you make a purchase via a link on this site, I may receive a small commission. There will be no added cost to you. Thank you!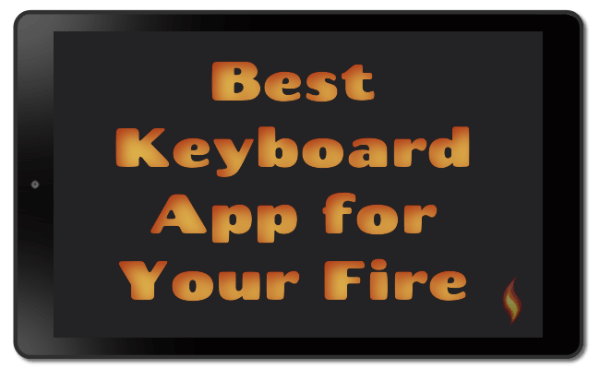 Fire tablets are equipped with quite a decent keyboard, which is both nice-looking and comfortable to use. However, some people (including me) like to use other keyboard apps, designed to make your typing much more efficient and even less prone to typos.
Unfortunately, there is little choice on the Amazon app store, so to get a good alternative keyboard you really need to use the Google Play Store.
Don't have that on your Fire tablet?
No problem - here's a step by step tutorial on how to install Google Play on your Fire tablet
How To Change The Keyboard On Fire (Without Root)
The great news is that you can easily change the keyboard app on your Kindle Fire if you don't like the default one. There are quite a few apps to choose from so you are sure to be able to find something that perfectly suits your needs.
Here is how you can change the keyboard in your Kindle Fire device:

Install one of the below keyboard apps. If a given app is available in the Amazon Appstore, you can download it straight to your device. Alternatively, you may need to install the Google Play Store on your device and download it from there. Here's how to install Google Play Store.


Once you install the keyboard app on your Kindle Fire, you will first need to enable it and choose it. You may need to scroll down to 'Third Party Keyboards' in order to find it. Each app will ask you to do that, plus give you detailed instructions after installation. When you are done, you can start using your new keyboard app.
Under each keyboard description you will find a direct download link to the Google Play Store (or Amazon App Store if relevant) so that you can download the keyboard straight to your device and start using it right away.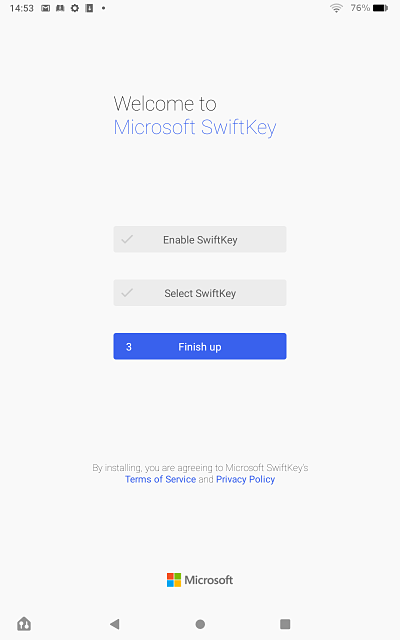 SwiftKey Keyboard
A few years ago this was basically the one and only alternative keyboard for Android devices and had some excellent features. I had been using SwiftKey for a very long time before I switched to the Gboard (you will learn more about it below). Anyway, SwiftKey is an extremely popular keyboard with an average rating of 4.3 stars out of 5 and more than 3.5 million reviews in Google Play.

Main features

Some time ago this keyboard app was bought by Microsoft which is now responsible for its further development.
This app uses AI (artificial intelligence) to better learn your writing style to give you the best possible predictions and corrections.
Support for 400+ languages - and you can enable 5 languages at once
SwiftKey offers you a lot of different colors, themes, sizes and designs to choose from (100+).
It also includes the emoji keyboard to learn and predict your favorite emoticons.
The app can better learn your style if you allow it to access your e-mail or text messages.
Who is it for?
SwiftKey is ideal for people who really type a lot (prefer sending text messages to making calls) and need an app that is very efficient at typo correction, whilst at the same time offering lots of attractive customizations.
Price & availability
SwiftKey is a FREE app and it doesn't have ads (yay!). It also has great support if you find yourself running into any problems.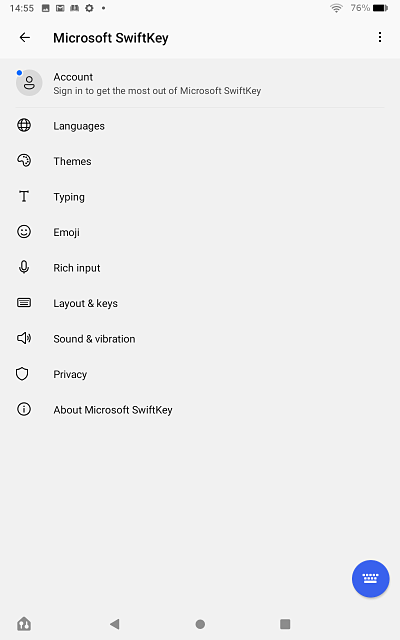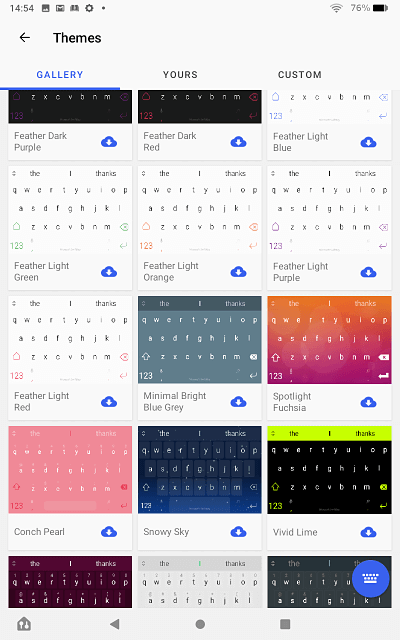 Download SwiftKey from Google Play Store

GO Keyboard
GO Keyboard is another extremely popular keyboard app for Kindle Fire and for Android devices. The app has an average rating of 4.5 stars out of 5 in Google Play and over 4.5 million reviews there. This is also one of the best keyboard apps out there, although not as good as it used to be as many of the options have moved from the free to the paid version.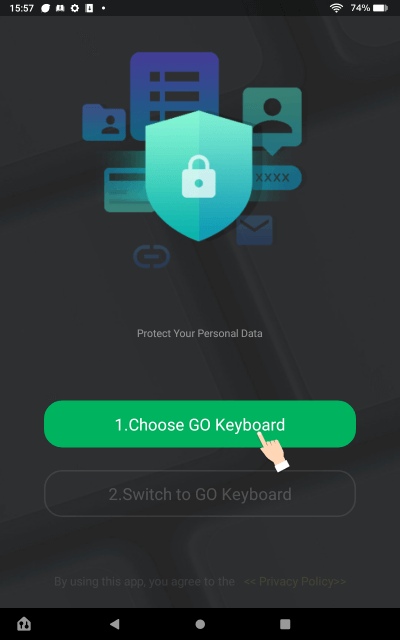 Main features
The GO Keyboard app offers you more than 1,000 emojis, smiley faces and colorful themes.
It supports 60+ languages.
There are more than 10,000 colorful themes available in the market.
You can create your own Avatar emoji from a photo
It offers auto correction, emoji prediction, gesture typing and voice input
There are various layouts available like QWERTY, QWERTZ and AZERTY.
Who is it for?
The GO Keyboard app is great for those who are already using some GO apps like GO SMS Pro or those who like to have tons of customizations, emojis and stickers.

Price & availability
GO Keyboard is a FREE app that is available on Google Play (the Amazon Appstore only has the Lite version). To unlock all the features you would need to upgrade to the premium version (currently $9.99 per month or $59.88 per year). Upgrading also removes all the ads.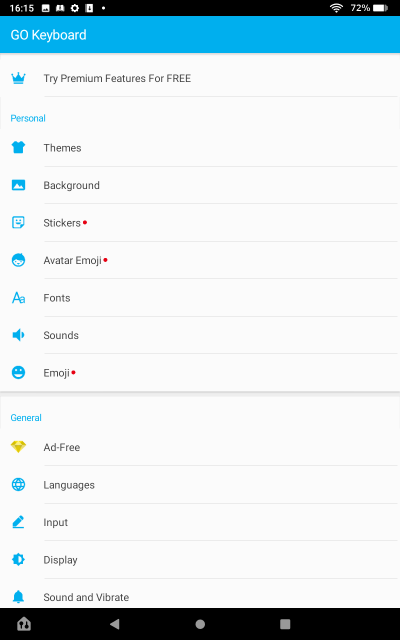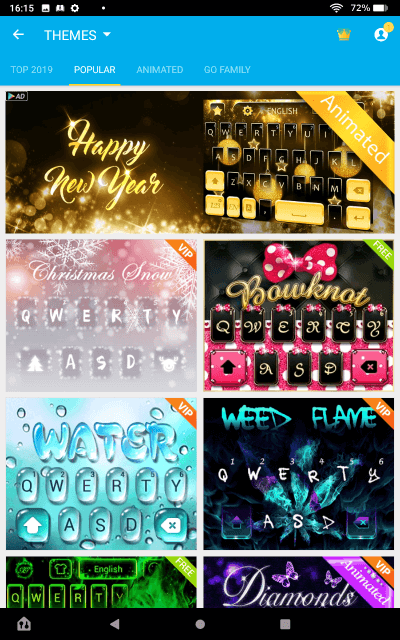 Download GO Keyboard from Google Play Store
Download the Go Lite Keyboard App from Amazon

Gboard – the Google Keyboard

For me this is the best keyboard for both Kindle Fire tablets and Android devices. I have been using this keyboard for a couple of years now and I really love it. This is the only keyboard that can keep up with my sloppy writing and which results in the smallest number of typos.

As a great fan of Google and Google products I simply cannot live without this keyboard
Main features
One handed mode - pin the keyboard to the left or right of the screen
Voice typing.
The built-in GIF search is simply awesome.
Multilingual typing (you don't have to switch between languages manually like you do in the case of most keyboard apps).
Glide typing if you don't want to type each letter separately.
The app offers different layouts: QWERTY, QWERTZ, AZERTY, Dvorak, Colemak, PC and handwriting
Different color themes (18+) available and other customizations (e.g. height).
Who is it for?
Gboard will be the best choice for all fans of Google and Google products. In comparison to GO Keyboard, Gboard is for minimalists who like simple and yet very effective solutions, and advanced customizations such as keyboard floating.

Price & availability
This app is completely FREE, with no ads. It is not available in the Amazon Appstore and you can only get it from Google Play.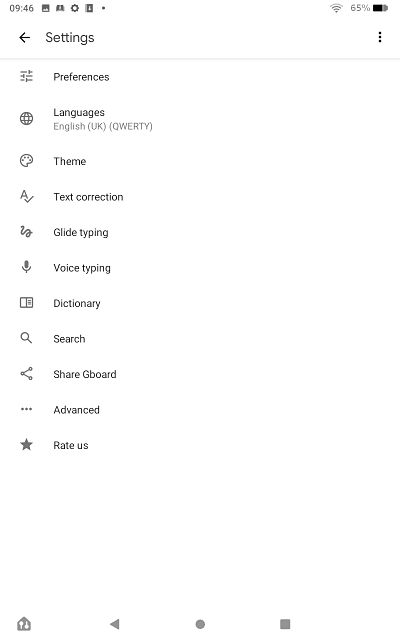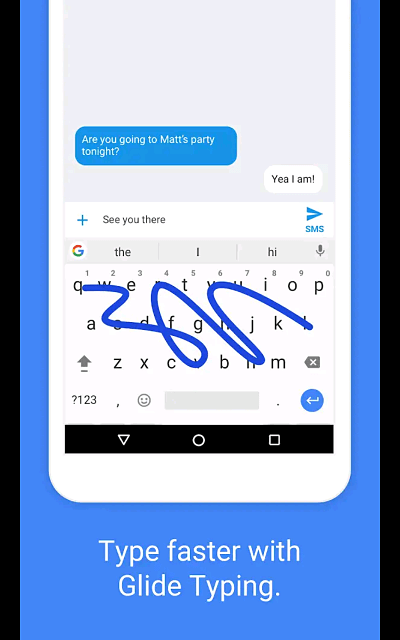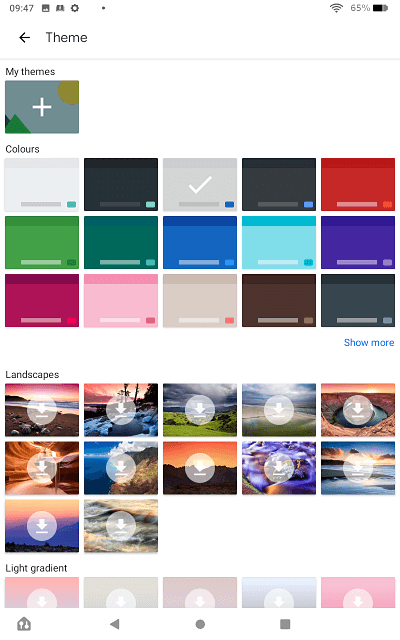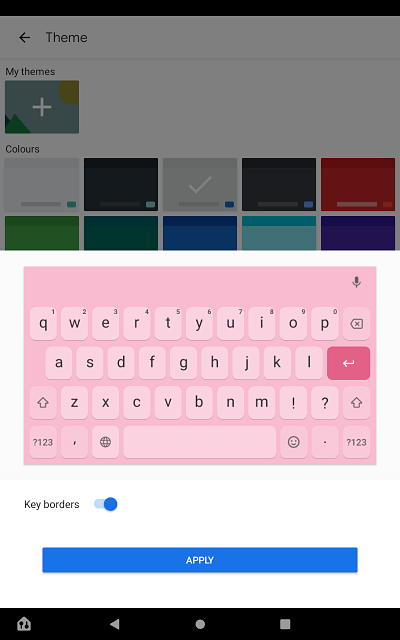 Download Gboard from Google Play

Fleksy Keyboard
This is another very popular keyboard app for Kindle Fire. On Google Play it has an average rating of 4.4 stars out of 5 and almost 200 thousand reviews. If you are still unsure which keyboard app you want to choose, you might want to give Fleksy Keyboard a try.
Main features
This keyboard app offers you a lot of different customizations (hundreds of themes, extensions, different sizes).
It includes GIF support to make your messages even more fun.
The keyboard supports a lot of useful gestures to make your typing even more efficient (e.g. swipe to the sides to switch between languages, swipe left to delete a word and so on).
This keyboard is very good at both predicting words and correcting typos.
Support for 42 languages.
Who is it for?

This is the app for those who like a lot of customizations, ease of use, simplicity and like to use many emojis and GIFs in their messages. If you are a fan of GO Keyboard, you will like this keyboard as well.

Price & availability
Fleksy Keyboard is a FREE app that is available in Google Play only. It has a mixture of free and paid themes and extensions.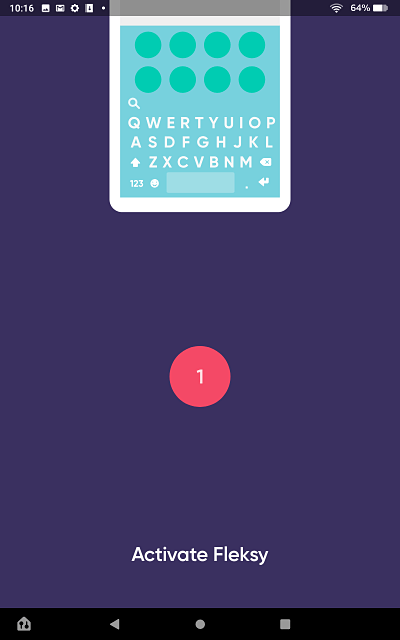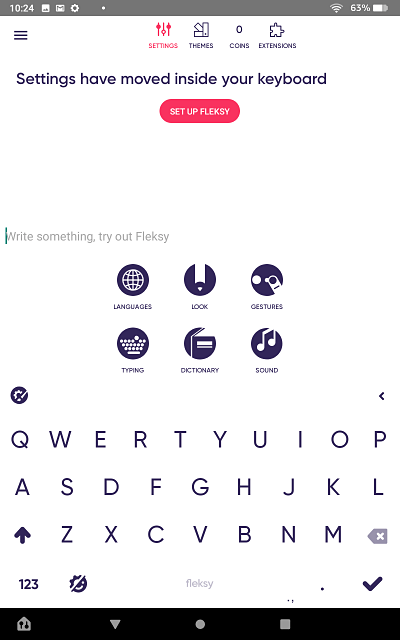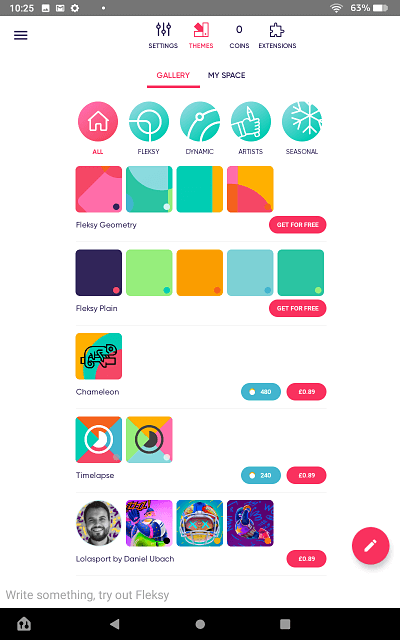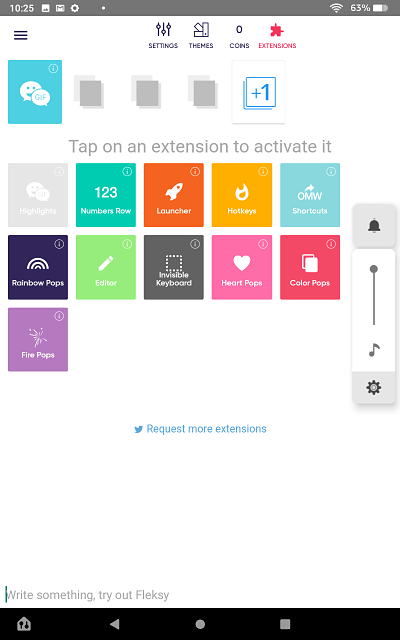 Download Fleksy Keyboard from Google Play

Kika 2020 Keyboard
This is the last but certainly not the least keyboard app for Kindle Fire and Android devices.  This keyboard app is very popular both in the Amazon Appstore and in the Play Store where it has an average rating of 4.7 stars and over 230,000 reviews.
Main features
This app is probably the winner when it comes to the number of optimizations and customizations it offers.
Support of 60 languages.
Hundreds of cool themes available (from categories, such as, romance, business, flashy, holidays and more).
Support of different fonts.
The swipe functionality.
A library of tons of free emojis, stickers, GIFs.
Customizable layouts.
Who is it for?
This Fire keyboard app will be ideal for anyone who likes to express themselves in the form of emojis, stickers or GIFs and likes all sorts of customization.

Price & availability
This is a FREE app but it contains ads. It's available both in Google Play and Amazon Appstore.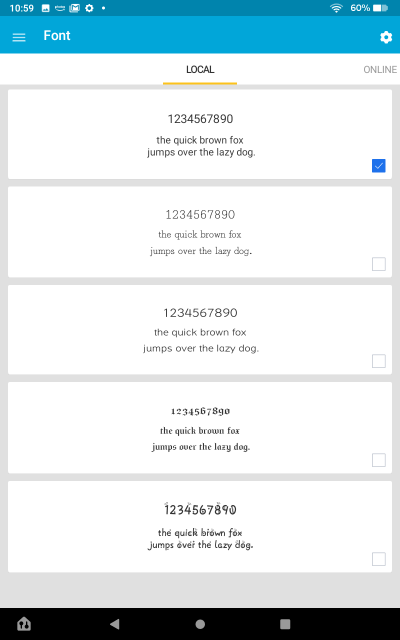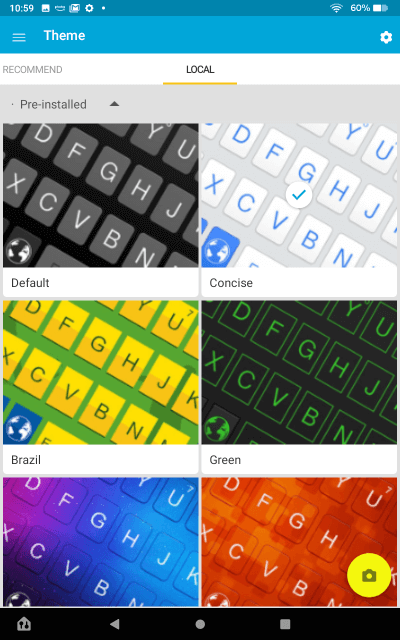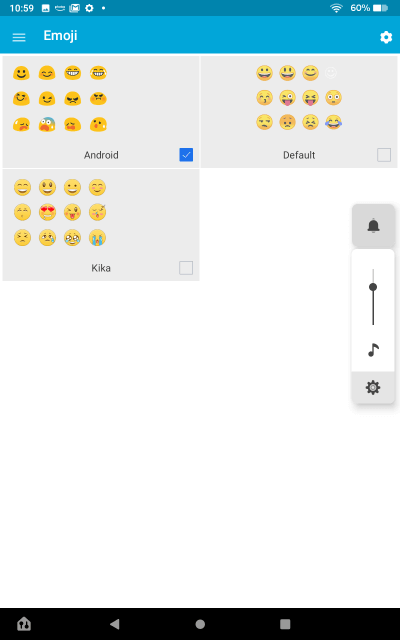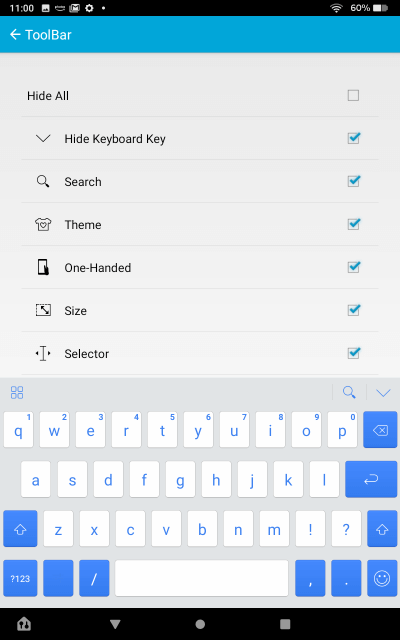 Download Kika Keyboard from the Amazon Appstore
Download Kika Keyboard from Google Play
If you use a keyboard app for your Fire that you really love, please leave a comment below or contact me here so I can share it with visitors to this site.
I ♥ My Fire!
-Christine