15 Simulation Games!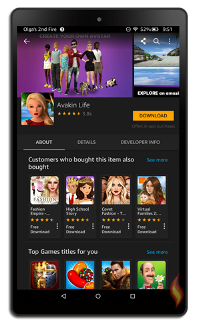 There are 1000's of simulation games out there, so it can be very overwhelming to know where to start. So we've got this list of 15 Kindle Fire Simulation Games for you to enjoy!
In this list of game apps you'll find a wide range of options, including games that are super simple (just tap your screen over and over) to super deep (build a complex community).
There are games with people, animals, vehicles, monsters, dinosaurs, food, and more! Some games have endless game-play while others have specific goals to reach.
Check out this list and find some new fun simulation games to play on your Kindle Fire. Thanks to Olga for this awesome list.
See the Kindle Fire games page for several lists of other fun types of games!
I ♥ My Fire!
-Rachel