Other Android Apps & App Stores!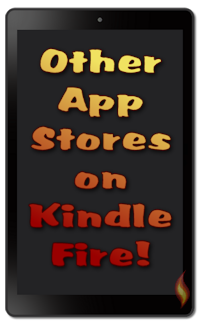 Hello Kindle Fire Fans,
We have two new articles for you and they're all about installing alternative app stores and other android apps onto your Kindle Fire!
Olga and I know how frustrating it can be when there's a specific android apps you want on your Kindle, but it's not in the Amazon Appstore. As long as you know where the app can be found (such as: from another app store, downloaded from a website, or sent to you from someone you know) all you have to do is check out these tutorials:
If you know the app is in the Google Play Store, and you have a newer Kindle Fire (with Fire OS 5.x.x.x) all you need is the tutorial to Install Google Play Store on Your Fire.
However, if you don't have a newer Kindle Fire, the above tutorials might be the perfect solution to help you get that app you've been wanting.
Even if there's not a special android app waiting for you, learning how to install alternative app stores or just other android apps, will give you access to numberless new apps!
Of course, there's an almost endless variety of apps out there, including games, tools, utility, notes, trackers, etc. So have fun finding, installing, and enjoying them on your sweet tablet.
Many thanks to Olga for putting together these new articles and sharing them with other Kindle Fire Fans.
We ♥ Our Fires!
-Rachel