Kindle Fire Problems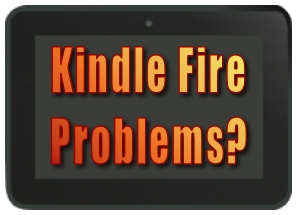 Unfortunately, we sometimes experience Kindle Fire problems with our beloved tablets.
Fortunately, I'm typing up solutions (as fast as I can)!
If you don't see the answer to your issue here, please check my new FAQ page where you'll find more answers to other Kindle Fire problems.


Be sure to subscribe to my Kindle Fire Alerts so you don't miss out on new fixes to common problems! Also, see my FAQ full of questions and answers as well as the comments (at the bottom of each page of this site) where I answer additional questions!

Common Kindle Fire Problems

Here is where I list all the Kindle Fire problems I've typed up solutions to (thus far). More are continually being added!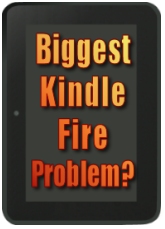 Why Can't I See ________ on the Internet?

To start, let's tackle the issue I get asked the most, or the one that I consider to be the Biggest Kindle Fire Problem! And it has to do with the web browser.

This big issue is actually quite small- a stupid little setting that Amazon decided to set as the default on all their Kindle Fire tablets. So it's easy to fix.

Even if you're not experiencing this issue, it's good to check out this solution to see if you'd like to change this default setting on your tablet.

Kindle Fire Won't Turn On, Charge, or is Stuck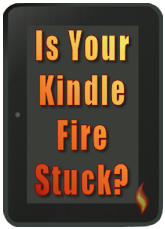 An unfortunate side effect of Amazon's tablets not coming with an instruction manual is that there's no way to know how to do a Kindle Fire reset unless you figure it out on your own or learn how from someone else.
So I'm here to tell you how so you can reset your Kindle Fire if it's stuck, won't boot, or won't charge.
It's easy to do, so if you don't know how please don't skip the fix to these common Kindle Fire problems, 'cause even if you don't need it now you'll definitely need it later.

How to Reset Kindle Fire to Factory Defaults?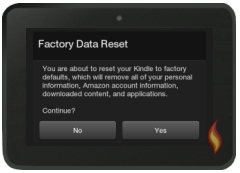 If you're experiencing serious Kindle Fire problems, you might just want to reset your tablet to its original factory defaults.
I personally had to do this myself, and although it was a pain to re-download and configure my device, it was worth it since it fixed the problem I was having.
Learn more in this step-by-step tutorial on how to do a Kindle Fire reset to factory defaults.

Why Can't I Play Flash Videos or Games?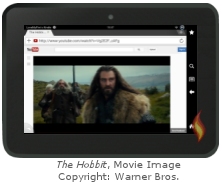 This next one is actually from my Kindle Fire tips and tricks page, but since it solves a common problem I'm posting it here as well.
If you have a newer Kindle Fire, you're bound to discover (if you haven't already) that your lovely tablet doesn't come with the Flash player.
WHAT!? Why not?! (Uh... do I need it?)

Well, you'll find answers and the solution here:



 
Don't see your Kindle Fire problem, or more importantly, the solution to it here? Please see my FAQ where you'll find TONS of questions and answers to several common problems and issues.
If you don't find what you need there, then post your question in the comments at the bottom of this page or on a related page of my site: for example, issues with connecting your Kindle Fire to your TV should go in the comments on that page.
You can also post on my Facebook page or contact me directly and I'll do my best to help you out!