Best Kindle Fire Match Three Game

FTC Disclosure: If you make a purchase via a link on this site, I may receive a small commission. There will be no added cost to you. Thank you!

The Most Addictive Quest-Oriented Match Three Game!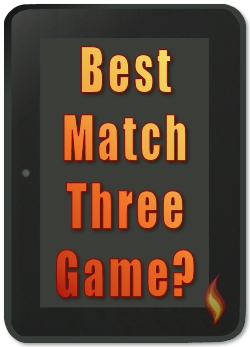 The winner of the Best Kindle Fire Match Three Game is a really fun game that I doubt you've ever played, let alone heard of... unless you're a gaming geek like me.
Let's find out why this Kindle Fire Game is the best in this category!



Prices are subject to change at any time and without notice. Products listed as free may no longer be free. Please confirm all prices before purchasing products. LoveMyFire.com is not responsible for any price changes or purchases you make. Please see the Terms of Use.

The Winner is... Puzzle Quest 2!

Versions:
Why it's the best:
Unique mix of match three and dungeon RPG (role playing game)
Play vs evil opponents
Multiple mini match three games
Character levels, quest adventures, magic items, spells, and more!


If you've read the "Love Note!" on my games page then you'll know that I'm a big gamer and that I even play D&D (Dungeons & Dragons) which is a LIVE role playing game (RPG). I've played in several campaigns over the years.
ANYWAY, there are a ton of electronic RPG games out there, but this is the first one I played that was a mix of RPG and match three. And it's a blast to play on my Kindle Fire!


There are a ton of mini match three games in Puzzle Quest 2. There are games for unlocking treasure chests, looting treasure, learning new spells, bashing open doors, and disarming traps!
Here's the one where you get to loot as much treasure as possible before you run out of turns:
(Look at all that bling!) ;)


If you're not much of an RPG player, or have never tried one before, this is a great game to start with. It's turn based so you take turns vs an evil opponent to match gems, skulls, and fists.
The skulls do immediate damage, fists are used to activate your weapon attacks, and gems are used for spells and other special abilities.
The round ends when one of you is out of health, so watch your life bar at the top and take out your enemy before s/he gets you first!

Hint: If you match four or more items you'll get another turn so look for those first, because if you miss them your opponent will get them! Also, you can tap and hold down on most game items on your match-three screen. Use this feature to learn about your enemy, weapons, spells, etc.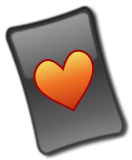 Thanks go out to my youngest brother who shared this game with me. He's also the one who introduced me to D&D. Thanks, bro, for being such a great friend, brother, and DM/GM (dungeon/game master)!
2017 UPDATE: Recently I started a new game (with a new character) of Puzzle Quest 2 and I'm almost done. This game is STILL my favorite match three game! I think this is my third round of playing the full game and it doesn't get old. Of course after winning the game I do take a break from it for awhile and play other games, but I keep coming back to this all-time favorite! I ♥ Puzzle Quest 2.
Oh, to be fair, the game does sometimes freeze on me or kick me out of the game but other than annoying, it hasn't been a real issue as the game frequently saves your progress and you can save the game at any time, which I'd recommend if needed.


Kindle Fire Match Three Game Runner Up:
I would be greatly surprised if you play games and haven't heard of Candy Crush Saga. If you're new to match three games, than this is one you might want to try.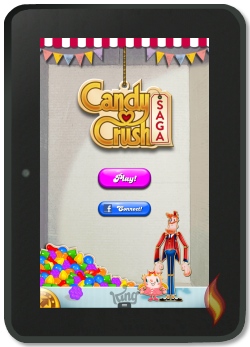 This super popular, addictive match three game is a ton of fun!

The main reasons this fun app didn't win as the Best Kindle Fire Match Three game is that it requires you to use Facebook (FB) to advance very far in the game.
You need your FB friends to help you by sending you "tickets" and other helps to succeed in the game, without them you're stuck and out of luck.

Also, once you reach the higher levels it's almost impossible to advance without purchasing helpful items.
Personally, I don't like games that require in-app purchases- particularly ones that are a one-time use, requiring you to continually purchase more and more of them. I think that's a rip-off, for the most part. See my About Free Games page for more details on in-app purchases.
So, although Candy Crush Saga is a great game, these cons disqualified it, plus I'm an RPG fan and have played Puzzle Quest 2 WAY more than I ever played Candy Crush. I haven't played the latter in months but I'm still playing the winner!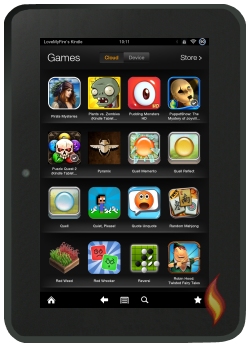 More of the Best Kindle Fire Games

Don't miss these other fabulous Kindle Fire Games which won BEST in their category:


I love playing games on my tablet! Don't you? And these are some of the best of the best.