Best Kindle Fire Drawing Game

Have You Played This Drawing Game on Your Kindle Fire?

I'm not much of an artist (although I can draw a mean stick figure) but since I love playing games on my Kindle Fire I've enjoyed trying out the different drawing apps.
There's one game, though, that's extremely fun and quite addictive, making it the winner of this category.

FTC Disclosure: If you make a purchase via a link on this site, I may receive a small commission. There will be no added cost to you. Thank you!


Prices are subject to change at any time and without notice. Products listed as free may no longer be free. Please confirm all prices before purchasing products. LoveMyFire.com is not responsible for any price changes or purchases you make. Please see the Terms of Use.

The Winner is... Draw Something!

Versions:
Why it's the best:
Social drawing game with your friends

Simple sketching
Quick turn based play
Excellent quality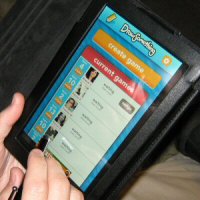 This Pictionary-like game is fun and quick to play. It's easiest to get started if you have a Facebook account (I do!) because once you login you can see and play with all your friends who already have Draw Something on their tablet or phone.
It's not required to have a FB account though, as you can connect with friends by email, username, or even play with random strangers. If you'd like to play with a friend who doesn't yet have Draw Something just send them an invite through the game!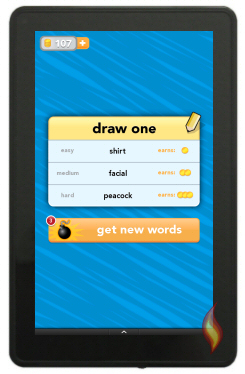 In Draw Something you take turns drawing pictures with your friends that you each have to guess. When you start, you get to choose from three different words of varying levels of difficulty. You pick one word and begin to attempt to draw a representation of that word which, when guessed correctly, will earn both of you some "coins" that can be used to buy additional colors and bombs.
When your friend takes their turn they will first watch your drawing and try to guess your word. They will see how many letters are in the word and will be given a set of 12 letters to choose from. Next they will start their own drawing for you to guess.

Then it's your turn again, but first you get to WATCH them guess your word. I especially like this part to see at what point during my amazing display of artistic ability my friend was able to correctly guess my word. After that it's your turn to attempt to guess their drawing before you start all over again. You can also leave little notes for each other to read at certain points during game play.

Real Money with In-App Purchases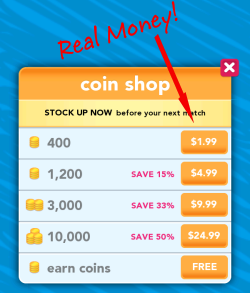 One thing to be aware of is that Draw Something has in-app purchases.
Although you only start out with black and the most basic set of primary colors- red, yellow, and blue- you can use gold coins to get more colors. You can also use coins to buy bombs to "bomb" your word list or "bomb" away four of the twelve letters for the drawing you're trying to guess.
You acquire gold coins by successfully playing Draw Something or if you don't want to wait until you've won enough coins, you can buy them with real money. You can also buy the Draw Something Upgrade which will give you 200 gold coins, more bombs, and remove the ads.

Play For Free!

But you don't need to spend any actual money to enjoy this game. You can play the entire game for free without purchasing additional items with real money.
So far, I've played enough games to buy seven additional packs of colors, and two more sets of bombs.
Once you have enough coins, I'd recommend buying the Mardi Gras pack first, as that gives you the most versatile set of new colors (green, purple, orange, brown, and gray), followed by Ice Cream Sandwich which will give you skin tones.
But of course you can choose for yourself. :)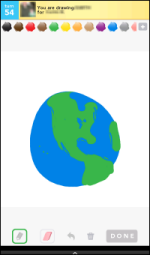 Guess My Drawing!

Can you guess my drawing? If not, maybe this game isn't for you. ;)

I personally think this game brings out the best (I quite like how this picture turned out) and the worst artist in me, but hey, it's totally fun and I'm hooked!
Draw Something is definitely the best social drawing game out there.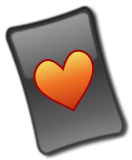 Love Note!

Ever since I was little I've always enjoyed playing games, including card games, board games, and computer games. Growing up I would often badger my siblings and parents into playing games... actually I still do. :)
One year we invented our own game called Squiggles. Each person had a sheet of paper and would quickly draw a random squiggle (a simple, free hand swirl or jagged blob) and then hand their paper to the right (or left, or across, etc) and that person would have to make something out of the squiggle like a bird, face, or alien.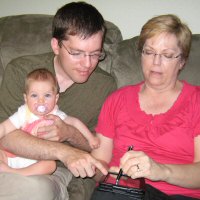 This game became a family favorite, one that children of most ages could play and which we even still play once in a great while.
Well, the other day my husband, brother, and I were at my folk's house for dinner. Afterwards, my mom was showing my brother the Kindle Fire game, Draw Something.
The five of us ended up playing several rounds together. My dad played it on his Nook and my husband on his smart phone, while my mom, brother, and I played the game on our Kindle Fires.
(And my daughter watched the camera. She always seems to know when we're taking pictures. LOL)

The biggest laugh of the night was when everyone was trying to guess my horrible, yet hilarious, drawing of Scooby Doo (I wish I'd gotten a picture of it).
Playing Draw Something with my family reminded me of playing Squiggles as a kid. Since then, we've continued to play Draw Something with each other, but it was a blast actually playing together in the same room. Next time we'll have to play when the rest of my siblings (and their tablets) are with us!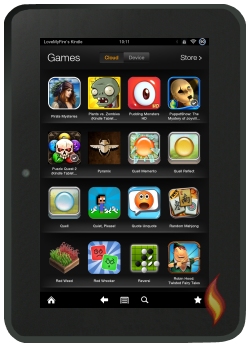 More of the Best Kindle Fire Games

Don't miss these other fabulous Kindle Fire Games which won BEST in their category:


I love playing games on my tablet! Don't you? And these are some of the best of the best.

Looking for games for kids age 3 to 12?
Then check out my article about Osmo - a unique toy that brings the digital and physical worlds together!

At Amazon