Best Kindle Fire Card Game

A Unique Game Is the Winner of this Category!

FTC Disclosure: If you make a purchase via a link on this site, I may receive a small commission. There will be no added cost to you. Thank you!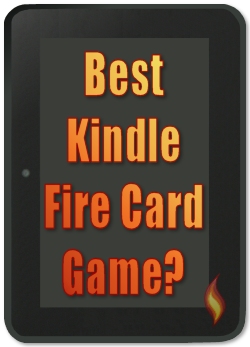 For the winner of Best Kindle Fire Card Game I've chosen a unique app that's easy to play, difficult to win, yet strangely compelling!
So what is the best Kindle Fire Game in the Card Category?
Find out now!



Prices are subject to change at any time and without notice. Products listed as free may no longer be free. Please confirm all prices before purchasing products. LoveMyFire.com is not responsible for any price changes or purchases you make. Please see the Terms of Use.
The Winner is... Reigns!

Versions:

Why it's the best:
Unique card game
Very easy to play
A good blend of skill vs luck
Charming and bizarrely funny!
This much be one of the strangest games I've ever played, but it's uniqueness (and weirdness) is what makes it fun!
The concept is very simple. You are the King. In order to rule your kingdom and continue to reign for as long as possible, you need to balance four key elements - church, the people, the army and the treasury.
Throughout the game you are approached by a variety of characters, from advisers to leaders of your army. They will present you with issues affecting the kingdom - and you need to decide how to react.
The things is, you can only choose from one of two courses of action. And in order to do so, you simply need to swipe left or right (which is why many have compared Reigns to the dating app, Tinder!)
Here are a couple of examples of how your kingly expertise may be put to the test!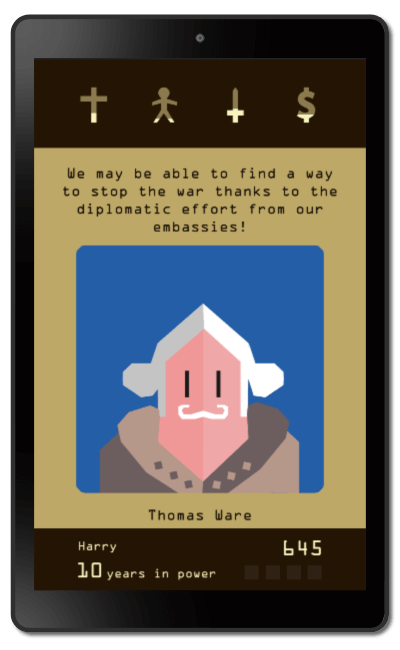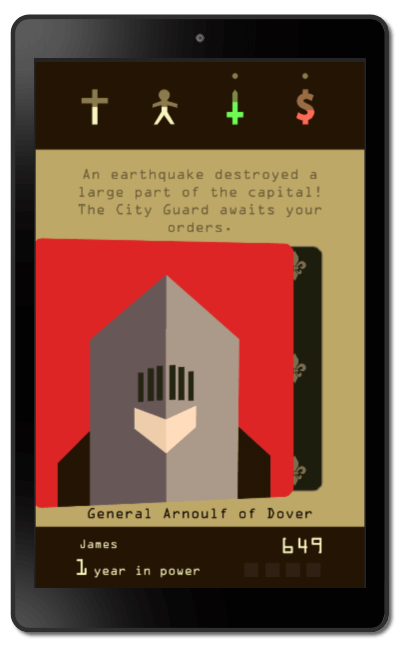 See those symbols at the top? Those are meters that represent the four elements of your kingdom you're trying to keep balanced (church, the people etc). Every decision you make will affect the balance on those meters - so you need to take them all into account when you make your choices.
Choose unwisely, and it can all go horribly wrong!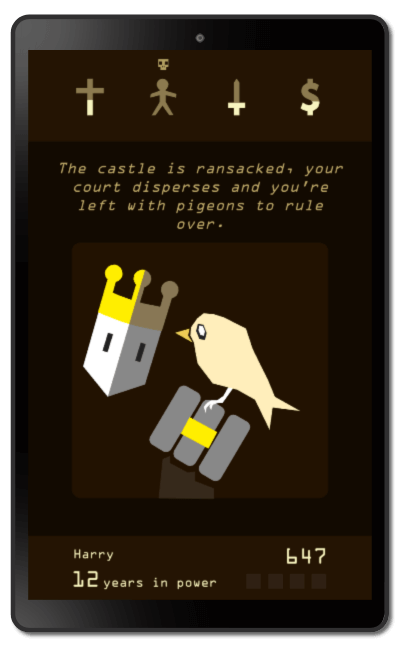 But the good news is that you are 'reborn' as a new king EVERY time you die, and the story carries on. 
Each new king will have a new name, under which you'll be given a few objectives to try to meet during his reign (for example, Win a Duel, Meet the Witch and Meet the Devil).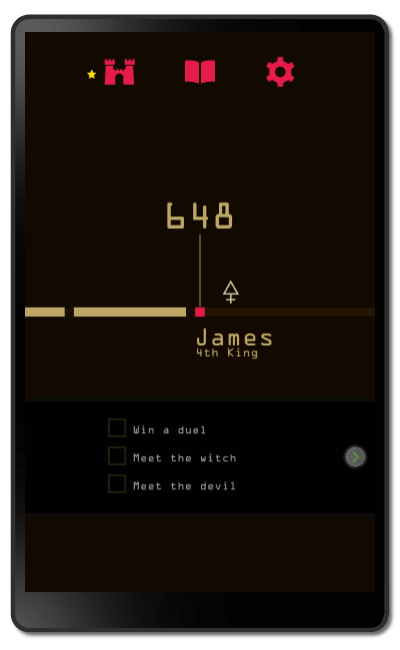 The game can be surprisingly funny in many places.
I haven't included any screenshots of the humor as part of the fun is coming across the strangely hilarious comments and situations at random points of the game.
It's definitely a game that you get more and more into as time goes by, helped along by the immersive medieval music and the addition of new characters to the game, each of which adds a new layer and new options.
Long live the king!
TIPS: This is a game best enjoyed when you have a decent amount of time available to play it - it's not ideal for a  5 minute coffee break, for example.
And the screen won't rotate, so it's hard to play lying down in bed (boo!).
Whilst the more random and surprise elements of the game can be fun, they can also be frustrating. Nevertheless, there's lots of online help available if you really can't work out how to achieve a certain goal.
You can download Reigns from the Amazon app store.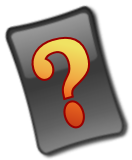 Got a Question?

Wondering where the solitaire category is? Well my pick for the Best Kindle Fire Card Game is for a non-face-card game and is based on uniqueness and number of hours played (ie many).
If you're specifically looking for a solitaire app there are a TON of them out there (they kind of breed like rabbits) many of which come as an entire pack of solitaire games, and they range in quality from poor to great and from free to expensive.
Other Great Kindle Fire Card Games

You'll also find apps for specific card games like Hearts, Spades, Cribbage, Bridge, Rummy, and FreeCell.
If you're looking for a good poker app, Zynga Poker is an online poker game that's extremely popular, is quite well done, and is free.
If you really want a solitaire recommendation, I've downloaded and played with the Solitaire Free Pack which meets my basic needs, but I personally choose to spend my gaming time on other cool Kindle Fire games instead of playing solitaire (I save that for my little addiction with Spider Solitaire that I play on my PC when I need a break from writing... or when my brain is fried.)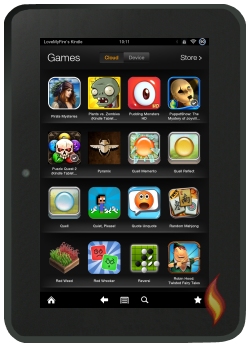 More of the Best Kindle Fire Games

Don't miss these other fabulous Kindle Fire Games which won BEST in their category:


I love playing games on my tablet! Don't you? And these are some of the best of the best.