About Free Kindle Games

Important Things to Know Before Downloading Free Games

FTC Disclosure: If you make a purchase via a link on this site, I may receive a small commission. There will be no added cost to you. Thank you!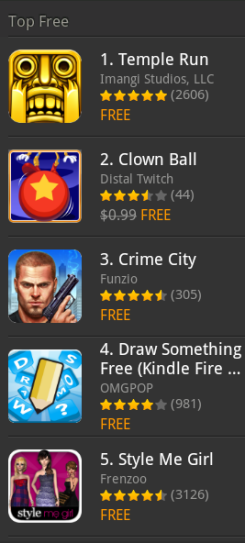 99% of all app developers, including those who create Kindle Fire games, are doing so to make money (duh). The three main ways they make money from their games are:

Initial purchase price
In-game advertisements
In-app purchases
Usually games that have an initial purchase price don't incorporate the other two types of monetization, but on occasion you'll find an app that does.
Free vs Cost

Sometimes free games are trial versions or demos of the full game. If the initial purchase price for a full game is free, then either one or both of the other two monetization options is probably how the developer makes his/her dough.
Often, a free app that is supported with ads has an ad-free upgrade that you can buy. Upgrades sometimes come with additional features that are unavailable in the free version. The game, Draw Something, is a good example of this.
Free demos, and ad supported apps are a great way to try out a game to see if you like it, then if you want the full version, extra goodies, or dislike the ads all you have to do is pay for the full game.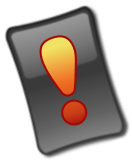 Important Note!

In rare situations you'll find a free game for your tablet which doesn't appear to have any of the three main monetization methods. Maybe the developer just created the game for fun? It's possible, but be aware that there might be other less-obvious ways in which s/he is making some cash.
Also, just because a game costs a pretty penny or two doesn't mean it's worth buying. What you value in your Kindle Fire games will depend on your preferences (or if you're like me, how picky you are). Some of the best (and worst) quality games range in price from free to expensive, so price isn't always an accurate measure of an app's worth.
In-App Purchases Use Real Money!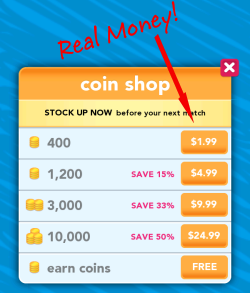 Some of the most popular games in the Amazon App Store are ones that are free, but be aware that although a game may be initially free to download and install, it doesn't mean that everything within the game is free.
Many (too many, IMO) Kindle Fire games allow in-app purchases that cost real money. I have heard of countless situations in which a parent (or grandparent) ended up being charged a hefty piece of change (sometimes for hundreds of dollars) from in-app purchases made by their kids.
Fortunately, Amazon has added some safety measures to the Kindle Fire that allow you to turn off in-app purchases, but if you give your tablet to others (especially children) you should probably look into additional security options.
"Free" Village-Type Games

Games that allow in-app purchases often state this in the app's description, but not always. The most common type of games that allows in-app purchases are ones in which you develop a community of some kind, like Pet Shop Story.
These community games usually require you to spend a lot of time waiting for things to happen so you can move forward in the game, or to buy (with real money) gems, coins, or other kinds of "in-game" money.
These kinds of free Kindle games with in-app purchases often have words in their titles like:
village
story
farm
park
kingdom
town
safari
adventure
cafe
zoo
So if you're concerned about in-app purchases from your Kindle Fire games, be sure to do the work and read the product details, description, and reviews (if there are any) before you download a game to your tablet. Or, after downloading the game, check it out yourself before handing your device over to your kiddos.
Discover more GREAT free apps for your Fire
I ♥ My Fire!
- Christine