Kindle Fire Security for Kids

FTC Disclosure: If you make a purchase via a link on this site, I may receive a small commission. There will be no added cost to you. Thank you!

Use These Apps to Keep Your Tablet Safe for Your Children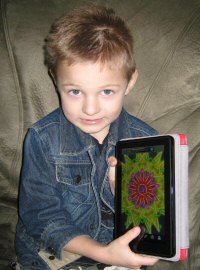 These security apps for kids are great to use for your children so you can control which apps and games they are able to play with, which videos they can watch, and which other entertainment features they can have access to.

The resources on this page are mostly helpful for owners of the original (first generation) Kindle Fire, since the newer tablets have a wonderful app called Amazon Kids+. However, even if you have a Kindle Fire HD, you might still want to try out these apps for your kids.

Also see my Kindle Fire Password page for tips on how to protect your tablet from unwanted purchases!
Children are curious and will tap on anything, so be sure they can't download something you really don't want to pay for.


Security Apps for Your Kindle Fire

To start, if you haven't yet read my article on Kindle Fire Security Apps be sure to check that out, especially the first app, Smart App Protector, as that app lets you add a password lock to each area of your tablet.
If you don't want your kids to have access to the web, books, magazines, etc but are okay with them using certain areas of your Fire you can add a lock to specific locations. You can do this right on your Kindle Fire in the settings area, under the Parental Control section, or you can use a security app to keep them out.

If you don't want the lock on when you're using your Fire, only turn it on before handing your fire over to your kids.

If you only want your children to have access to specific apps and videos than the following security apps for kids are the ones to get and what's really great, is that they are free!

Prices are subject to change at any time and without notice. Products listed as free may no longer be free. Please confirm all prices before purchasing products. LoveMyFire.com is not responsible for any price changes or purchases you make. Please see the Terms of Use.

Kid's Place: App & Video Child Locks

Versions:
If you're looking for a kid's lock for your Kindle Fire then this is the app for you! All you have to do is setup a password, turn on the Home lock, and add some approved apps to make it safe (or safer) to hand your tablet over to a child.
Here's a picture of Kids Place on my Kindle Fire. I was able to select which apps I wanted to add including the Kids Video Player (more on that later). You can also customize the background but for clarity I left it black for this picture.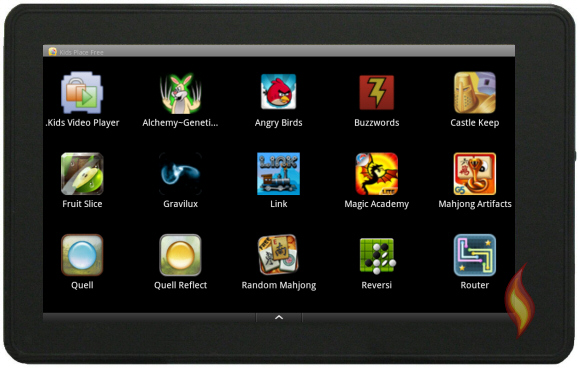 As long as you've setup a password and turned on the Home lock, you can't exit out of this app without the password.
For example, you give your Fire to your child with Kids Place turned on. They see this screen, they tap Angry Birds and play that game for awhile. When they are done and exit out of the game it brings them back to this screen. If they try to access the settings, use the back arrow, or the home button to exit, they will be asked to enter a password.
And just like that you're able to control which apps your child has access to!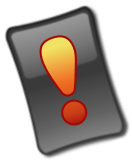 Important Note!

When using this security app for kids, be sure to turn on the Home Lock feature. If not, you can easily exit any app by tapping on the house icon to return to the Fire's carousel and favorites shelf.
Another important thing to remember is to turn off in-app purchases if you have them enabled before handing your tablet over to children, or, be sure that the apps you've added to Kids Place don't have any in-app purchases. (See my page About Free Kindle Games to learn more about in-app purchases.)


Video Lock for Kids

Kids Place has another app that goes along with it, Kids Place Video Player which is worth getting to help keep your kids safe when watching videos on your Kindle Fire.
Here's a screen shot of the screen for selecting videos to add to the video player.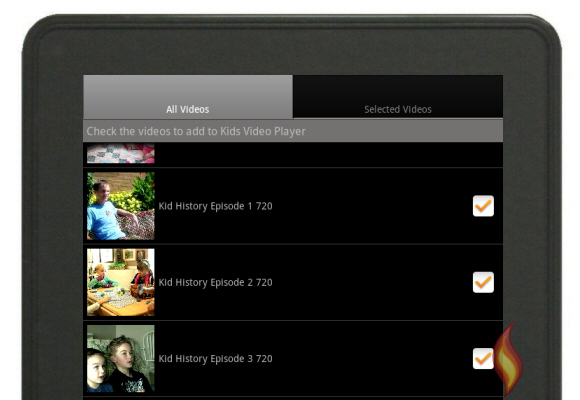 In the picture above I'm adding some personal videos as well as some fun videos I downloaded from YouTube called Kid History. These videos are hilarious and perfect for kids to watch, so if you haven't yet seen them and enjoy watching funny videos, go check them out (start with episode one)
The picture below is what you see in the Kids Place Video Player on my Kindle Fire now that I've added some movies that can be watched.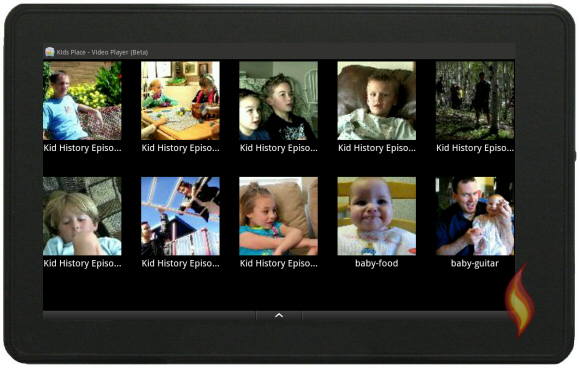 If the basic video player on your Kindle Fire can play the video then it will play in Kids Place.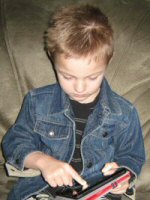 There are also a couple of settings you can choose, such as the video's volume, what you want to happen when the video is finished (repeat, random play, or return to screen), and if the video's basic controls should come on when the screen is touched.
Using the Kids Place Child Locks for your apps and videos is an excellent way to keep both your children, your Kindle Fire, and your Amazon account safe (well, at least safer as it won't prevent your child from dropping your electronic device). :)
Learn more About Free Kindle Games, Kindle Fire Security Apps, Best Antivirus for the Fire, and setting up a Kindle Fire Password for additional ways to protect your investment, your identity, and your tablet from unwanted purchases.
Looking for games for kids age 3 to 12?
Then check out my article about Osmo - a unique toy that brings the digital and physical worlds together!

At Amazon