The Best Antivirus For Kindle Fire
FTC Disclosure: If you make a purchase via a link on this site, I may receive a small commission. There will be no added cost to you. Thank you!

In this article we'll take a look at the top 4 antivirus apps for your Kindle Fire which give you the peace of mind of knowing your device is protected.
Does a Kindle Fire need antivirus protection?
Do you want to remove a virus from your Kindle Fire?
Wondering what antivirus app you should install on your device to ensure its best protection?
You are just in the right place! I've been busy reviewing the 4 BEST Kindle Fire antivirus apps to share with you here - plus I have more tips to help you get the most from your Kindle Fire antivirus protection.
Turn your Fire on and let's get started!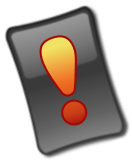 To download a chosen antivirus app to your Kindle Fire, just use the download link following the app description.
This will go straight to the Amazon Appstore.
Does A Kindle Fire Need Antivirus Software?
This is usually one of the first questions my clients and visitors ask me.
The answer is usually that it depends on how you use your Kindle Fire. I would generally advise you to install an antivirus app on your Kindle Fire if at least one of the following is true:

You install a lot of different apps & games and frequently uninstall them.
You install apps outside of the Amazon Appstore. If you do that, then installing an antivirus app is a must.
If you connect to many different Wi-Fi networks (not only your own home or office Wi-Fi network). This especially applies to open Wi-Fi networks.
If many different people use your Kindle Fire (like your spouse or kids) and you cannot really say how they use it and for what purposes.
Any of the above situations puts your Kindle Fire at some risk. It's better to be safe than sorry, so let's review the best 4 virus removal apps for Kindle Fire.

Prices are subject to change at any time and without notice. Products listed as free may no longer be free. Please confirm all prices before purchasing products. LoveMyFire.com is not responsible for any price changes or purchases you make. Please see the Terms of Use.
Malwarebytes Anti-Malware
This is probably one of the best antivirus apps not only for Kindle Fire but for all Android devices. That's why is the first on this list!
Malwarebytes is a very popular app both in the Play Store and in the Amazon Appstore where it has an average rating of 4.2 stars and more than three thousand reviews.

This is an advanced and comprehensive antivirus app that offers you a variety of features. To name just a few:

This is a free app and it doesn't have any in-app purchases, or force you to upgrade to the premium version.
The app detects and eliminates viruses, malware, spyware and trojans.
The app scans and protects the apps installed on your Kindle Fire and looks for PUPs (potentially unwanted programs).
The app lets you know and manage what kind of private information you share with others (or via other apps).
It ensures that your Kindle Fire has all the recommended and safest settings.
It can work real-time and on-demand.
The app also scans your incoming messages and detects if there are malicious links in them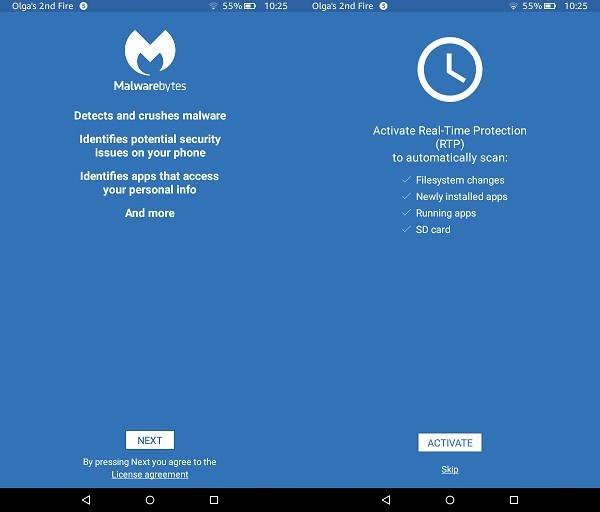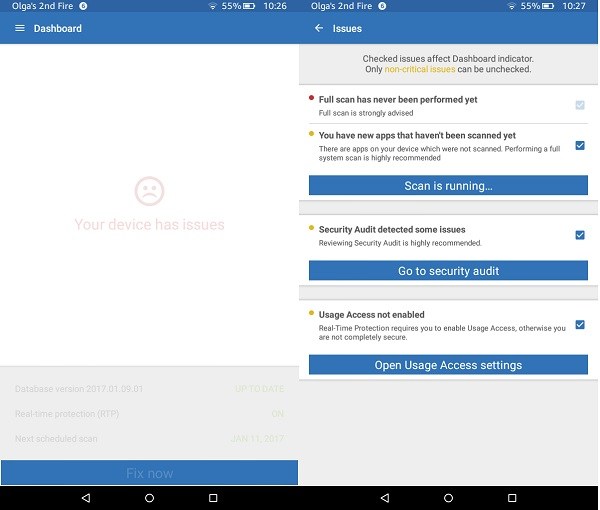 Download Malwarebytes from Amazon!
Mobile Security & Antivirus
Next comes this antivirus app for Kindle Fire. This is a regular Android app available for all Android devices but here in the Amazon Appstore its versions has been especially optimized for Kindle Fire tablets (with the exception of Kindle Fire 1st Generation).
This antivirus has an average rating of 4.0 stars and more than eight thousand reviews from people all over the world. The main features of this app include:

The app is available in the basic FREE and full premium version.
The feature of automatic scan keeps an eye on your device all the time and scans any new files or apps.
The on-demand scan lets you scan any file or app whenever you need.
The app lets you manage and control app permissions.
The premium version has the proactive anti-theft feature which will notify you of any suspicious activity.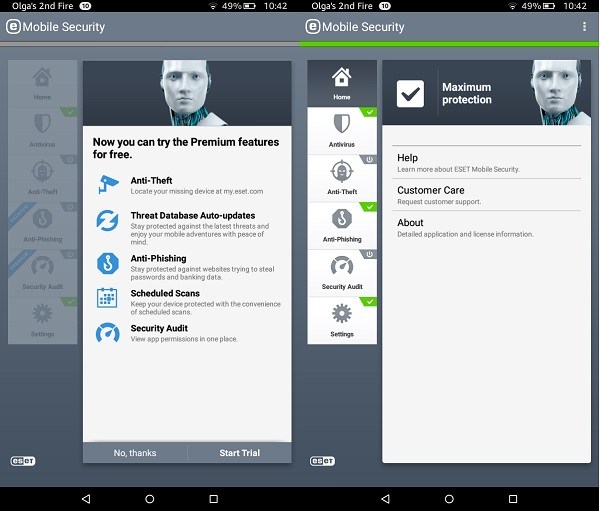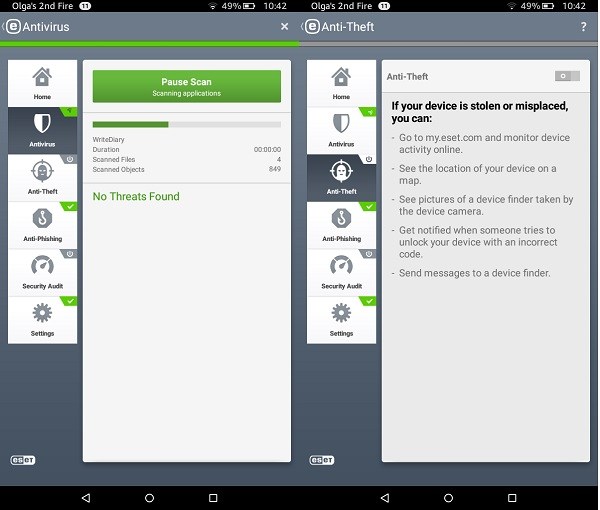 Download Mobile Security & Antivirus from Amazon!
One Cleaner - Antivirus, Booster, Super Cleaner
One Cleaner is a neat little app that offers a wide range of features. In addition to helping boost your speed and clean your cache, this app also:
Scans your apps and files automatically for viruses, spyware and Trojans
Blocks malware before it can be installed on your device
Lets you know when your device and settings are at risk of being attacked
Reminds you if apps are draining your battery or using too much memory
The One Cleaner app is free and (so far) has no annoying ads.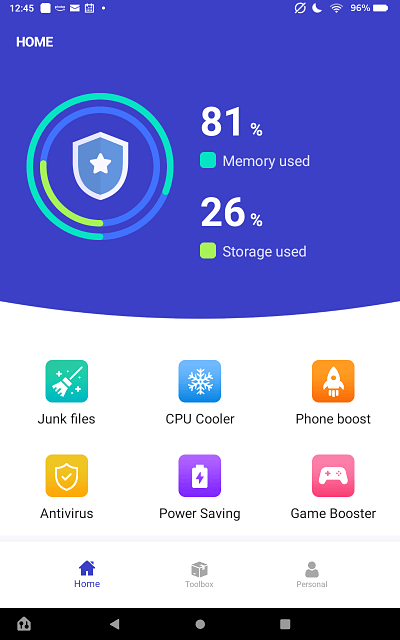 Download One Cleaner from Amazon!
Antivirus Cleaner For Android BSafe VPN
Last but not least is the Antivirus Cleaner For Android BSafe VPN, which has an average rating of 3.6 stars in the Amazon Appstore  and over three and a half thousand reviews.  
The main features of this Kindle Fire antivirus app include:
A free and unlimited Virtual Private Network, which allows you to hide your IP address and encrypt your internet traffic
A deep antivirus scan that you can leave running in the background and which will notify you with a list of any threats
A free trial of the premium option, which gives Web Protection, a URL checker and is ad-free (I did find the free version to be a little too heavy on the ads!)..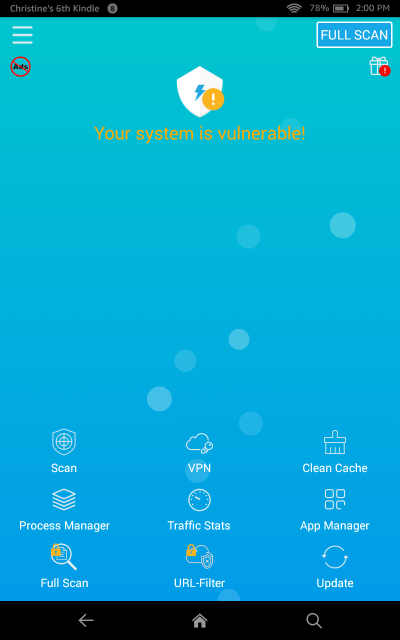 Download Antivirus Cleaner For Android BSafe VPN from Amazon
Did you find what you were looking for? Can you recommend an antivirus app that is missing on this list?
What are your experiences with these apps? Feel free to leave me your comments in the comment box below or contact me directly.

I would love to hear from you. Only you, my visitors, can help me grow my website and spread the word about it.

P.S. Did you know that you are not just limited to the Amazon Appstore when hunting for apps? Check out this list of alternative app stores for the Kindle Fire.