2017 Kindle Fire - 7th Generation

FTC Disclosure: If you make a purchase via a link on this site, I may receive a small commission. There will be no added cost to you. Thank you!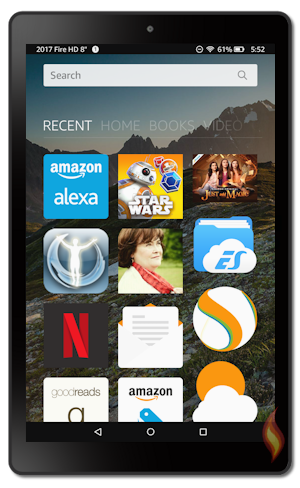 On May 17, 2017, Amazon released their seventh generation of Kindle Fire tablets!
UPDATE: On Oct 11, 2017, Amazon also released an HD 10" version of their latest Kindle Fire!

That means this is the 7th year that Amazon has sold new versions of their Kindle Fires.
This year, there are two three new tablets. The two smaller sized models are available in the kids editions, but more about all of these details are below.
Before I tell you all about the latest tablets, be sure to see my main Kindle Fire page to learn about all these tablets, find resources, and other helps.
Okay, now on to the good stuff!


The All-New Fire 7", HD 8", & HD 10"

The 2017 release of Amazon tablets are as follows:

The Kids Editions are basically the new 7" & HD 8" with a protective case, the minimum storage option, an extended warranty, and a few software changes.

2017 Kindle vs Previous Kindles

As far as I can tell, these two tablets are almost the same as previous models except for the new color options (more on that below).
The HD 8" is almost exactly the same as last year's 2016 Kindle Fire except it's 1 oz heaver and $10.00 cheaper. (You've gotta love a drop in price point. Don't things usually go UP in price? Amazon's price history for their Kindle Fires has truly been amazing!)
The 7" is almost the same as the 2015 Kindle Fire except it is .1" longer (that's point one inch) but other than that it appears to be exactly the same. Of course, this new 7" does have Alexa installed, and the latest Fire OS (operating system/software), but the actual hardware, according to the stats I could find, appears the same. Which isn't a bad thing, as the Kindle Fire is a fabulous tablet, it's just something to be aware of if that's important to you.
UPDATE: The HD 10" tablet was released five months after the first two and I'm really impressed with this newest model's specifications! Amazon's Kindle Fire HD 10" has the best technical statistics I've seen in the last few years. The HD 10" has a super high resolution, a super fast CPU, and twice the RAM as the previous 2015 HD 10". You can find the exact details in the link posted in next section below.
2017 Kindle Fire Technical Specs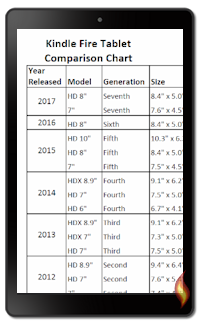 For storage options, the All-New Fire 7" comes in the usual choices of 8 or 16 GB while the HD 8" has a 16 or 32 GB selection, and the HD 10" has 32 or 64 GB options. All three tablets come with a microSD card slot so you can buy additional external storage, up to 256GB worth.

For more details on the technical specifications of each tablet, please see these next two links where you can learn more about the size, weight, resolution, cameras, etc.
I've updated my Kindle Fire Comparison Chart to add these new tablets, so check that out to see which features are the same or different vs previous models.

I've also added these newest tablets to my technical stats page to help you know which Kindle Fire you have.

Prices are subject to change at any time and without notice. Products listed as free may no longer be free. Please confirm all prices before purchasing products. LoveMyFire.com is not responsible for any price changes or purchases you make. Please see the Terms of Use.

All-New Kindle Fire Price

At time of release, the prices for each tablet, with minimum storage and Special Offers installed, are:


These prices really are outstanding, ESPECIALLY, the price for the HD 10" which is $80 cheaper than the 2015 model of the same size, and this year's version has twice the processing power and speed, and an even higher resolution!
If you're looking for a great tablet at a great price, these are it.


Kindle Color Options

This year's Kindle Fires come in an all-new spectrum of colors which Amazon has named:
black
canary yellow (except HD 10")

marine blue
punch red

Other than black, these colors do actually differ from previous Fire color options.

The Kids Edition comes with the following three color options for the "Kid-Proof Case":

Nice and bright so you can more easily find your child's tablet when they misplace it.

Amazon Alexa

This generation of Kindle Fire comes with Amazon's Alexa feature pre-installed. Alexa is a voice-activated service where you give Alexa commands or ask questions and the program responds.


To use Alexa on your Kindle Fire, just tap and hold the home button at the bottom center of your tablet.
The home button is the circle:



Here's what the app looks like:

After tapping and holding the home button, your Kindle Fire screen will darken and a thin blue bar will appear at the bottom, which will briefly react when you speak to Alexa. To test it out, say, "What's the weather?"
Not only will Alexa verbally respond, but a visual display is given on your Kindle Fire as well.

Alexa's Listening Blue Bar: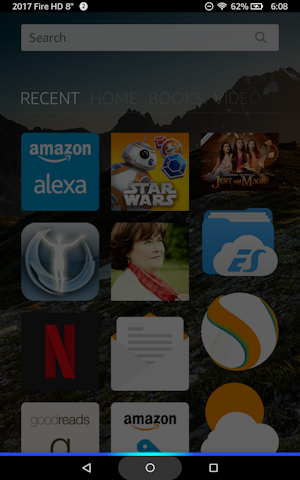 Alexa's visual display to weather questions:


You can also find new "Things to Try" in the Alexa App. To get there, do the following:
Open the Alexa App, swipe from left to right to open the side bar menu (or tap three horizontal lines at top left), tap "Help & Feedback", tap "Alexa" under "User Guide", swipe up, tap "Things to Try".

You can get more from Alexa with Amazon's Show Mode Charging Dock. 
Kindle Fire Entertainment

Just as all their predecessors, these Fire tablets have been designed for your entertainment!
Read books, magazines, documents
Listen to music, audio books, podcasts
Watch videos, movies, TV shows
Play games, games, games
Take photos and videos
Browse the world wide web
Connect with social sites
and so much more!

I could go on and on, but Amazon has already detailed their tablets' fancy features, so check out this year's Kindle Fire 7" and Kindle Fire HD 8" and Kindle Fire HD 10" product pages to learn more!


And there you have it, the 7th generation of Kindle Fire tablets!
Check out the Kindle Fire apps, Kindle Fire games, and Kindle Fire Tips & Tricks pages for lots of great resources to improve your tablet enjoyment. :)

I ♥ My Fire!
- Christine




Hand Illustrations provided by GestureWorks® (www.gestureworks.com). Aren't they perfect?