Kindle Fire 5th Generation

Kindle Fire 5th Generation: Kindle Fire HD Tablets (2015)

FTC Disclosure: If you make a purchase via a link on this site, I may receive a small commission. There will be no added cost to you. Thank you!

Once again Amazon has released their latest Kindle Fire tablets during the fall season (Sept 17, 2015) and these new darlings look amazing!
With three completely new tablets plus a new "kid's version" there's a lot to be excited about, so let's check them out!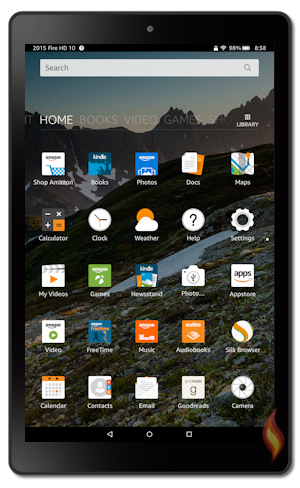 Amazon is continuing to just call these by the name of "Fire" instead of "Kindle Fire" which they started with the previous year's release.
However, I'll maintain use of both names.

Kindle Fire 5th Generation: New Fire Tablets

Amazon's new 2015 Fire tablets this year are either basic or HD, no HDX's this year, and are "Kindle Fire 5th generation" (since this is the fifth year of releases).
They are:
As for internal storage capacity the 7" comes with 8GB, the 8" with 8 or 16GB, and the 10" with 16 or 32GB. HOWEVER, be sure to see the next new feature before you decide which internal storage size you want to go with.

Originally I'd thought the new 7" and Kids Edition were HD devices. Thankfully, a site visitor, Anne Barnett, pointed out my error to me. Whoops!
Amazon's PR releases about their new tablets had me confused. Thanks Anne for being such a great Fire fan!


MicroSD Storage - New Feature!

The biggest new feature IMO, besides the home screen changes, is the addition of a microSD card slot! This means you can add external GB space to your tablet's storage!

Although these new Fire tablets don't initially come with a microSD card, you can purchase them from a variety of manufactures, in a variety of GB sizes (up to 128 GB), for a variety of prices.

All of this year's new Kindle Fire devices come with these basic features:
Power button

Micro-B USB port
Front-facing camera
Rear-facing camera
Microphone
Bluetooth
Headphone jack (3.5mm stereo)
Volume buttons
Speakers
Wi-Fi


However, none of the new tablets come with a 4G option.
For all the technical specifications see the official Amazon product pages for each tablet (links above).


Fire OS 5 "Bellini"

Amazon's 2015 Fire tablets have a new operating system (OS), version 5, which they've named "Bellini" (Why? I have no idea.)
This new version has been revamped with an updated user interface (the screens you see and touch). The home screen is different and is no longer host to the Kindle Fire's traditional carousel, but now sports a more Android-like look and feel complete with a picture wallpaper as the background "behind" the apps.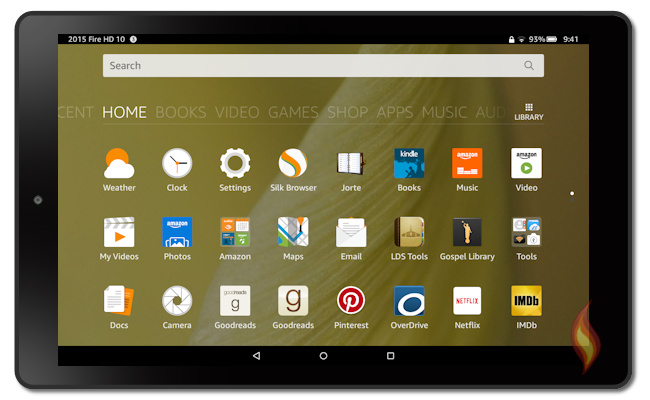 This OS home screen also has, according to the Fire product page, "dedicated content pages for books, games, and apps, video, music, audiobooks, and Newsstand, making it quick to pick up right where you left off. Powered by Amazon's recommendations engine, you can quickly browse books, movies, TV shows, music, apps, and games suggested just for you."

You can tap on the name of these content pages, or swipe from left to right (on the home screen) to switch between them.
Another cool feature of the new OS is on the navigation bar which has three hollow icons as follows.
Back (left arrow), home (circle), and task switcher (square):


The task switcher lets you (obviously) switch between tasks and recent activities; which looks like a great new feature!

After I get my hands on my new Fire, I'll have fun playing with this new OS so I can share with you what I think and feel about the latest changes.
To see some of this for yourself watch the Amazon help video, "Navigating Your Fire".


Colors & Covers & Cases!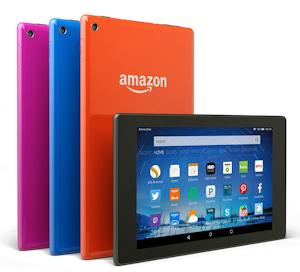 Last year Amazon introduced color to their Kindle Fire tablets. This year the color options are as follows:
7" = black
HD 8" = black, magenta, blue, or tangerine
HD 10" = black or white
Kids Edition = blue or pink (kid-proof case)

My opinion? If you plan on buying a cover there's little point to a colored tablet, but if you prefer to use your Fire in all its naked glory, then go for some color if you'd like.
Speaking of cases and covers, Amazon has several of their own cases to go along with each sized tablet. Some are leather, some are not; some are in color, some are not; some are expensive, none are not. LOL
Here's the run down:
Kindle Fire HD 10" Covers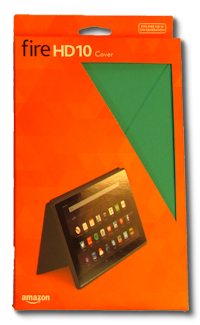 Each of Amazon's official covers come with a front flap that when flipped back can be turned into a stand for either landscape or portrait orientation.
However, the stand only works when the camera of the Kindle Fire is at the top or to the right.
This is basically the upright positions for portrait and landscape viewing. When flipping the tablet upside down, the stand of Amazon's official covers does not work properly.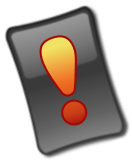 Important Note!

Unfortunately, it appears that only the 8" & 10" Fire models have the auto screen "on-off" feature, which is used with a compatible cover that comes with this option.
From my research it appears that the 7" model does not have this handy feature. Thus, if you want to use a cover that automatically turns your tablet's screen on/off when opened/closed, you'll need to go with one of the larger Kindle Fires.
UPDATE: I've heard rumor that the 7" models do indeed have this feature if you purchase a cover that has it. However, I have not yet confirmed if this is true or not.


Other New Features - New!

Amazon Underground

A few weeks before the 2015 Fire tablets were announced, Amazon unveiled a new feature called Amazon Underground, where you can find apps that are "actually free". Not only are the apps free, but most in-app items are also free. Sweet!

This new feature is available for all 2013, 2014, and 2015 Kindle Fires.


Word Runner

Another new feature is Word Runner which allows Fire owners to read faster. Here's the blurb from Amazon's 2015 Fire product page:

"Word Runner is a fun new way to read faster. It keeps your eyes focused on the center of the page and brings each word right to where your eyes already are. With dynamic pacing, Word Runner automatically slows down for difficult words, punctuation, and paragraph breaks. And when you first start reading, it gradually builds up to the speed you choose. If you miss something, just tap and hold the screen to activate the 'brake.' It instantly pauses Word Runner and lets you easily scroll back and pick up wherever you'd like."

ASAP
Advanced Streaming and Prediction (ASAP) is Amazon's new feature for increasing the speed at which movies and TV episodes begin to stream so they are "ready for you to watch instantly."
ASAP will supposedly adjust to how and what you watch, which sounds pretty cool.

Also, in conjunction with ASAP will be the feature, "On Deck" which will "automatically download Prime Video (for Prime members) and the first episodes of Amazon Original Series while your device isn't in use, ensuring that there is always something new to enjoy instantly, even when offline."
However, I'm not too keen about this "On Deck" feature downloading whatever it wants to my tablet without my say-so. Hopefully, there will be a way to turn this feature off, once it's available.

There are other features but these are the main ones Amazon has highlighted. I'm excited to test out the tablet on my own and see for myself all that has been changed with the new Fire operating system.


Price: $, $$, $$$

Yes, this is all great, you say, but what about the COST? How much are these new beauties?

Prices are subject to change at any time and without notice. Products listed as free may no longer be free. Please confirm all prices before purchasing products. LoveMyFire.com is not responsible for any price changes or purchases you make. Please see the Terms of Use.
As always, Amazon works hard to keep the cost of their Kindle Fires down (they make the bulk of their money with all the digital content you buy once you're using their money making tablet). Really, it's quite ingenious, IMO.
Here's the price of these new 2015 Fire tablets (as of the original release) with no additional features, no upgrades or accessories, at the lowest amount of GB memory, and with the subsidized ads:
Kindle Fire 7" - $49.99

Kindle Fire HD 8" - $149.99
Kindle Fire HD 10" - $229.99
Kindle Fire Kids Edition (7") - $99.99

My recommendation? For adults, I'd suggest going with at least the 8", especially since the 7" isn't an HD tablet, but for kids and teens either the basic 7" or the Kids Edition are great deals!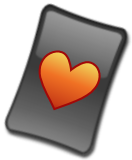 Which New Fire Tablet Did I Get?

With the new Fire software of this year's models I just had to buy one, so this year I decide to purchase the new 10" Fire tablet! That's right, I went for the big guy!
Part of my reasoning is that it's a completely new size; the largest tablet Amazon had out before now was 8.9". This way I can share my thoughts and experiences with all of my readers.

Another reason is that with all the new changes, I need at least one of the latest models so I can test out my current tips, tricks, and other "how-to" articles on this site to make sure everything still works on the newest babies.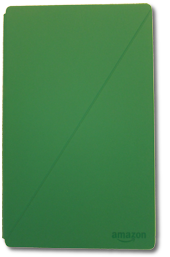 As for storage size, for the first time in my Kindle Fire purchasing history (and I've bought a lot of Fire tablets over the years), I've decided to ramp up the internal storage capacity to the largest available size. That's 32GB of internal goodness. Of course, with the new microSD card slot, running out of space isn't as big of an issue as it used to be, but I figured I might as well go-all-out for once.
And as for color, with only white or black to choose from on the 10" models, I went with black since that's the color of all the other ones we own, and I didn't want my sweet Kindle Fire to accidentally be mistaken for a tablet from another family. ;) Although, I was very tempted to try out the new white one. Maybe next time.
BUT, I did buy one of Amazon's official Fire covers for my baby, this time I picked a GREEN one.
I'm super excited to enjoy this sweet new tablet!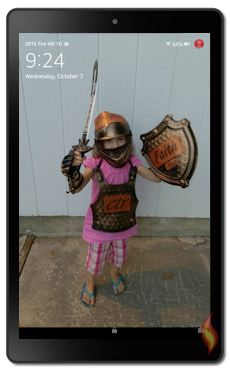 If you haven't yet checked out the full product pages for Amazon's latest 2015 Kindle Fire tablets be sure to visit them to learn even more about these awesome new devices!
Here are the links so you don't have to scroll back up:

Also, check out the sweet new background wallpapers that come with these new tablets. I even show you HOW to add your own custom image on that page too!

Or, browse through my other Kindle Fire pages, accessory reviews, or tips & tricks for all kinds of useful info.

I ♥ My Fire!
- Christine