What the Kindle Fire Can Do

Everything the Kindle Fire Can Do

FTC Disclosure: If you make a purchase via a link on this site, I may receive a small commission. There will be no added cost to you. Thank you!

Amazon's Kindle Fire is a fabulous multi-media entertainment device and there is so much you can do with it- I'm always having a ton of fun with mine! (Not sure what a Kindle Fire is? Check that out first.)

In this article we'll go over all the fun you can have on your Kindle Fire. So stick around!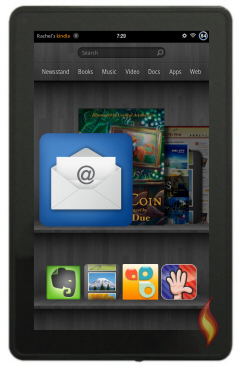 Everything the Kindle Fire HD & HDX Can Do!

The information on this page (the one you are viewing right now) is specific to Amazon's very first generation Kindle Fire (released in 2011).
If you have, or are interested in, any of Amazon's newer tablets (released 2012-2014) then see this new article about Everything the Kindle Fire HD/HDX Can Do!
(Not sure which tablet you have? See my Kindle Fire infographic.)
What Your Kindle Fire Can Do
To start, let's list some of the main things you can do with your Kindle Fire:
Access email
Be social on Facebook, Twitter, and other networks
Edit documents
Listen to music
Play games (apps or on the web)
Read books
Surf the Net
Shop online
Use apps to do an endless variety of things
View pictures and videos
Watch movies, and TV shows
and MORE!

Okay, so maybe this isn't a list of everything you can do on your Kindle Fire, but it is a basic list of some of the main things you can do.
I personally enjoy doing most of these on my Kindle Fire every day. I'm so impressed with the Kindle Fire as a multi-media device. Yep, I love it!

Fun With Amazon's Kindle Fire

The majority of the fun things you can do on your Kindle Fire can be quickly accessed at the top of the home screen, so let's take a brief look at each.

(Click on each heading to quickly jump to that section below!)


---

Kindle Fire Newsstand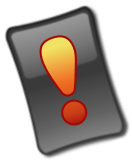 Update - March 2023

Sadly - in March 2023 - Amazon stopped selling magazine and newspaper subscriptions through Newsstand.
For more information, please see this article.
Do you love reading magazines or newspapers? Than this is the section for you! The Newsstand section has a plethora of popular magazines and newspapers to choose from.

What's really nice is that many of the publications allow you to buy the current issue if you'd rather not become a subscriber.
Just like the print copies, it's cheaper in the long run to pay for a subscription vs paying for each individual issue.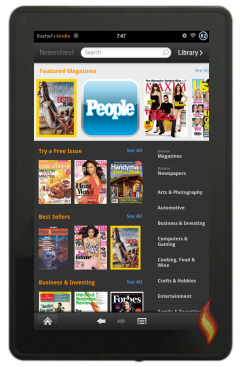 Extra Cool Feature: Amazon Whispernet
One cool newsstand feature is the Amazon Whispernet which automatically sends magazine and newspaper subscriptions to your Kindle Fire over a wireless connection.
You don't even need to sync up to a computer for it to work. You gotta love technology! (We've sure come a long ways since the days of front-door delivery.)

Extra Cool Feature: Free Trial Subscriptions
If you're not sure you want to subscribe to a particular magazine, many will let you try an issue for free, some up to 60 days, which is nice!
Please note, however, that with most trial subscriptions you actually have to subscribe and then cancel before the trial is up if you decide you don't want to keep the subscription.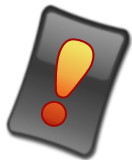 Important Note!

One thing to be aware of is that some magazine subscriptions require you to pay for the print version to be able to access their electronic version.
Obviously this is not ideal for going "green" so hopefully in the not-too-distant future these magazine lords will wake up and allow their customers to buy electronic-only subscriptions.


Kindle Fire Books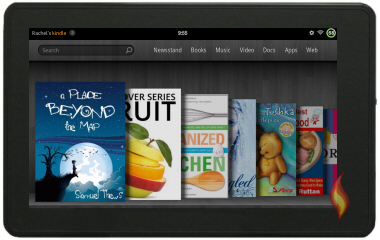 Although some book lovers are reluctant to admit it, ebooks are the new wave of the future for our beloved books.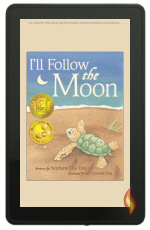 For a long time I was very resistant to eReaders and had no interest in using one... until I had one! Now I'm an ebook enthusiast.
As we all know, Amazon is the biggest online book distributor and their library of ebooks is enormous and growing every day!
Using your Kindle Fire to find and read awesome books is so much fun! I love seeing all the colorful book covers as I scroll through my ever growing list of ebooks.

Other than the poor organization system for your ebooks, the Kindle Fire as an ebook reader is great!
Being able to bookmark, highlight, and jot down notes while reading is slick and easy to do.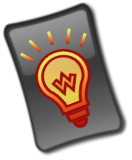 Interactive Book Apps

One thing not to miss are children's books that have been created as apps (thus they are in the App section). These interactive books, which usually have the option to automatically be read by the app itself, are usually quite adorable and very appealing.
You'll find tons of classics and other favorites, like:
Below is a picture from the official book app of Peter Rabbit by Beatrix Potter. I adore this book and the interactive app makes it come alive!


Extra Cool Feature: Lending Library
UPDATE: Sadly, this has now been discontinued, as per the message posted on Amazon.com:

As of January 4, 2021, we no longer offer Kindle Owners' Lending Library (KOLL). Readers can continue to read books they previously borrowed through KOLL

For Amazon Prime members the Lending Library is a super cool perk in which you can lend out your ebooks and "borrow" a book for free each month. It's not quite like your local library's lending power, but it is pretty awesome if you'd like to try out a book but are not so sure about paying for it yet.
What's also great is that there's no due date or late fees on the books that you borrow. How sweet is that?!

As of the writing of this article Amazon has over 145,000 books in their Lending Library. Want to learn more? Go "check it out"!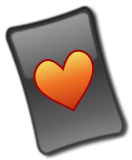 Love Note!

Are you a book lover? I am! During the summer before my fifth grade year our TV broke and I started biking to our local library to browse through the book shelves. Ever since then I've been a book addict.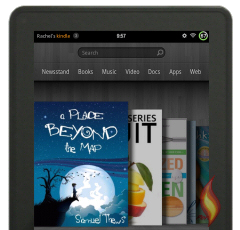 I enjoy physically holding a book, but now I also love having ebooks on my Kindle Fire.
It's definitely much easier to pack all my books with me in electronic format than it is in real life... just ask the strong guys who helped carry all my heavy boxes of books when we moved into our new home! LOL


Kindle Fire Music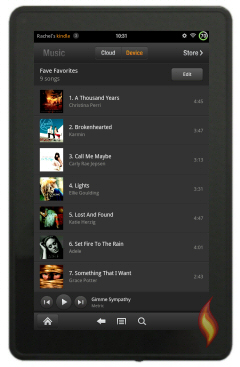 Who doesn't love listening to music? No matter your listening preferences, Amazon's got a gazillion songs and albums to choose from.

Shopping for music from my Kindle Fire is a blast, which has led to my tablet being my new favorite mp3 player. I just turn on the tunes and rock away while unloading groceries, cooking, cleaning, or just chillin' around the house.

Amazon even has some pretty cool free songs from rising artists that are fun to browse through. I have quite a few of these that have made their way onto my favorites play list.

Extra Cool Feature: Free Cloud Storage & Cloud Player
You gotta love Amazon's cloud storage, which can be used not only for music but apps, books, and more.

If you're a digital maniac (like me) and have more content to store than space available on your Kindle Fire, the cloud storage is a great feature to take advantage of.
Amazon's cloud player is an awesome tool which lets you stream music right from your Amazon account to your PC, phone, and your Kindle Fire. That means you don't have to download your songs to your tablet, you can play them directly from the cloud! Sweet!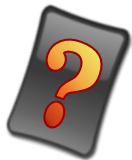 How Do You Increase the Volume?

Would you like to increase the volume of your Kindle Fire? It's extremely easy to do and costs less than a buck, which is totally worth it since the highest volume of the Kindle Fire isn't nearly loud enough for those of us who like to pump up the sound.

If you haven't yet subscribed to my Kindle Fire Alerts, now is the time to do so since my secret to increasing your Kindle Fire's volume is listed in my exclusive list of the best apps for the Kindle Fire.
If you're already on the list just open my previous email (or wait for my next one) and click the link to see my Best Kindle Fire Apps.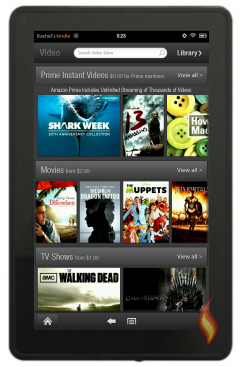 Kindle Fire Video
Got a thing for watching movies? You're not the only one! According to a poll in the Show of Hands app, 68% of voters said they spend more time watching movies than listening to music.

The Video section of the Kindle Fire allows you to access Amazon's videos, many of which you can buy or rent, or even watch for free if you pay for Amazon Prime, but Amazon isn't the only place to get your TV fix.

You can view movies on Hulu Plus, Netflix, the Internet, and more. Most of these services cost some decent cash, but their apps are usually free.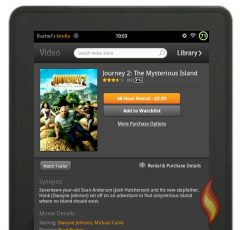 Watching movies and TV shows on the Kindle Fire is actually quite good. Of course the picture's not as big as that of a 52" television, but it is bigger than a smart phone! The Kindle Fire screen is bright and very clear too.

What's nice is when either my husband or I want to watch something online when the other doesn't, we can plug in some headphones and play the moving picture on our Kindle Fire.

Extra Cool Feature: Amazon Prime

Free Videos
If you're a movie/TV enthusiast, especially for older flicks, the Amazon Prime feature, which gives members access to thousands of films and TV shows, might be perfect for you.


How about your own home videos? Yep, you can play those on your Kindle Fire too! See my info about the built-in Gallery app in the Kindle Fire Apps section below.


Kindle Fire Docs
The Kindle Fire is a great little device for easily packing your documents around with you. There are tools and apps for easily transferring documents from your PC to your tablet, accessing them from a cloud service (including the Amazon cloud), converting them to PDF files, "printing" them to your Kindle, and much more!

Extra Cool Feature: Kindle Email Address

One extra fancy bonus on your Kindle Fire is the unique email address it has, which is shown at the top of your Docs area.
Each Kindle Fire you register with Amazon has a specific email address which allows you to email certain types of documents and pictures to your Kindle Fire. These are then located in the Docs section as well as in the Amazon cloud.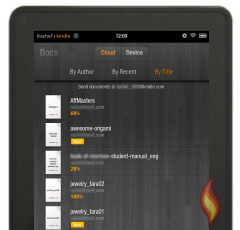 Types of Files You Can Email to Your Kindle Fire
Excel
HTML
Kindle
PDF
Pictures
PowerPoint
RTF
Word



Extra Cool Feature: Send to Kindle
Amazon has an awesome Send to Kindle program that you can download and install to your PC, allowing you to "print" and send document to your Kindle Fire.

Note: These docs are converted to PDF files. If you want to keep the original file you'll need to save and send them as attachments to your Kindle email address.

---

Kindle Fire Apps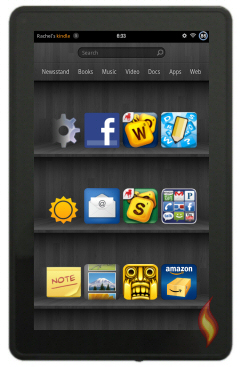 I have to admit that Kindle Fire Apps are one of my favorite things about my tablet.
As a geeky tech girl I love tinkering with my electronics and as a game fanatic I adore playing a variety of games.
Having access to thousands of apps (free and paid) in the Amazon App Store and a free paid app each day, makes for a perfect combination of tinkering and playing.

Here's a lil' teaser of just a few of the awesome apps that are out there:
Other Kindle Fire Apps

There are a few extra snazzy features we need to mention which are accessed on your Kindle Fire in the Apps area.
These apps are built-in to your Kindle Fire and cannot be removed and most are not listed in the Amazon App Store.


Built-in Kindle Fire Apps:*

Amazon Shop
Audible
Contacts

Email
Facebook

Gallery
Help & Feedback

Pulse
Quickoffice
Quick App Notes:


I especially love my Kindle Fire's email app. All you have to do is setup your email in this app and then you can access new email that hasn't yet downloaded off your email's server. Once you load email to this app you can still read and view each email even when not on Wi-Fi, although to check for new message or send a reply you obviously would need to be connected to the Net.


The Facebook "app" is actually just a link which takes you directly to Facebook's website in the Web area.
If the address is m.facebook.com you are using their mobile website, if it is www.facebook.com it is their regular site. Just change the m to www or the www to m to switch between the two views.

The Gallery app is how you can view your personal pictures and videos, which you can load onto your Kindle Fire. Some apps let you save pictures which are also stored in the Gallery area.
*Please note that the built-in apps on your Kindle Fire may or may not be the same as mine.

Extra Cool Feature: Amazon App Store & Free App of the Day
The Amazon App Store may not be as big as Apple's app stores, but it's continually growing at an exponential rate, at least it appears that way to me. New apps are added daily and the majority of the really big name apps that originally weren't in the Amazon App Store when the Kindle Fire first came out are now available.

---

Kindle Fire Web
One of the basic things about the Kindle Fire as a tablet is its ability to access the Internet. (Where would we be without the Net?) As with other areas of your Kindle you need to have access to a Wi-Fi connection- of course- to browse the web.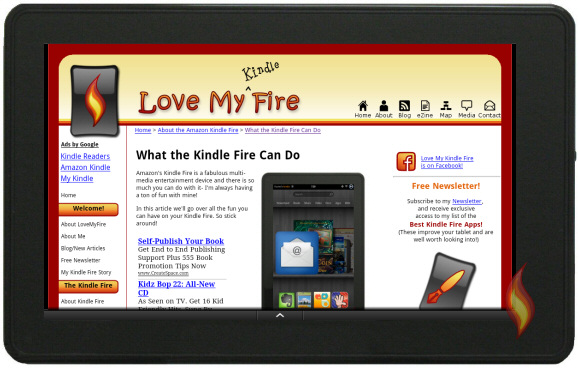 Yes, this is a screen shot of this page as seen on my Kindle Fire! (Wild, huh?)

When you first start using the Web section on your Kindle Fire be sure to try out different settings (tap the menu button at the bottom) such as text size, default zoom, auto-fit pages, and desktop or mobile view.

A simple trick to be aware of is that you can pinch two fingers apart on your screen to zoom in the page, making it easier to view small text/images. Just tap the middle of the screen to center the page, and pinch inward to zoom out.


Extra Cool Feature: Silk Web Browser
The Kindle Fire has its own Internet browser named, Silk, which comes with some cool stuff. Amazon says it's a "cloud-accelerated web browser" that's "ultra-fast... over built-in Wi-Fi".
I personally find the speed of Silk to be very good, but probably not "ultra-fast". Still, it does an excellent job.


One Last Extra Cool Feature: Whispersync

Here's one more detail I haven't yet mentioned, Amazon's Whispersync. It's a fancy feature on the Kindle Fire which keeps track of some of the areas of your device, including where you are reading in a book, the location of bookmarks, notes, and sections you've highlighted.*
Whispersync also works when streaming videos so you can bounce to another electronic device and start up right where you left off.
This is great when you start watching a movie or TV show on your TV/PC but then need to jump over to your Kindle Fire and vice-versa. With Whispersync you don't need to start over.

*You do need Wi-Fi access for this to work, of course.


Now that I've gone over all these amazing things the Kindle Fire can do, it's time to learn how to use your Kindle Fire!
What cool things do you do on your Kindle Fire? Share them in the comments below!



Hand Illustrations provided by GestureWorks® (www.gestureworks.com). Aren't they perfect?