Free Kindle Fire Books

FTC Disclosure: If you make a purchase via a link on this site, I may receive a small commission. There will be no added cost to you. Thank you!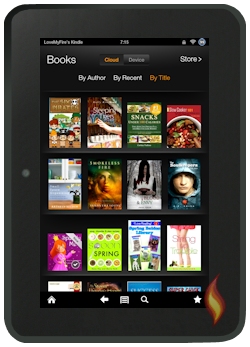 What's better than finding free Kindle Fire books to read on your tablet? (Okay, don't answer that, it's a rhetorical question.)
If you're a book lover like I am, then you're going to love downloading free books to your Kindle Fire, but where do you find them?
This page will show you my biggest tip for finding the hottest free ebooks directly on Amazon!


Prices are subject to change at any time and without notice. Products listed as free may no longer be free. Please confirm all prices before purchasing products. LoveMyFire.com is not responsible for any price changes or purchases you make. Please see the Terms of Use.
Why Are Some Books Free?


Usually, books that are offered for free are done so by self-published authors who are trying to get the word out about their new book. In exchange, most authors would greatly appreciate receiving an honest review about their book.

Books that are available for free are for a limited time. I've seen books listed as free for as little as 24 hours up to several days, and on occasion, even for a full week or more.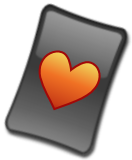 Personally, I find that on average, the quality of self-published books is not of equal value to those that have been published with a publishing house.

I feel that books that have been read and edited by an agent and publisher, in addition to the author, are so much more refined and polished, verses authors who publish their books without bothering to pay for an editor to help them clean up their work.
HOWEVER, there are some fabulous gems out there and they sometimes are offered for free. I guess it mostly depends on how picky you are (I am very picky).
Fortunately, trying out books for free is a great way to test out new authors, with little to lose except your valuable time. :)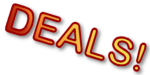 If you'd like to see some of Amazon's Kindle Book Deals (for huge discounts on regularly priced books) head on over to my Kindle Fire Books page for links to several really great deals!
Also, don't miss my tutorials on reading library books and listening to library audio books on your Kindle Fire.
There are over 22,000 libraries and schools worldwide and they have FREE eBooks and eAudio books just waiting for you to download them onto your Kindle Fire.

Finding Free Kindle Fire Books
I have 100's of free ebooks on my Kindle Fire and you can too! (I have so many I don't have enough time to read them all.)
Among all the free books I've downloaded there are cookbooks, children's books, novels, self improvement books, and many others.
How did I find all of them? Fairly easy, actually, by subscribing to Amazon's RSS feeds for the top free books in my favorite subjects. Uh... what?

Here's the current list of top free books from several of my feeds: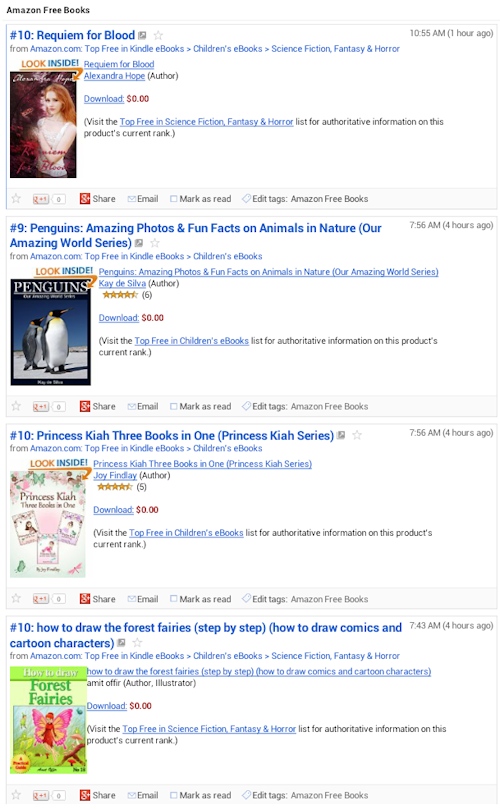 As of the moment of writing this, I have 26 new books I haven't looked at yet, so this list continues on and is constantly updated.


RSS Reader Details for Free Kindle Fire Books

The RSS reader (Feedly in my case) shows a book's title, author, cover, star rating and number of reviews (if applicable), and a few other details including a link directly to the book on Amazon.
It also shows the price as $0.00 for as long as the book is listed for free, but once an ebook goes back to its regular price this number will change accordingly, so be sure to always check the price before downloading.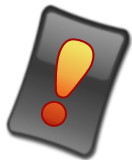 Important Note!

What about blogs that list free ebooks? Why don't I share some of those? Well, I have several reasons, but the two biggest are:
There's a small window of time in which Kindle books are listed for free. By the time a person finds the book, lists it on their website, and you see it, the book may no longer be free.
On March 1, 2013, Amazon changed their affiliate agreement affecting sites that primarily promote free Kindle ebooks, causing them to no longer be eligible for affiliate income.
There are a lot of details with both of the above, especially the second, that I'm not going to go over, but what it means is that I foresee the eventual demise of blogs that only promote free books.
Most of them will either fade away, close up shop, or start promoting a LOT of paid books and other products (if they don't already). They will most likely stop listing as many free books as they used to.
Now, there's nothing wrong with promoting paid books and products (I recommend fabulous products myself) but if you're looking for free Kindle Fire books it's best to go directly to the source: Amazon.
And I'll show you how.


Set Up an RSS Reader


If you're a little lost at this point and unsure what an RSS feed or reader is, that's okay. I haven't yet explained. That's because I already have an article all about what RSS is and how to set it up on your Kindle Fire. (This link opens a new window, making it easy to come right back here when you're done.)

If you like what you saw in the picture above, and want quick, easy access to free Kindle Fire books, then head on over to my tutorial and setup your own RSS reader. (There's even a video at the bottom of that page which visually shows what RSS is and why it's so fabulous! Believe me, you're gonna love it once you understand what it is and try it out for yourself.)

It's simple to setup and worth the bit of effort it takes. You'll forever enjoy the reward of instantly seeing the hottest free books from Amazon right on your Kindle Fire, as well as seeing what's new on your favorite blogs and websites- like this one!
When you're done, be sure to come right back.


Set Up RSS Feeds of Free Kindle Fire Books

Now that you've setup your very own RSS reader, it's time to add some feeds for free books!!

First, go to Amazon's list of Kindle Best Sellers which lists the top 100 Kindle ebooks for both paid and free books: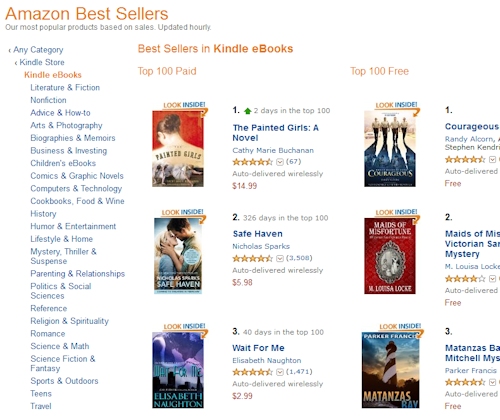 Starting with Amazon's list of the top 100 Free Kindle books for a specific genre makes it easier for you by weeding out a lot of sub-par books.
If an ebook is decent and gets some good publicity while it's free, it will pick up in popularity and make it into the top 100, especially for it's specific genre/category.
That doesn't mean there's not some excellent books out there, but if you don't have countless hours to browse through 1000's of books (I don't!) then this is a super fast way to see what's hot-to-trot right now.


Select Kindle Books Category

Next, select a Kindle book category in the left hand column; pick one that you are most interested in. These will be the categories you will be "following" in your RSS feeds.

In this example I'll select "Teens" since I love reading Young Adult: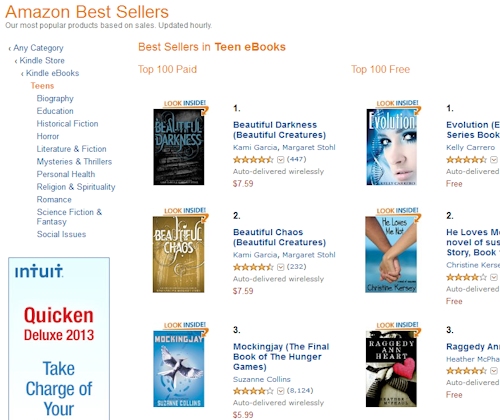 Now, here's where you'll have to decide if you want to see the general top 100 free books for the category you've selected or if you want to "drill down" into deeper sub-categories.
If a category is really large, or you don't care for most of the sub categories, then it would be best to drill down, but if a category is more sparse, drilling down can give you less books in your final results.

Sometimes a book is listed in multiple categories so if you follow multiple sub categories, you can end up seeing the same book multiple times, which can be annoying.
Basically, if you really love a general category it's good to follow it, but if there are a lot of sub categories you don't like, then drill down and select each of the ones you do like.

For this example, I'm going to drill down into the "Teens" category and select "Science Fiction & Fantasy". This will cut out the sub genres I'm not interested in: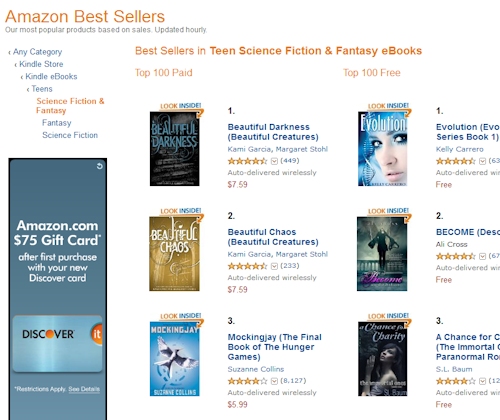 Add RSS Feed to Reader

Now scroll down to the bottom of the list of books (there will be 20) until you see the orange RSS Feed icon and links:



What you do with the link will depend on the RSS reader you've set up.
If it's an online RSS reader, you can just click on the link, "Subscribe to: Top Free > ..." which I'll show an example of below, but if you're using desktop software to read your RSS feeds, then you'll probably need to save the feed's URL and paste it into the program (I'm not 100% sure, though, as I've only used an online reader).
Since I use Feedly, I'll click the RSS link and since my browser is Firefox I see the following options (which you may or may not see):


From the drop down option I select feedly (that's the RSS Reader I use) and then I check the box, "Always use feedly to subscribe to feeds." Then hit "Subscribe Now":



This takes me to Feedly where it shows that I'm now subscribed to this RSS feed. Voilà, it's done!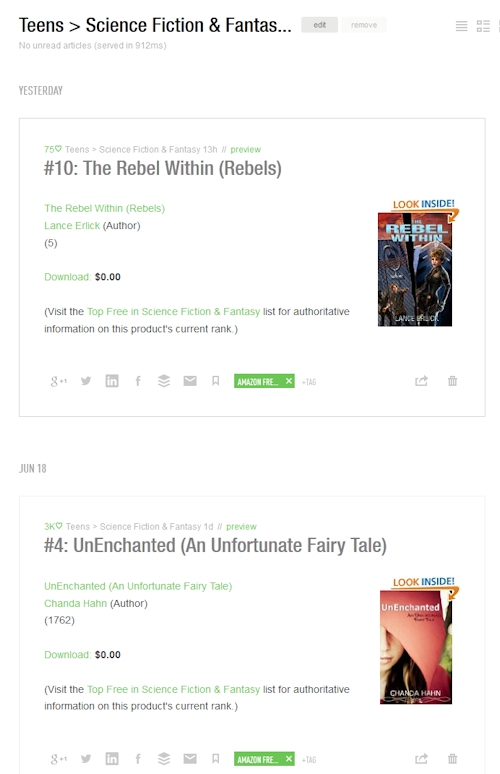 Now you can browse through the list until you find a free Kindle Fire book you're interested in. Just select the title and it will take you to that book's page on Amazon where you can then download it and begin to read it on your tablet.
It really is that simple!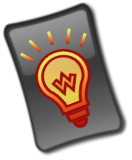 Of course you can also subscribe to the other RSS feed to see the top 100 "Best Sellers" in the category you've chosen. It's a great way to see other wonderful books you'd love to read and wouldn't mind paying for.
You can create folders to organize all your feeds if you want to keep a section for free Kindle Fire books and one for paid ebooks.

Most Kindle Fire book lists on Amazon have RSS feeds at the bottom of their page too, so have fun finding and adding all kinds of book lists to your RSS reader!


Check Your RSS Reader for New Kindle Books!

Once the RSS feed has been added you should immediately see it in your reader. Now you can go back and select a new category to add to your reader.
When you're done, it's time to check out all your subscriptions and see all the free Kindle Fire books you can download!

Each feed is regularly updated so new free books will be added to the list as they make it to the top 100.

You'll want to regularly check your reader to see what's new in all the categories you've selected. I find that checking my list daily is a great way to keep up and not miss out on any great gems while they're still free.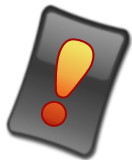 $ $ $ WARNING $ $ $

REMEMBER to check a book's price before you download it! Amazon's RSS feeds are updated hourly but a book's time period of being offered for free can expire (and often does) in between updates.
Thus, you will sometimes see a book on your list with an actual price. That means it is no longer free. Sometimes you can even see it in your reader showing that it's free but when you click on the link, the page will show that the book is no longer free.
So ALWAYS double check the price! As I said in my disclaimer at the top of this page, I cannot be held accountable if you accidentally pay for a product you thought was free.


Using an RSS Reader or RSS App

Each RSS reader will have its own unique structure, so be sure to check out the help section or website/blog for guidance.
If you're interested in using Feedly and want some tips, here's their Facebook page.

You can view an online reader right on your Kindle Fire, or Amazon even has a bunch of RSS Reader Apps in their Android App Store.
I personally just use the web on my Kindle Fire and go to cloud.feedly.com to see my feeds, but you might prefer using an app instead.

And that's all there is to it... more or less. :)
It may seem a little overwhelming at first, but just like anything else new, with a little time and practice you'll become a pro and will love how easy it is.
Now go! Find free Kindle Fire books and enjoy reading them, or visit my Kindle Fire Books page for other great deals and tips.
Alternatively, click here to learn how to borrow ebooks and audiobooks from one of the best libraries in the US
I ♥ My Fire!
- Christine