Mirror Kindle Fire HDX to TV

Did you know you can connect your Kindle Fire HDX to your HDTV? It's called mirroring and all you need are two little accessories.
Just follow this simple tutorial and you'll be able to easily view your Kindle screen on your TV!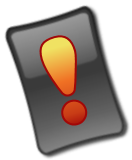 Important Note!

The mirroring feature is only available on the Kindle Fire HDX. However, if you have a first generation Kindle Fire HD I have a separate tutorial on how you can connect that tablet to your TV.
If you have the second generation Kindle Fire HD the only way to view your screen on a TV is to use the Second Screen feature. This requires a PlayStation 3 (support for PS 4 coming soon) or a 2013 Samsung Smart TV. Second Screen is also available for the Kindle Fire HDX as well. See Amazon's help on using Second Screen for more details.
(See my infographic if you don't know which Kindle Fire you have.)


HDMI vs Mirroring vs Second Screen

Unlike the first generation Kindle Fire HD, the HDX doesn't come with an HDMI port. At first I was disappointed, since I regularly use my HD to watch Amazon movies directly on my TV.

However, I soon realized that this mirroring feature is even better because it's CORDLESS!

That means I can take my Kindle Fire anywhere (within reason of course) without requiring a LONG cord, which is what I've been using. Plus, my HDMI cable is a bit touchy and if it gets bumped it suddenly stops working... which obviously is super annoying!

As for the Second Screen feature, I haven't personally tried it out yet since I don't have a PS3/4 or 2013 Samsung Smart TV, but it would be awesome to be able to use it! Second Screen basically lets you continue to USE your Kindle Fire WHILE playing a movie (or other screen) directly from your tablet to your TV. It's two-in-one!
Being able to freely use my Kindle Fire to do whatever I want WHILE watching an Amazon movie on my TV would be sweet, so if you have the right equipment it would be worth setting up. See Amazon's help on using Second Screen for more details.

What Can You Do When Mirrored to Your TV?

When your Kindle Fire is mirrored to your TV you can do anything on your Kindle Fire that you normally do: surf the net, check email, play games, listen to music, read books, watch movies, etc. Whatever you see on your Kindle Fire will be on your TV!

We rented and watched from Amazon the first and second "Percy Jackson" movies, Lightning Thief and Sea of Monsters, on our TV by mirroring them on my Kindle Fire HDX 8.9".

They looked and sounded great on our big screen TV!


What You Need to Connect Your Kindle Fire HDX to a TV

Alright, now on to the important part. Here's everything you need to mirror your Kindle Fire to your TV:

Kindle Fire HDX

Miracast-enabled accessory or TV*
HDTV with HDMI port (if you don't have a TV with Miracast)
HDMI to HDMI cable (link is to an Amazon search for HDMI cables)

Wi-Fi turned on


*Amazon posted in their mirroring help page that "Not all Miracast-enabled accessories or televisions are optimized for use with Kindle Fire HDX. We recommend an accessory certified to work with Kindle Fire HDX."

Currently there is only one "certified accessory", which is the one I purchased, thus that's the one I'll be using for this tutorial.


Prices are subject to change at any time and without notice. Products listed as free may no longer be free. Please confirm all prices before purchasing products. LoveMyFire.com is not responsible for any price changes or purchases you make. Please see the Terms of Use.
Miracast Accessory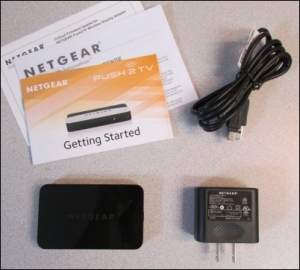 As mentioned in the important note above, I'll be using Amazon's "certified" miracast accessory which is the NETGEAR Push2TV Wireless Display HDMI Adapter.
This adapter comes with the following:
NetGear Push2TV Wireless Box
USB to Micro USB Cable

Power adapter

Instructions

Unfortunately, this accessory is a bit pricy at just under $60. However, if you watch for sales you might score a deal- I did!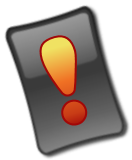 Please note that this accessory DOES NOT come with the necessary HDMI cable. You need TWO cables for this to work. The enclosed cable is a USB to Micro USB cord, and does not include a regularly HDMI to HDMI cable.
If you look around, you might already have one, I did. My Blue-ray player (which is cheap and doesn't always work) has one which I pilfered and now use to connect my Kindle Fire HDX to my TV. ;)

Also, according to Amazon the Netgear Push2TV requires the latest firmware update, but I tested it without updating the firmware and had no problems. However, you may need to follow the enclosed instructions to update to the latest firmware.


Connecting the Push2TV Accessory to Your TV


Once you have your Push2TV accessory, just plug in the Micro USB cable to the port labeled, "POWER" and the HDMI to HDMI cable in the other aptly named port:

The cool thing about the power cable is you can either plug it into an regular USB port on your TV (if it has one, mine does) or you can use the enclosed power adapter to connect it to a regular wall socket.
| | |
| --- | --- |
| USB power cable plugged into my TV: | HDMI Cable plugged into back of HDTV: |

When you plug in the power the Push2TV box is automatically turned on, there's no on/off switch. If you look at the front you should see a white light turn on.
Once you're all plugged up (in a non-sinus type way), turn on your TV and change your input to HDMI. If you have more than one port you'll need to select the correct one- since I plugged my cable into the second HDMI port I need to switch to HDMI-2.
If everything is correctly hooked up and on you should see the following screen come up on your TV: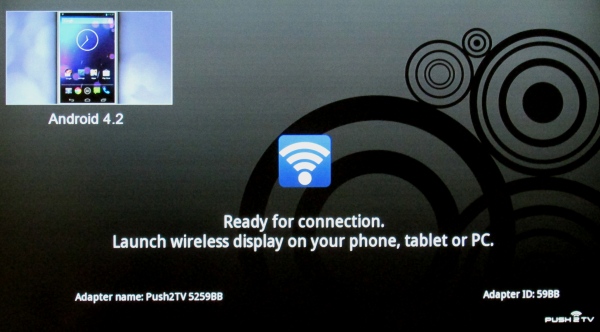 Mirroring Your Kindle Fire Screen on Your TV

Now go to your Kindle Fire HDX (turn it on if it's not already) and make sure Wi-Fi is on.
Next, go to your settings by sliding down the Quick Settings menu:



Tap "Settings":


| | |
| --- | --- |
| Find and tap "Display & Sounds": | Tap "Display Mirroring": |

If you forgot to turn on your WiFi you'll see the following message at the bottom left of your screen:



When WiFi is on you should see "Searching for devices...":



After a few moments your Push2TV device should be discovered. Tap on it:


Your TV should now show that it is "Connecting to wireless display device...":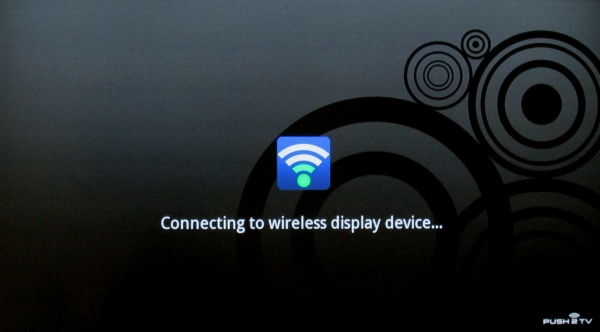 This part may take a few seconds (up to 30 at most). When it's done you should now see your Kindle Fire HDX settings screen right on your TV!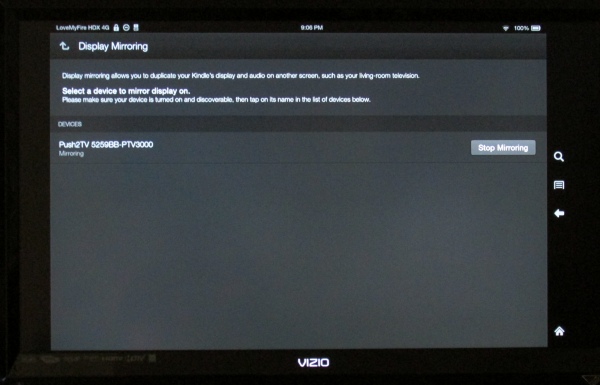 Your image will of course be clearer than the above picture which was taken in a dark room at night.
Now for the fun part! Take some time to play around with your Kindle Fire (tap the Home icon to go to your carousel) and be amazed at how awesome it is to see your screen "mirrored" on your HUGE TV! I love it! If you have an Amazon movie you want to watch, go ahead and check it out.
Here's my website that I pulled up on my HDX when mirrored to my TV: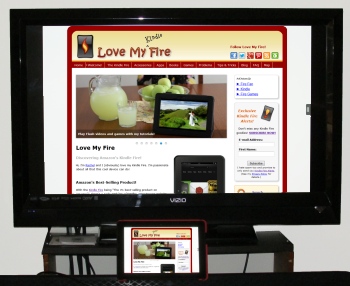 How to Stop Mirroring

When you want to stop displaying your Kindle Fire screen on your TV there are a few ways to do this.
On your Kindle Fire slide down the Quick Settings and tap the "Stop Mirroring" button:



The "Display Mirroring" settings screen also has a "Stop Mirroring" button you can tap:



Of course, this would be the "long way" unless you're already at this settings screen for some reason.
When you tap the "Stop Mirroring" button you'll see a "Disconnecting..." message:



And then you're done!
Of course, unplugging the power from the Push2TV device will disconnect you as well, but I don't know if this is the safest method, so do so at your own risk.


Energy Saving Tips

If you won't actually be using your tablet while mirroring your Kindle Fire to your TV (ex. watching a movie) then you can save battery power by turning down the volume and brightness on your Kindle Fire.
The sound and picture from your TV will not be affected by this, but your tablet's battery will thank you.

Another great energy saving tip is to unplug your Push2TV from the power source when not in use. I've noticed that even when it's not being used, this little accessory stays warm while plugged in, so I just unplug the micro-usb cable from the back of the box when I'm done.


That's all there is to it! It's really quite easy once you have your accessories connected. Now you're ready for other fabulous tips & tricks for using your lovely tablet.

Enjoy using this super cool feature on your Kindle Fire HDX!




Hand Illustrations provided by GestureWorks® (www.gestureworks.com) Aren't they perfect? They're from the Gesture Font Family.