How to Take Kindle Fire Pictures & Videos

This tutorial shows you how to take Kindle Fire pictures and videos with the built-in camera on the HD tablets.
Amazon has made accessing the camera quite unfriendly, so this Kindle Fire tip is super useful and much more user friendly than Amazon's lack of instructions and access!

Taking Pictures and Videos on Your Kindle Fire


There are several options for accessing the camera on your Kindle Fire HD tablet.
For this tutorial, I'm going to use the method that I believe is the best for taking pictures AND videos, and then being able to access these files on your device.
Be sure to read all the way to the bottom of this tutorial for links to some optional free apps that also let you take and edit photos.
Lights, Camera, Action!

Alright, here we go!
1. Download ES File Explorer

The first thing you will need to do is find and install the amazing FREE app, ES File Explorer. This app is one that I have mentioned in other tutorials, and have included in my list of the Best Kindle Fire Apps (if you haven't already seen this exclusive list, go subscribe to my Kindle Fire Alerts to get your virtual hands on it!)
Once you've downloaded this super handy app, go ahead and open it up.
Now tap on AppMgr (App Manager):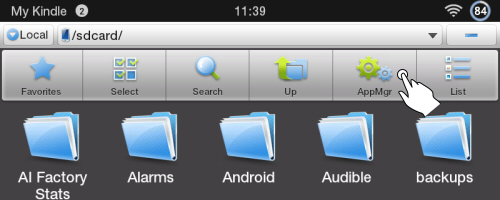 Tap on Category:

| | |
| --- | --- |
| Tap on System apps: | |

Tap on Camera: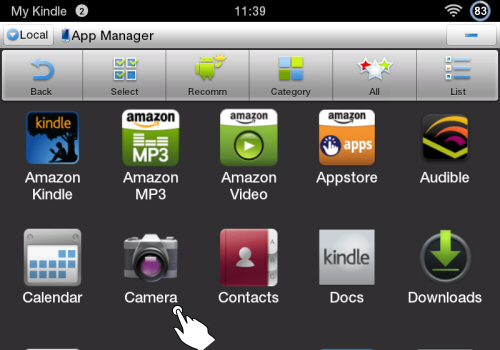 Tap Open: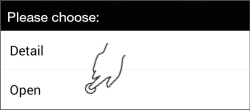 Voilà! You have now found your Kindle Fire's hidden camera!

Uh oh! Someone doesn't want her picture taken.


Actually, she was very happy to have her picture taken... until I put her in the bouncer. She did NOT want to be in there. Poor little thing! It was nap time anyway, so this was the cue that she was ready for her mid-day snooze.

Ready, Aim, Fire!

Taking a picture can be a bit of a challenge since the camera on the HD Kindle Fire is a front-facing camera (to use as a webcam with Skype). Couldn't Amazon have given us a forward facing camera too?!
Anyway, to take a Kindle Fire picture you "just" aim and then tap the blue button, all without moving- it's harder than you think! The picture will automatically be saved until you're ready to find it later.
Video Time!

To take a video, tap the video icon at the top left. This is another great reason to use this method to access the camera app, as some of the other apps don't have the video option.
There's a simple zoom bar right on the screen, that's easy to use, as well as a panoramic camera option to the left of the camera icon. I wasn't too successful in my brief attempt to figure it out, perhaps you'll have more luck/patience.

The camera app also has some fun settings you can toy with, just tap the icon to the right of the camera icons, as shown in the screenshot below.


I don't know what all the settings do, so have fun experimenting with them. :)

Accessing Your Photos and Videos

Now that you've taken some pictures and videos, you probably want to look at them, don't you? Of course you do!
Being able to easily access and view your photos is one of the main reasons I love using this particular app vs some of the others I've tried.
To start, exit out of the camera by tapping the Kindle Fire menu viewer (double lines next to the blue button), and tapping the back button.
You should be back in ES File Explorer, if not just open it back up. You should also be back to the main file folder screen, not the app manager. If not, tap the back button: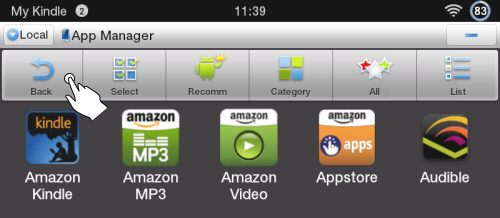 Tap the DCIM folder:


Tap the Camera folder: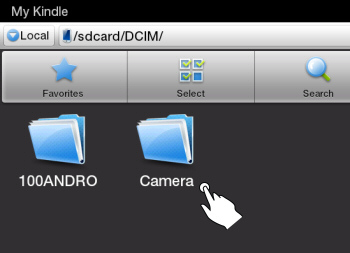 Now you should see your pictures and videos:


Tap a photo or video that you want to view. When you do you will get a couple of options, depending on what other apps you have installed on your Kindle Fire.

When tapping a picture:


The ES browser is the one that came with the ES File app, while the other is your Kindle Fire Photo viewer.


When tapping a video:


The ES player is the one that installed with the ES File Browser. The other is your basic Kindle Fire video player.

Each photo/video viewer is a little different, but the basic options are the same.


Delete, Delete, Delete! Share, Share, Share!

With the camera not being a regular forward facing one, you'll no doubt have the need to delete many of your attempts at capturing the world around you. I know I did! Just tap and hold down on a picture or video and you'll be given a ton of additional options, such as delete, rename, and share.


Photo Editing Apps

As I mentioned above, here are some great apps for taking Kindle Fire photos and then editing them right on your tablet.


Prices are subject to change at any time and without notice. Products listed as free may no longer be free. Please confirm all prices before purchasing products. LoveMyFire.com is not responsible for any price changes or purchases you make. Please see our Terms of Use.
Optional Apps:
There are several others out there, but the top two free ones are those I've tried out thus far.



So now you've learned how to take Kindle Fire pictures and videos! If you appreciate this tutorial please share your "thanks" by posting a snazzy photo (one you took from your Kindle Fire of course) right on my Facebook page!
I hope you've enjoyed this fun tutorial! Learn even more about your Kindle Fire with my other Kindle Fire Tricks and Tips.


Hand Illustrations provided by GestureWorks® (www.gestureworks.com) Aren't they perfect? They're from the Gesture Font Family.