Remove Kindle Fire Ads and Special Offers

Tired of the Kindle Fire ads as your background wallpapers and screensavers? Ready to remove the Kindle Fire "Special Offers" and suggestions of what "Customers Also Bought"?
Great, then I'll show you how with this fabulous Kindle Fire Tip!



This article is for all Kindle Fire tablets released since 2012. (Not sure which Kindle Fire you have?) The only one that doesn't need this article is the original Kindle Fire.
Unfortunately, removing the ads WILL NOT let you add your own custom background images. Amazon has blocked this ability on ALL of their tablets since 2012. :(


Two Types of Ads and Offers

First, I'm going to show you the two types of ads and offers you can remove.
The "Special Offers" are the background ads you see when you first turn on your Kindle Fire (or come out of sleep mode). They are the large, full screen ads, or screensavers (shown below).
The other ads are the books, apps, music, videos, etc that appear below the carousel (only in portrait view) to display what "Customers Also Bought," as I've shown below on the right.

| | | |
| --- | --- | --- |
| Special Offers: | Customers Also Bought: | |

The center book in the above image, is of The Vanishing Game, which was written by my mom, Kate Kae Myers.
It's a young adult novel published in both hardcover and eBook by the well-known publishing house, Bloomsbury Childrens.
Just a little shout out for my mom's awesome suspense thriller! ;)


Now on to the rest of this tutorial!


Unsubscribe Kindle from Special Offers


You can choose to unsubscribe from the special offer ads, but please be aware that it will cost you $15.00.
According to Amazon, the special offers help offset their profit margin loss because they sell the Kindle Fire so cheap. Thus, they require customers to pay the extra moolah to remove the ads.
If you don't care about the special offers, then hey, saving $15 bucks on such a fabulous tablet is worth it!


For UK Kindle Fire owners, you can "opt out" of the Special Offers for £10. (From what I've heard, this fee is currently being "waived", but who knows how long that will last.)

Also, until Amazon updates this area, you won't see the option to "Edit" your Subscription (as explained below).
To unsubscribe from the special offers you will need to contact Amazon's Customer Service directly (go to Amazon.co.uk, "Help" at the top, and then the yellow button on the right that says "Contact Us").
Note: This process/cost is probably similar for other international Kindle Fire users.


If you're ready to dish out the dough, then here's what you do:
Go to Amazon.com and login with the account that is registered to the Kindle Fire.

Hover over your name (or tap with your finger) where it says, "Your Account" at the top right:


A drop down menu will appear.
Click/tap on "Manage Your Kindle":
On the page that opens go to the column on the left and under "Your Kindle Account" select "Manage Your Devices":

Want to know what I did with the ads on my Kindle Fire?

Well, I chose to remove the "Special Offers" from my personal Kindle Fire HD 7" so I could see all the fancy new HD background pictures and then share them with you.

As for my Kindle Fire HD 8.9" (which I let my husband use most of the time) I wanted to keep 'em so I could see 'em.

The ads are always changing and since I write a website all about Amazon's Kindle Fire, I figured it would be good to see the ads.

This lets me have the best of both worlds. ;)


On the next page you should see your Kindle Fire. If you have more than one Kindle Fire associated with
this account, locate the one you wish to remove the ads from.
There is a column for "Special Offers" that shows you are "Subscribed".
Click/tap on "Edit" to the right of "Subscribed":

A window will pop up asking you if you want to unsubscribe, explaining why you are asked to pay the extra $15 (because you purchased your Kindle Fire at a "subsidized price").
If you decide that yes, you really do want to unsubscribe from the special offers and sponsored screensavers, tap "Unsubscribe now with 1-Click®":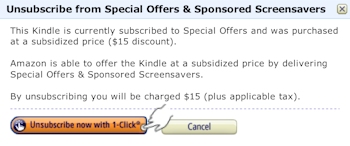 And that's what ya gotta do!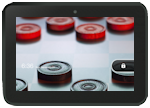 Once you remove the ads you'll be able to see the snazzy Kindle Fire HD backgrounds and HDX backgrounds that come pre-installed with your tablet, like this one of a game of checkers.
Please note that removing the ads WILL NOT let you add your own custom wallpaper/background images to your Kindle Fire. Amazon has blocked this ability on all their tablets released since 2012. :(


Remove "Customers Also Bought..."

Removing the display of items purchased by others (from below your carousel) won't cost you any money, just a little time since you can turn this off in your settings.

Okay, are you ready to turn off the annoying, "Customers Also Bought" feature?

Here's what you do:

Slide down the top menu bar and tap "More...":

Please note that removing this option will NOT remove the App Store feature of, "Customers Who Bought This App Also Bought...".

As far as I can see, you're stuck with that one.


| | | |
| --- | --- | --- |
| Tap "Applications": | Tap "Amazon Home Recommendations" (2012 tablets) or "Home Screen" (2013): | |
Tap "Hide":



To exit, just tap your home button and there you go!
No more recommendations from Amazon.


Personally, I have mixed feelings about this feature. Sometimes it annoys me, especially if I'm sliding through the items in my carousel when in portrait view. At other times, I like to see what similar items others have bought.
So, I'm still wishy-washy on this one, but for now I have it showing on my Kindle Fire.


Enjoyed this Kindle Fire tutorial? Please let me know by sharing your thoughts about this site. I love hearing from my site visitors and knowing that my articles and resources have helped you.




Hand Illustrations provided by GestureWorks® (www.gestureworks.com). Aren't they perfect?