Problem Installing Google Play on Kindle Fire
FTC Disclosure: If you make a purchase via a link on this site, I may receive a small commission. There will be no added cost to you. Thank you!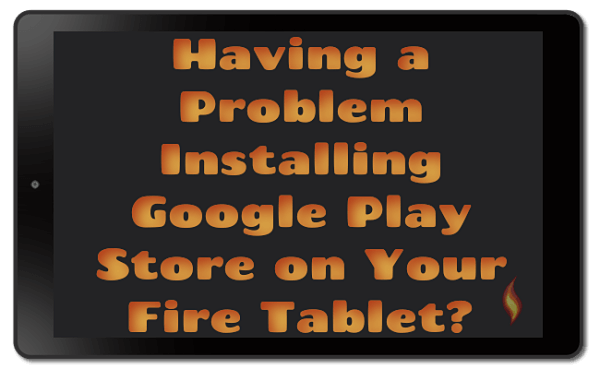 One of the biggest complaints from Fire tablet users is the lack of Google apps in the Amazon Appstore. And the complaints are valid - after all, many of us have come to rely on certain Google apps so we want to be able to use them on all our devices.
Fortunately, there is a fix and my article How to How To Install Google Play On Kindle Fire (Without Root) tells you just what you need to do. 
But the installation isn't always problem-free. 

Some people will receive the dreaded 'This account already exists on your device' message when trying to sign into a Google app they've downloaded. Fortunately, there's an easy fix for that, too, which I've described here.

But another problem I tend to hear about quite a lot is the error message 

'Google Play Services won't run unless you update Google Play Services'.
Then, when you try to do so, you get the message:
'Can't install Google Play Services. Try again and if it still doesn't work, see common ways to fix the problem'. 
Unfortunately in this case, those 'common ways' don't work'! So I have another suggestion for you.
Your SD Card May be Causing a Problem Installing Google Play on Kindle Fire
Almost everyone I've spoken to who has received the error message above has had one thing in common.
They all had an SD card installed when they downloaded the APK files necessary for installing Google Play Store.
The problem with SD cards is that they don't play nicely with all files - and Google Play Services are a good example!
If this applies to you too, then try the following:
Remove from your device all the APK files that you downloaded.


Remove the SD card from your device.


Re-download the APK files and attempt to install Google Play Store again.


Upgrade the Play Store if prompted to do so.


Login to make sure everything is working as it should.


Re-insert your SD card and set it up as usual.
Technically, you should alternatively be able to go to Settings > Storage and be able to move the APK files from the SD card to your internal storage, but this doesn't seem to work for everyone.
Learn more about using an SD card with your Fire tablet
I hope this worked for you and that you were able to successfully install Google Play Store on your Fire tablet as a result. Please do let me know or browse through my other Kindle tricks and tips.
You can also leave a comment below, or on my Facebook page. Thanks!
I ♥ My Fire!

- Christine