The Best File Manager Apps For Kindle Fire & Installation Tips
Which are the 5 BEST file managers for Kindle Fire, to help you manage the storage of your device as efficiently as possible?
Find out here!
FTC Disclosure: If you make a purchase via a link on this site, I may receive a small commission. There will be no added cost to you. Thank you!

If you use your Kindle Fire often, install lots of apps and copy different files to it (like music, movies or books)... then sooner or later you will need a file manager app!
Without a good file manager you won't be able to effectively manage all these files without getting lost.
In the Amazon Appstore there are hundreds of file manager apps, and it can be kinda hard to decide which one to use.

So in this article I'll show you five best free file managers for your Kindle Fire - plus, of course, I'll give you the installation instructions you need to get them up and running.

How To Download & Install A File Manager On Your Kindle Fire
Basically, you can install one of the file managers listed below in two ways.

Click on the APP DOWNLOAD link under each app on the list to directly go to the page of this app on the Amazon Appstore. Under 'Deliver to', just choose your device and click Deliver. If your Kindle Fire is connected to the Internet (and it must be), the app will be automatically installed on it.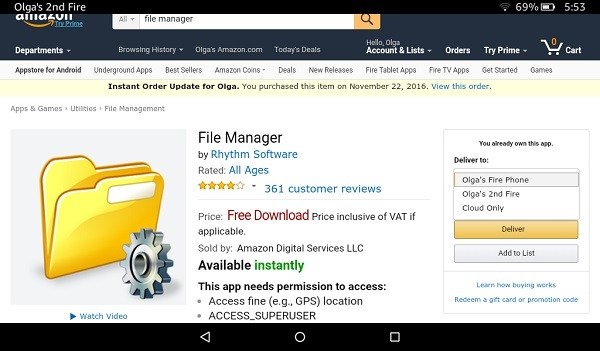 You can simply use the built-in search bar in the Amazon Appstore on your device to find and install the chosen file manager. Just type the name of the app,  click on the chosen app once it appears and tap 'GET' to install the app.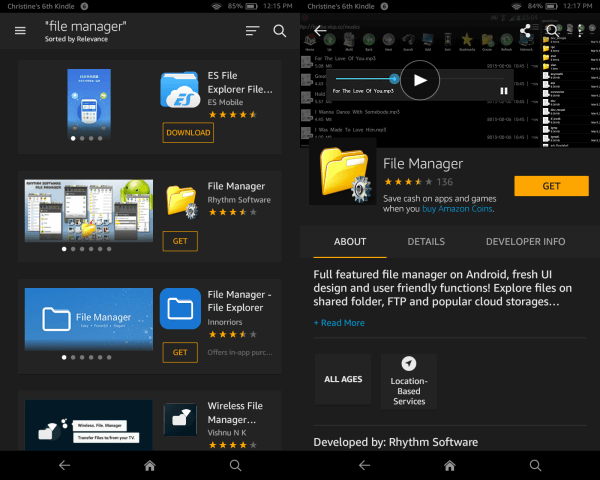 List Of Best File Managers For Kindle Fire 
ES File Explorer
Es File Explorer is probably the most popular file manager for Kindle Fire and for Android devices. This app has an average rating of 4.2 stars out of 5 and more than 25 thousand reviews on Amazon.
This is also probably one of the most advanced file manager apps offering plenty of features and options. Here are some of its main features:
This app is FREE but it contains ads. 
UPDATE NOV 2021: The most useful features of ES File Explorer have now been moved to the premium version (which is NOT free). However, at the time of writing there is a 7 day free trial on offer.

Very easy to use, ideal for novices!
The app lets you mange all sorts of files you store on your Kindle Fire device: copying, deleting, renaming, cutting, pasting or checking the properties of files and folders.
The app will group your files into different categories for easier management (compressed, APP, music, movies, documents, encrypted and so on).
You can select and manage multiple files & folders at the same time.
With the Logger feature, you can track the memory of your device and view all the recent images or apps added to it.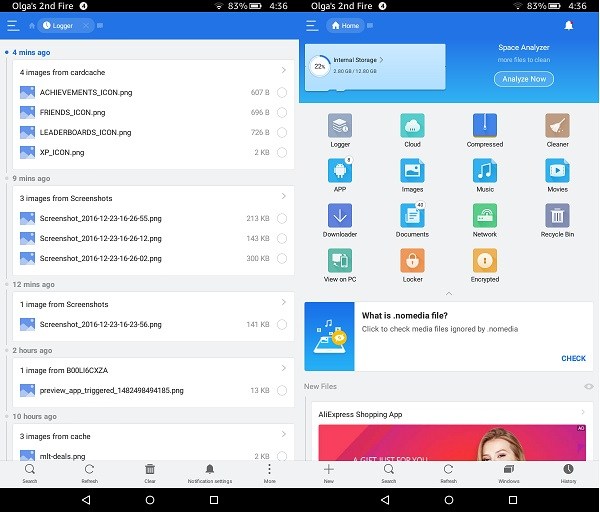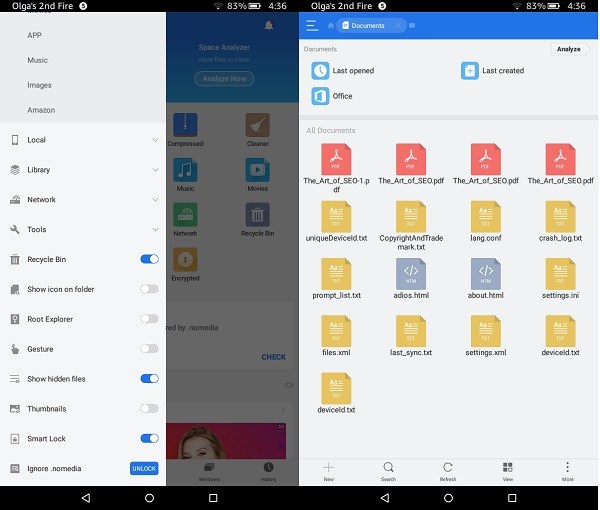 Download Es File Explorer from Amazon! 


File Manager
File Manager is another extremely popular file manager app for both Kindle Fire tablets and Android devices. It has an average rating of 3.6 stars out of 5 and nearly five hundred reviews on Amazon.
This is the file manager I use on my Android phone. I like it because of its great simplicity and ease of use.

The main features of this file manager app include:

This app is FREE and doesn't display ads.
It's very simple and user-friendly (just take a look at the screenshots below).
It allows for LAN share.
The app supports FTP and WebDAV.
You can also access cloud storage services like Box, Google Drive or Dropbox.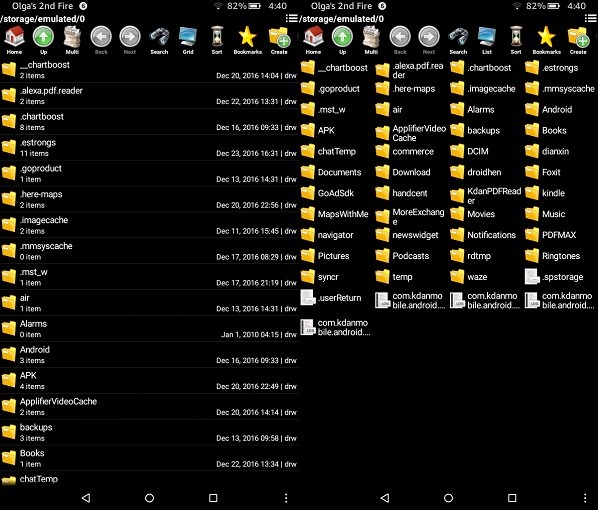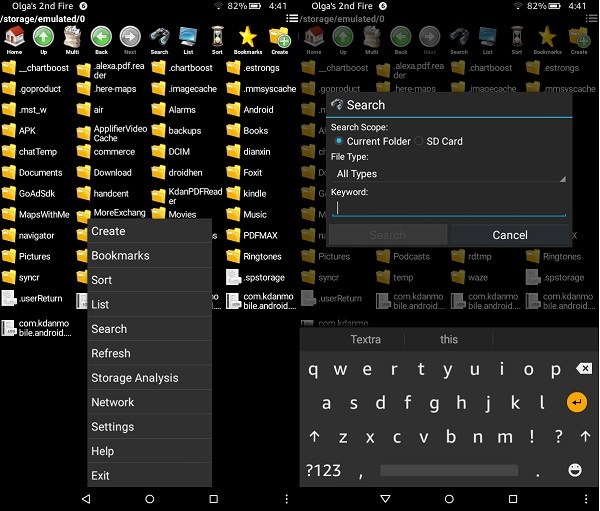 Download File Manager from Amazon! 


Total Commander
If you're a regular computer user, you may know Total Commander from your desktop. Some time ago it was the one and only file manager for computers. Now it's also one of the best free file managers for Kindle Fire and Android.
It has an average rating of 4.1 stars out of five and nearly four hundred reviews. The main features of this app include

This is a FREE app.
The app allows you for complete management of the files on your Kindle Fire device: copying, moving, renaming, creating directories, dragging & dropping files.
The app also lets you unzip and unrar files.
Total Commander will group files on your devices for your convenience into photos, downloaded files, bookmarks etc.
The search function will let you search for specific files.
Multi-language support.
With plugin you can stream directly using LAN or WebDAV.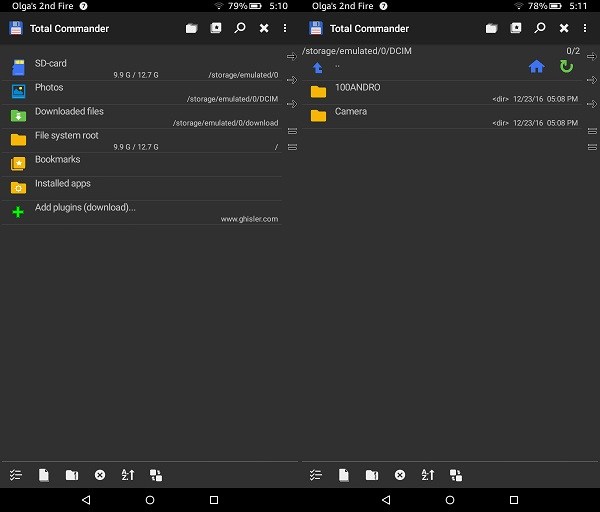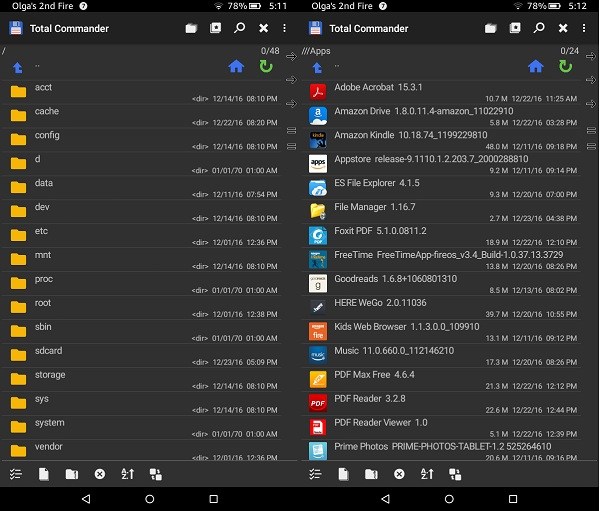 Download Total Commander from Amazon! 


File Commander
File Commander is yet another very popular file manager app for both Kindle Fire and Android devices. In many Android devices (including my own Samsung Galaxy S7) this app has been installed by default.
The main features of this app include:

The app is FREE.
Full management and access to all the files stored on your device.
The app automatically groups your files into different types like pictures, videos, music, documents and so on.
The app allows for remote file sharing and access via FTP/FTPS, Bluetooth, Wi-Fi Direct or cloud storage services.
The secure mode feature allows for encrypting files and folders.
The app has a built-in file converter and screen sharing function.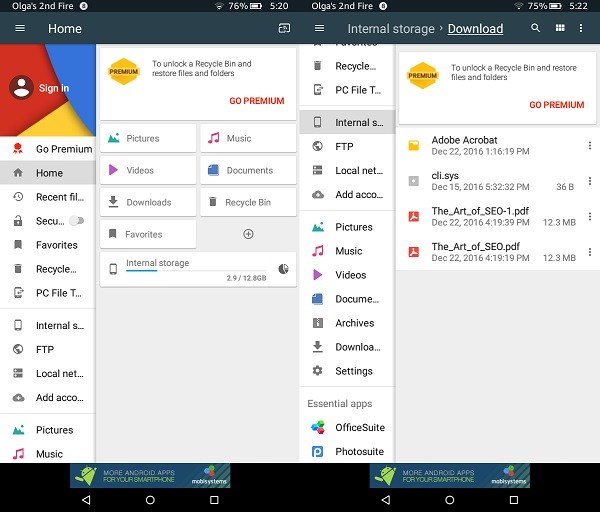 Download File Commander from Amazon! 


Do you like this list of apps? Do you have a favorite file manager app for Kindle Fire I should add to this list?
Please feel free to share your thoughts!
You can either leave me a comment in the comment box below or contact me directly. I would love to hear from you.
P.S. If you like this list, please share it with your friends
You might also like to check out my tips for Using an SD card with your Fire tablet